Senior Member (>500)
Join Date: Dec 2016
Location: SoCal
Posts: 502
Thanks: 19
Thanked 42 Times in 40 Posts
Quote:
I often get thumbs up when driving around and people stop to check out the car when parked because it's a rare sight. Makes the ownership that much more pleasurable.
That's one of the fun parts about owning the car. To most people, it's just a regular 5-series but to those who know...they
know.
Quote:
The whole world actually thought the car was gray!
Fixed.
---
'03 M5 | 987.2 Cayman | @kian.ski
---
Last edited by kiznarsh; 18th February 2019 at

05:47 PM

.
Member, P500, DSC On (>600)
Join Date: Sep 2017
Location: Masshole
Posts: 615
Thanks: 0
Thanked 34 Times in 33 Posts
Love the recent work here! Amazing interior and exterior work on the 850, in addition, nice airbag light fix too!
---
New (old): 2003 E39 M5 TiAG
Old: 2001 E46 330i Steel-Grey Metallic (Totalled)
Member, P500 Sport, MDM on (>800)
Join Date: Oct 2009
Location: Fort Worth, TX
Posts: 855
Thanks: 50
Thanked 72 Times in 68 Posts
Tremendous! Every update is exceptional - thanks for sharing this with us!
---
E36 1999 M3 Coupe Dakar Yellow/Black Vaders
E36 2000 M Coupe Cosmos Black/Black Leather, Shark, Conforti CAI, B&B Exhaust, H&R, Bilstein.
E39 2000 M5 Imola/Black Heritage
E46 2005 M3 Coupe ZCP Carbon Black/Black
E63 2006 M6 Coupe Indianapolis Red/Black/Madeira, Style 343
Member, Sport: On DSC: On (>100 posts)
Join Date: Apr 2016
Location: Frankfurt, Germany
Posts: 199
Thanks: 57
Thanked 43 Times in 40 Posts
Quote:
Love the recent work here! Amazing interior and exterior work on the 850, in addition, nice airbag light fix too!
Thank you! The damn airbag light was driving me nuts.
Quote:
Tremendous! Every update is exceptional - thanks for sharing this with us!
Thank you! Glad you enjoyed the read!
Thanks all for great feedback and support! It's really appreciated.
Member
Join Date: May 2017
Posts: 32
Thanks: 0
Thanked 0 Times in 0 Posts
Time for an update for your loyal readers please!!!!!
Member, Sport: On DSC: On (>100 posts)
Join Date: Apr 2016
Location: Frankfurt, Germany
Posts: 199
Thanks: 57
Thanked 43 Times in 40 Posts
Update incoming though not as exciting as the last one.
Finished few loose ends on the E31.
There was an oil leak which is very common for the M70 engine coming from the timing chain tensioner.
The O-ring gets hard and oil leaks past it. Cheap and straightforward fix with a couple of remarks - mark the position prior to removal and set the same tension when installing it back as the tension is determined by turning the screw at the end, and it's important to make sure the piston at the end engages the chain tensioner properly.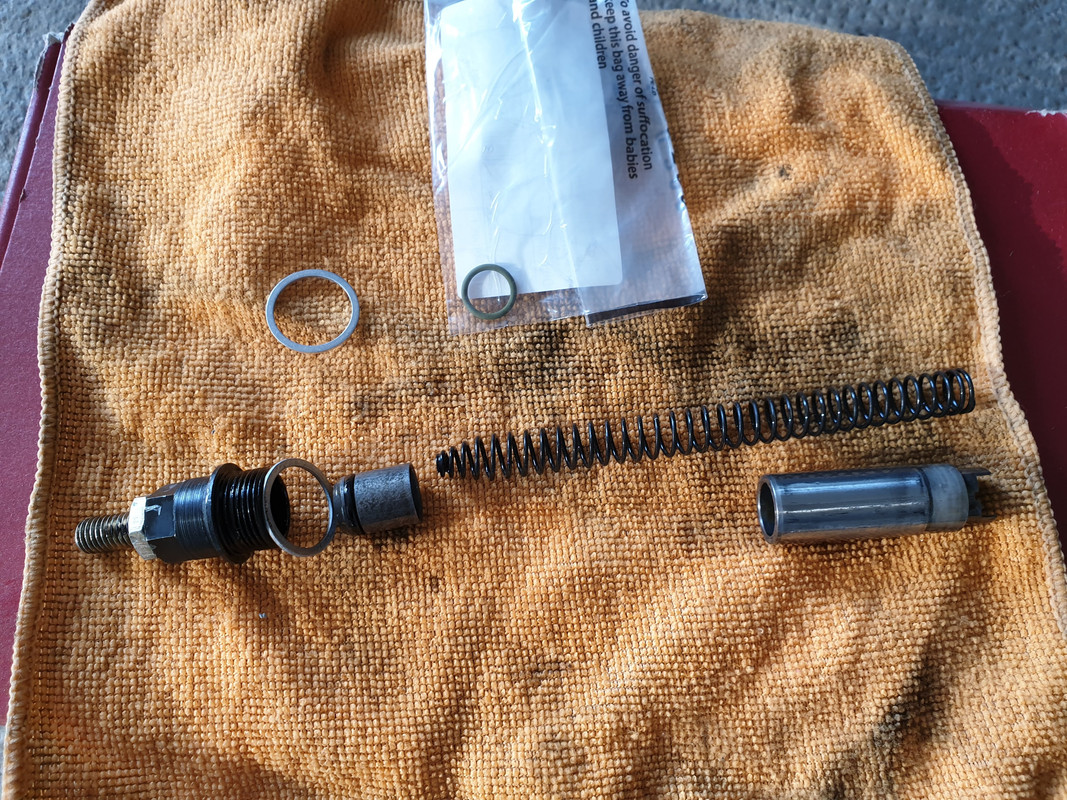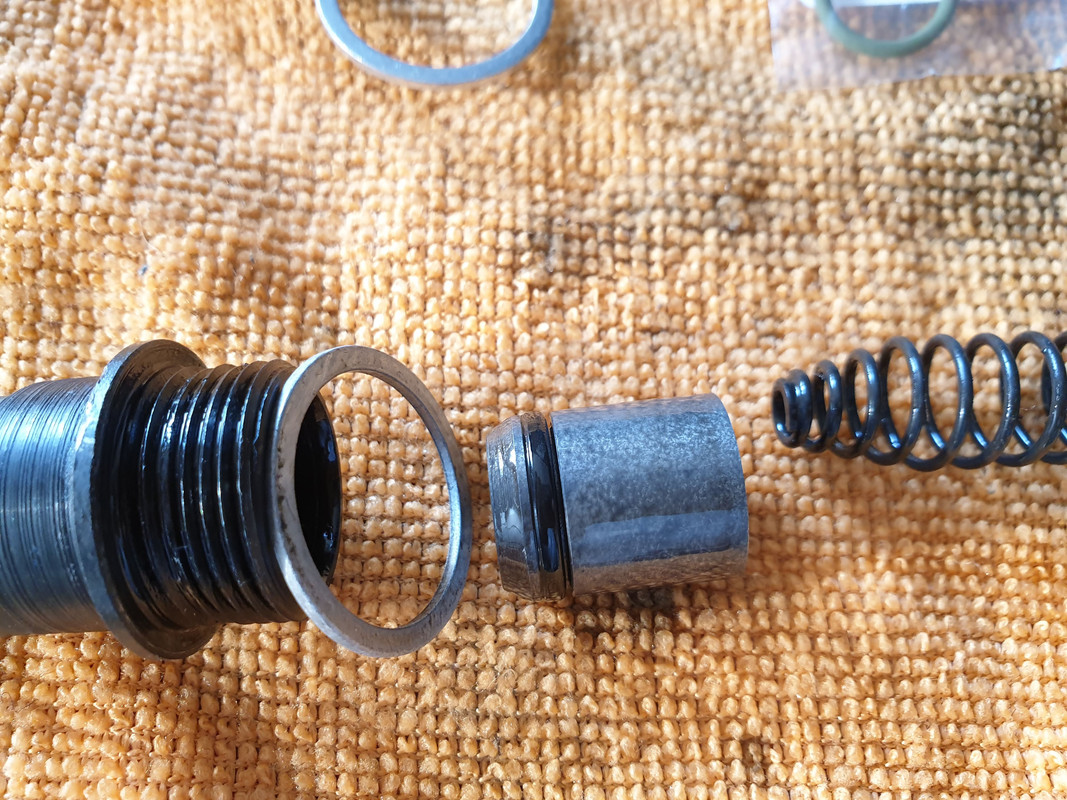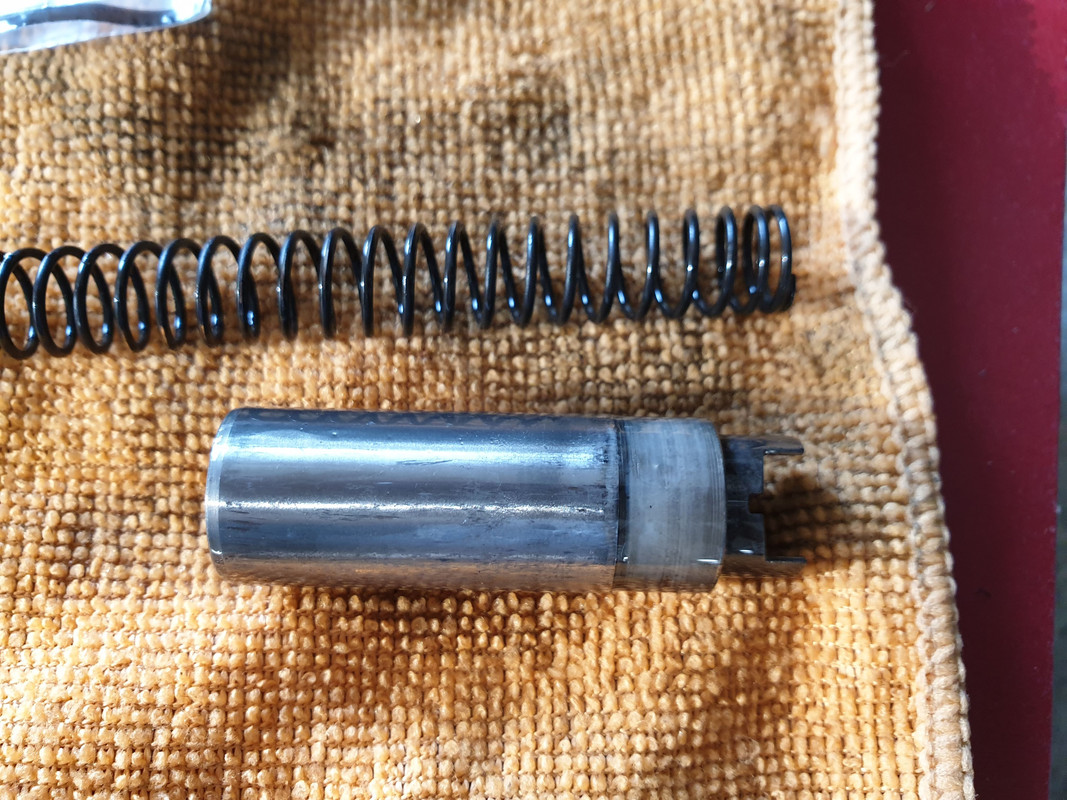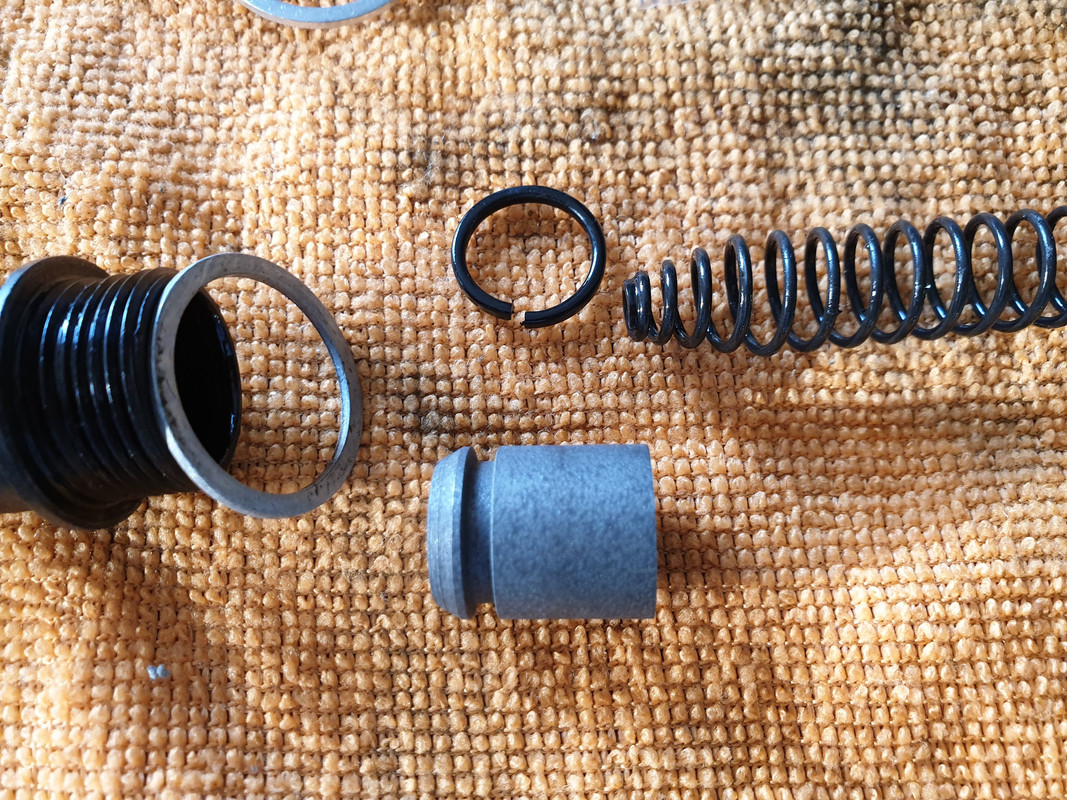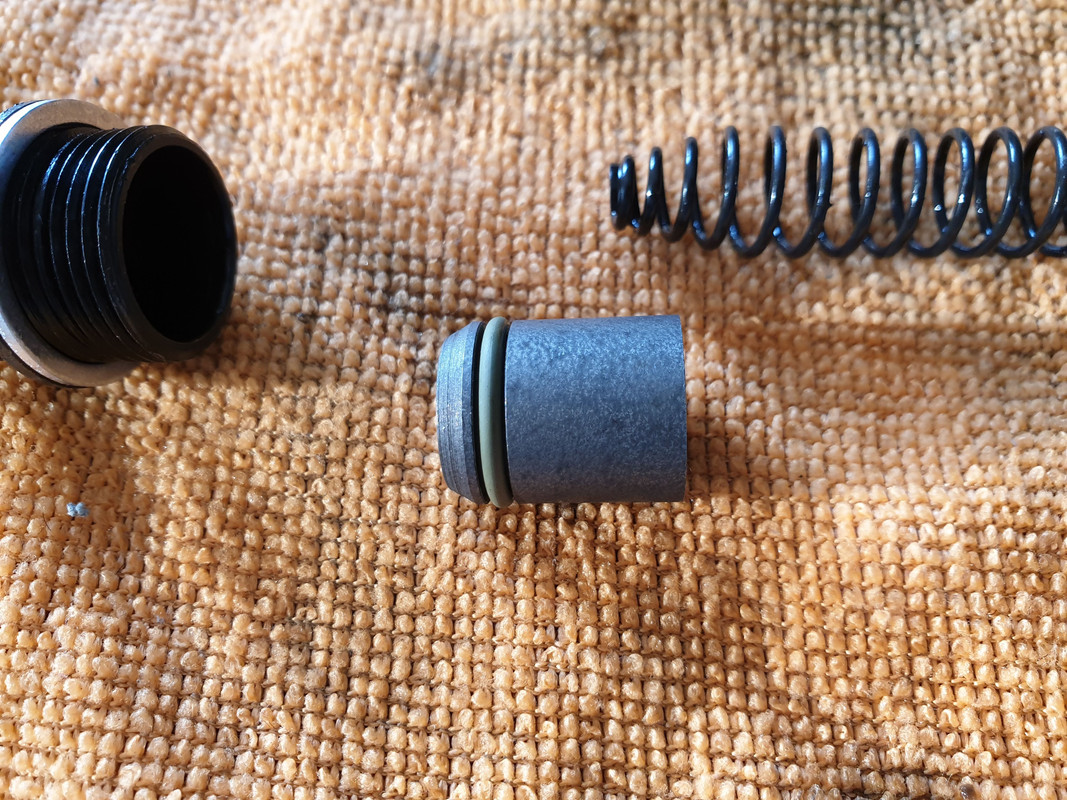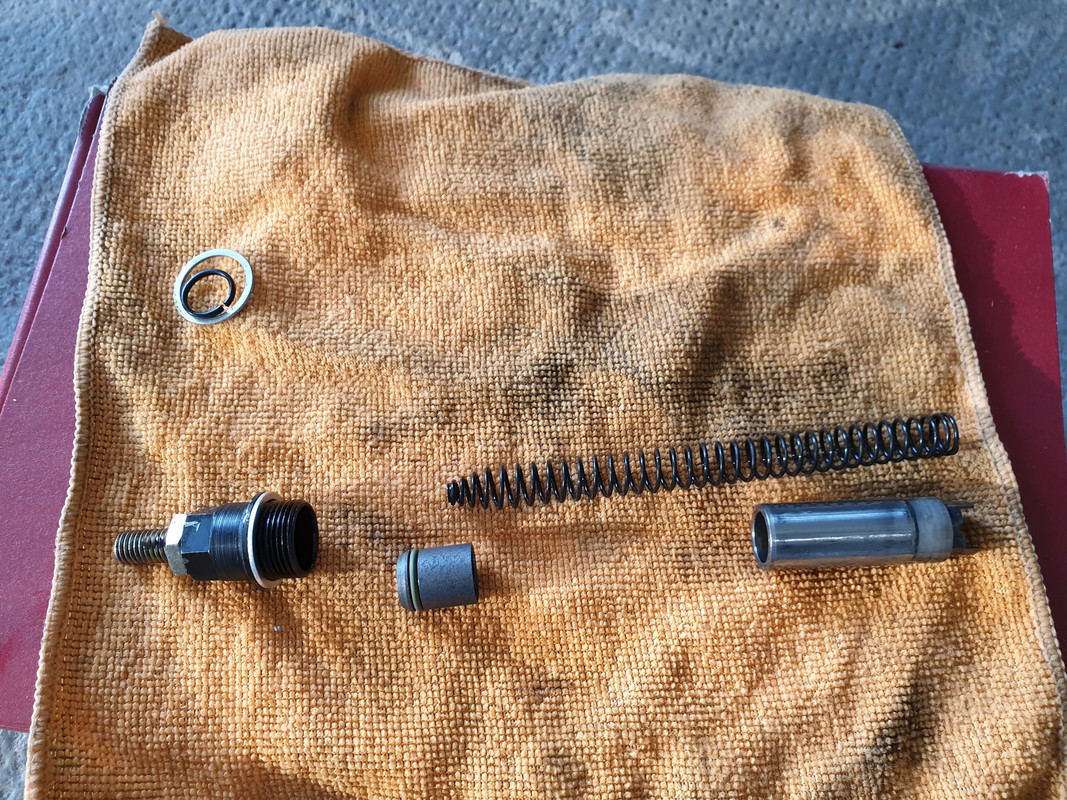 Replaced the brake master cylinder as it developed a leak.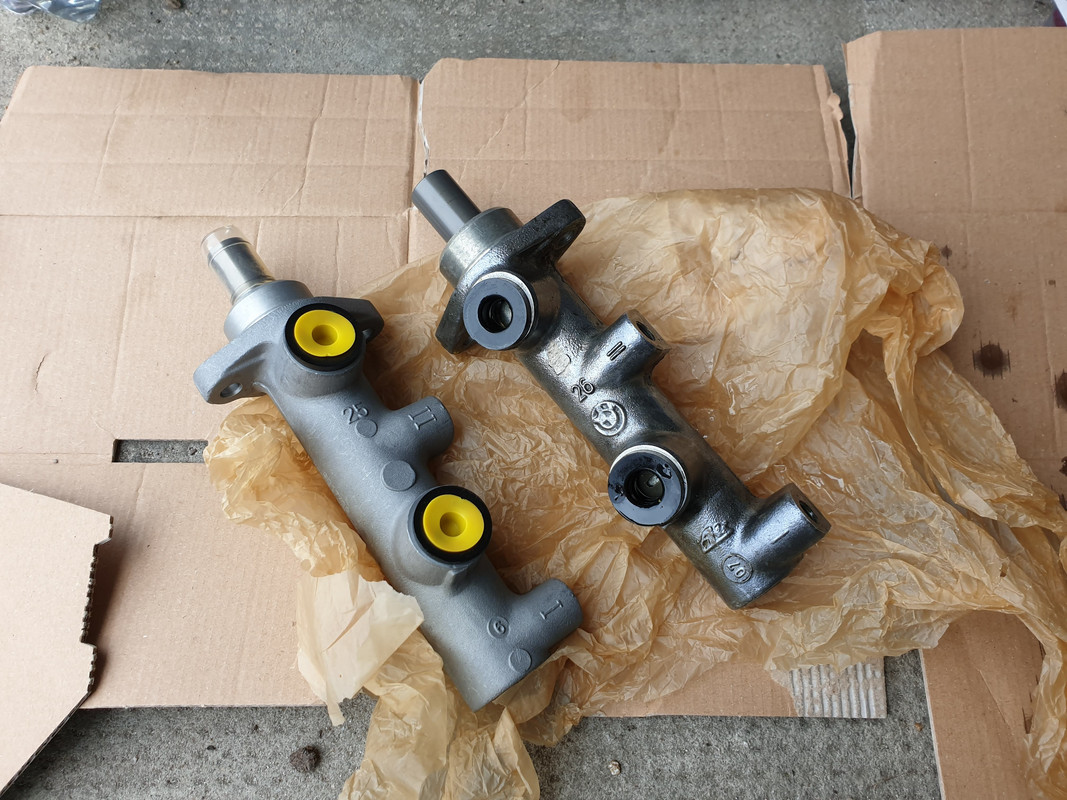 Next is to sort out the dead pixels in the MID and apart from that, the E31 is up for sale. I'm not in a rush but I'm ready for a new project and it's time to pass the torch.
I caught up with some maintenance on the M5. I had new engine mounts sitting in the trunk since late last year.
I initially ordered Lemforder mounts and received Made in China ones with poor and weak stud design. I sent them back, ordered Ruville and got the same Chinese crap, then ordered Corteco and got Chinese junk again.
Out of those 3, Lemforder looked the best but I didn't want to take any chances and reluctantly paid the stealer price and got a pair of original mounts.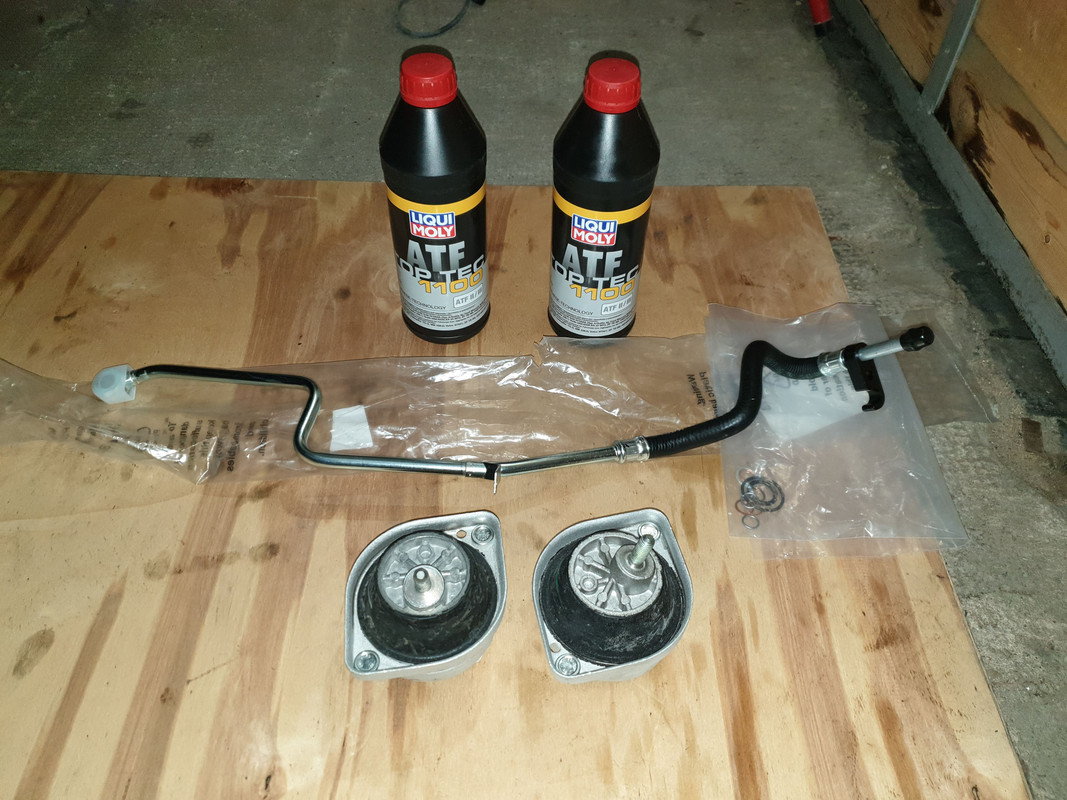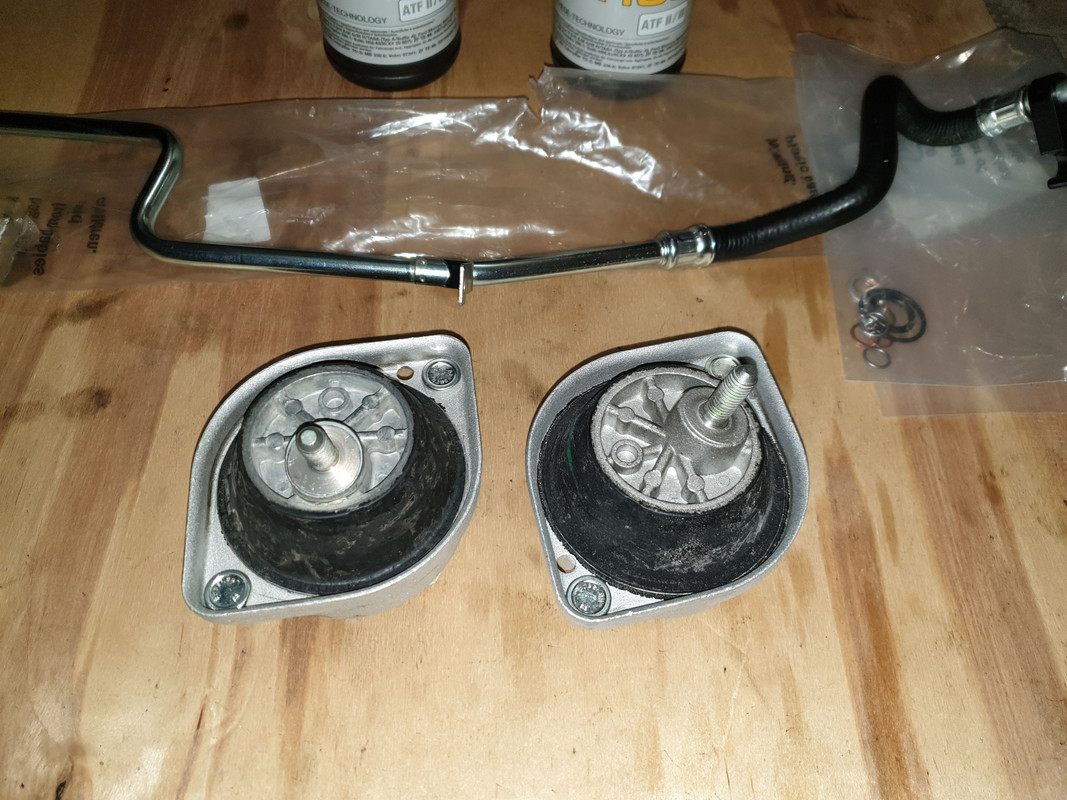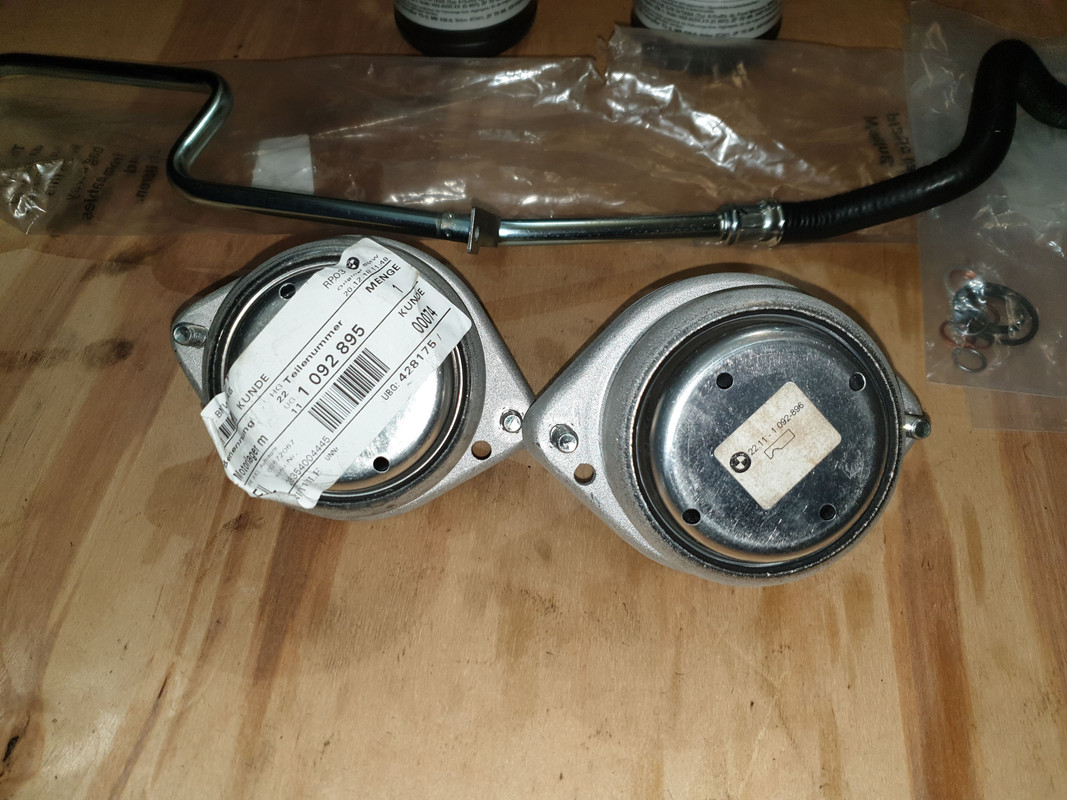 Here's how Lemforder looks like.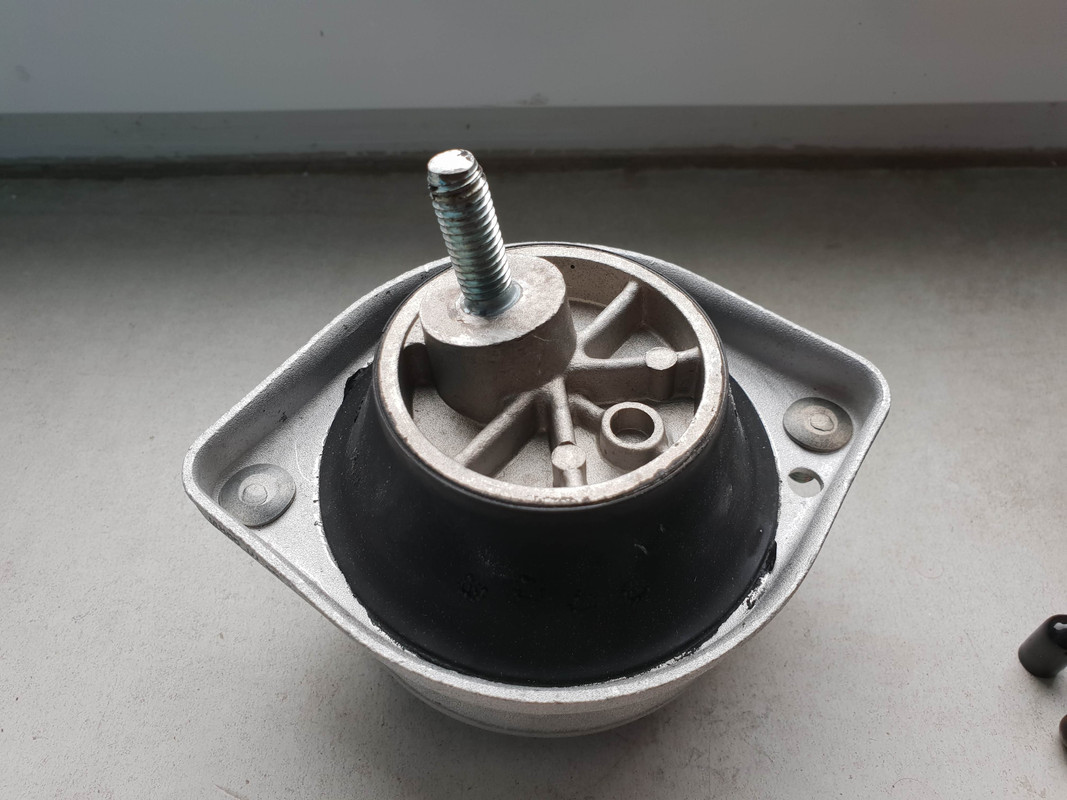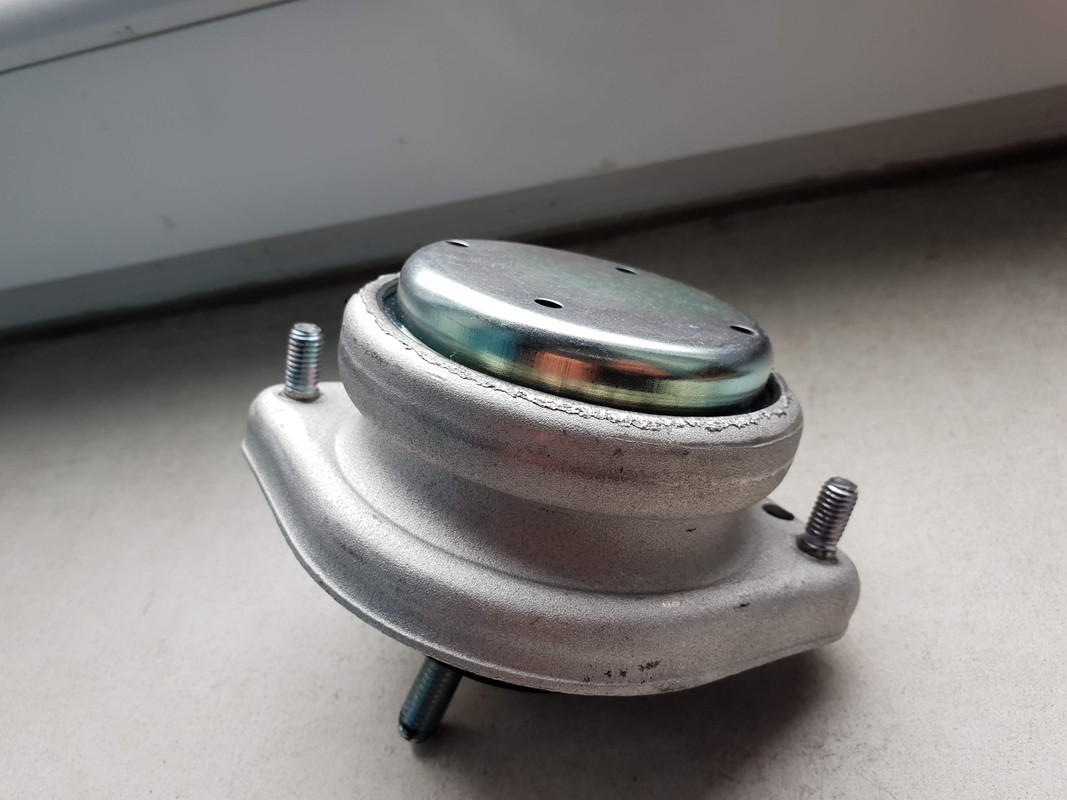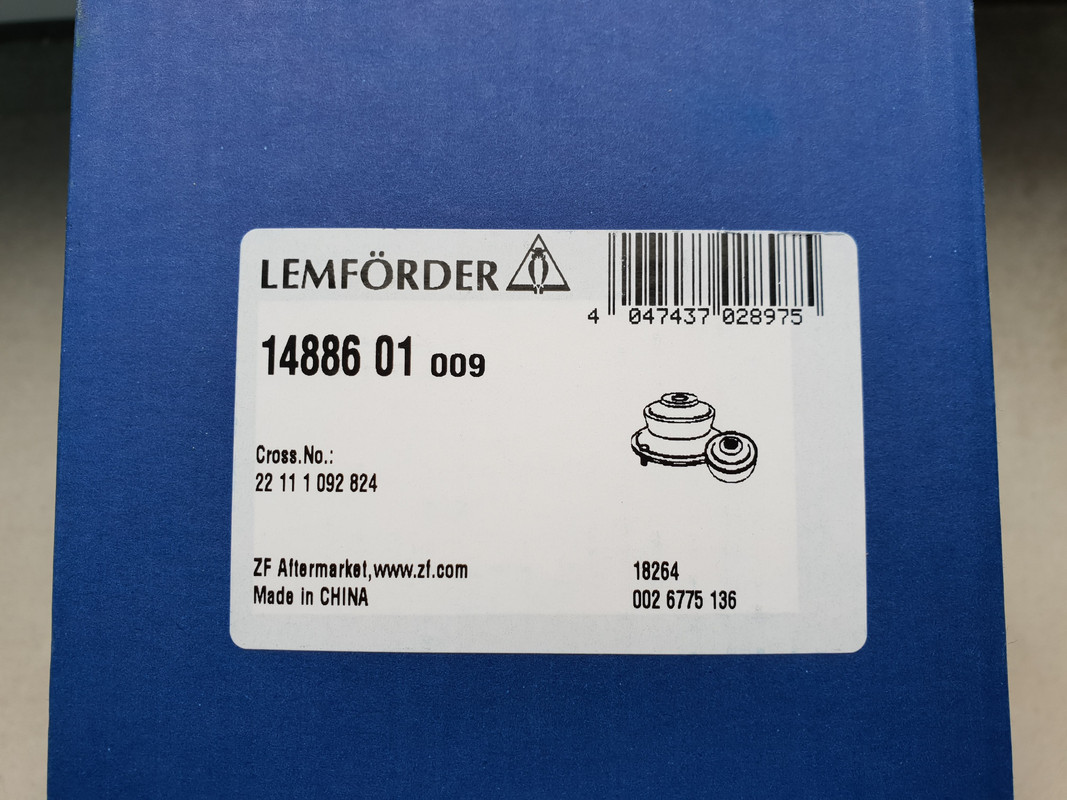 Quality of Ruville mounts was hilarious.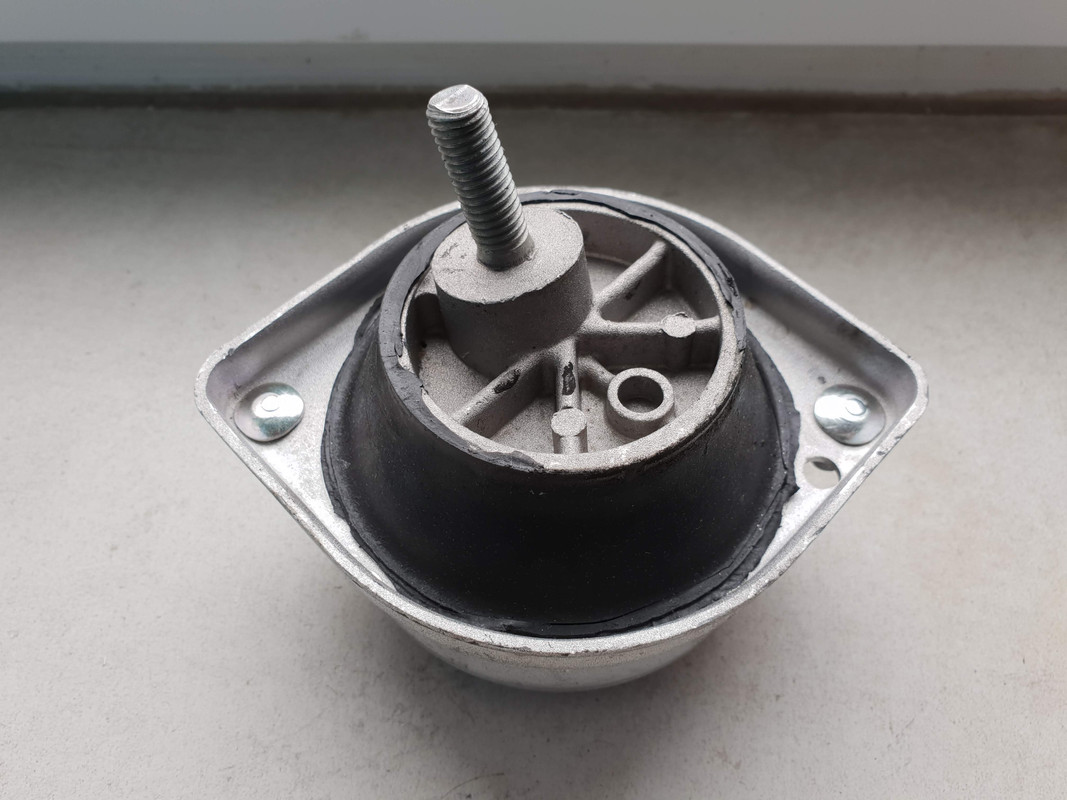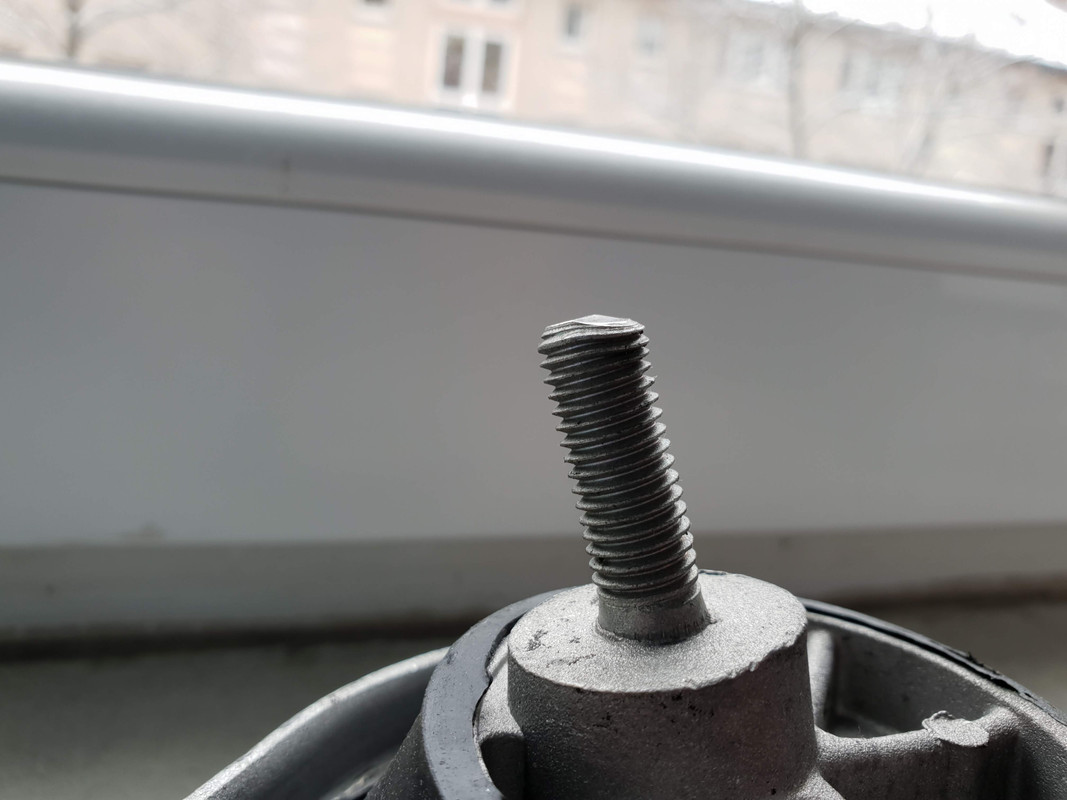 Corteco. No wonder these studs snap off so easily.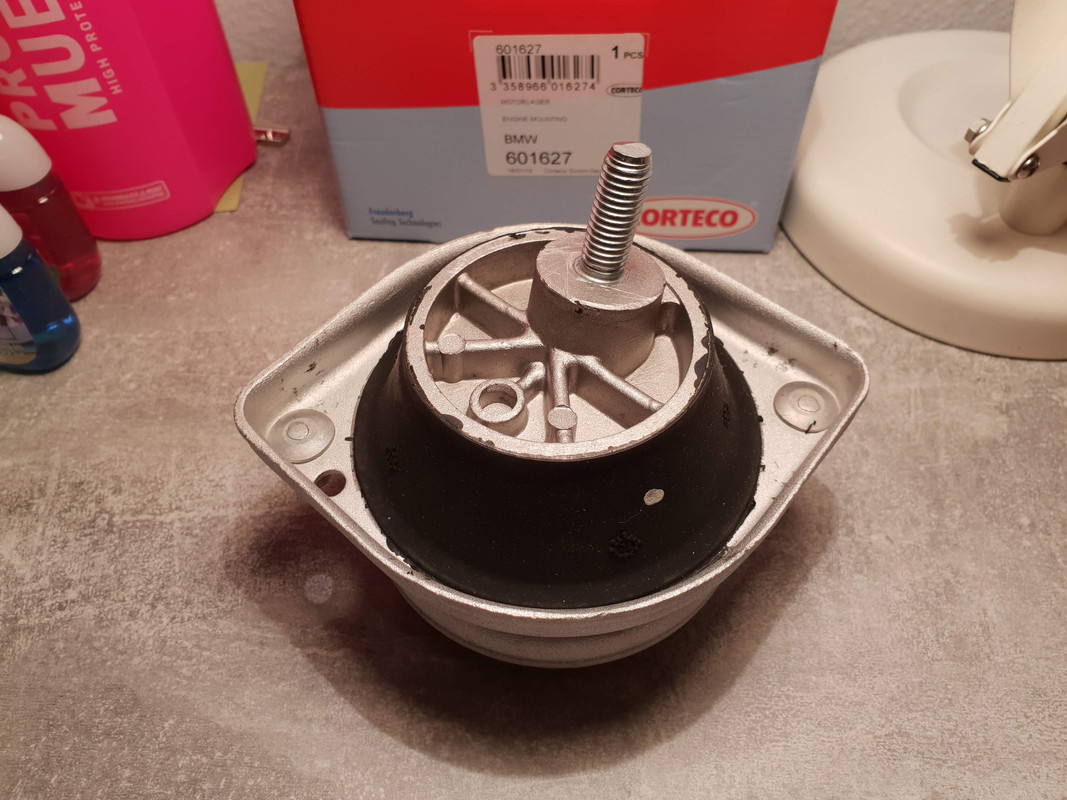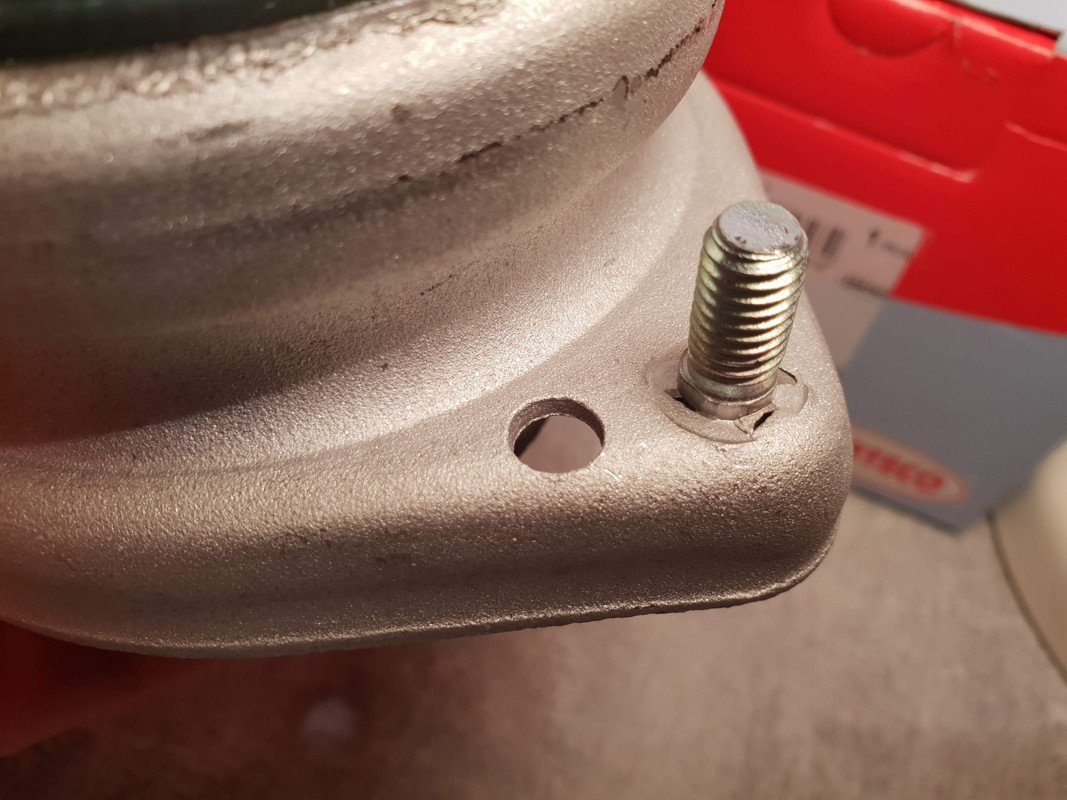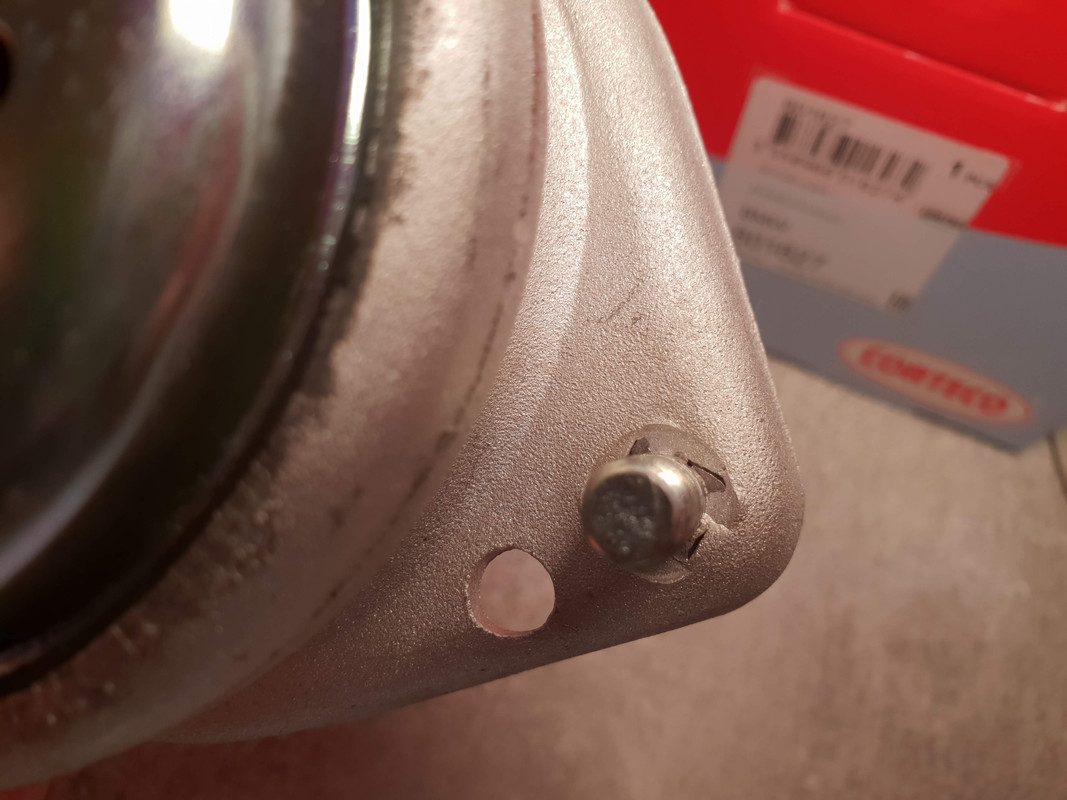 No issues with the OE mounts and they matched what I removed from the car. Pretty easy DIY, I jacked up the engine by the oil pan, R&R mounts, use thread locker and torque down everything to spec.
Old mounts weren't too bad and didn't have obvious cracks, just compressed. Wetness on them is from WD-40.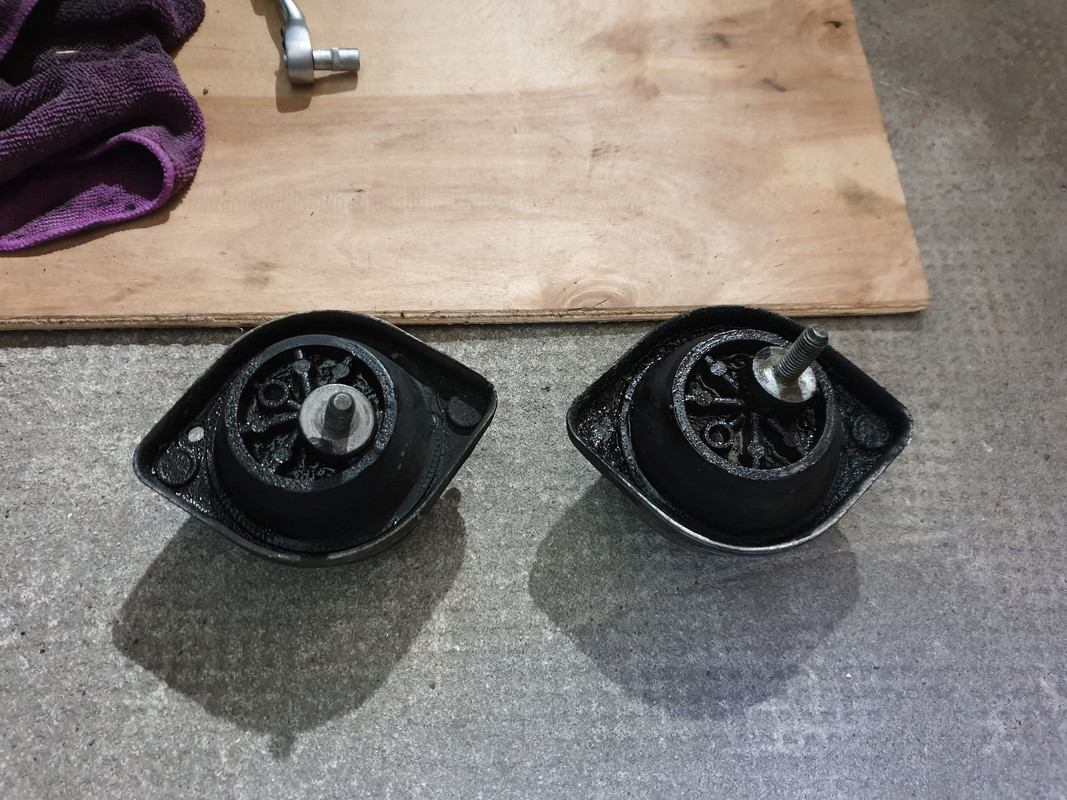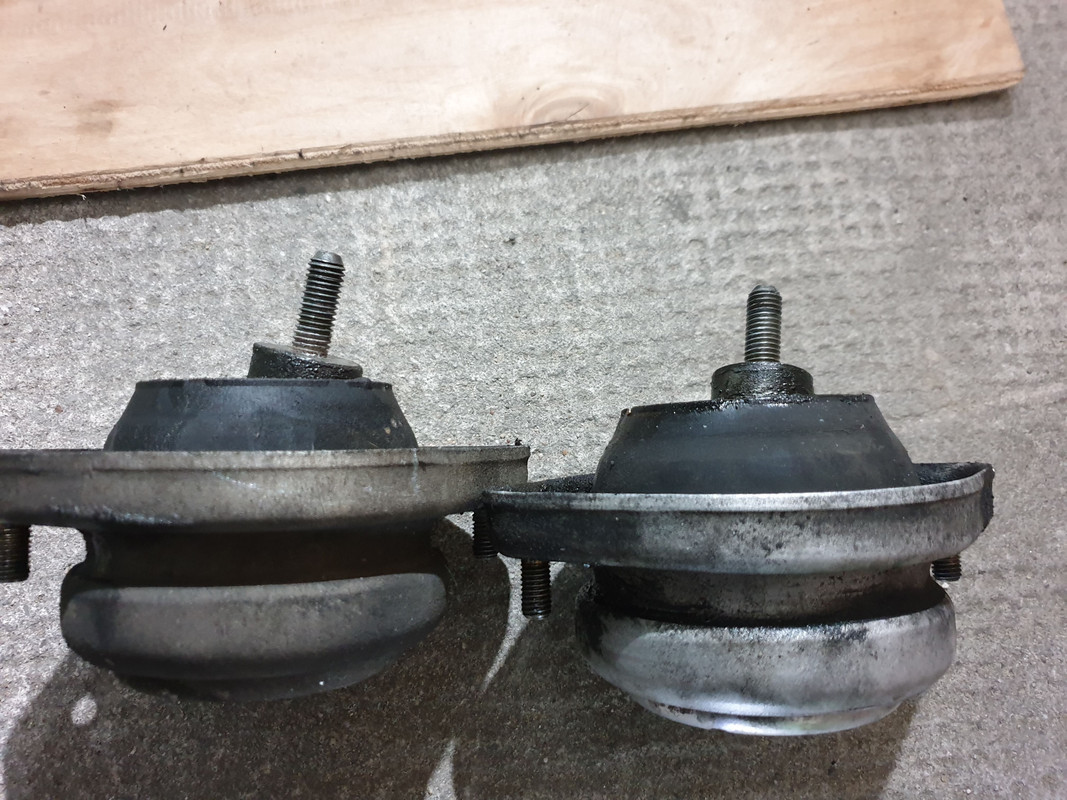 Some fine small vibrations that were present between 2.000 and 3.000 rpm are now eliminated and the car feels tighter.
I had a very small but annoying power steering leak from the line that runs from the cooler to the steering box. There are no OEM options for this line in Germany and I was forced to get it from the dealer.
They delivered COHLINE hose which is available as OEM in the US so no need to order genuine stuff cause you'll end up with the same thing but pay more.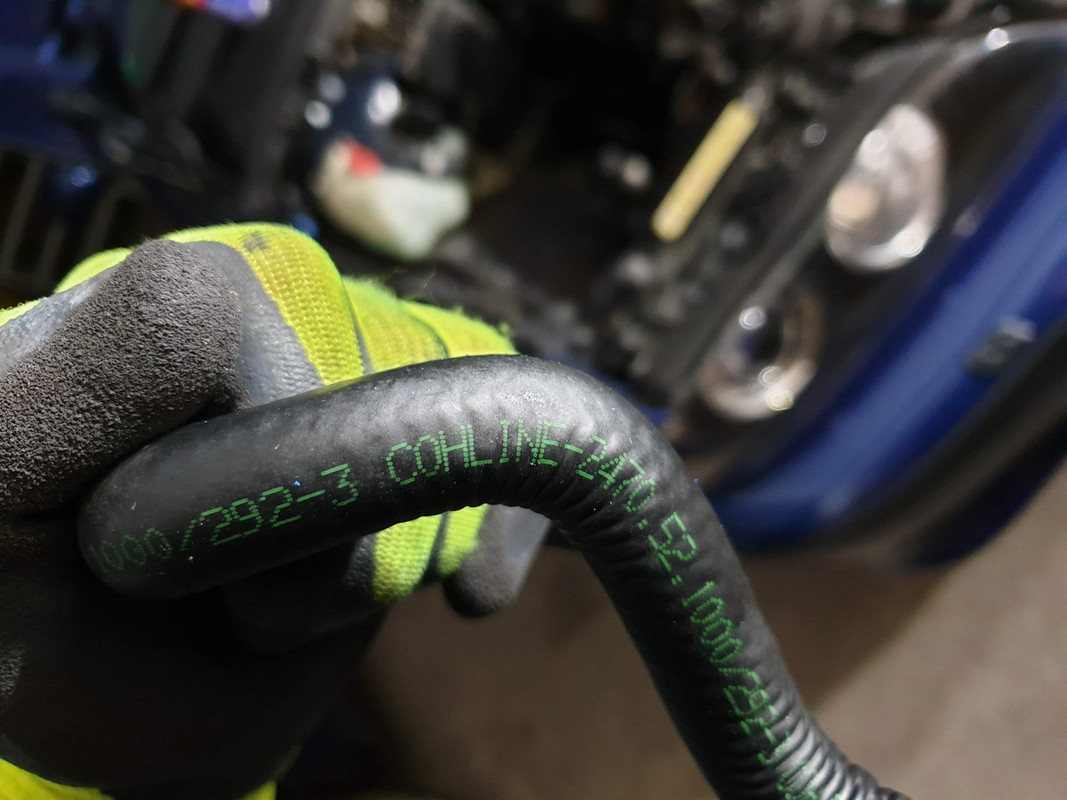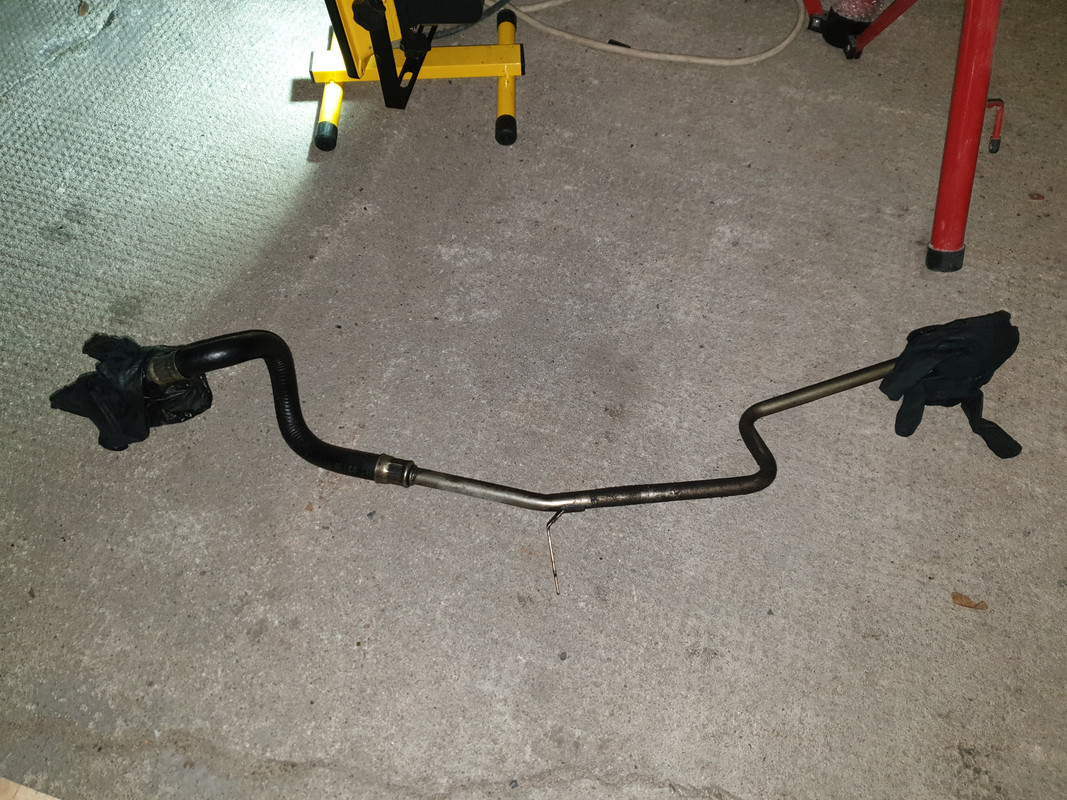 Removing the banjo bolt from the steering box is not that difficult using a joint socket but putting it back is a bit challenging because there are 2 crush washers and there's no way I can get my hands down there as it sits next to the frame rail and there really isn't any room.
So I improvised and used a piece of tape just along the edge of the bottom washer to hold it in place while I fish it through and start to thread it in, then I used a long screwdriver to remove the tape.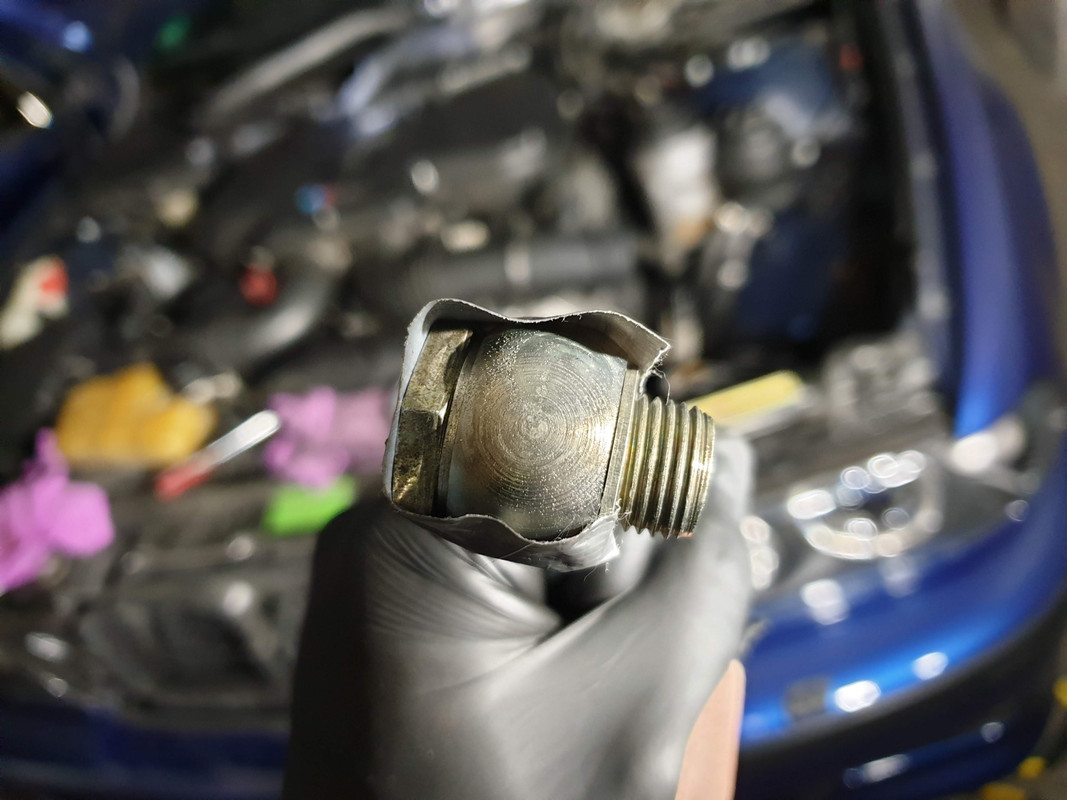 Took some patience but it worked and so far no leaks.
Next, I set about installing SS brake lines. These are just delicious.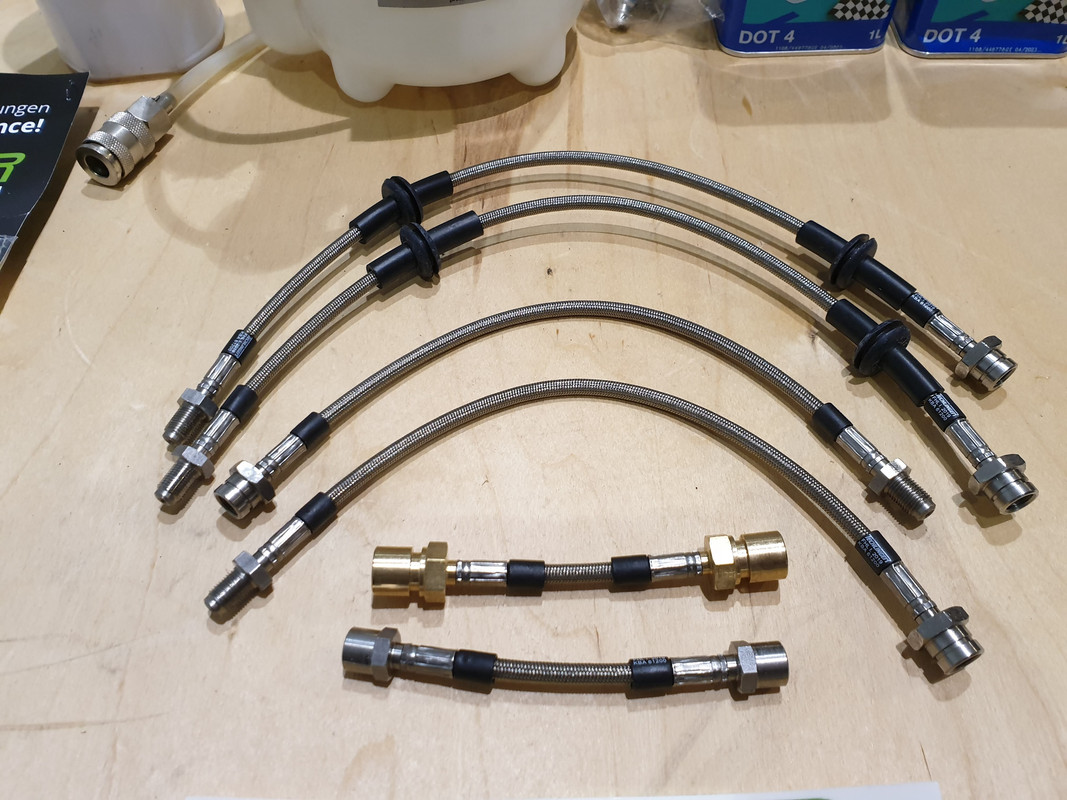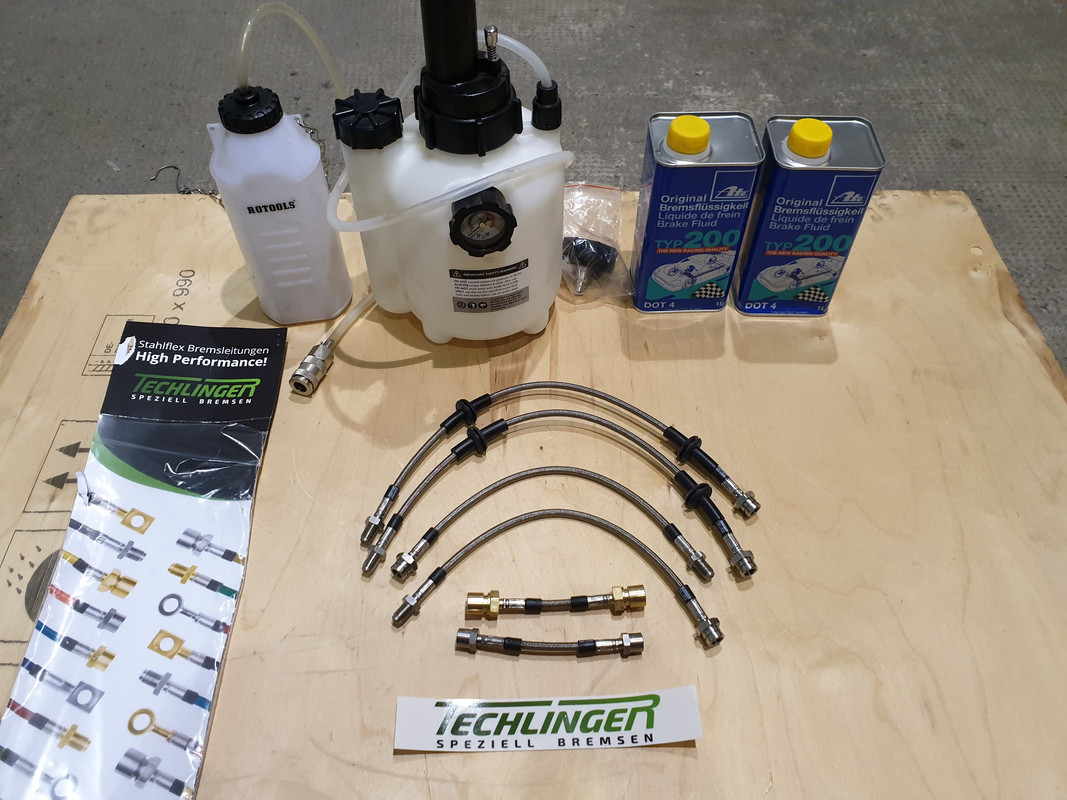 I bought all 6 lines despite having D2Racing BBK in the front with SS lines because the certificate is needed for TÜV which I can only get if all 6 lines are from the same manufacturer weirdly. Though I didn't touch the front lines.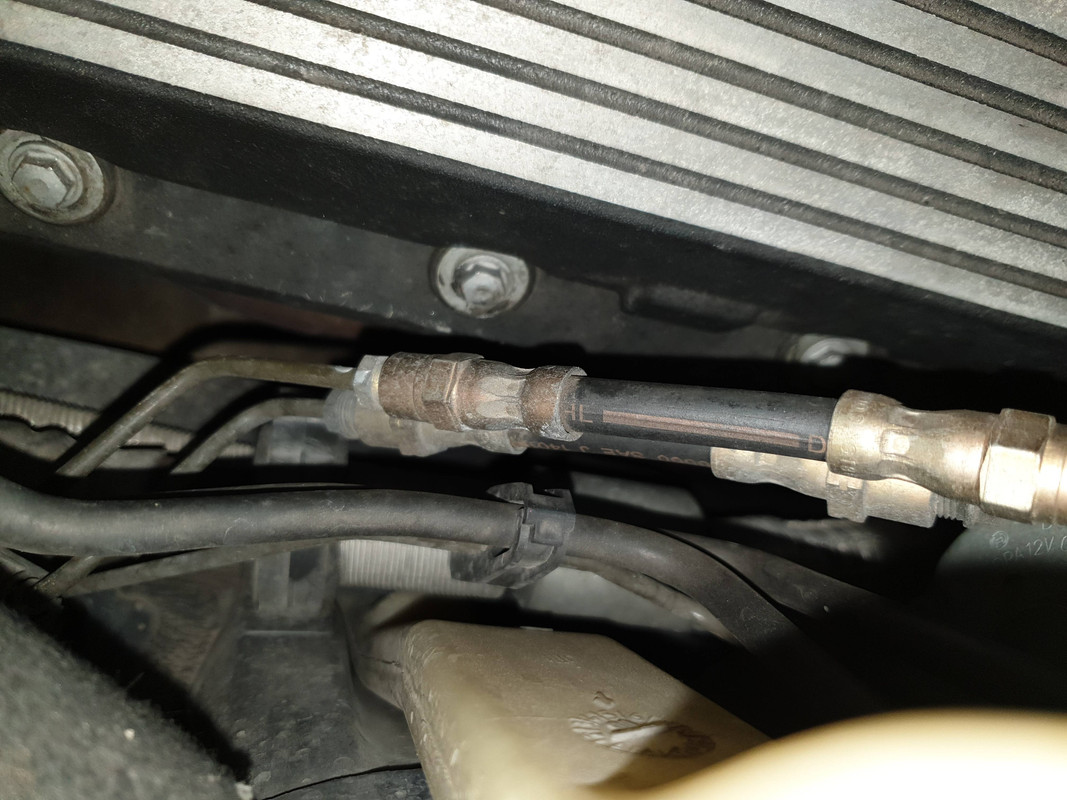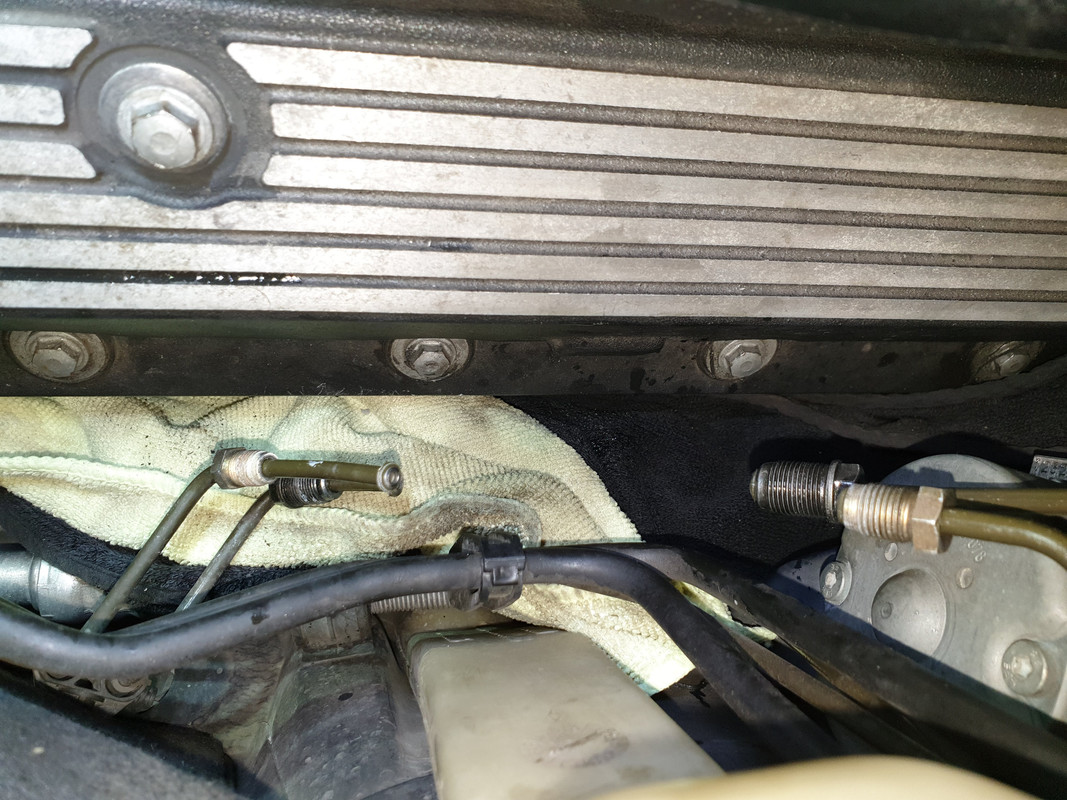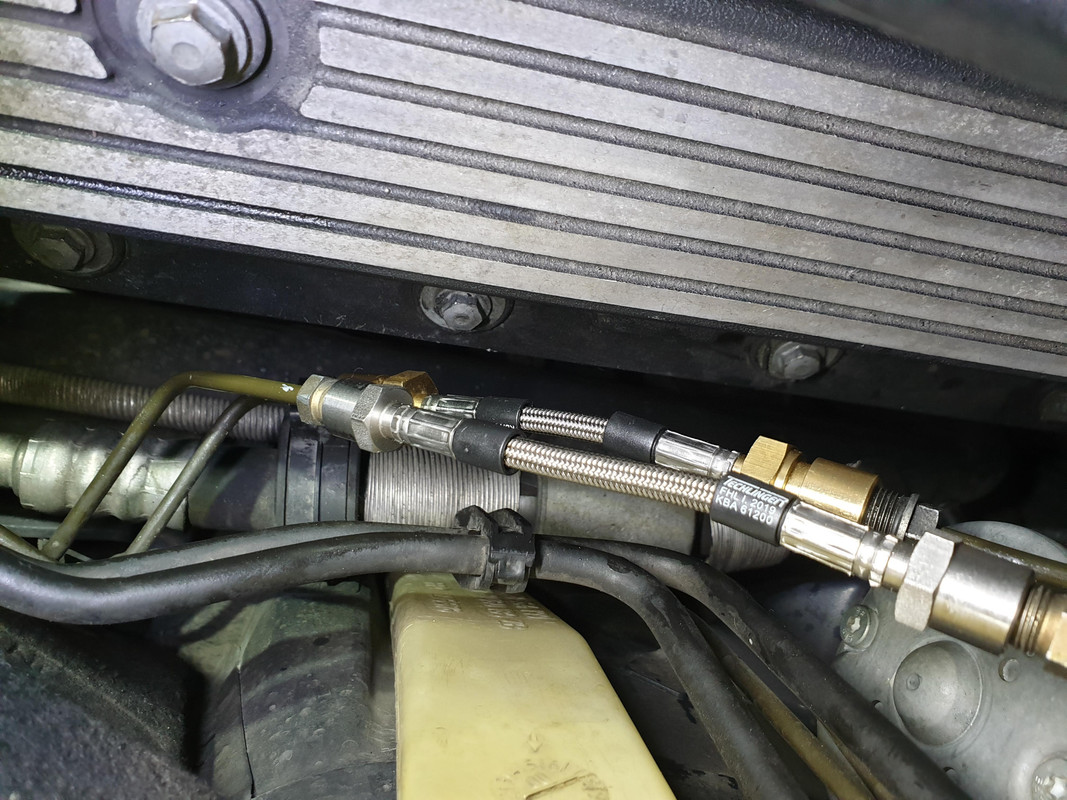 Middle lines weren't that bad actually. Rears looked okay as well.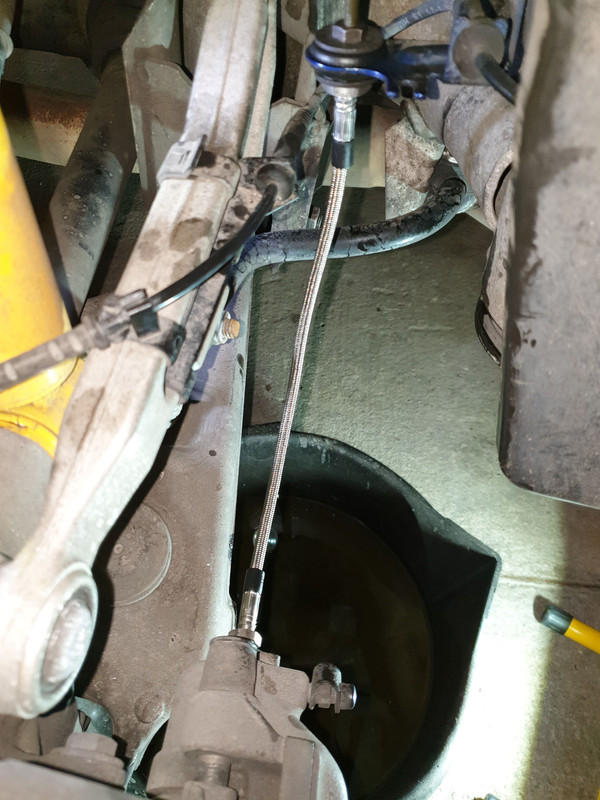 Then I bled the system using a power bleeder and DIS to cycle the pump.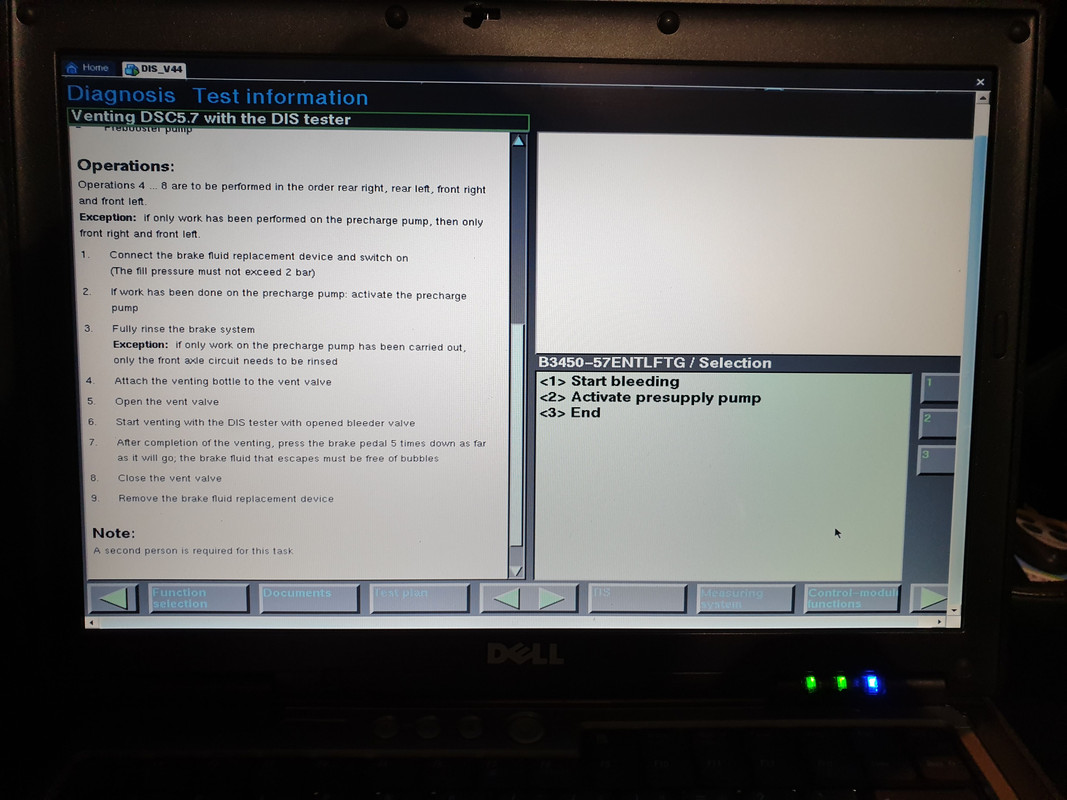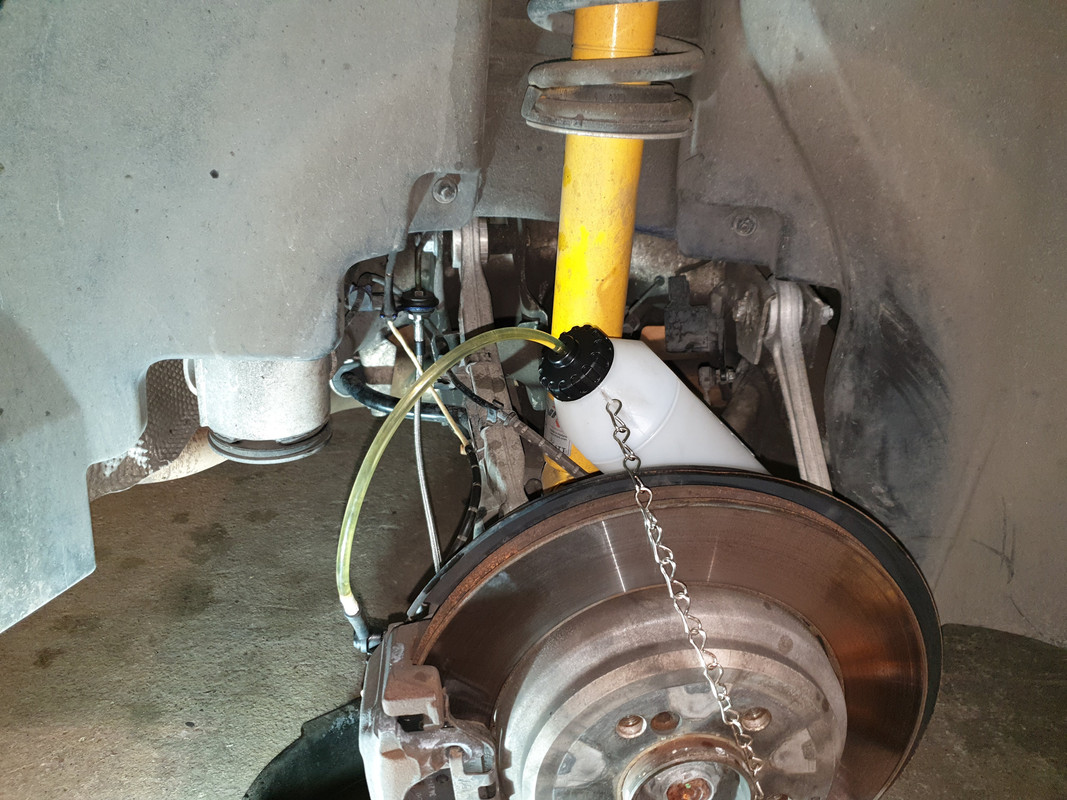 It was time to get new brake pads for the front as the current ones are pretty low. This is a direct quote from European D2Racing website:
When the components of the kit are worn, such as the brake discs or brake pads, AP parts can be fitted onto our brake kit.
Also, the brake pad from the following well-known brands: AP, FERODO, MINTEX, EBC, PAGID, CARBON METALLIC AND HAWK can be fitted onto our kit.
I also wrote to D2Racing support to confirm this and they said
yep all of them fit 100%
. So I decided to try Ferodo DS2500 and order pads that were listed for D2 and AP calipers.
Old pads.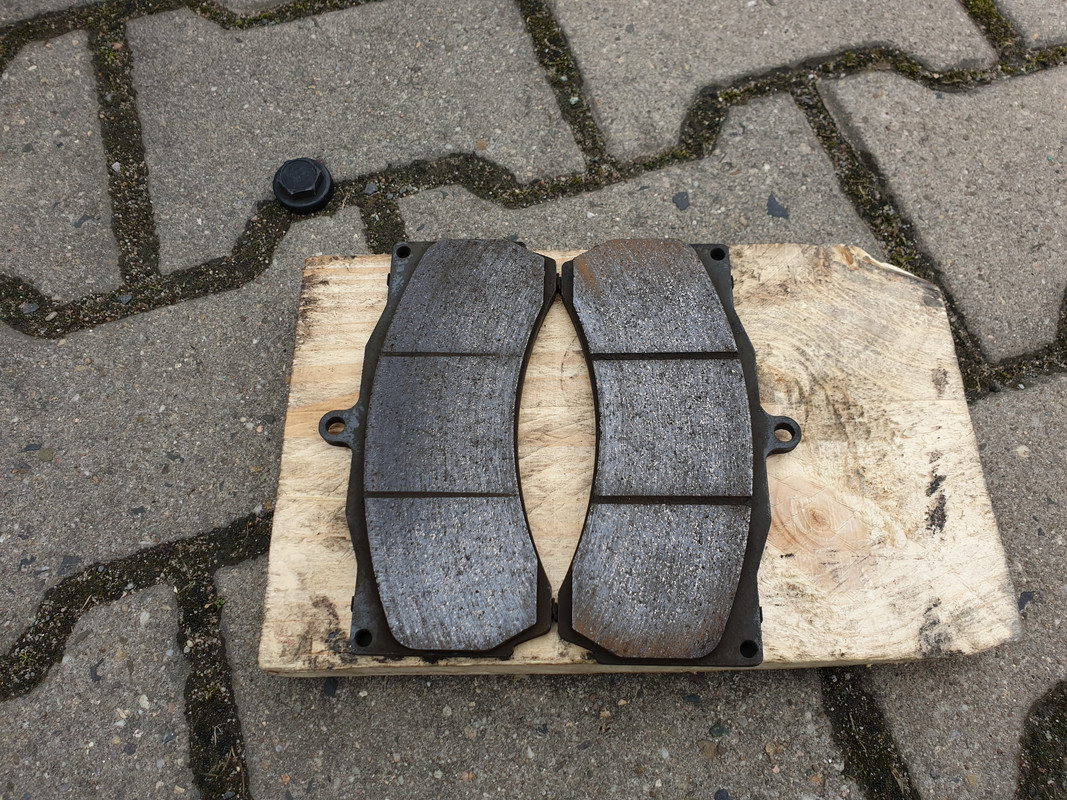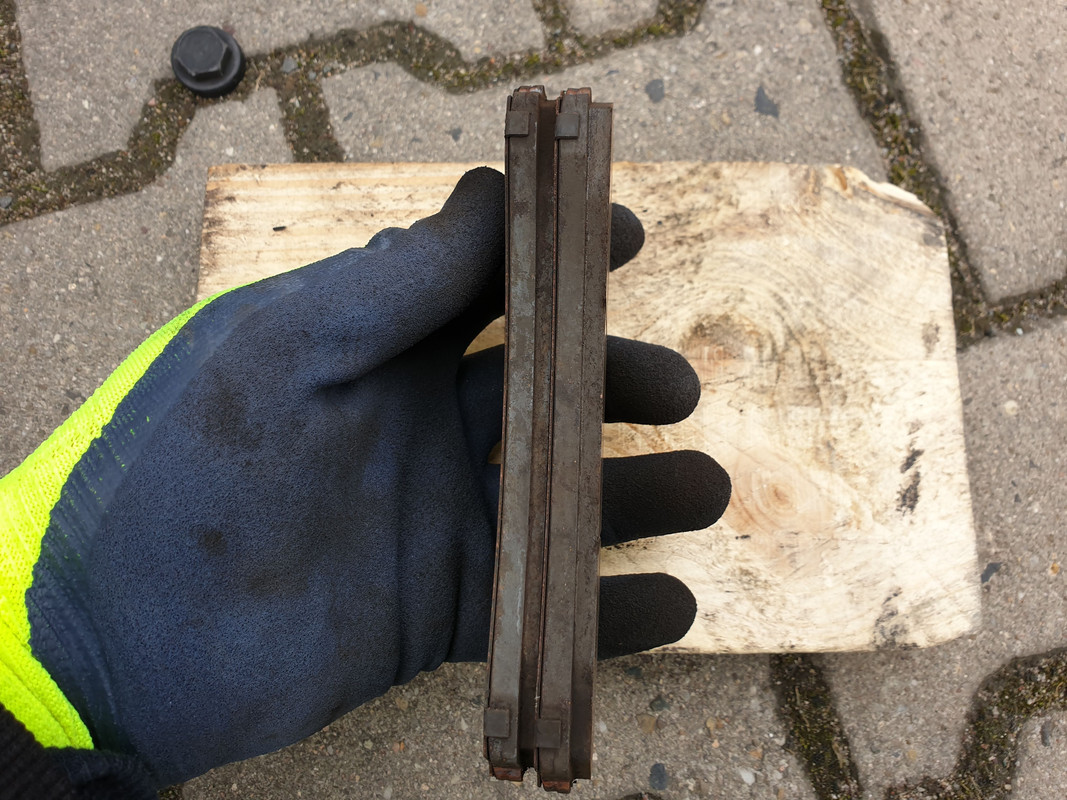 New Ferodo pads which don't fit properly in D2 calipers, they hang over the rotors by good 3-4mm and don't cover the rotor surface as they should.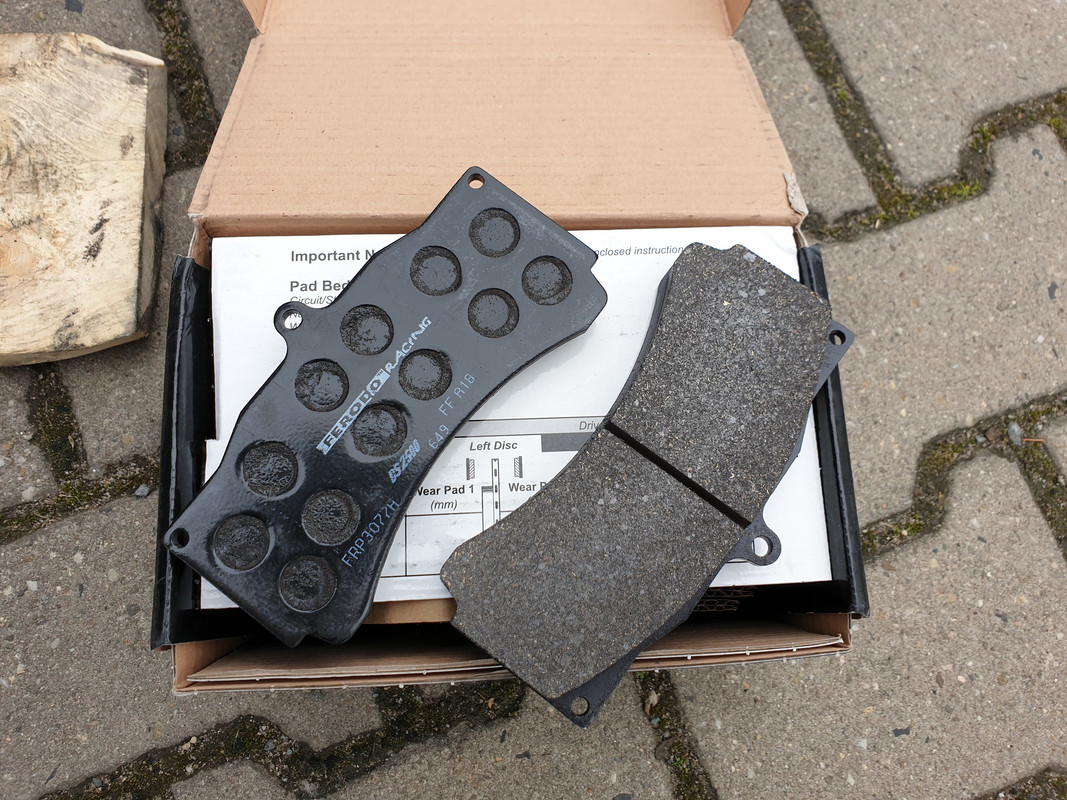 Sent them back and order a new set with a different part number thinking I ordered wrong pads but ended up being the same.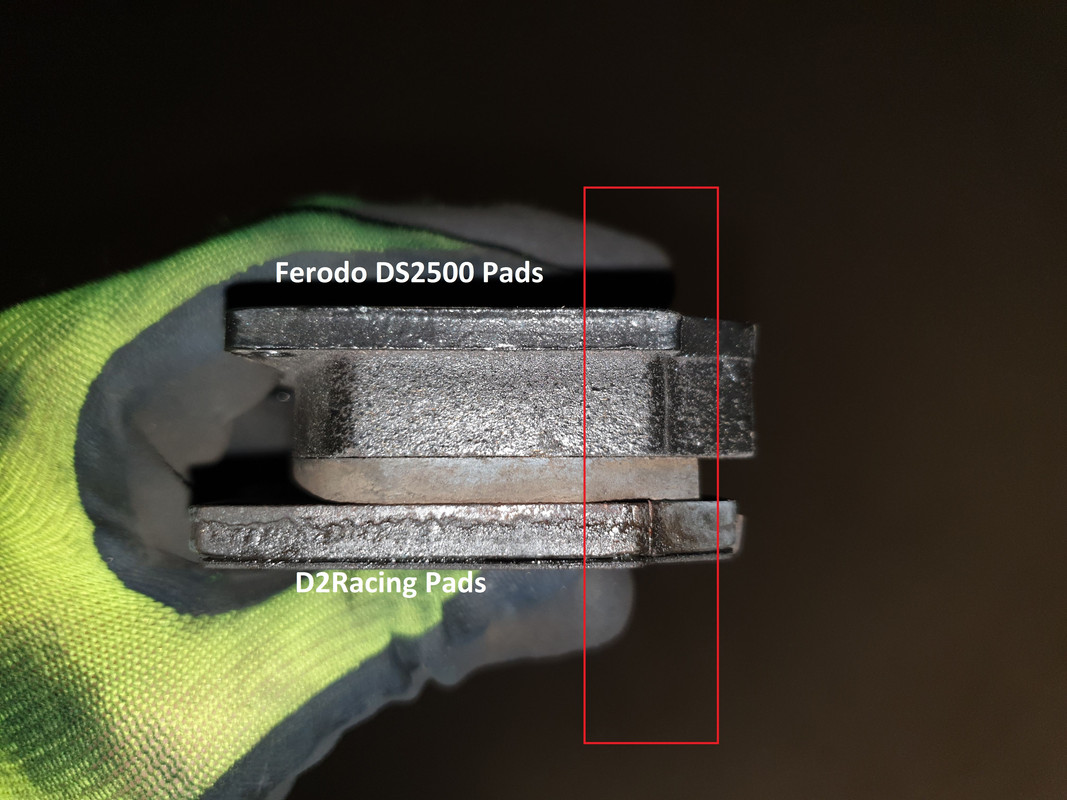 Backing plate and friction surface are identical on D2 and Ferodo pads but the position of the friction material on Ferodo pads is different which causes them not to fit properly.
I emailed Ferodo about this issue and they responded to 2 of my emails and then they stopped. D2Racing replied once saying they don't know anything and just bailed and ignored the rest of my emails.
After getting nowhere with Ferodo, I opted to try EBC YellowStuff and found a part number in the EBC catalog that was unique to D2Racing 8 Pot calipers.
I ordered them from the UK and they arrived fairly quick.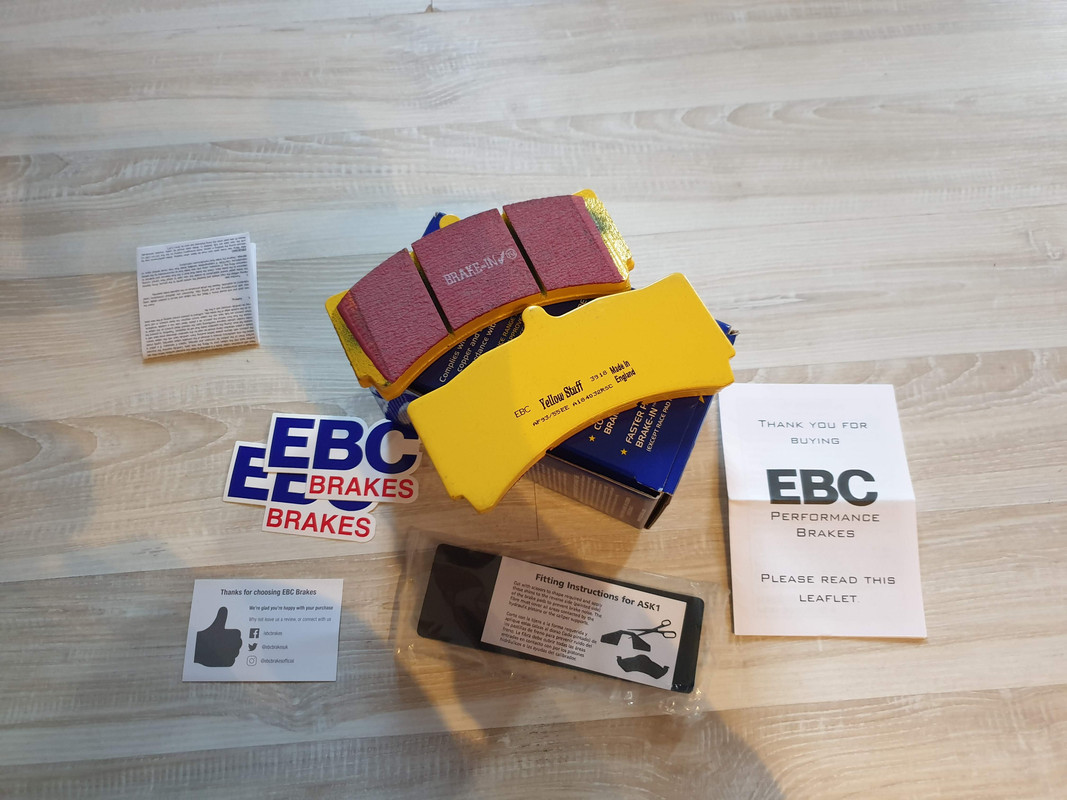 However, the issue was the same.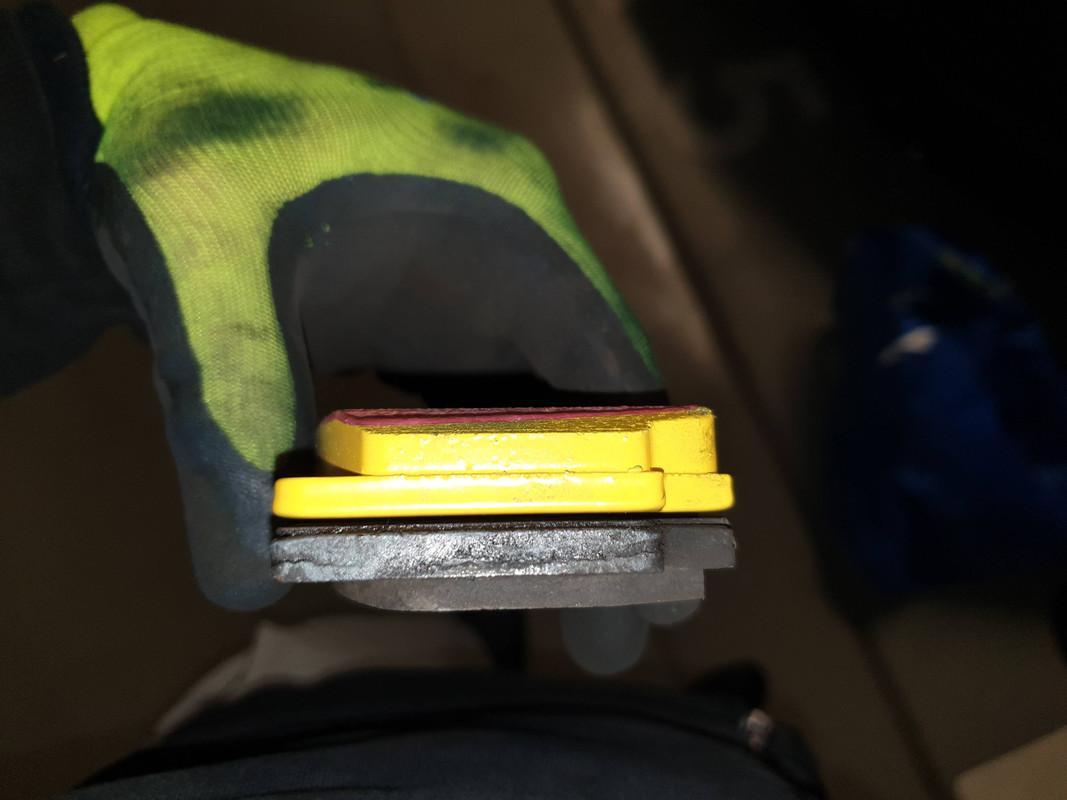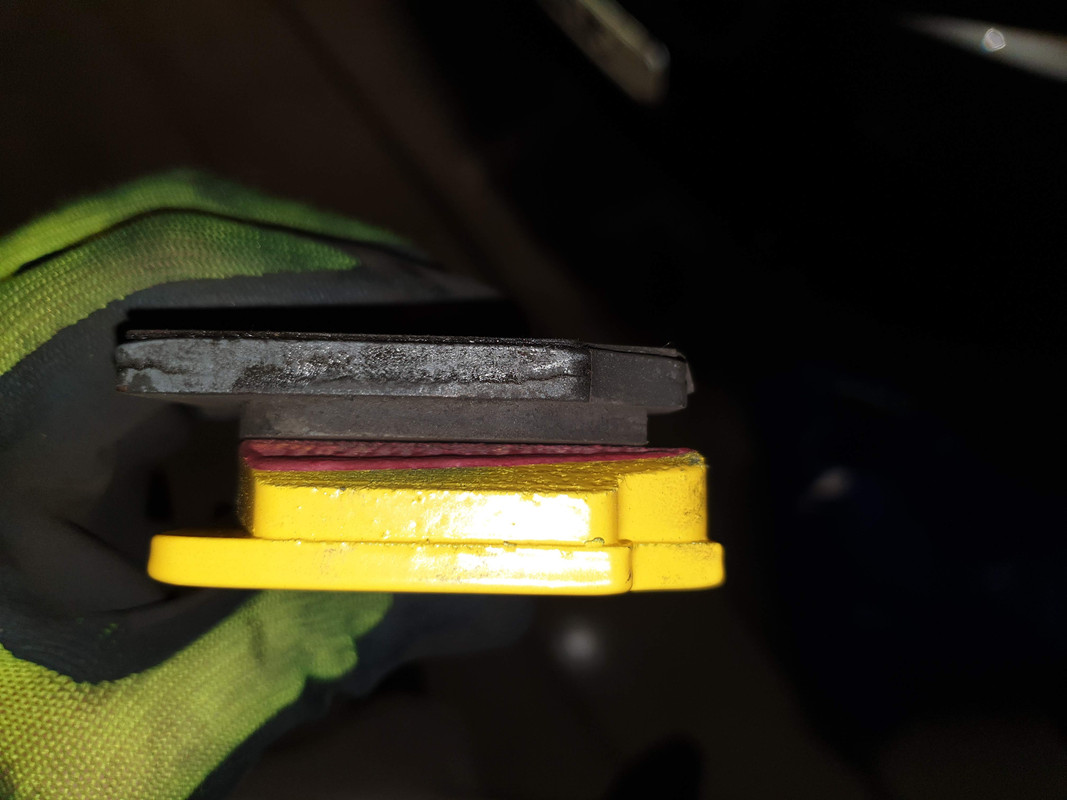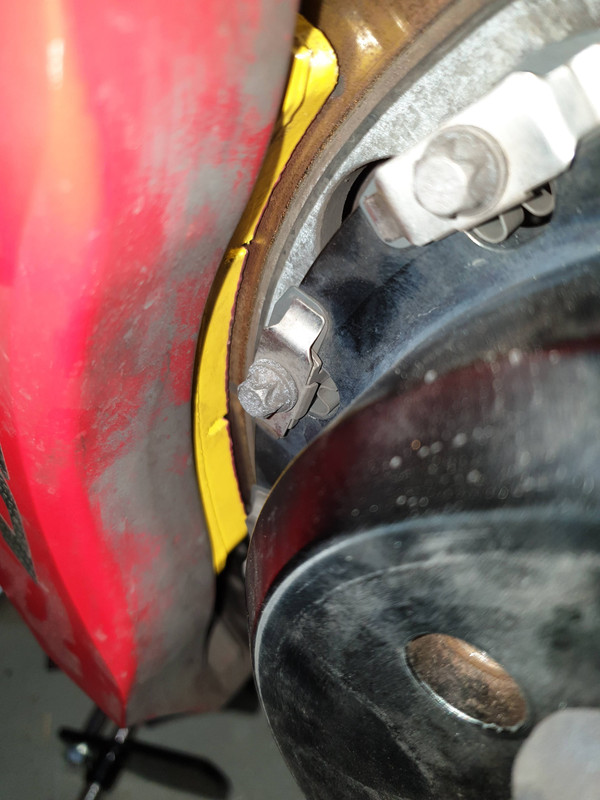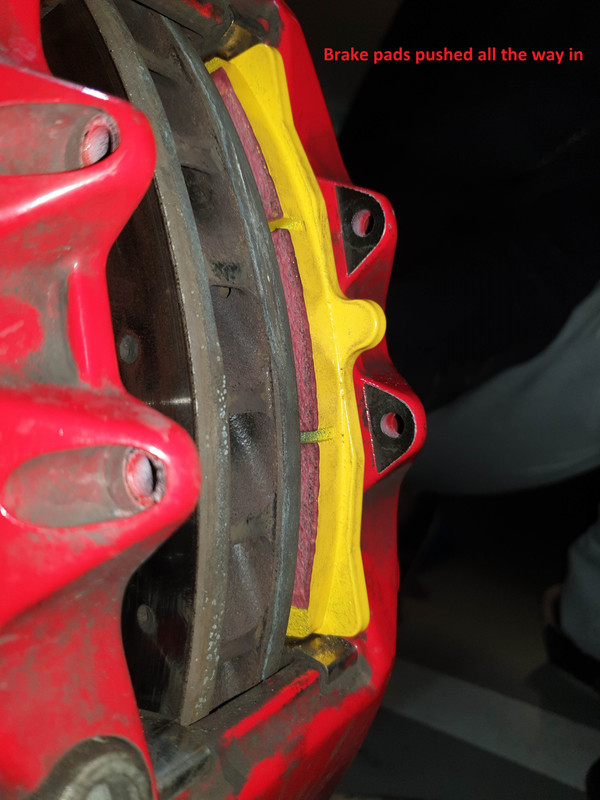 EBC customer service was a lot better and they responded quickly. They told me these are designed primarily for AP racing calipers and that there might be fitment issues with other calipers which is funny because there is no mentioning of this in their catalog related to this part number, just that they are a direct fit for D2 8 Pot calipers.
I emailed D2Racing again which responded that it doesn't look right and that I can order D2 pads from them. So the statement on their website and what they told me is total bull and in fact only D2 pads can be used with their calipers as Ferodo and EBC don't offer anything else. I suspect it's the same with other pad manufacturers.
If I paid $2,600 which is what this BBK costs and which luckily came out of previous owners pocket, I'd be pretty pissed right about now. Your choice of pads are only limited to D2 and if you are a type of person who tracks the car chances are you want to have a bigger selection of pads.
Luckily, I'm not that guy and I order D2Racing Sport pads not having other options. They are carbon ceramic compound and described as a fast road/light track pads which should be a step up to D2 Street pads which I have now. Delivery time is 2-3 weeks and hopefully these finally fit.
Moving along, I continue to experiment with tranny fluid. I got tired of terrible cold shifting properties with Liqui Moly MTF 5200. The shifting with this oil is smooth as butter when the car is warm but when it's cold, it's hopeless and I can barely use the 2nd gear for the first 10 minutes.
I went with Castrol Syntrans B 75W this time around, BMW MTF LT-2 approved oil and advertised as specially developed for BMW M gearboxes. I ought to put more miles on it but so far it seems the best. Cold shifting is much better compared to before, still not perfect and nothing will be but I can use the 2nd gear normally from the start and warm shifting is just as smooth.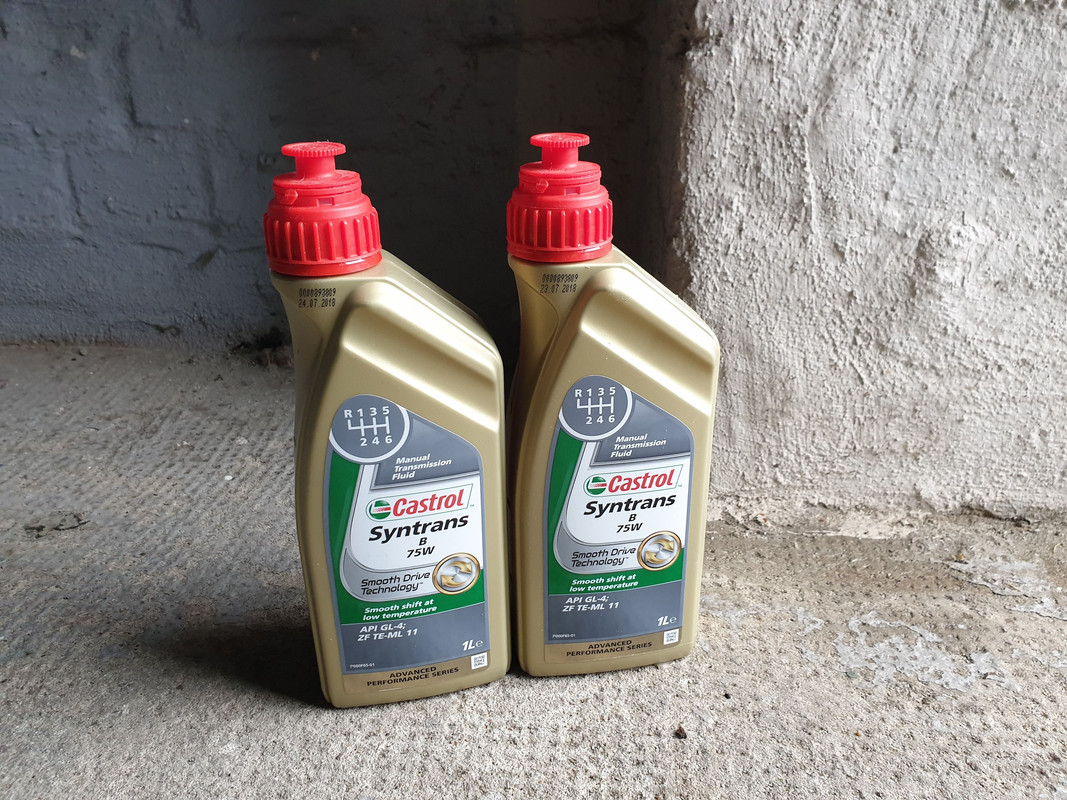 My M5 is one of the first facelift examples with a 09/2000 build date and experts will know that cars before 12/2000 come equipped with the old type of Vanos accumulator which means that my M5 rattles like a bastard for a couple of seconds during warm startups while it's dead quiet on a cold start. This rattle is totally harmless and doesn't affect the performance at all but the racket was bugging the bejeezus out of me since getting the car.
My previous 05/2001 M5 had none of this and I wanted to try and address this by installing a new style Vanos accumulator which incorporates a shutoff valve to prevent oil draining from Vanos and supposedly eliminates this start up rattle. All of this is described in detail along with installation procedure in the service bulletin released by BMW that's floating around.
Service bulletin also says that cars after 09/2000 rolled off from the factory equipped with an electrical connector that's needed for the new accumulator. Sadly, my M5 didn't have it which meant I had to do the wiring as well, not a big deal just requires more time.
New parts needed for the retrofit.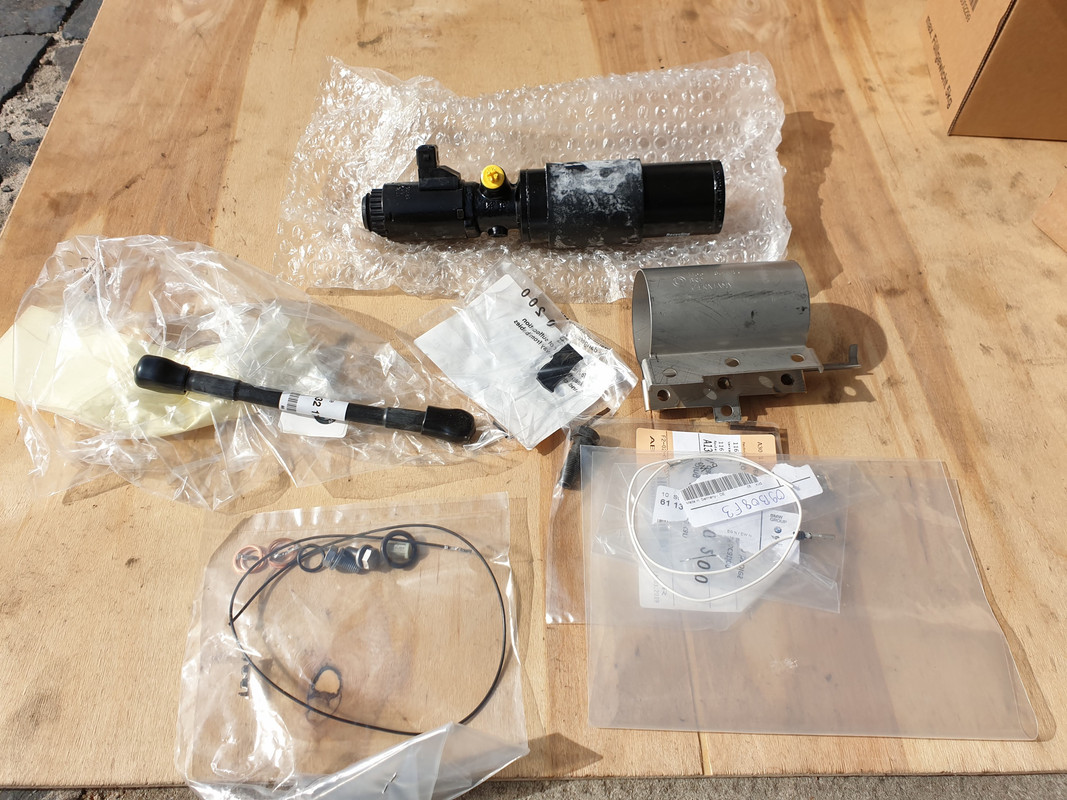 The first job was to route wires from bank 2 - one connects to module 2, pin 8 on DME and the other one is ground which connects in bank 2 wiring harness.
Off with the plenum cover. PS don't judge me on the filthy engine bay, it's a drivers machine and it'll be cleaned up soon enough.
Crumbling firewall covers are also on the list but I'm refusing to spend absurd $250 on new covers from the dealer!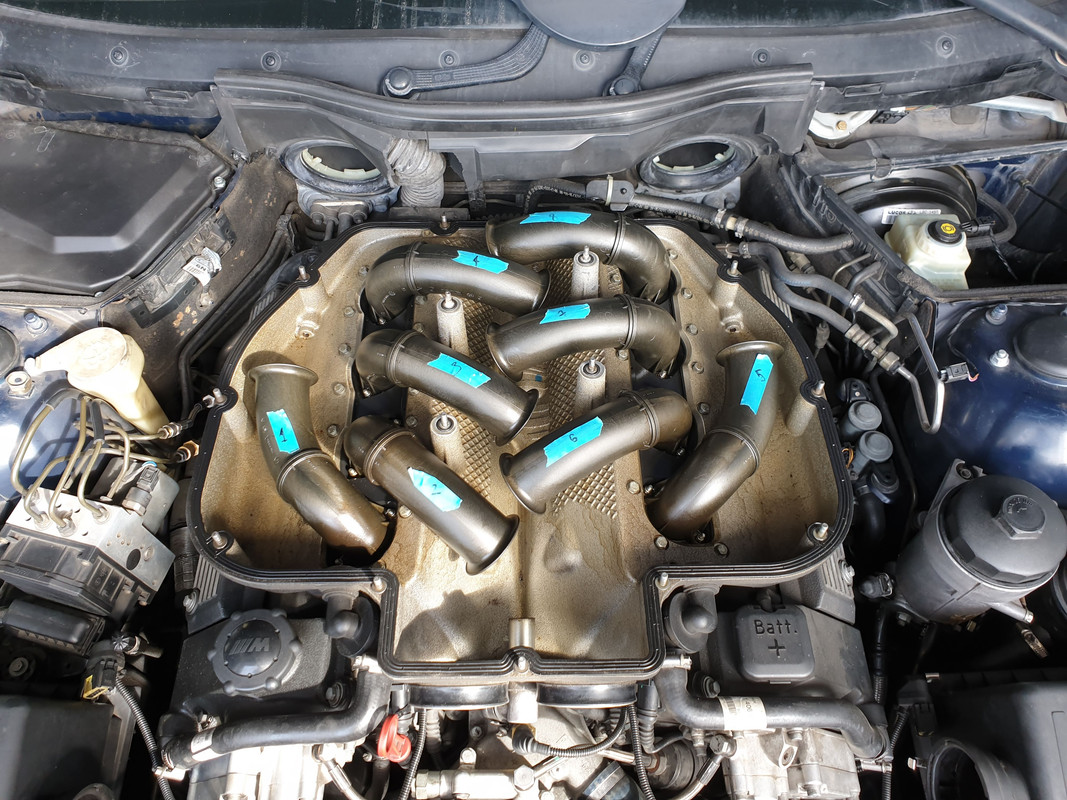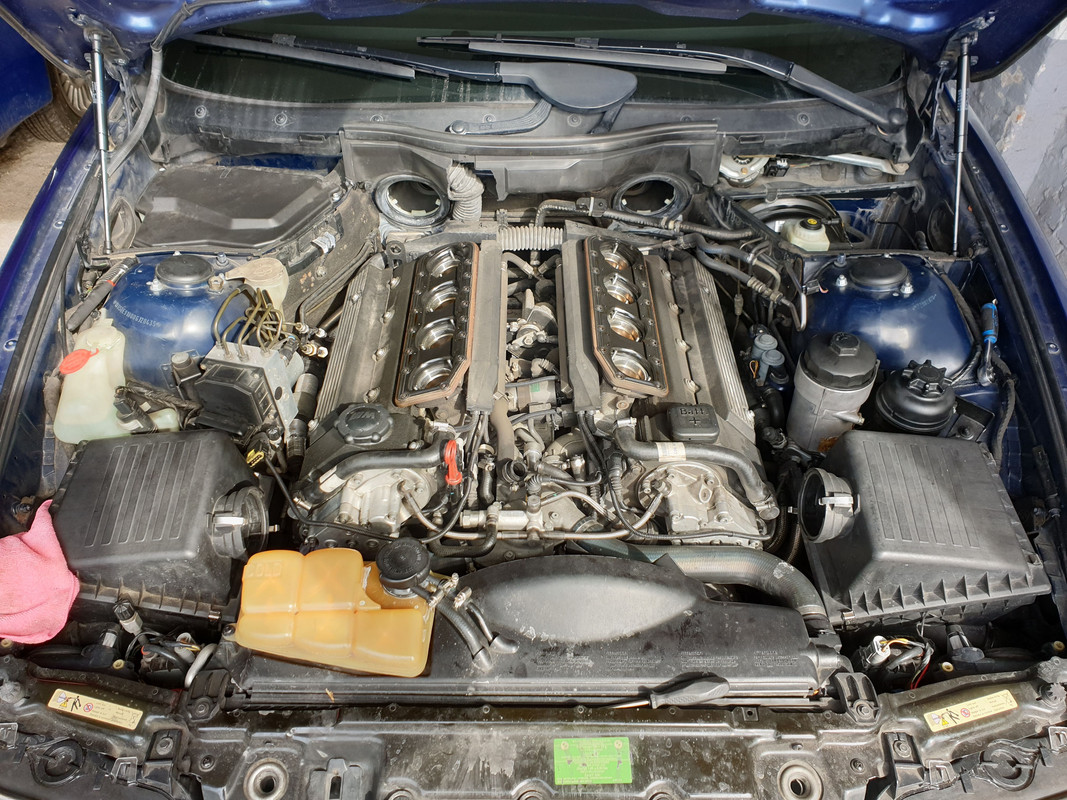 Routing the wires. Remarkably, I managed to remove both covers for the wiring harness without breaking any clips.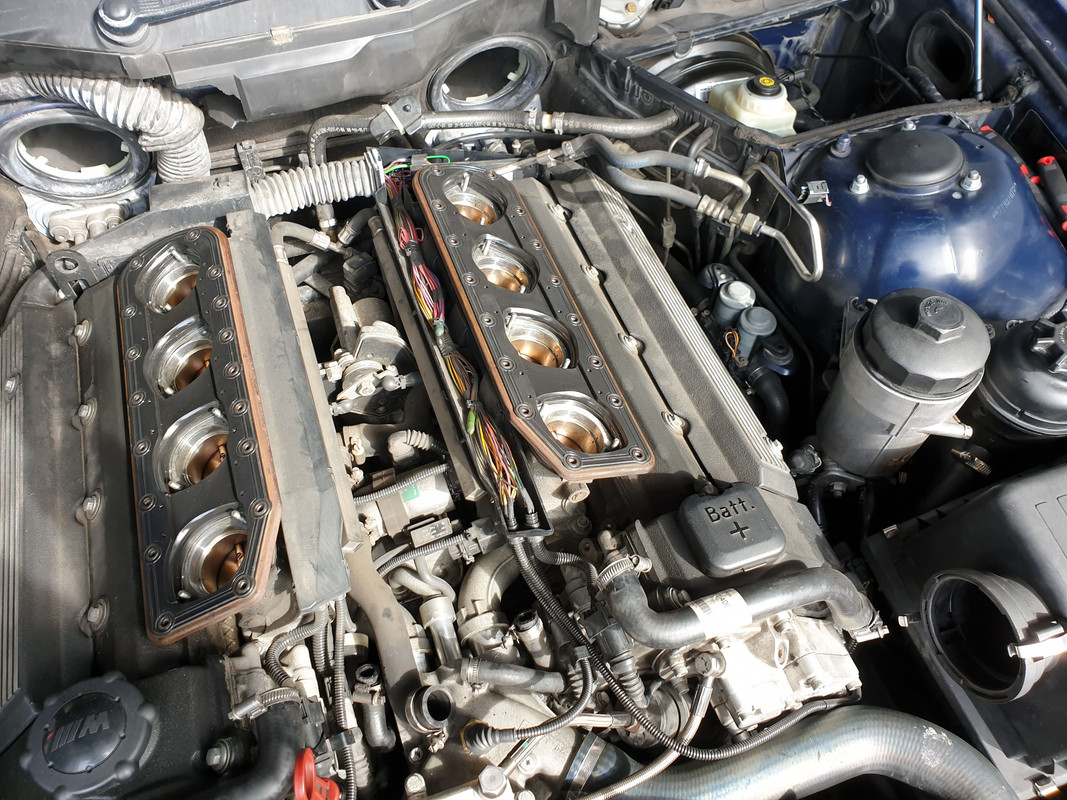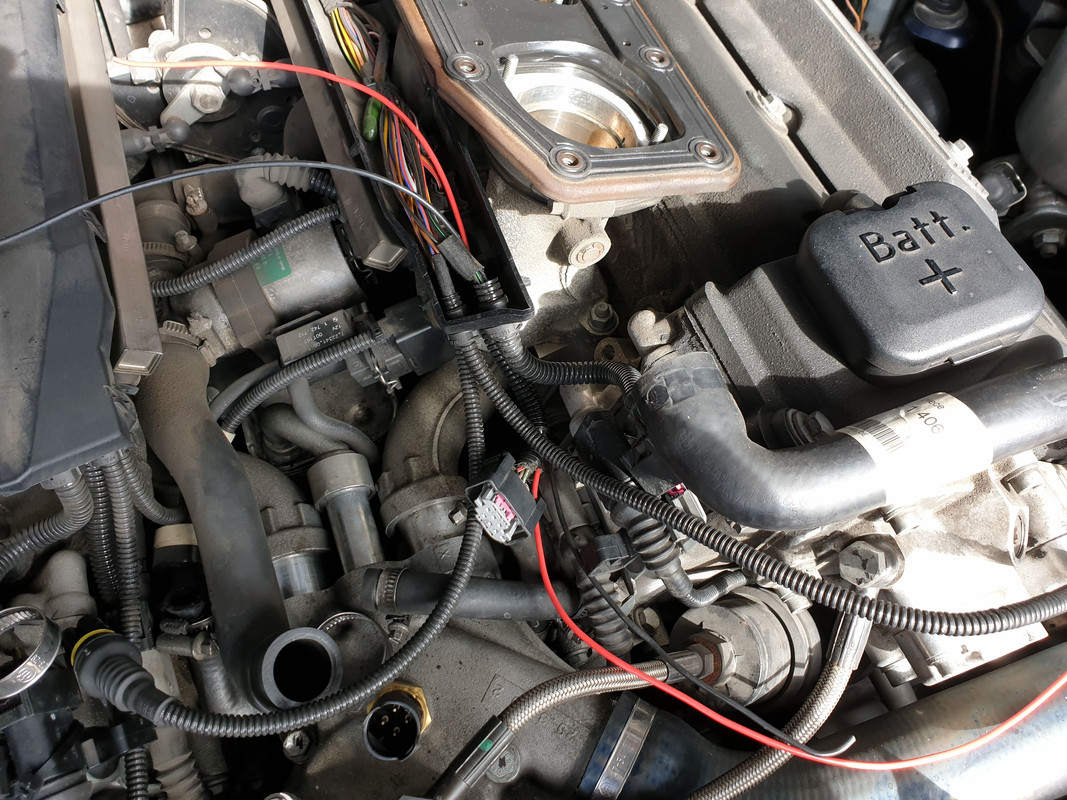 The tricky bit is routing the wire to DME. I used a good old wire coat-hanger method.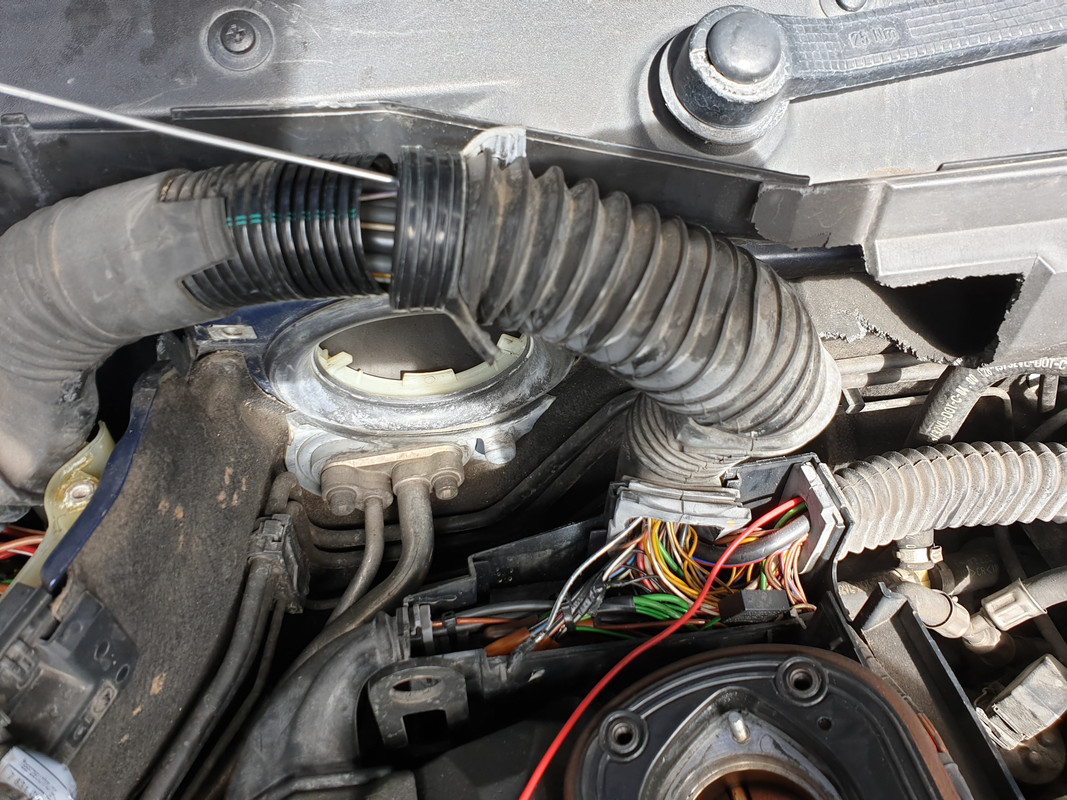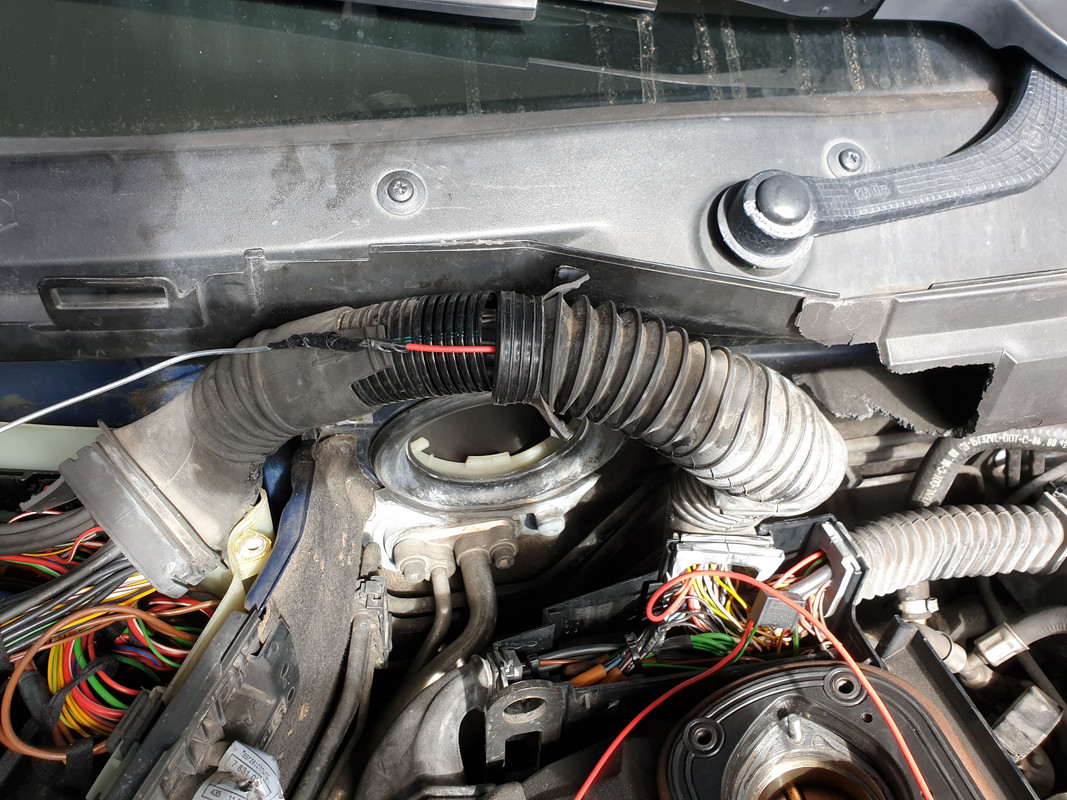 The part number for the pin for DME:
61131393704 - just a pin
61130005197 - pin with wire
Then I tapped into the ground and tucked everything back together.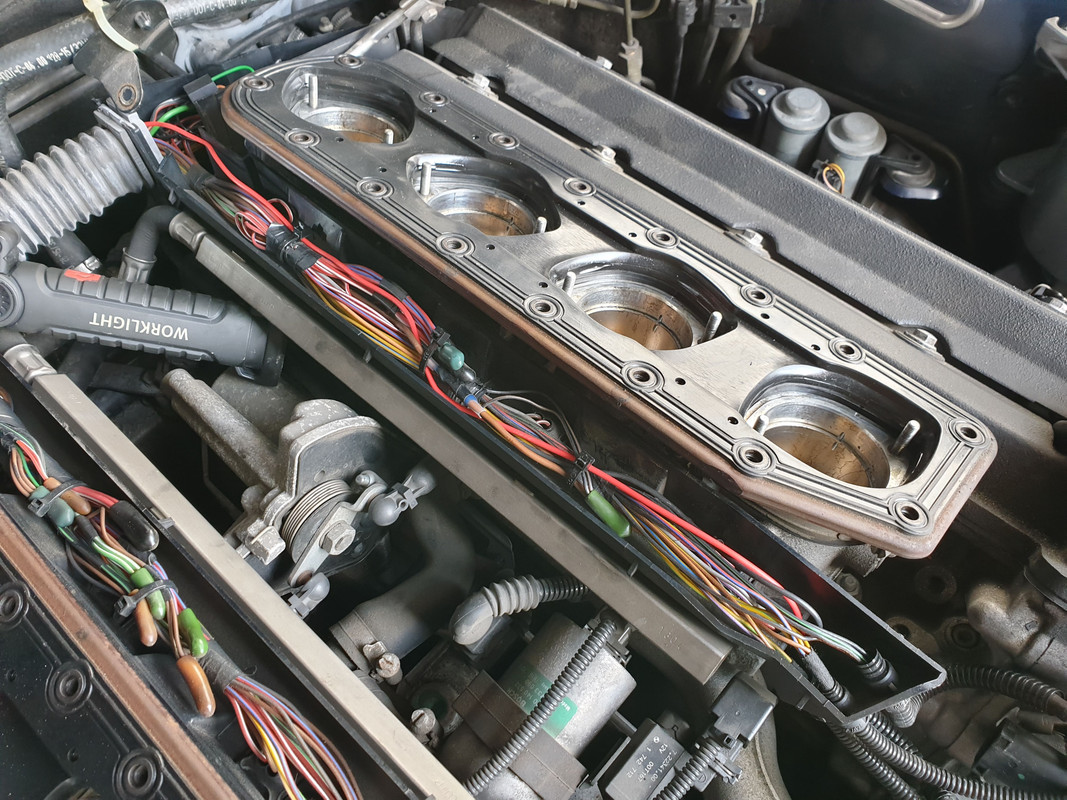 Since I had the plenum removed, I decided to replace throttle position sensors as part of preventive maintenance. Found a very good deal on OEM Hella sensors on Amazon, $22 each.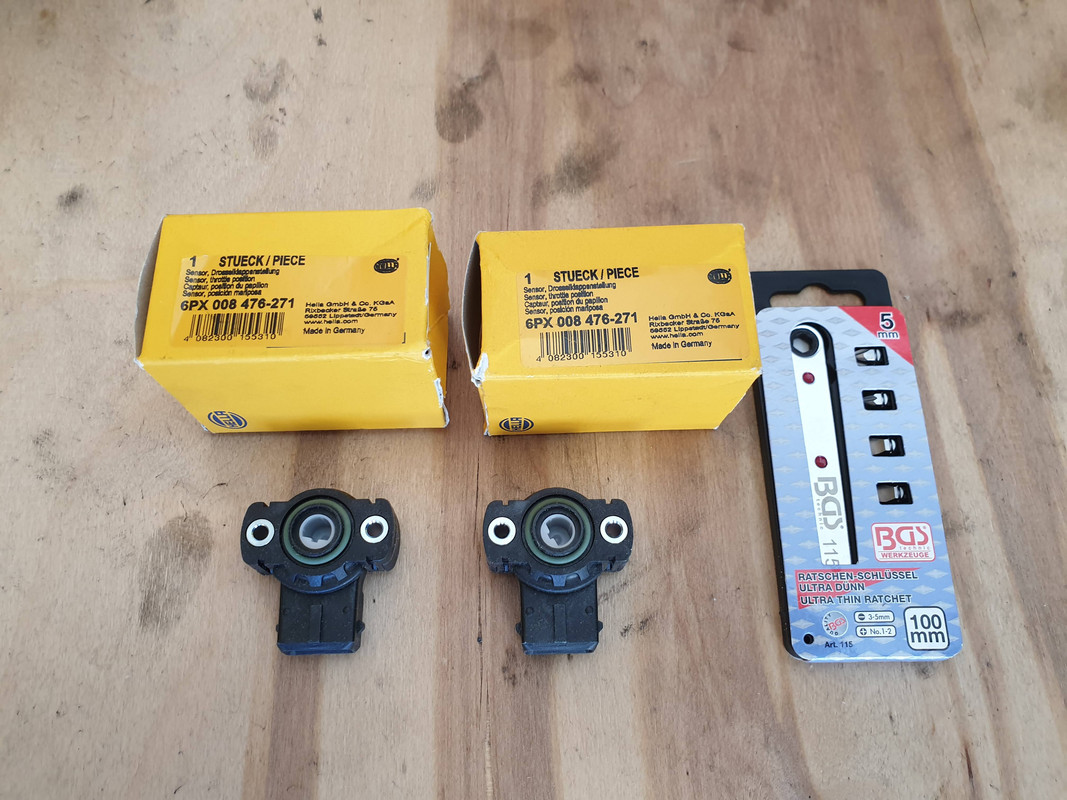 I bought this nifty thin ratchet for removing tough accessible Phillips screws that hold TPS on the back of the engine. I was able to remove 3 of those screws easily with this tool but the last one stripped and I used small vice grips to remove it just as easily.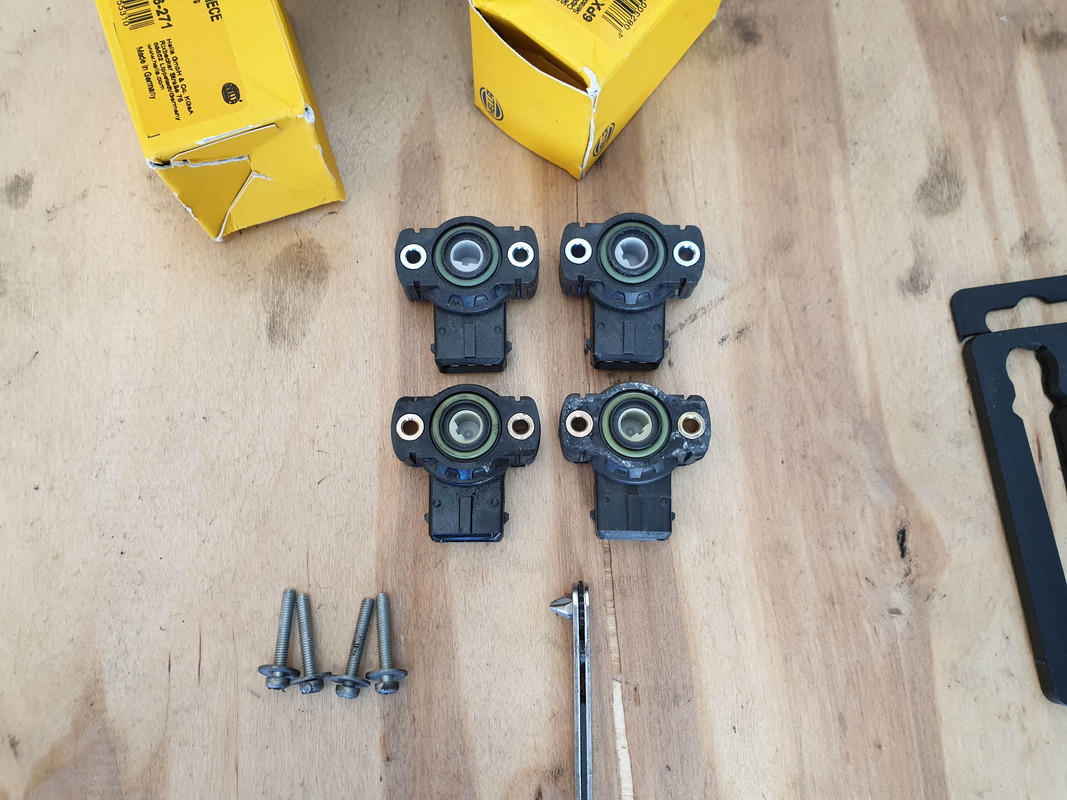 Before parking the car and begging the work, I hit the hardware store in the morning thinking it will be easy to find M4 x 25mm hex bolts to put instead of Phillips screws. As it turns out, these need to be specially ordered, checked other 2 stores in Frankfurt and they didn't have them either. So I settled for the next best thing which was M4 x 25mm Allen head which is easier to remove in the future if necessary.
Hella sensors are def OEM as you can see the BMW logo scrapped off on them.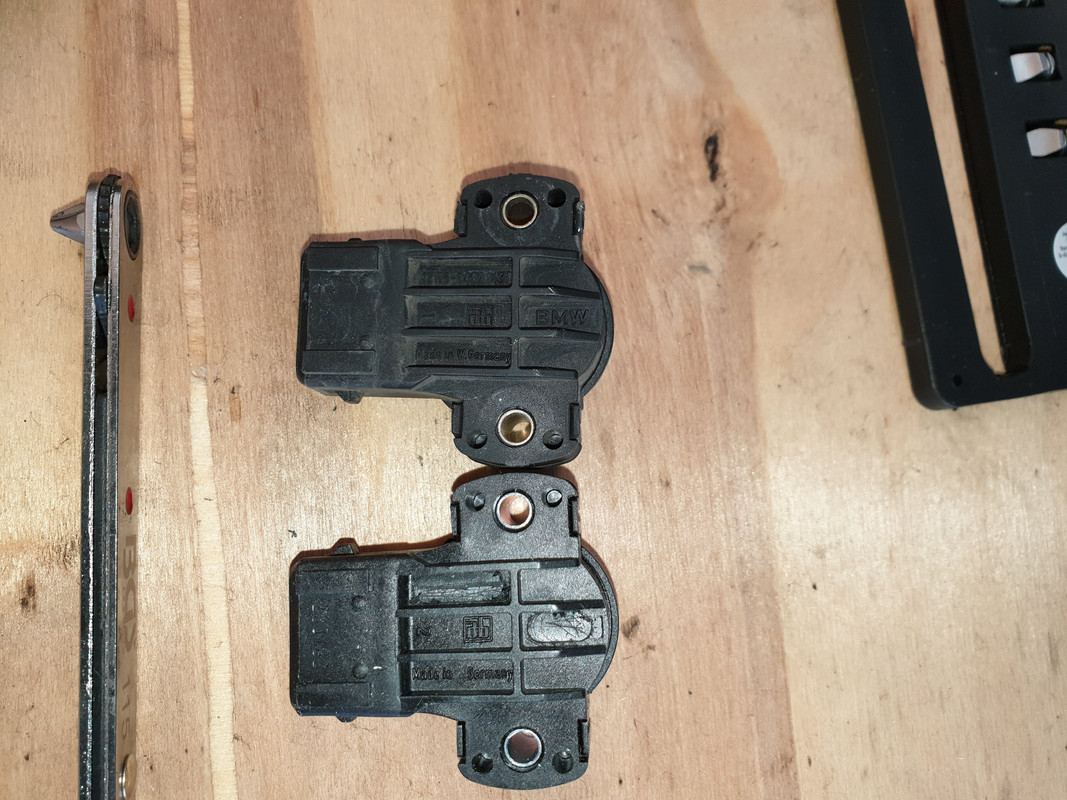 Anywho, with those replaced, I moved to remove the old Vanos accumulator.
To get to the bolts that hold the bracket for the accumulator following needs to be removed - fan clutch, belt, tensioner and pulley, top alternator bolt removed and lower one slackened, then the eye bracket can be removed and bolts accessed.
Old one.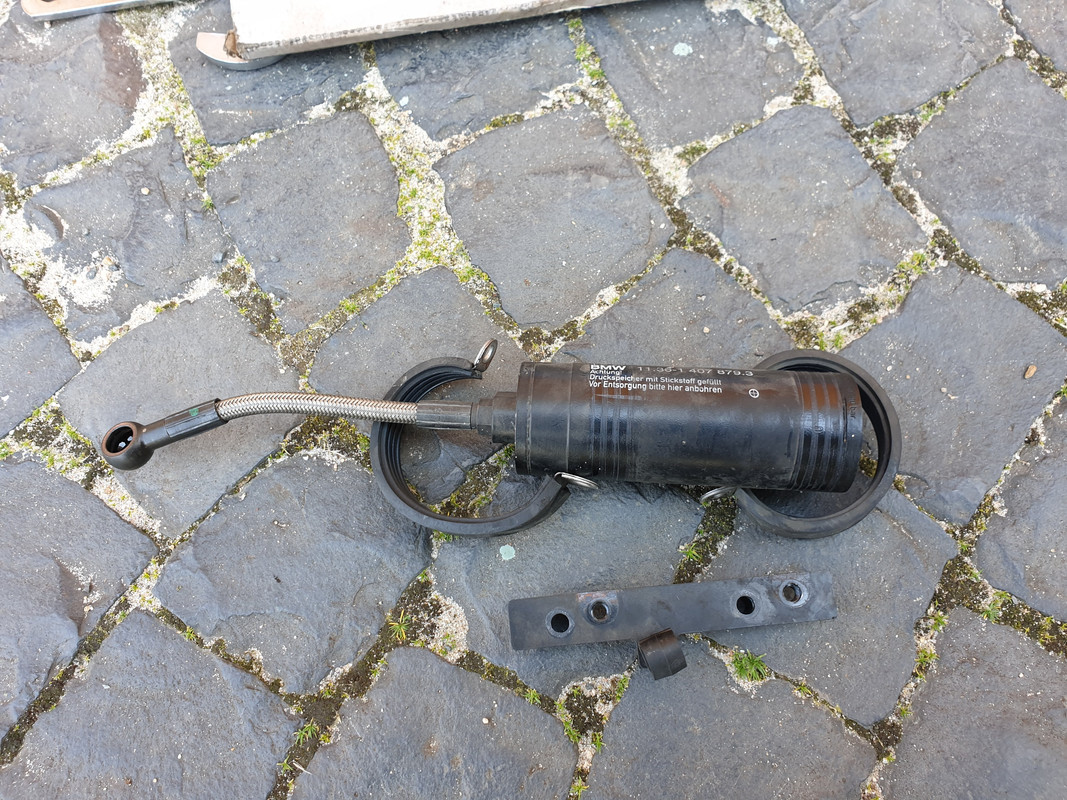 New accumulator and bracket ready to go in.
Installed Bosch EV1 connector and connected it to the accumulator.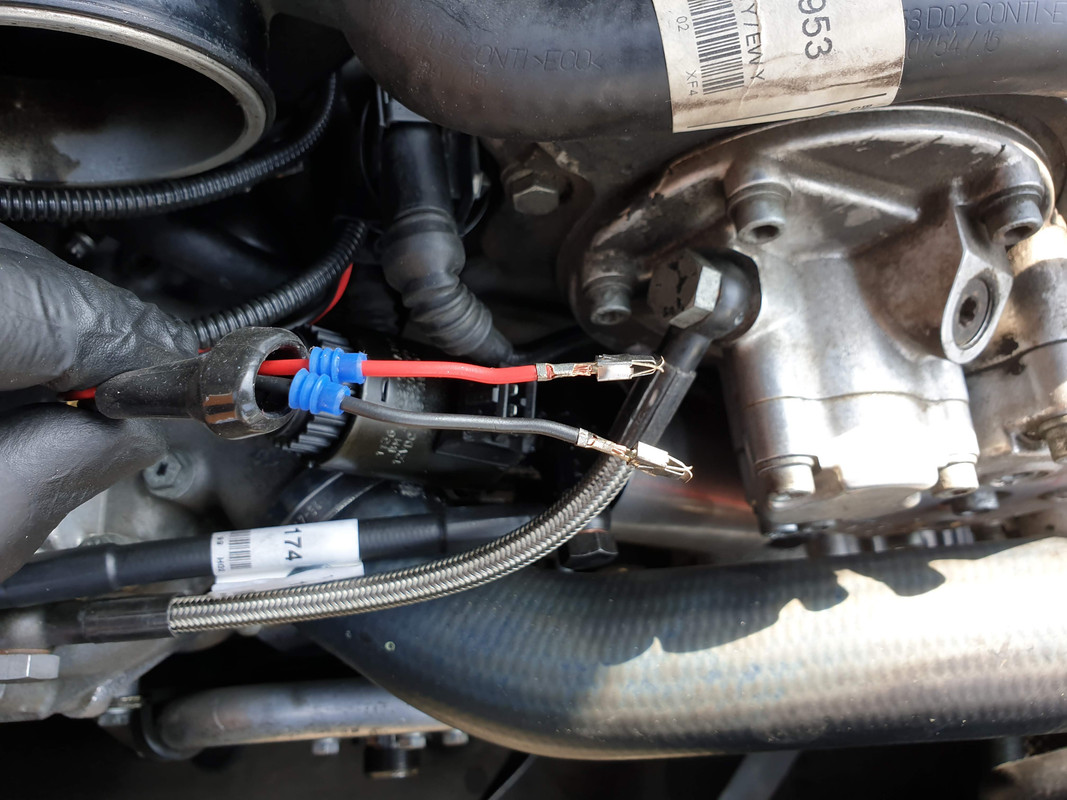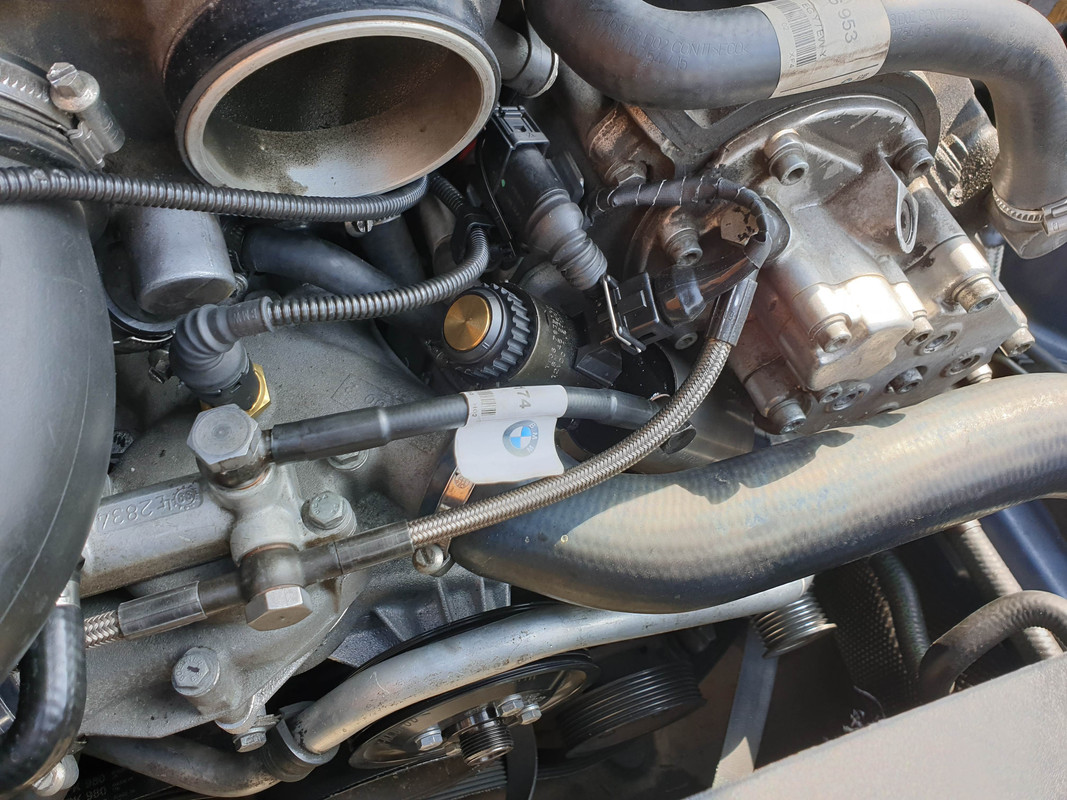 That pretty much sums the retrofitting of the new Vanos accumulator.
While I was in there, I also ordered parts to replace the filter and O-rings on the Vanos pressure regulator.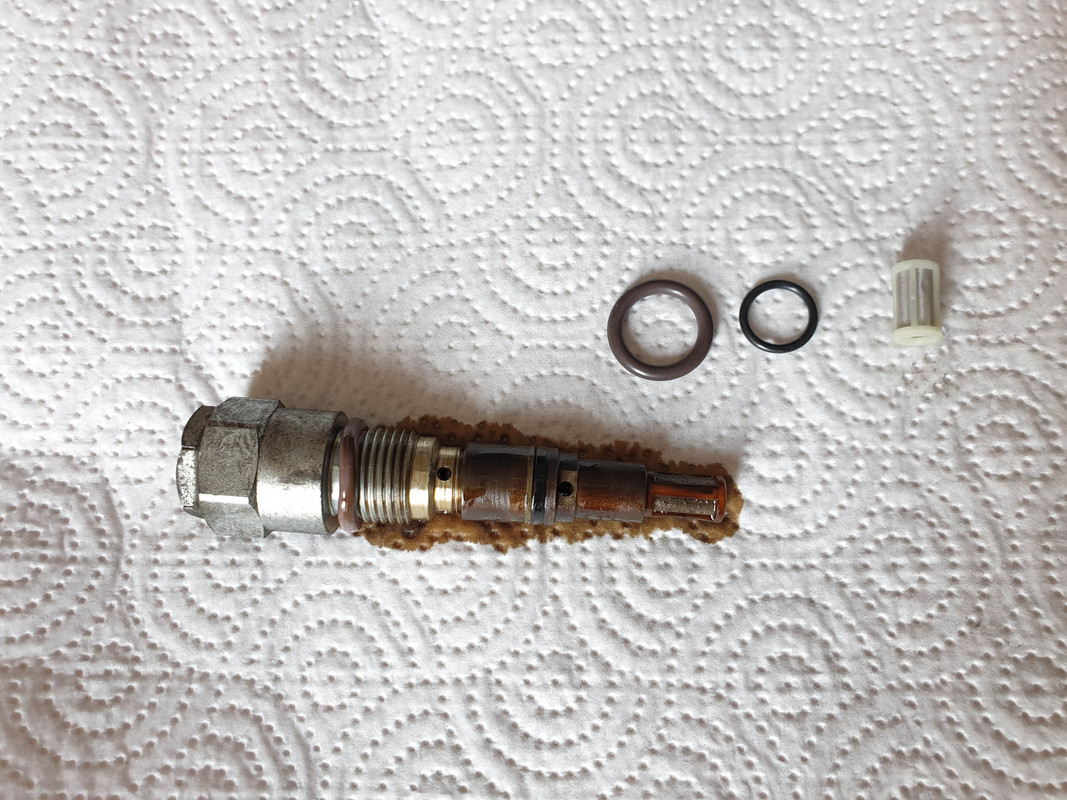 Pretty easy to do and the filter was filthy.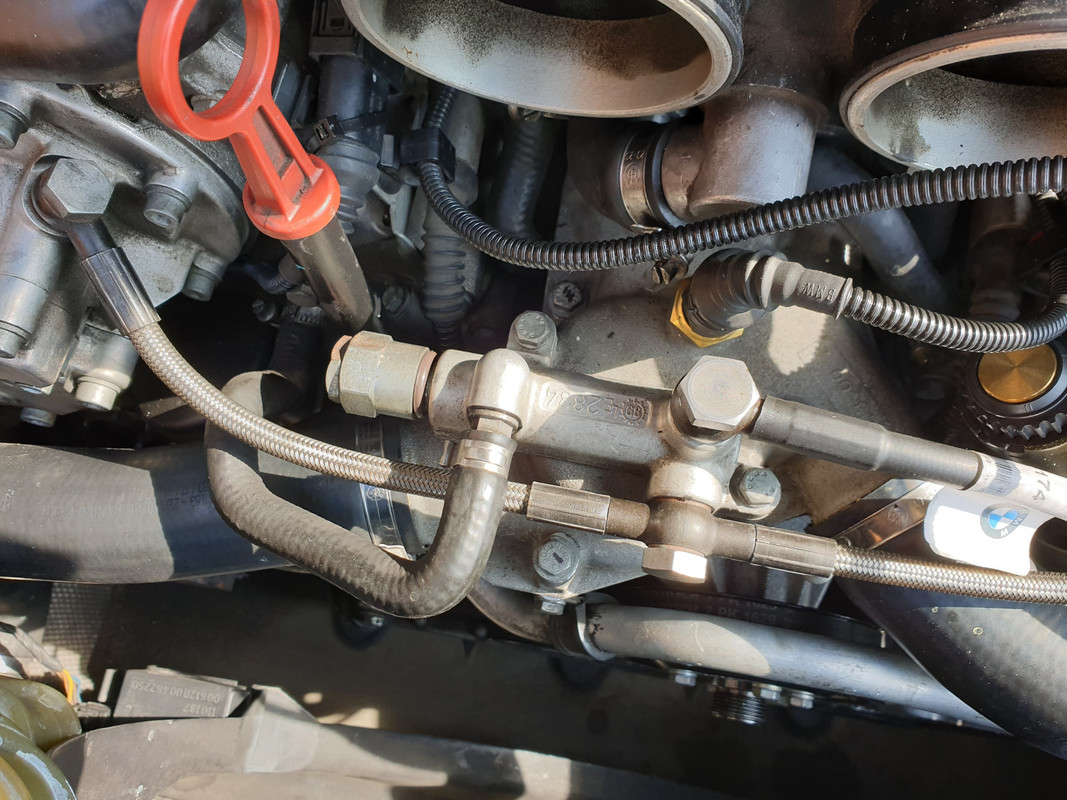 With the new accumulator installed and wired next step was to test it. Grabbed a multimeter and with the ignition on, I was getting 0V, with the engine running also 0V so clearly not working.
I had a friend (BWM on the forum) to check the voltage on his '03 beast and he was getting 0V with ignition on and 1.8V with the engine running.
Service bulletin mentions that the cars prior to 09/01/2000 will require DME to be reprogrammed with newer software that will allow activation of the shutoff valve which the previous accumulator didn't have. It goes further and briefly describes the procedure for reprogramming DME using DIS.
The first step was to check which version I had.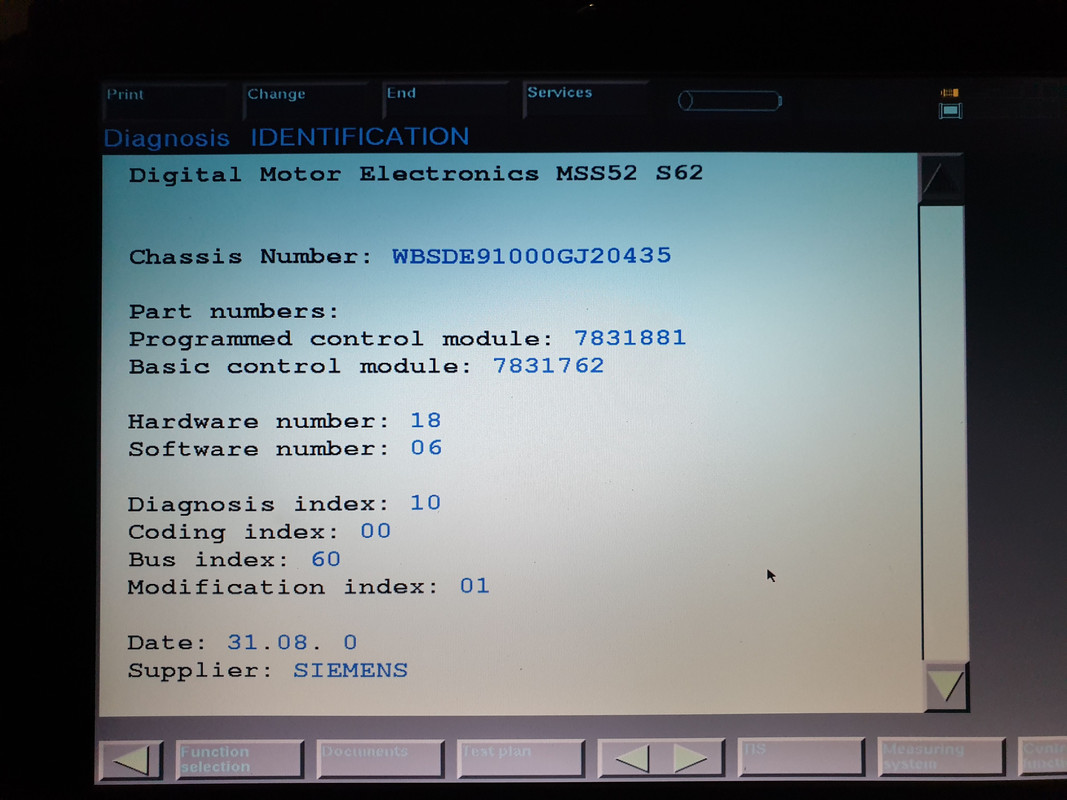 The programmed control unit was indeed never touched and dates to 31.08.2000 so onto the programming.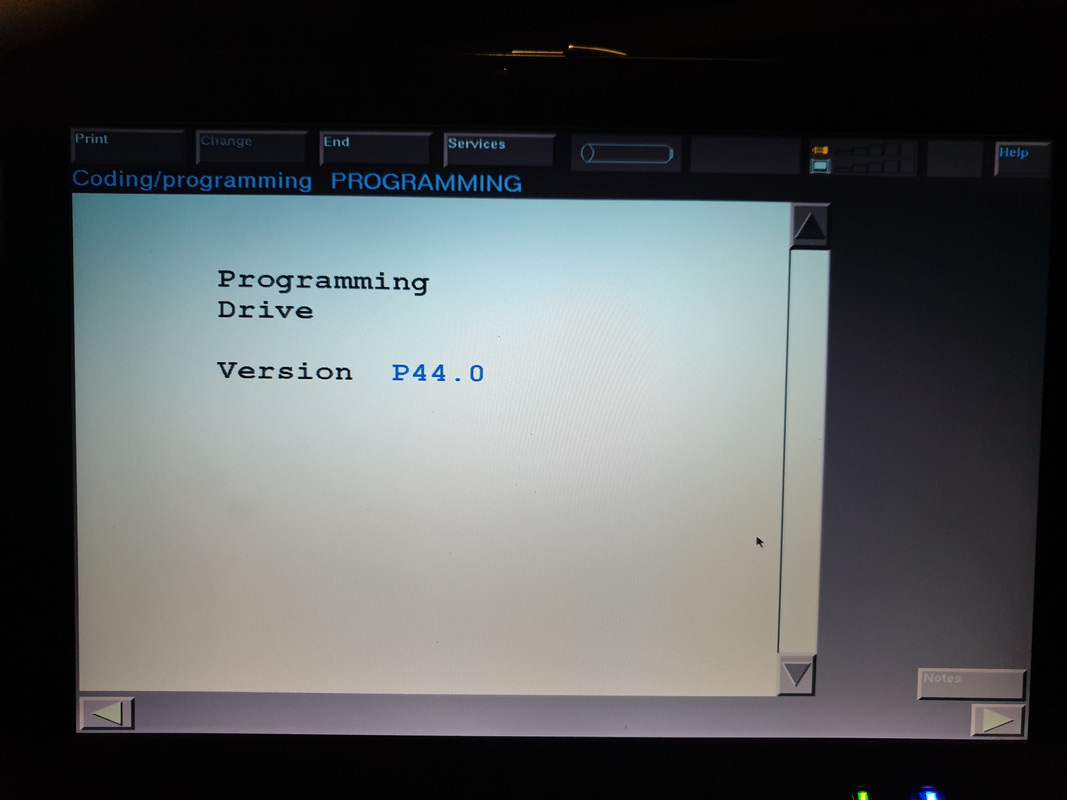 DIS determines which part numbers/versions are compatible with the DME in the car.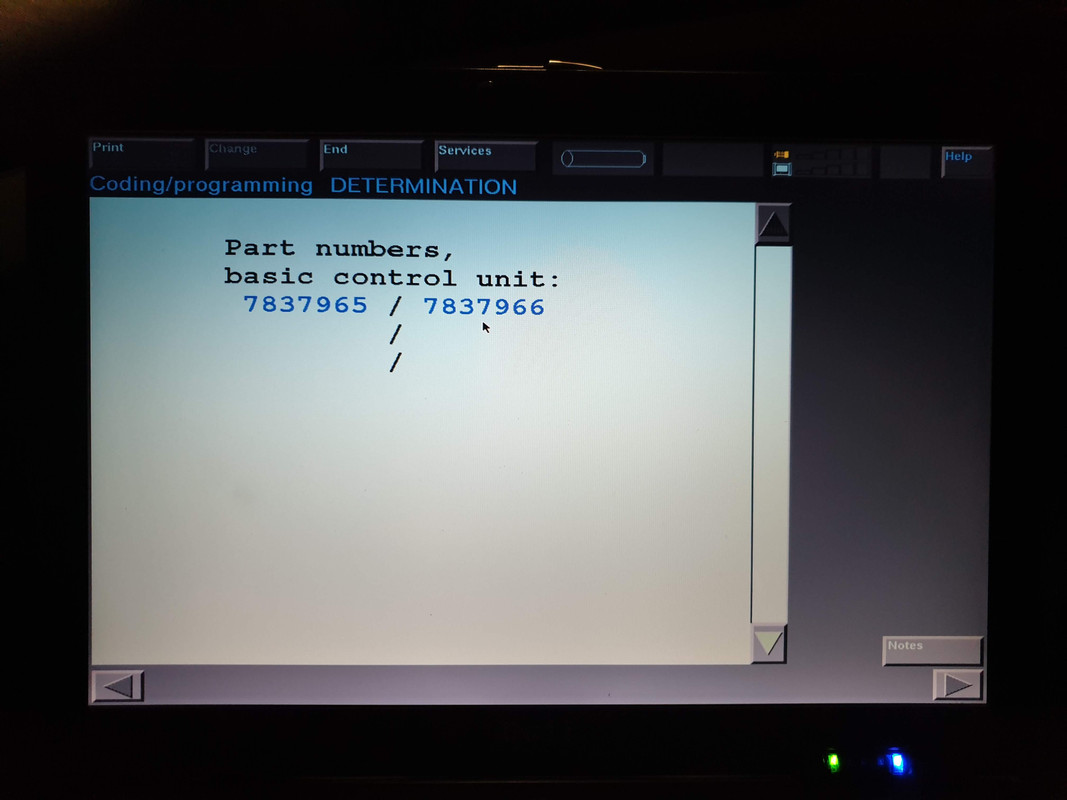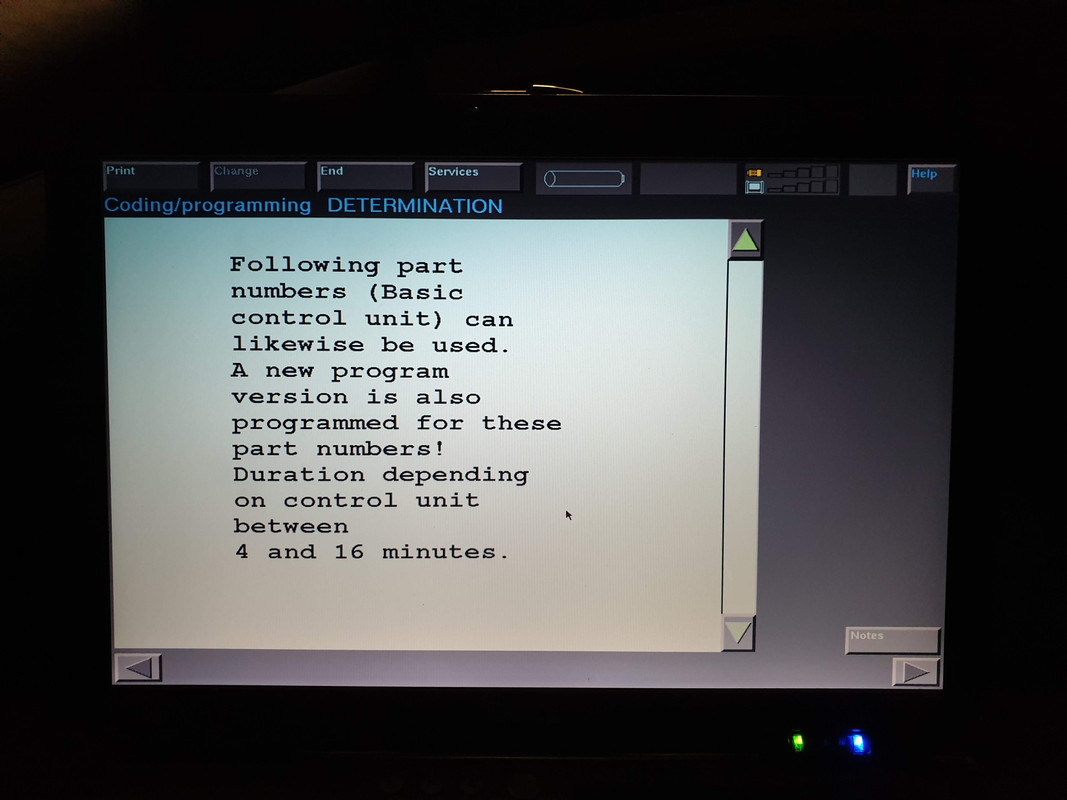 Entering the programming section and then simply follow the instructions.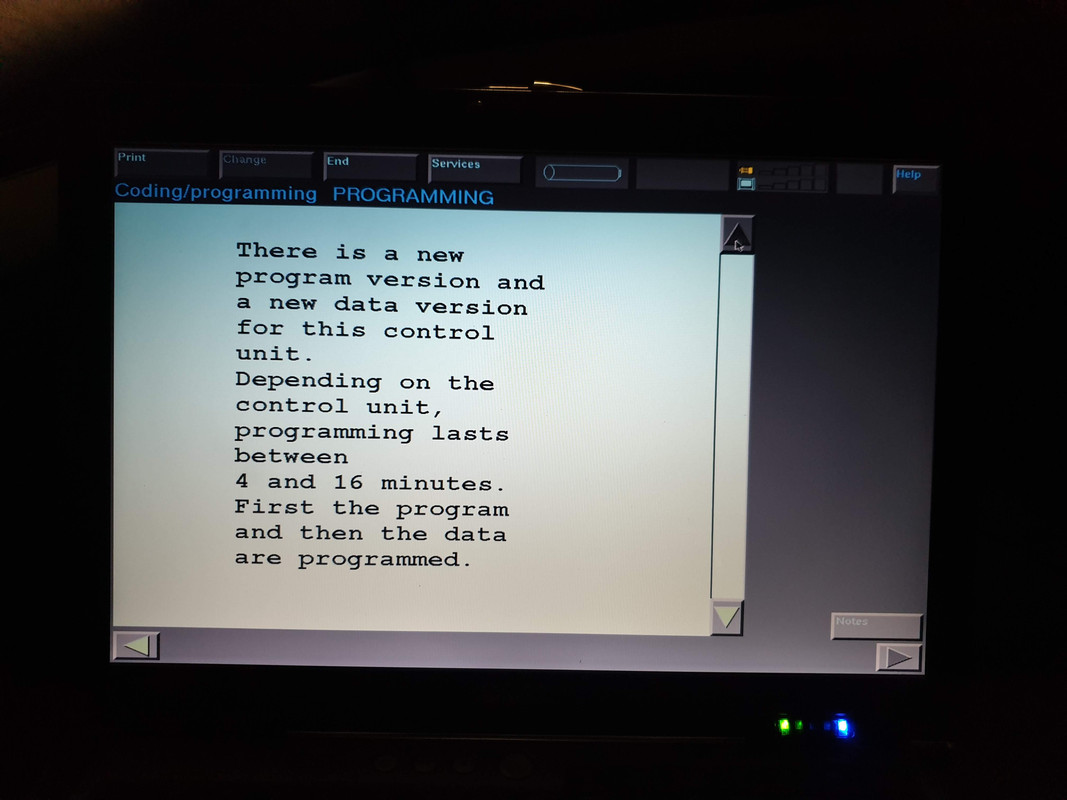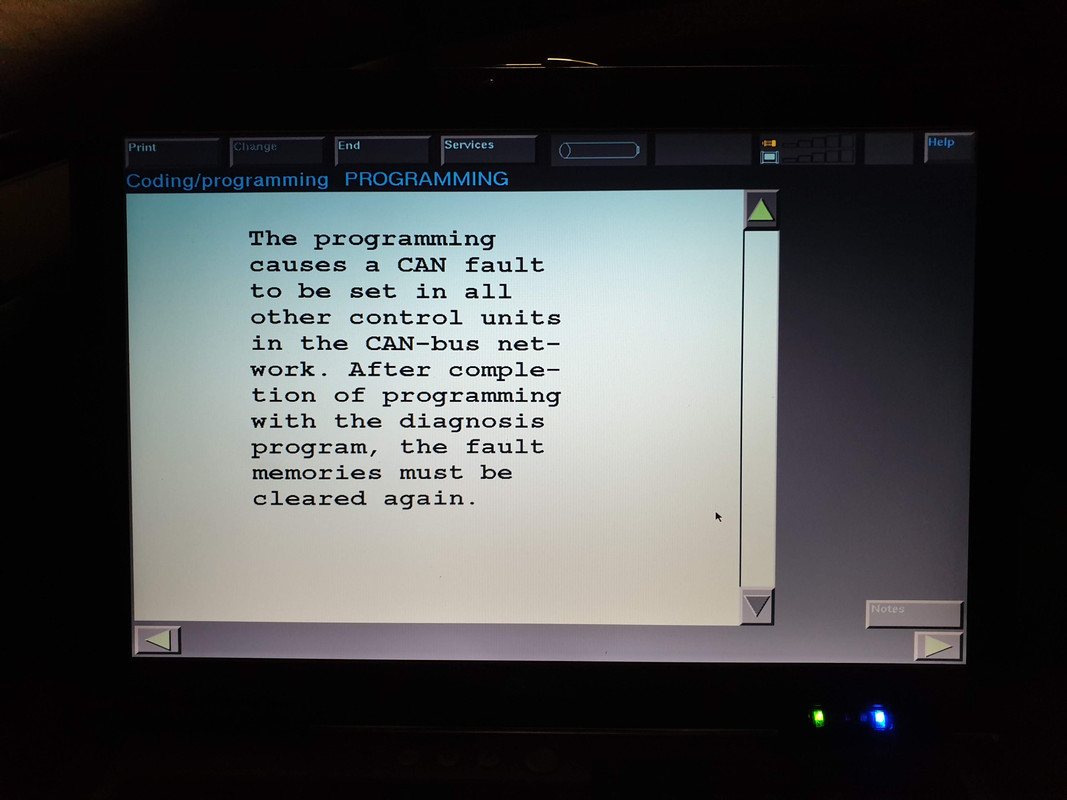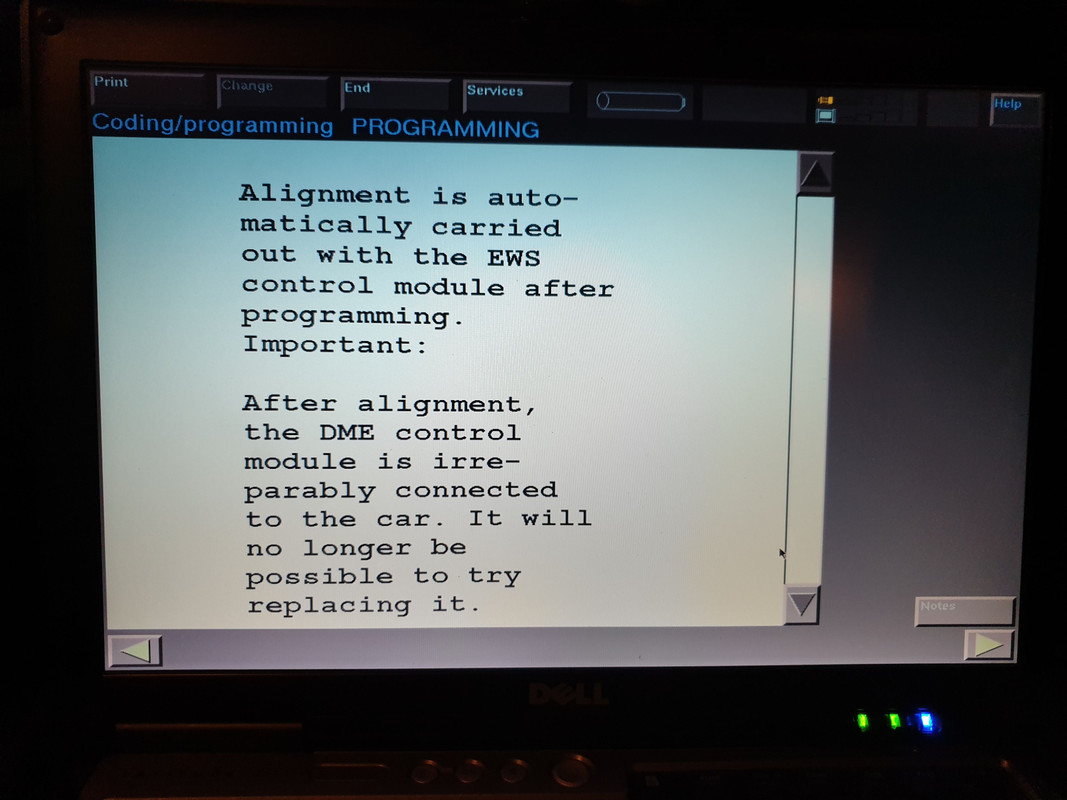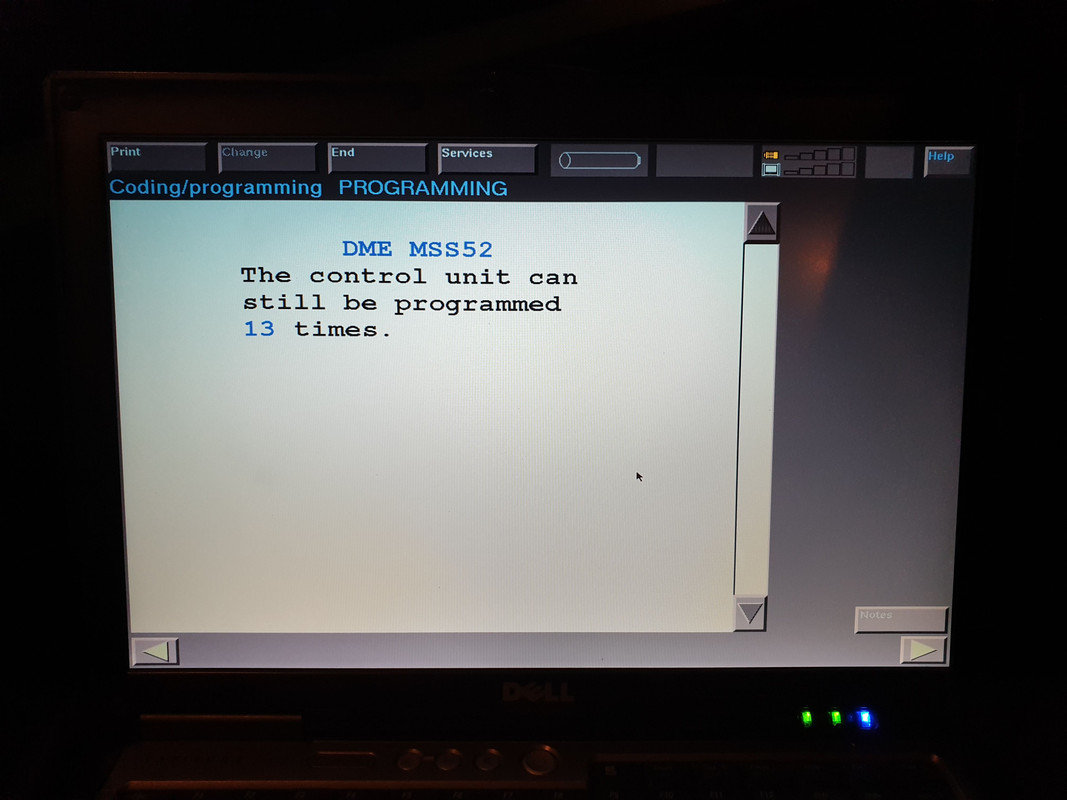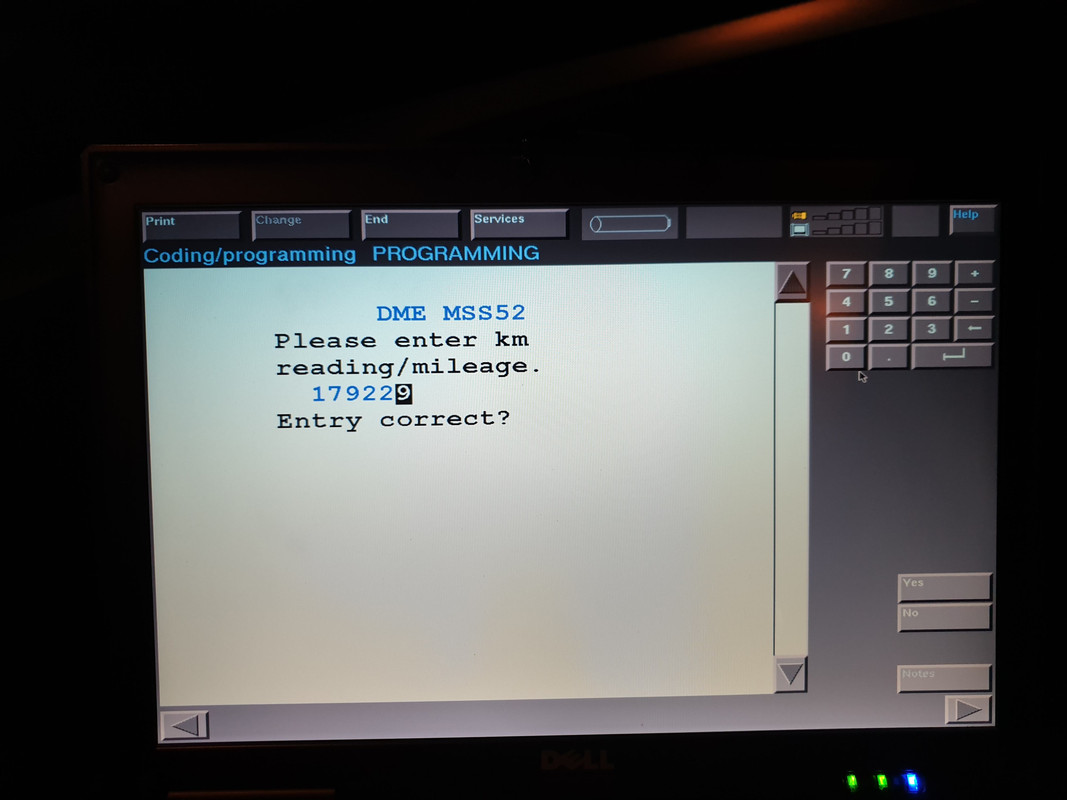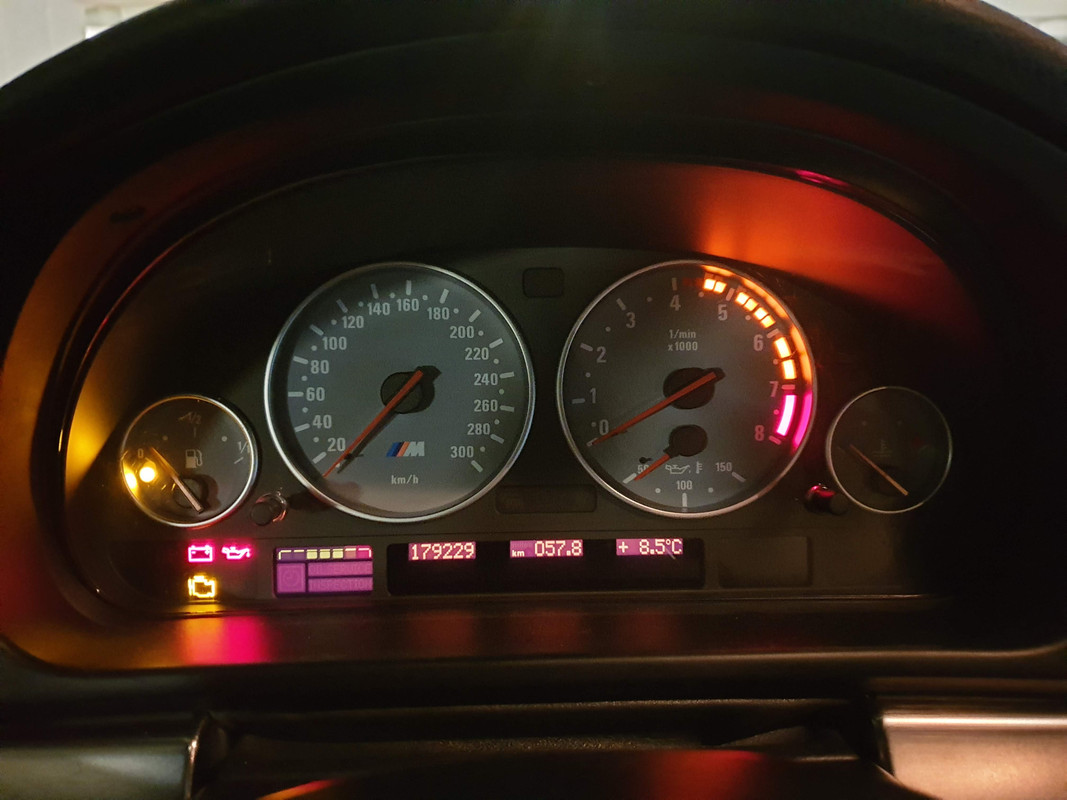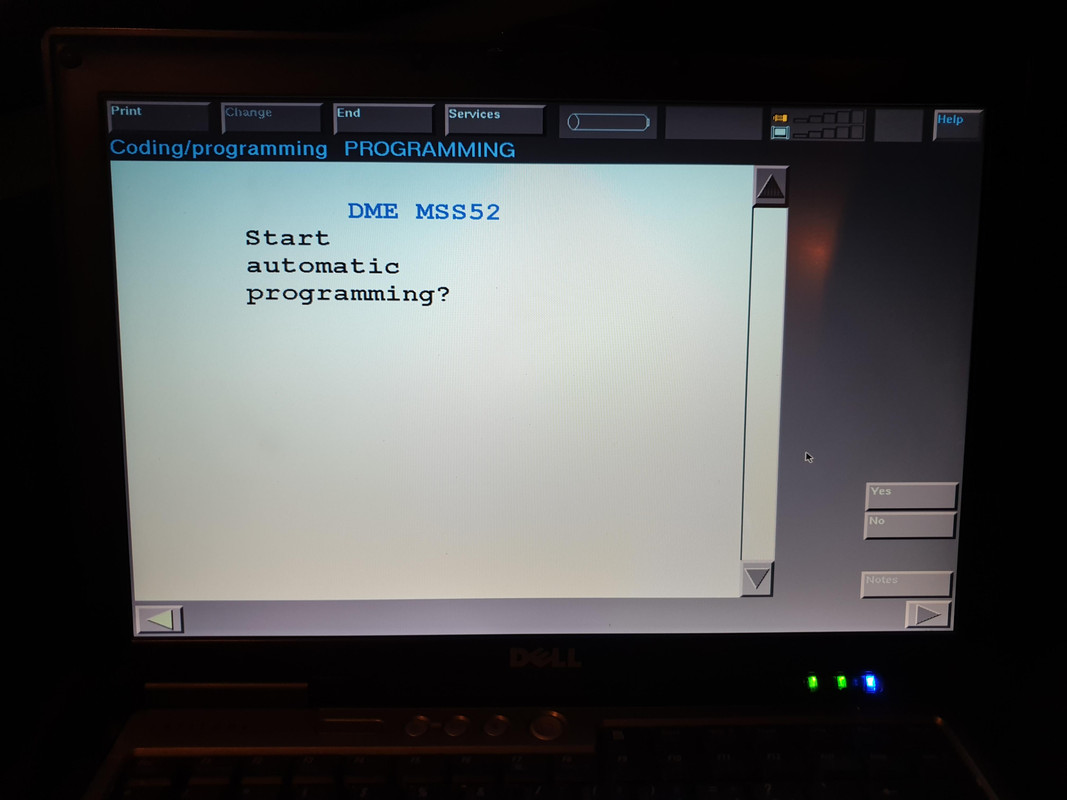 I had battery disconnected while I was working on the wiring so the language defaulted back to Italian.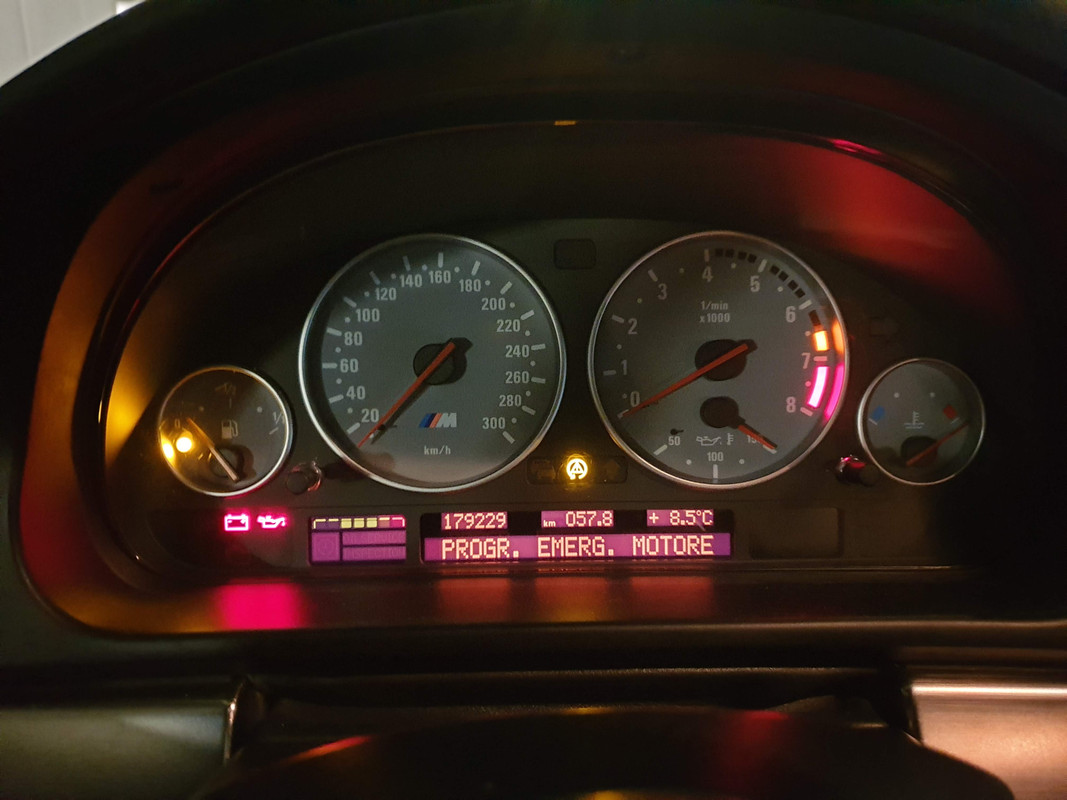 I made sure that the laptop was connected with a charger, the battery on this old laptop was good but I didn't want to take any chances and potentially brick the DME.
Programming initiated.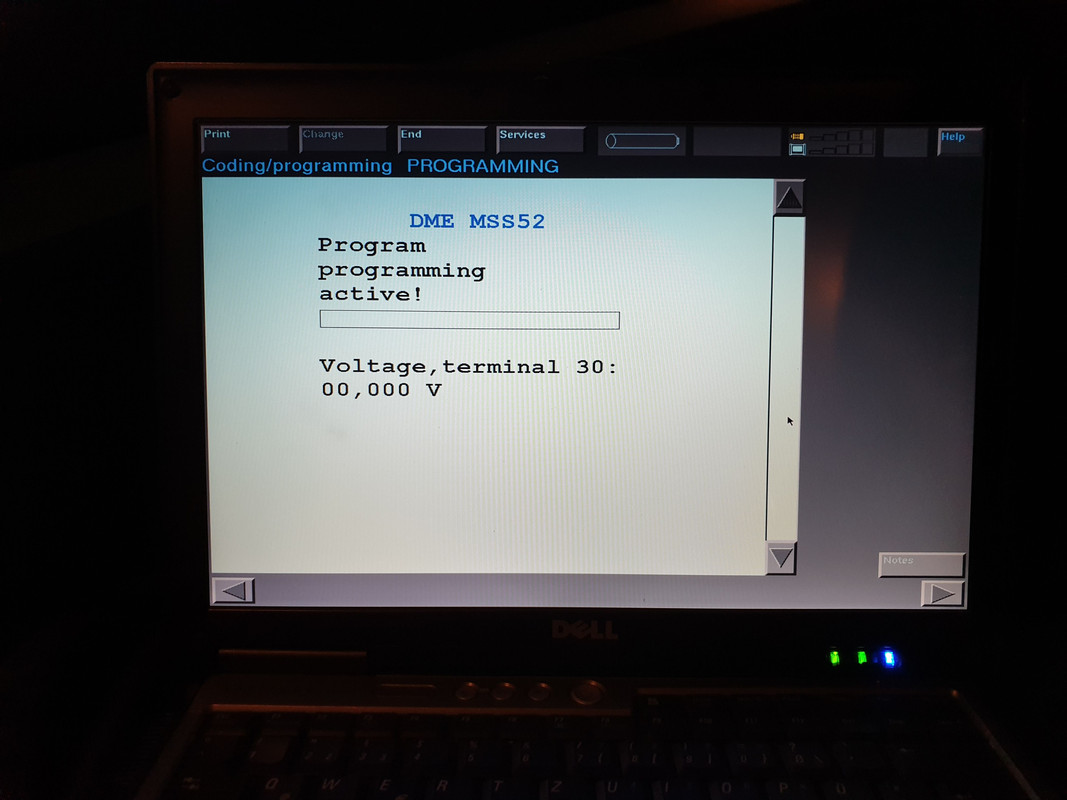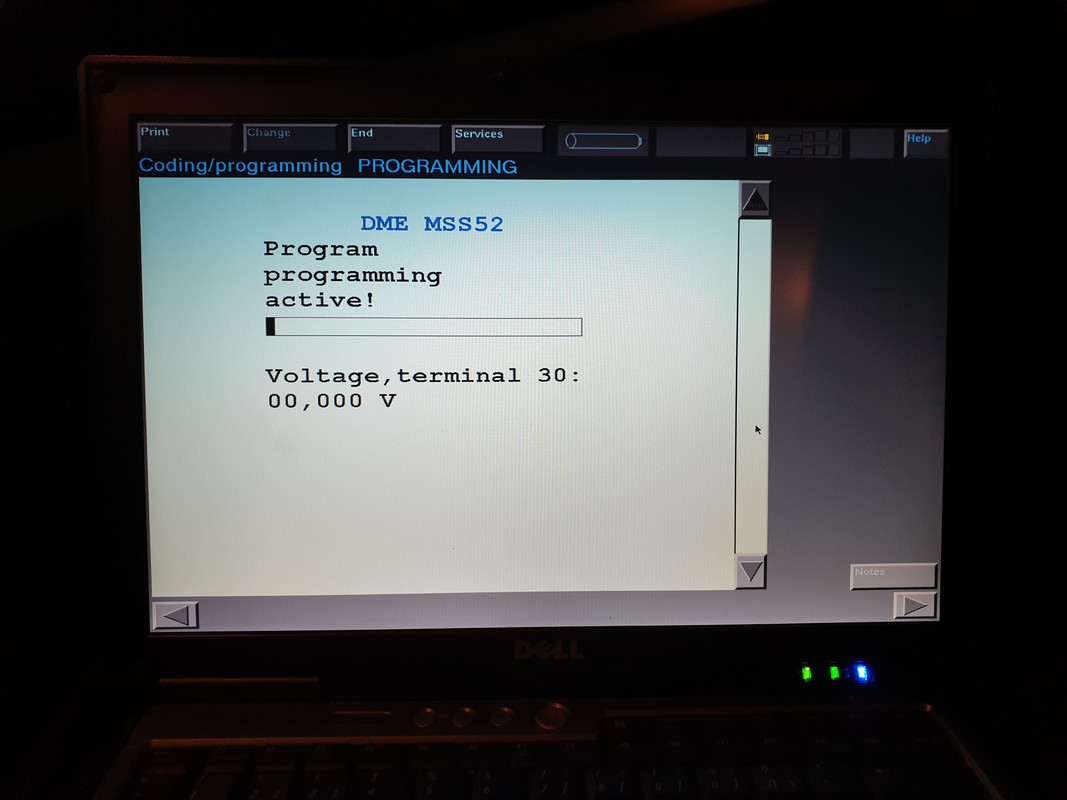 Snail speed.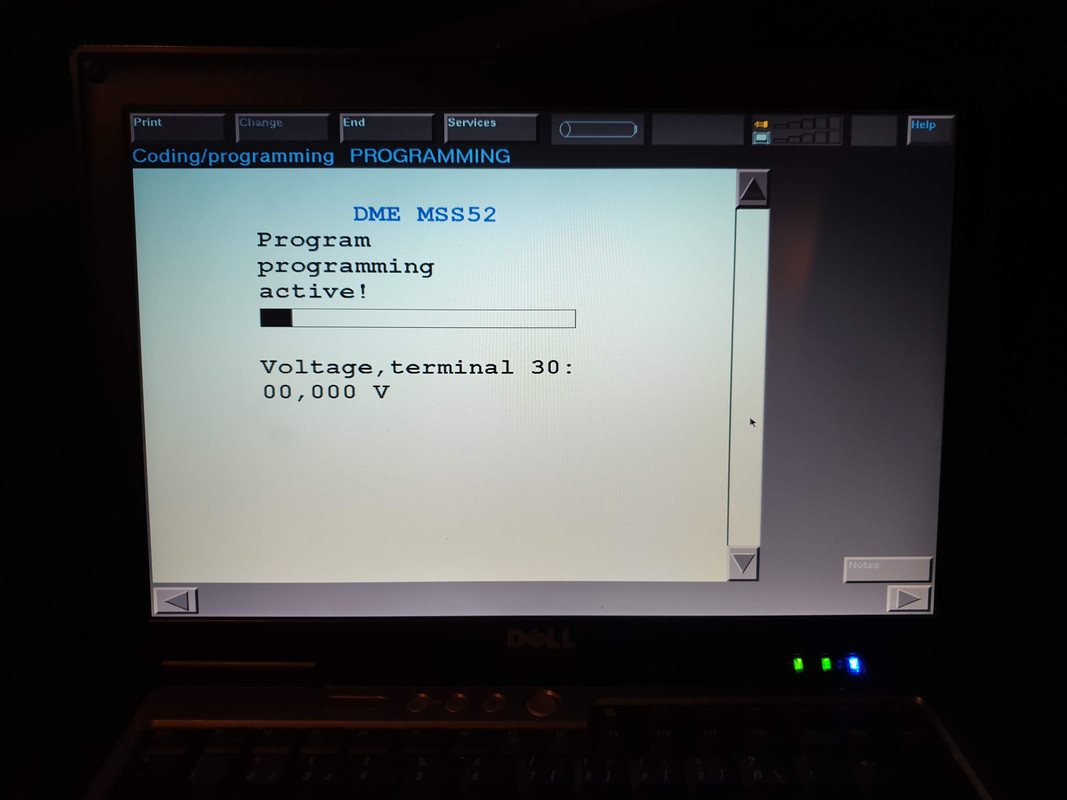 Loading...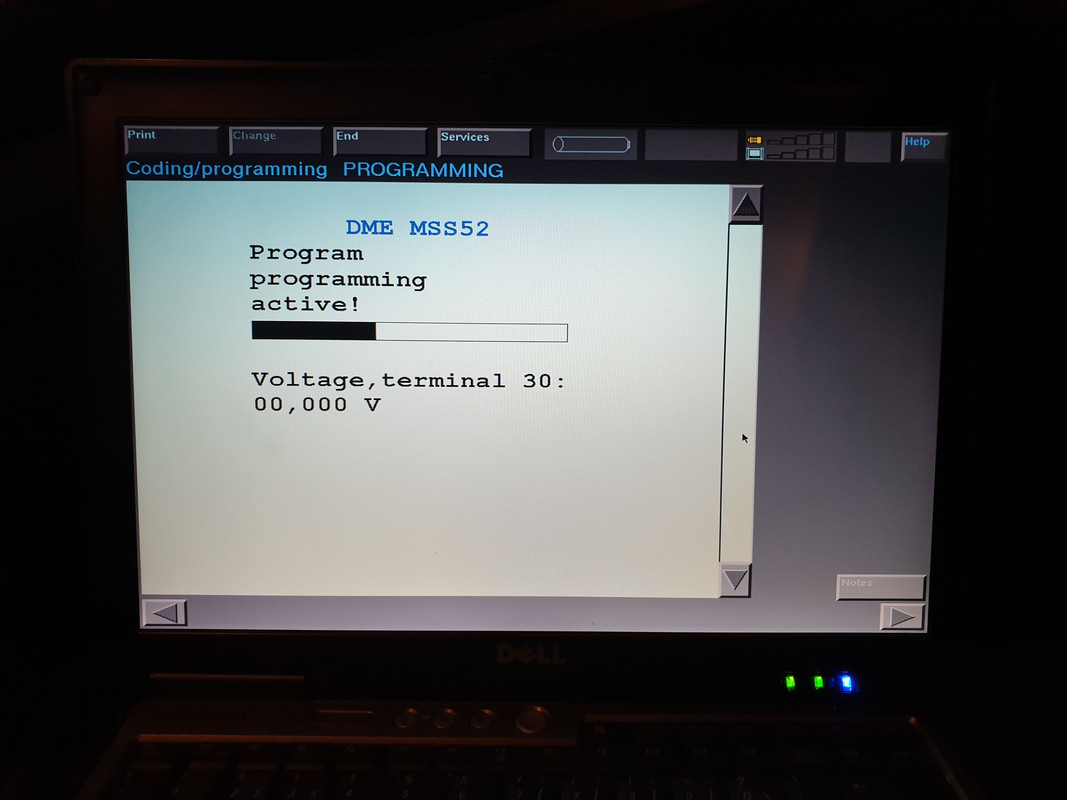 Still reading?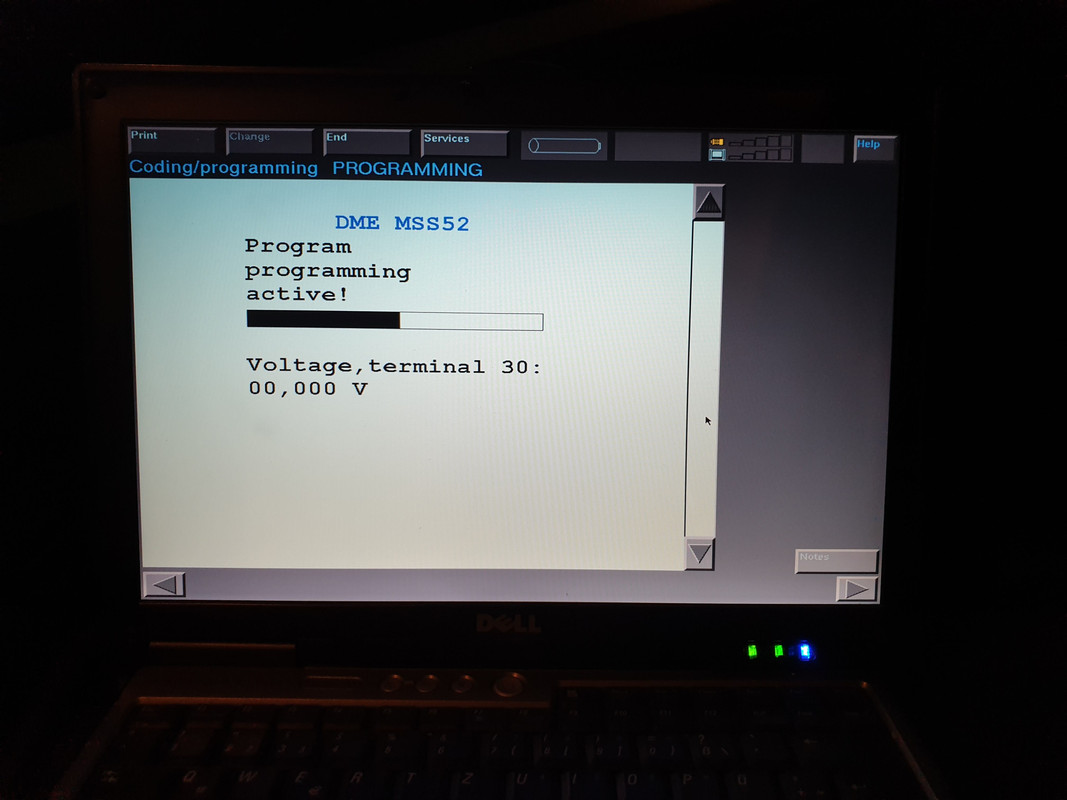 Did you know that the average speed of a garden snail is 0.03 mph?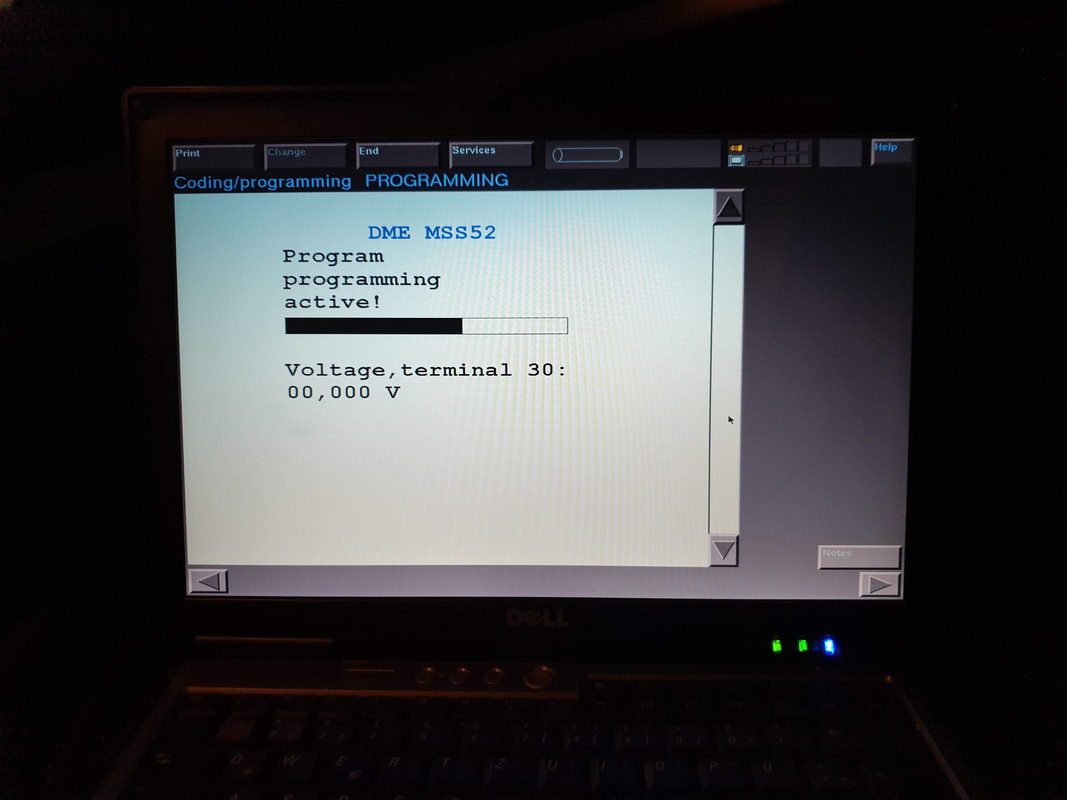 Almost there.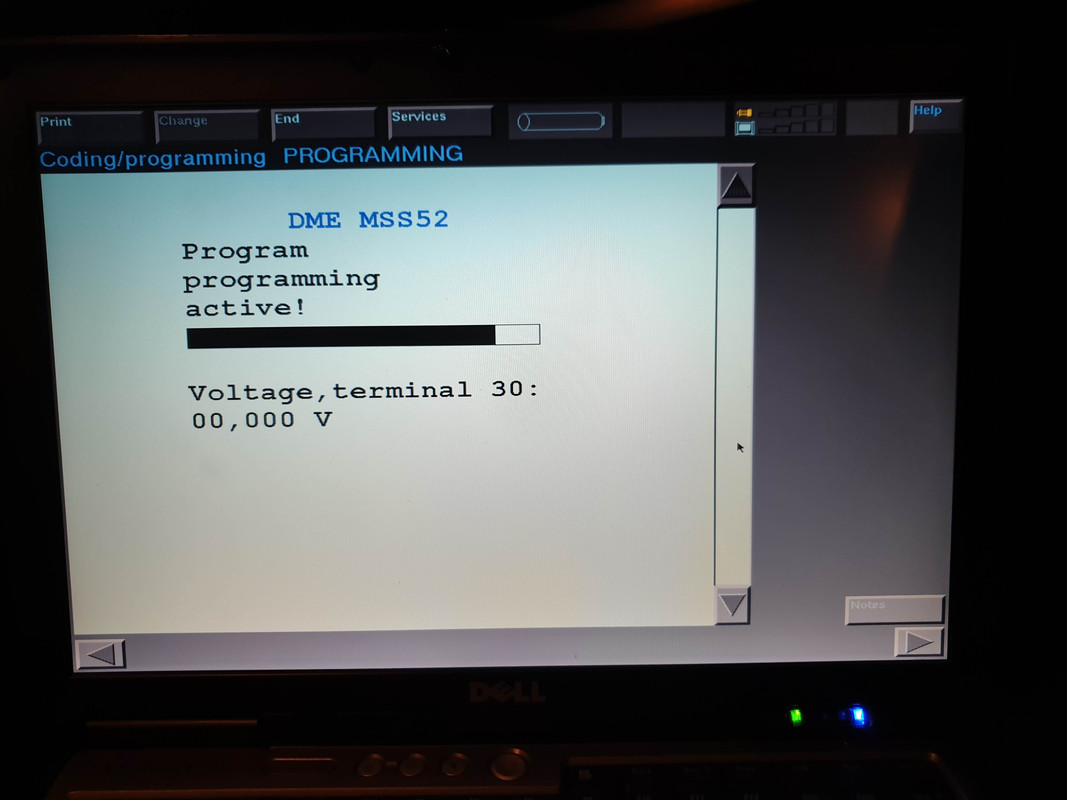 As an IT guy by profession, I was just waiting for it to slap me with an error so I can start pulling my hair out.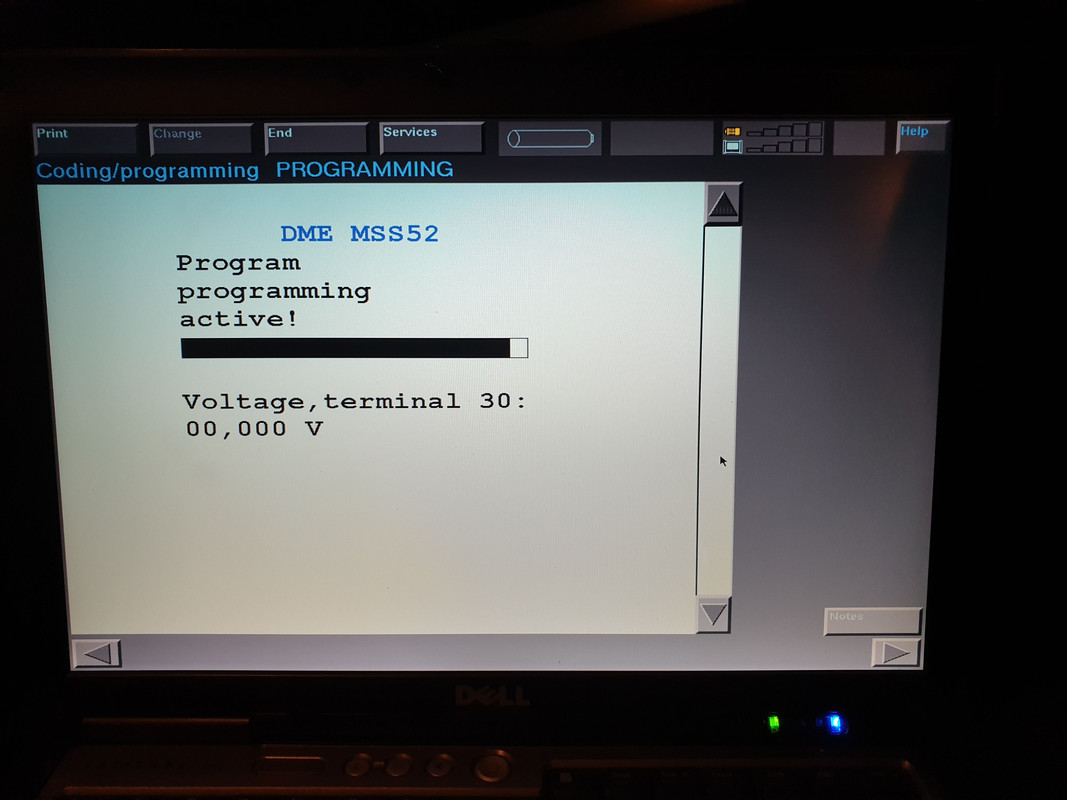 Done!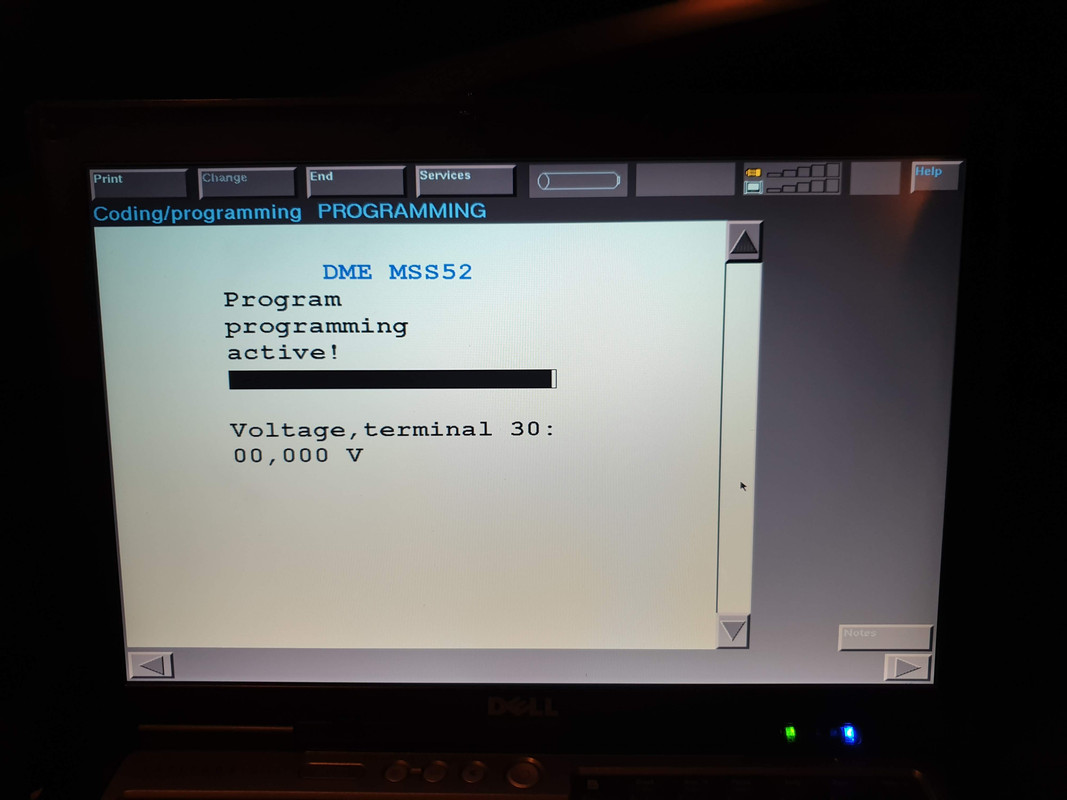 Well, no. Its German brain has to do it
zweimal
just do be sure.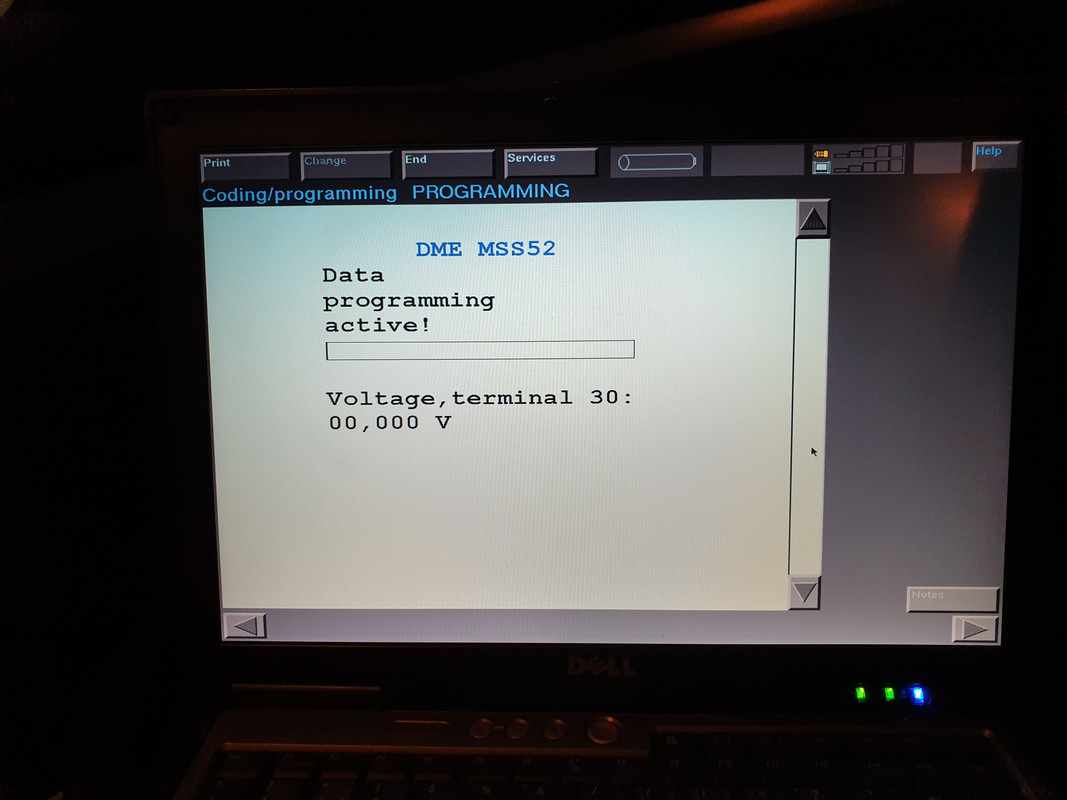 Quicker this time.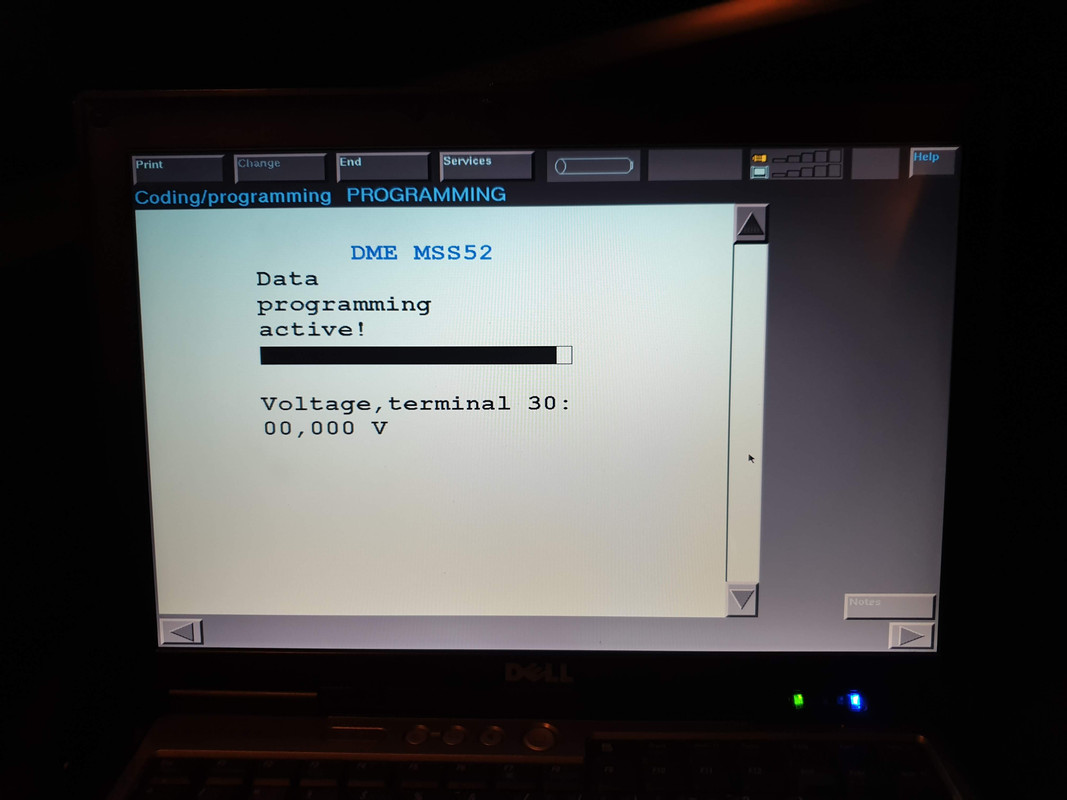 After 18 minutes it was done.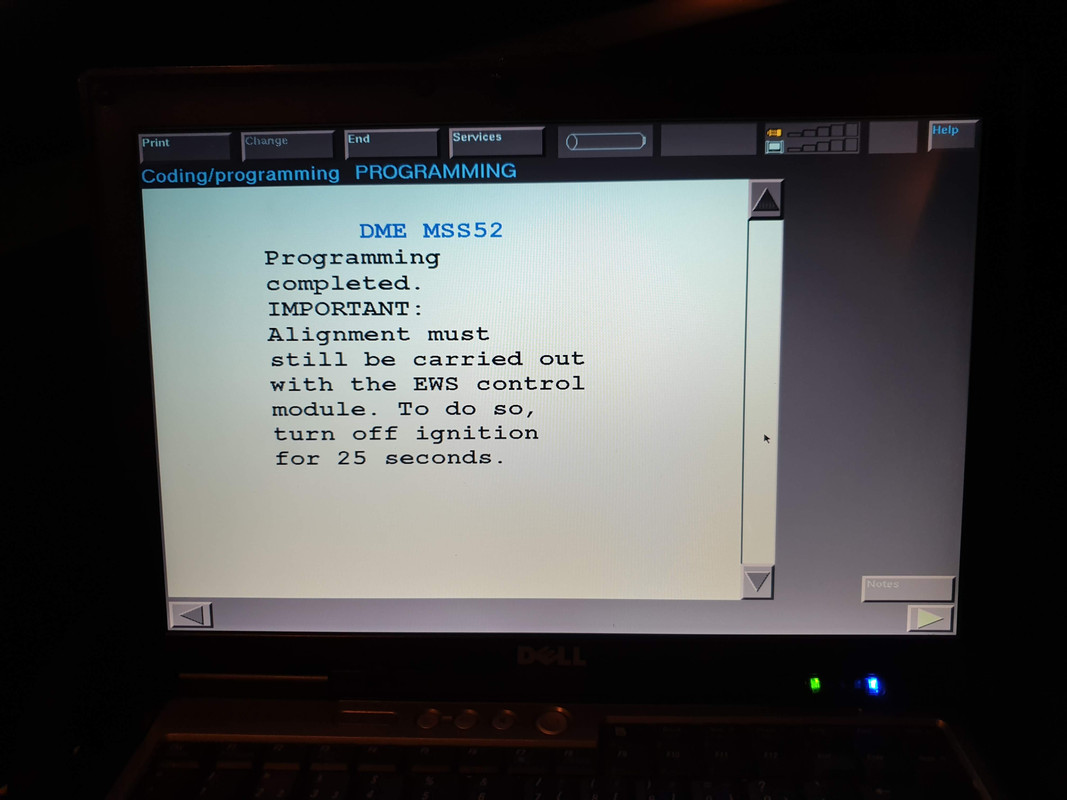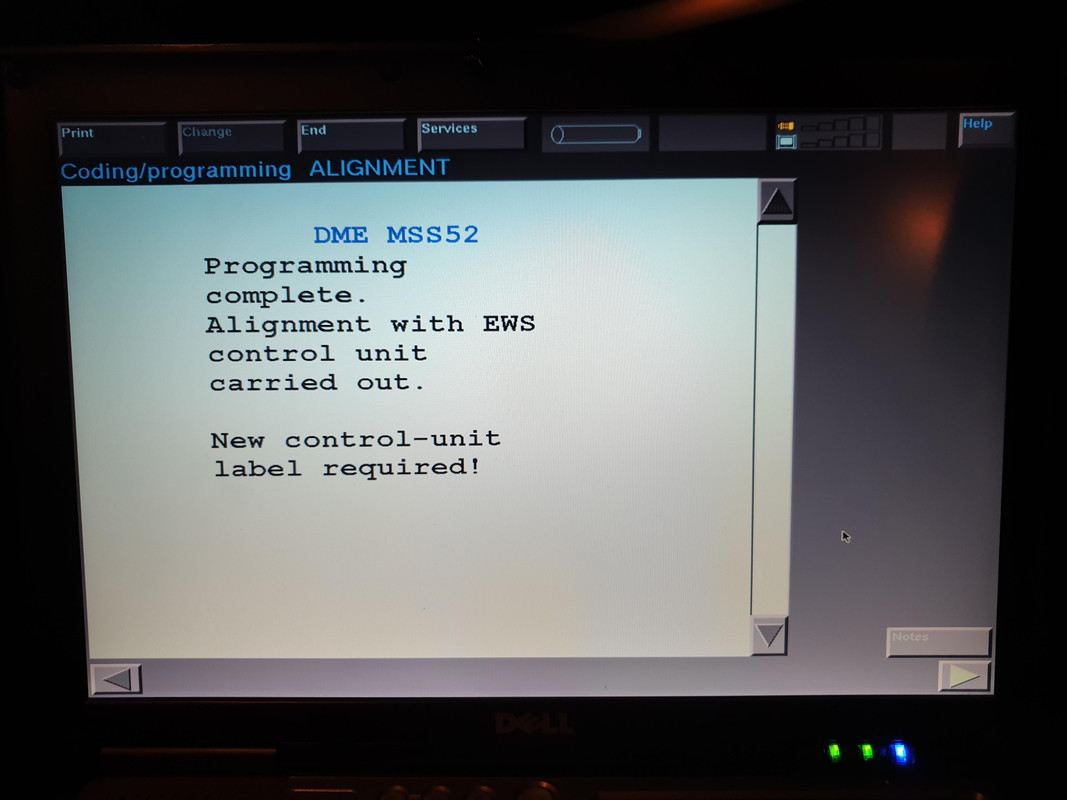 Verified that the new version is installed which it is.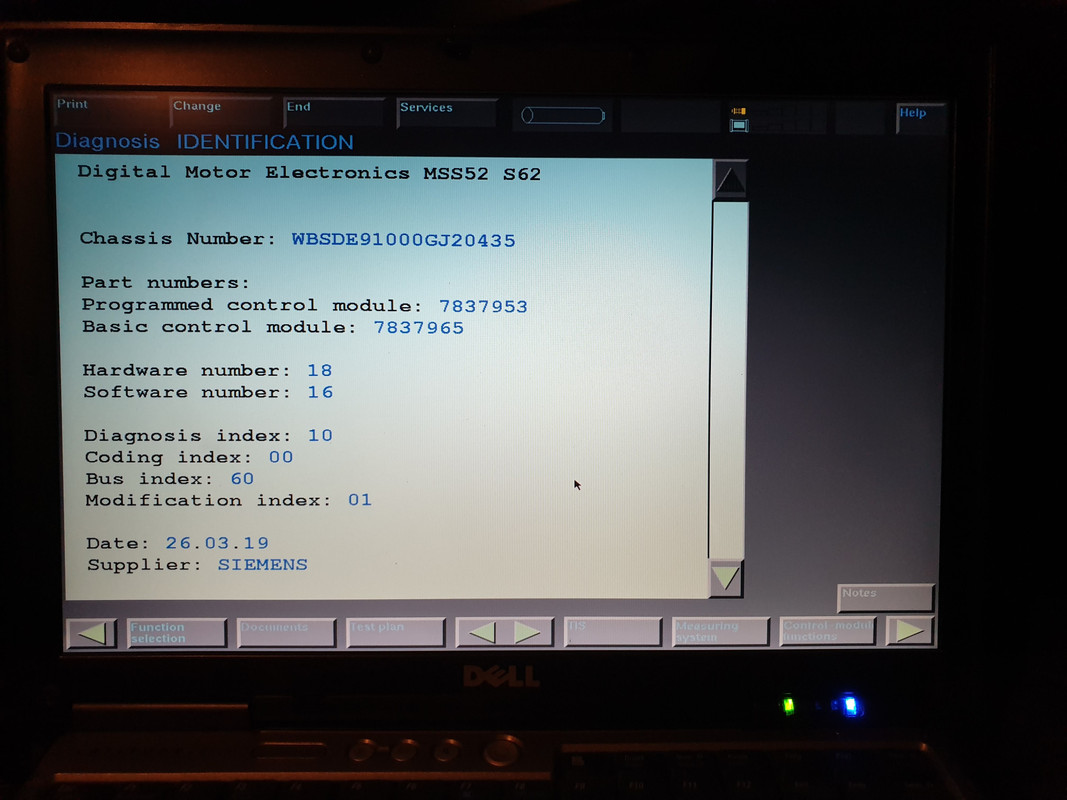 Started the beast and checked voltage at the connector and got 1.8V!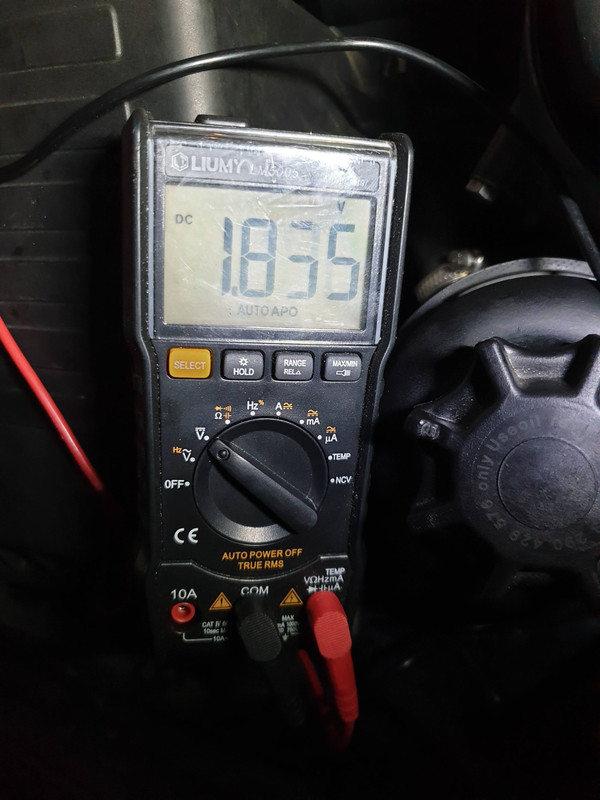 I didn't have enough time to do thorough testing last night but I warmed up the car and left it turned off for 10-15 minutes and usually in this short timespan I'd get just a hint of the rattle upon restart but yesterday there was nothing.
However, I'm not calling this a win just yet as the real test will be when I start the car after a couple of hours of it sitting because that's when it rattles like a bastard the most.
For the end, pictures of the M5 and 850i chilling together and a shell of Maserati Ghibli lurking in the background.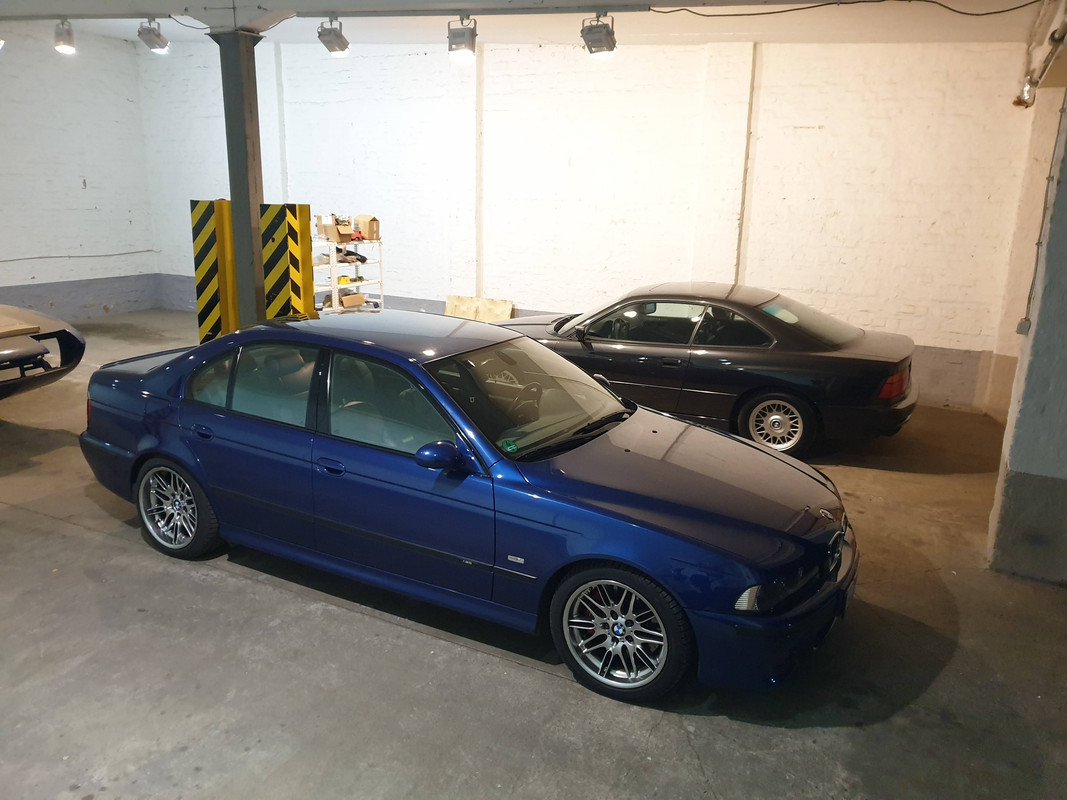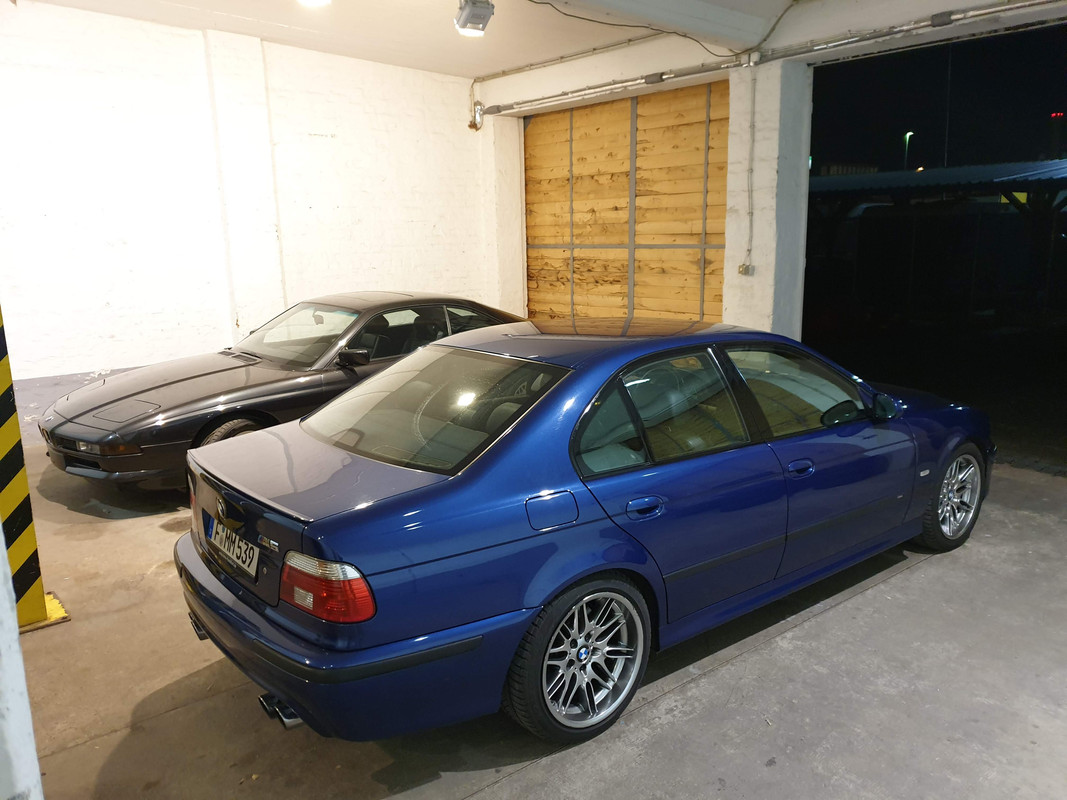 Member, Sport: On DSC: On (>100 posts)
Join Date: Apr 2016
Location: Frankfurt, Germany
Posts: 199
Thanks: 57
Thanked 43 Times in 40 Posts
Quick follow up on the results of Vanos accumulator retrofit. I think now I can call it a success! I had more time to drive the car and I left it parked for a couple of hours and upon restart there was no rattle. Very happy that the bastard racket is gone!
Before/after video -
https://www.youtube.com/watch?v=Ivph9n6i-eE
The M5 is currently sitting on jack stands as the rims are on their way to Poland. After searching high and low for someone who can refinish the wheels to original Chrome Shadow, I found a guy in Poland who's done many Style 65 sets and can refinish them at a reasonable price. I'm extremely picky about the finish so I'm hoping for the best and anxiously waiting to see the outcome.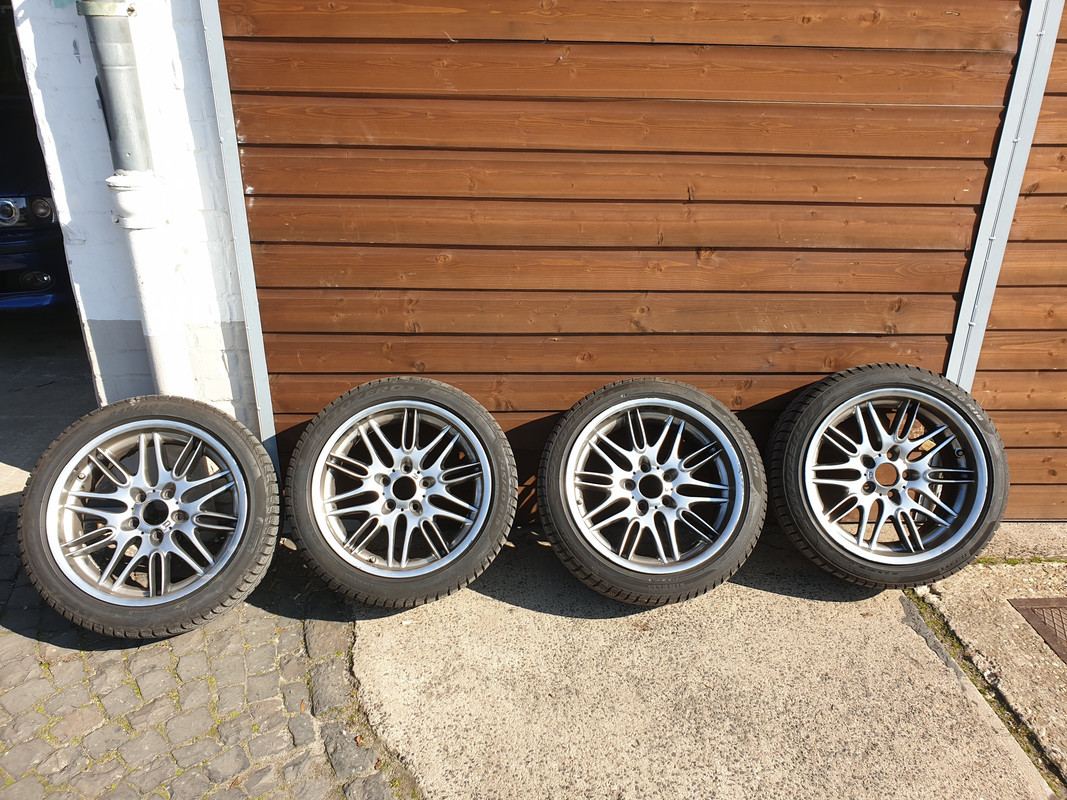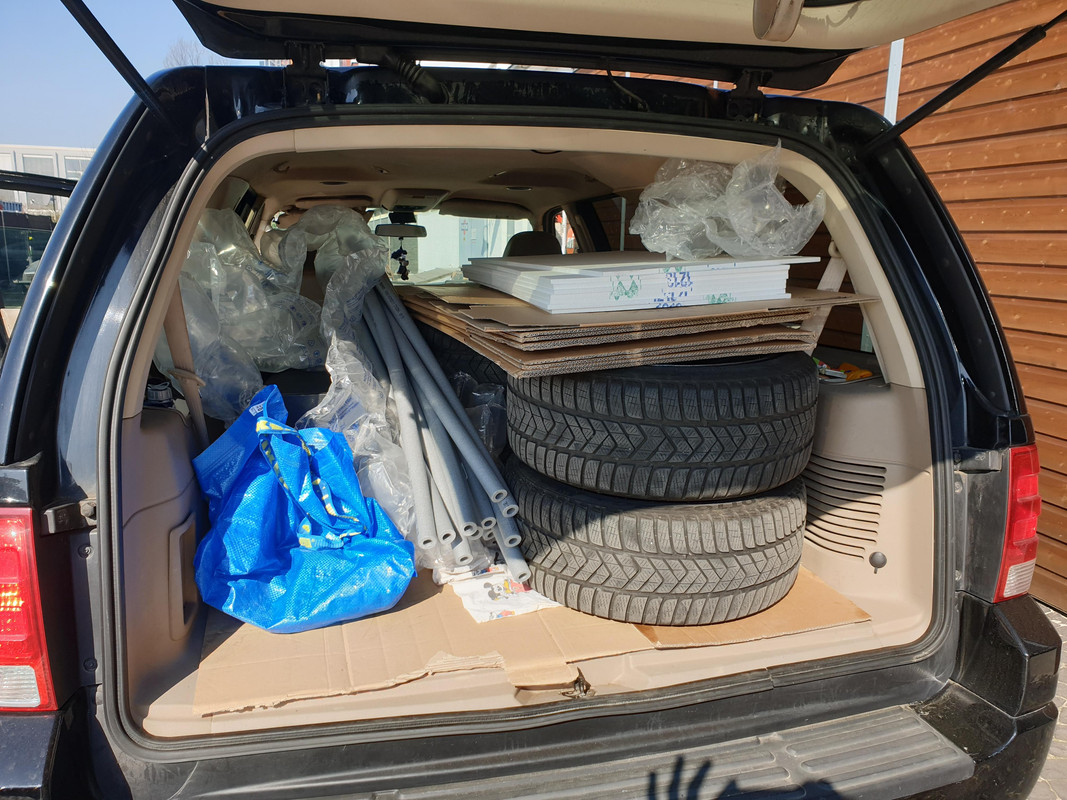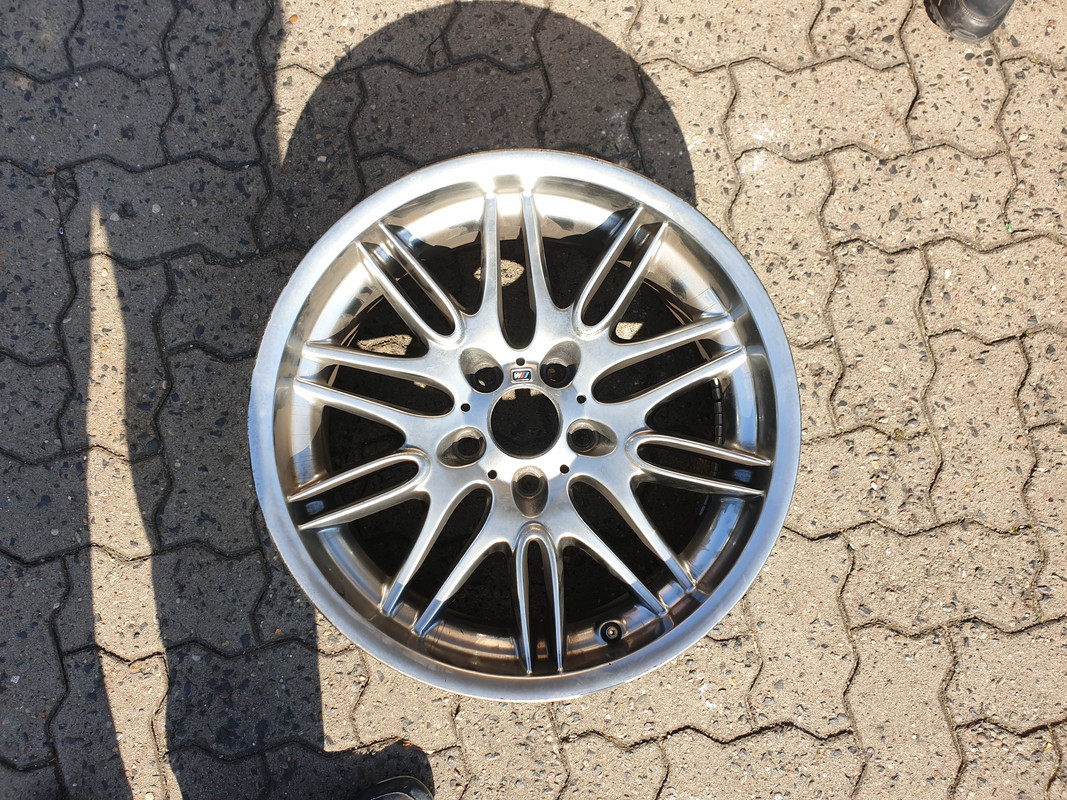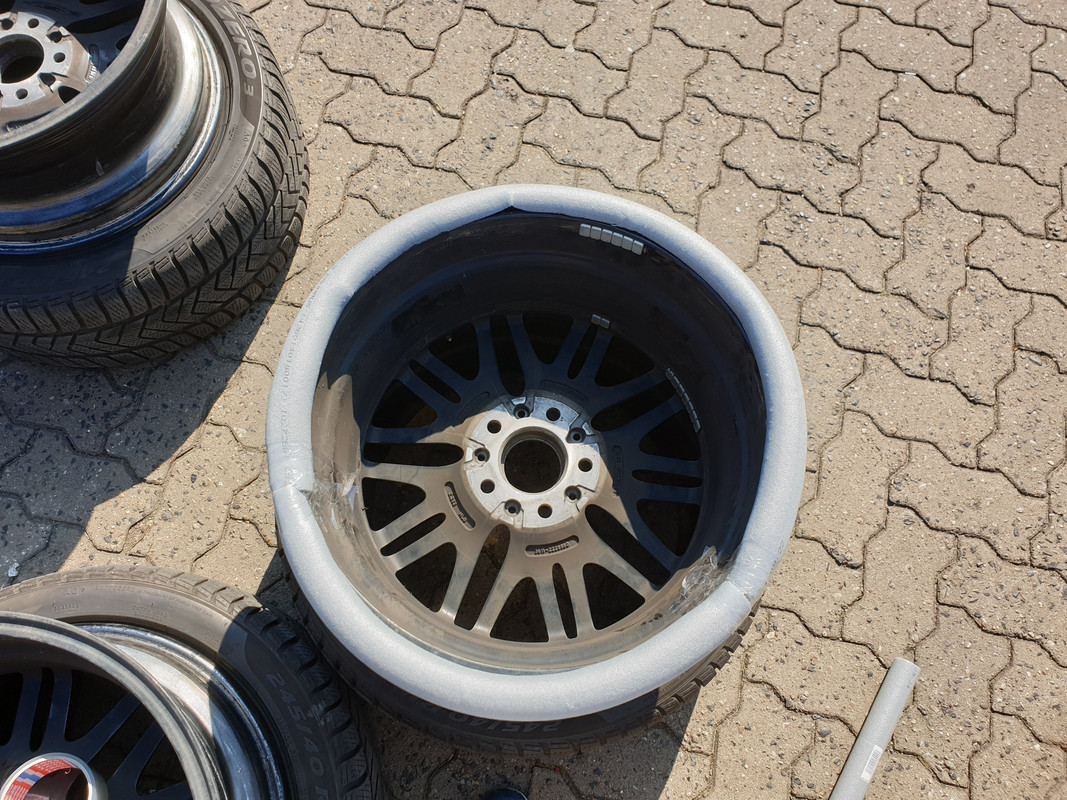 Senior Member (>500)
Join Date: Dec 2016
Location: SoCal
Posts: 502
Thanks: 19
Thanked 42 Times in 40 Posts
Holy moly Batman, those engine mounts! Wow. Looks like they were made by Fisher Price.

Great work as usual! I'm sure not hearing that rattle brings immense satisfaction.

And selling the E31 already? Not even gonna do a road trip with it? Maybe sneak into Hockenheim for a spin?!
---
'03 M5 | 987.2 Cayman | @kian.ski
Member, Sport: On DSC: On (>100 posts)
Join Date: Apr 2016
Location: Frankfurt, Germany
Posts: 199
Thanks: 57
Thanked 43 Times in 40 Posts
The Ruville mounts were cartoonish like for sure. The ones I got from the dealer were probably an old batch, my guess is that once the old batch is gone they'll all look like this. The same thing happened with strut mounts.
Danke. Yes, I really hated the rattle. You go to the store, come back start the car and scare people in the parking lot with a racket. You go to a car meet, pop the hood, everyone's excited to hear the engine aaaaand it rattles like a bastard. Then everyone thinks it's broken and you have to explain, people lose interest and still think you have a broken M5. Well,
no más!
Pretty much done with E31. It's time to cash in and get a different project (there's '03 Carbon black beauty in Southern Europe needing a rescue
). I spent so much time and effort on it and while I'd love to get it down the road and drive the crap out of it, that would require investing a lot more money in registration and insurance that I can't budget at the moment. I'm trying to get a friend from Cologne to come for a visit and use his dealer plates to go on a long drive down the Autobahn.
But if the sale ends up being slow, I might succumb and get it registered.
---
Last edited by sreten; 4th April 2019 at

10:34 PM

.
M5 Guru (>2000 posts)
Join Date: Nov 2008
Location: New England
Posts: 3,734
Thanks: 1,254
Thanked 760 Times in 619 Posts
If it was in the US, I think you and I would be talking. Lovely car and good luck with the sale.
---
2/2001 M5, Jet Black, Exclusive Complete Black Walk Nappa Point Heritage Leather, Black Cubic Trim
8/2011 X5 xDrive35d Sport, Black Sapphire Metallic, Black Nevada Leather, Fine Burr Walnut Trim
Currently Active Users Viewing This Thread: 2

(1 members and 1 guests)
myknow