Discussion Starter
·
#1
·
Radar-Mirror.com Official Valentine One and Escort 9500ci Rear View Mirror System Group Buy for M5Board members
Valentine One Mirror System - $449.00 (Retains Factory Auto Dimming)
Contact us to order your custom Valentine One Mirror System
Radar-Mirror.com
has developed the ultimate system for integrating a Valentine One Radar Locator into your M5. Having the bulky V1 unit and cords hanging from your windshield invites theft and increases the likelihood of a ticket in the event you are stopped by law enforcement. Our system conceals the V1 radar unit out of sight and moves the display inside your oem rear view mirror, providing a factory-like installation free of cords and clutter. Our latest generation mirror conversions will not affect any of the functionality of your oem mirror, including Homelink and auto dimming.
Required Valentine One Parts
In addition to the V1 Radar Unit all of V1 Mirror Systems require the following components. As a convenience to customers that purchase one of our mirror systems we offer all of the Valentine One components for the same price available from Valentine.
V1 Concealed Display $39
V1 Remote Audio Adapter $49
V1 Direct-Wire Power Adapter $13
How it works
You ship your factory rear view mirror to us to have the V1 Concealed Display integrated into the mirror.
Instructions for removing your mirror
. Your mirror will be shipped back to you within 24-48 hours after we receive it.
The main V1 Radar Unit will be installed inside your M5's headliner, just above the map light. A small modification will have to be made to your map light to make room for the V1. Ship your map light to us when you send your mirror and we will perform the modification to your map light.
The Direct-Wire Power Adapter will need to be hard wired and the Remote Audio Adapter connected to complete the installation.
Please visit our FAQ page for answers to common questions about our V1 Mirror Systems
Escort 9500ci Mirror System - $349 (Retains Factory Auto Dimming)
Contact us to order your custom Escort 9500ci Mirror System
Radar-Mirror.com has developed the ultimate integrated display solution for your Escort 9500ci radar and laser defense system. While Escort offers a fully integrated radar / laser system out of the box, many struggle to find a suitable location for the 9500ci display that is within easy view yet doesn't appear out of place. Our custom 9500ci mirror system integrates the Escort display into your vehicle's factory rear view mirror with oem quality precision and appearance.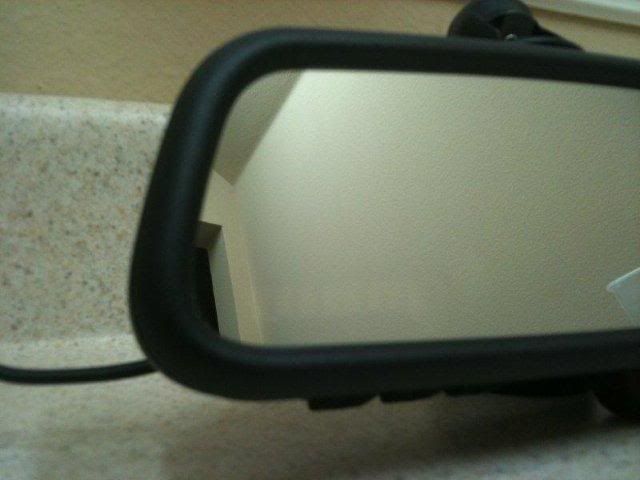 The mirror system requires the purchase of a Escort 9500ci Radar and Laser Defense System (sold separately).