With all of the new members joining our ranks lately, I thought I would make up a "how to search" tutorial. You know, since I am the Captain of the Search Police....... LOL...... I am going to give a few examples on searching, in several different forms. Really I just want to introduce people to the search page and how to navigate it. It is much easier to search, find your topic, read the information that you are looking for, than to start a new thread and wait hours or even days for someone to answer your question.
Let's start with just a general search......
Here I go to the main page and generally search for "Timmayfest"
Here are my results. As you can see, there are a lot, most of which do not have anything to do with Timmayfest. When you do a general search, it will give you every thread that has the word Timmayfest in it, starting with the most recent posting of the word "Timmayfest". This is not the most effecient way to search.....
Here is a more effecient way to search:
If I wanted to search about putting a rear set of wheels on the front of my car, here is what I would do.
First I go to the E39 M5 forum, where I want to look for my information. I then bring up the "Search this Forum" tab, and click on the "Advanced Search" button.
This is the main search page. There are quite a few opitions to choose from. I want to seach "rear wheels" to generalize my search a bit. Below the search field there is a tab with 2 choices - "Search Entire Posts" or "Search Titles Only". I like to use "Search Titles Only" that way the threads that are given have my search field words in the title of the thread.
Ready to click SEARCH
Here are my results:
There are a lot of threads displayed, but what we really want to pay attention to are the "Replies" and the "Views" count. USUALLY those are the threads with the most information in them. The higher the count, the more people have paid attention to them, which usually means the best discussions on that topic are within.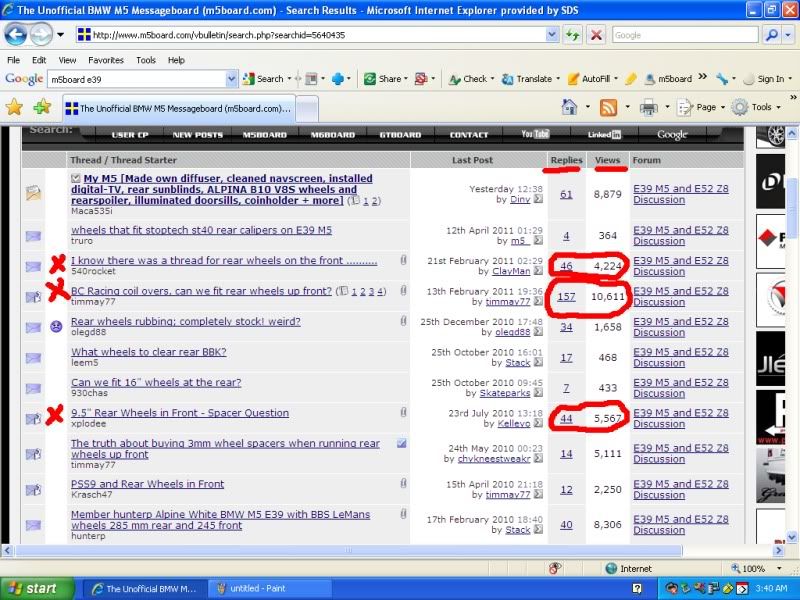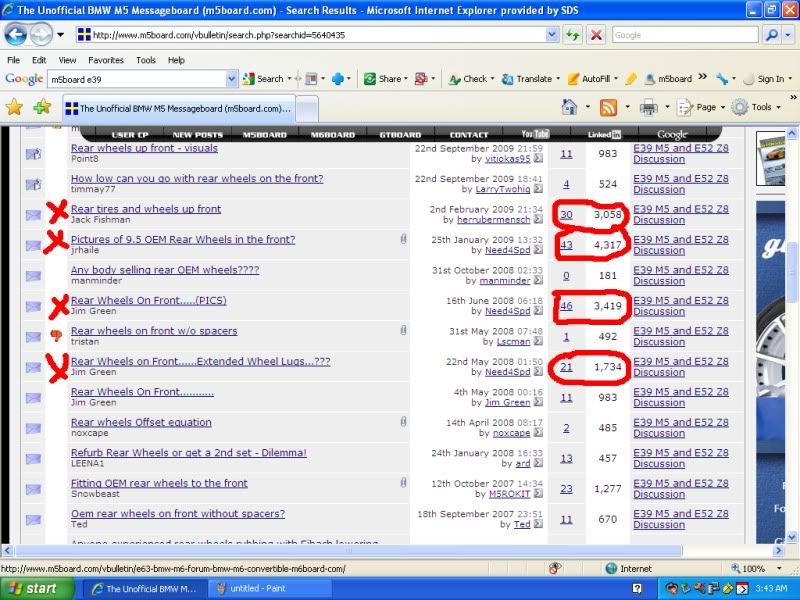 Check out a few of the other features, play around with them and see what you can find.....
Let's do another example. Let's say your name was "Steve", and you wanted to see what a cetain member has said about you lately. You can use the search function to find out. (Using "Steve" as the search field is just an example. You can use anything, "flywheel", "supercharger", what ever, to see if a certain member has been talking about it recently......
Here we go:
I am going to see if user "Timmay77" has used the word "Steve" in any of his posts lately. I am searching the "Entire Post" in the "E39 M5 subforum" and I want my results displayed as "Posts".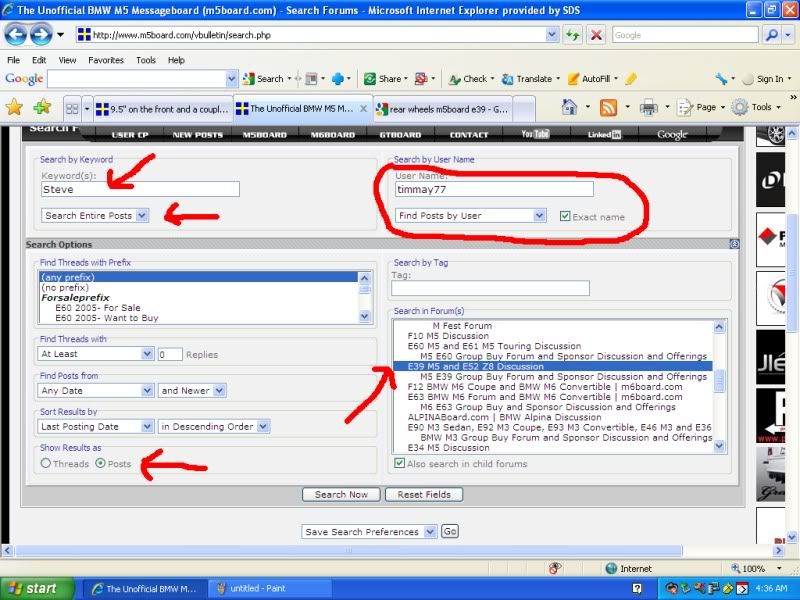 My Results: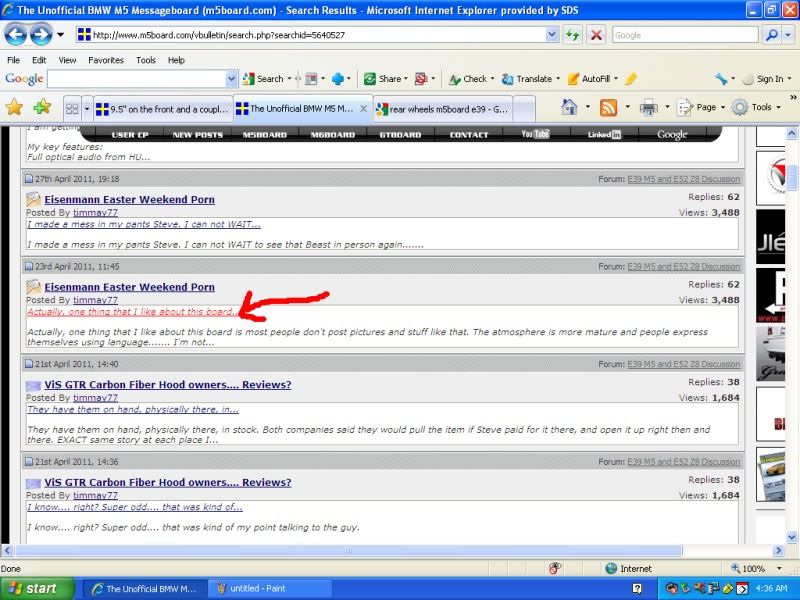 The Post:
Let's do one more. I now want to look for the word "Clutch". I am going to search "Titles Only" in the "E39 M5 Subforum" and I want the threads displayed to have "At Least 50 Replies" and I want my results shown as "Threads".
My Results:
There you have it, that is how I use the search funtion. I am sure others have their own methods, but I have found this works very well for me. You have to use the correct key words, and search the right fields to get the best results so you don't spend hours sorting through a thousand threads. The less "New Threads" we have, the easier it will be to search. I'm not saying you shouldn't start a new thread, just not on a topic that has been discussed over and over and over. Find the older thread, and bump it up if you have a new question. That way all of the information stays in one thread. That way the next person looking for that information can find it all in one location.
Others have used google to search.....
Veteran old grumpy guys like myself, feel free to add some of your input here if you like.......
Thank you for your time,
Tim