Discussion Starter
•
#1
•
Here's a summary of what happened. Looking to move the entire car and not part out all individual parts. I do have a pair of AFE dry filters, Mechunik scoops and a Modmynav backup camera kit I will pull off and list separately. Silverstone interior.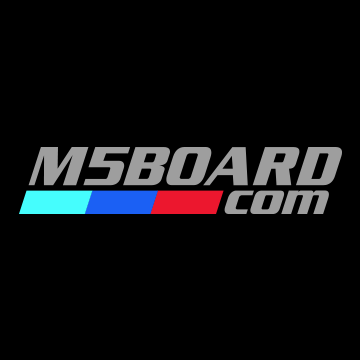 I left work to have lunch with my twins today, and some jackass decides to just pull out from one of the school exits and T-bones me. With the exception of the voltage regulator last year, this car has been rock solid for the past 5 years or so, so I'm kind of sick about it. The driver (30s...
www.m5board.com
Insurance ended up totaling it out, which I pushed for after weighing the options and having to fight on the back end with a diminished value claim and a black mark on Carfax if I tried to move it. I got a good deal on the salvage price so am buying it back since I know the history of the car and motor, and it was in excellent shape. The damage really isn't that bad, and I think the combination of new BMW OEM parts pricing + BMW labor charges helped to push the estimate up to the total line.
Quick summary:
Purchased in 5-2013 at 80k. Have maintenance and repair receipts from myself and prior owner as well. Clutch replaced at ~ 65k I think.
Motor went at 84k in spring of 2014. Warranty covered a replacement motor, which I sourced from Troy and had 25k on it with new bearings and HP vanos line. Installed at BMW West. So now there are 51k total miles on motor and 27k on the bearings.
Shortly after, both TB actuators were replaced under warranty, work done by BMW. Same year, clutch slave cylinder replaced.
Since, it had been rock solid with only an oil cooler replacement and voltage regulator failure until last month's accident.
Got an oil analysis almost every year (skipped 2016). Great lead numbers except for an anomaly in 2017. Had just changed the oil with M1 5-50, car ran great with it.
I'm going to miss the beast but have moved on to a 2014 M5. Car runs and drives and am hoping to have it back in my possession this week. The rear door is now off so I can post some other pictures when I get it back. Located in West Houston 77084.
PM or email
[email protected]
if you may be interested.