Discussion Starter
·
#1
·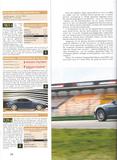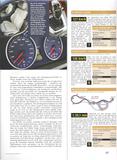 The Alpina B6 S - the ultimate extension of the BMW line-up
Nürburgring - 8:10 mins.
Even though it's automatic transmission is not expected to be suitable for the race track, the B6 S drives in the same league as the (assumed to be) much sportier BMW M6. With a top speed of 277 km/h at Döttinger Höhe it even beats the M6 which is limited to 259 km/h. It lines up with other powerful sports cars such as the SL 55/65 AMG or the Dodge Viper SRT-10.
Hockenheim short track - 1:14.8 mins.
If you handle the throttle carefully and keep the automatic transmission from acting independly on it's own surprisingly will discover the full driving dynamics of the B6 S. It handles much more agile than expected, power and traction fit very well. Also the brakes stand the power and weight of 1.8 tons.
0-200 km/h in 13.1 s
200-0 km/h in 5.0 s
0-200-0 km/h in 18.1 s
Just 0.1 s slower than the Lamborghini Murcielago LP 640, shows the true potential of the B6 S with its powerful engine and an perfect automatic transmission which is the only way to handle the enormous torque, a manual tranny would be no alternative.
18 kg/6 kg uplift at 200 km/h in front and rear
drag coefficient = 0.30
Compared to the BMW M6 with 15 kg/26 kg uplift in front and rear and a a drag coefficient of 0.31, the aero package of the B6 S is some slight improvement, perfect for a 2+2 coupe.
Specs:
4.4-liters V8 compressor engine
530 bhp at 5,500 rpm
725 Nm at 4,750 rpm
120 hp/litre
374/370 mm ventilated disk brakes in front/rear
Michelin Pilot Cup sport tires in the size of 255/35 ZR 20 in front and 285/30 ZR 20 in rear.
MSRP: 120,400 EUR (128,455 EUR as tested)
Kerb weight: 1815 kg
Power-to-weight ratio: 294 bhp/ton
0-100 km/h: 4.4 s
0-160 km/h: 8.8 s
0-200 km/h: 13.1 s
0-300 km/h: 41,5 s
Vmax: 318 km/h
18m slalom: 66.3 km/h
36m slalom: 127 km/h
110 m evasion test: 136 km/h
Though the suspension of the B6 S is more comfortable than the of the BMW M6, the B6 S shows some roll and nick as well as some understeer. It is luxury coupe more than a sports car but even though lines up with the Corvette Z06/Dodge Viper SRT-10.
The rear is not always easy to control because of the automatic transmission "having it's own life", the steering is not very direct.
Wet handling track - 1:30.1 mins.
Except of the sudden oversteer the Michelin-shod handles a bit better (as expected) than the Pirelli-shod BMW M6. The limited slip differential and the ABS work perfect and help to keep the B6 S on track more easily.
Verdict
The Alpina B6 S is exactly what it is supposed to be: an extremely fast but comfortable Gran Tourismo with a driving performance like a sports car but also being suitable for long-distance travel at moderate high speed. The powerful V8 engines fits better to a daily driver than the mighty BMW M6 V10 "race" engine. The 6-speed SwitchTronic might n it be State-of-the-Art anymore but fits perfectly in here, more working in the background.
The driving comfort is just as hard as necessary but also as much comfortable as possible, a perfect compromise.
The B6 S is an impressive and even a sports car that doesn't need to hide behind the BMW M6, respect!