Part 1. The introduction.
Hey guys,
I haven't ever really properly introduced myself over here on M5board. I've been a
moderator on bimmerforums
for years and have owned a lot of BMW's over the years including an E34 M5 that was my reason for initially joining this forum a couple of years ago. I've made a lot of "forum friends" over the years and have met a lot of them in person through my travels with work around the western US. I've already met or spoke to several of the E39 M5 contingent and I can tell that my illness (addiction?) is well represented in this group as well.
Anyway, roughly a month ago I found a 2000 Jet Black beast on Craigslist while I was working in Seattle. 121k miles, sport interior and all the 2000 options. It had receipts for lots of big ticket repairs including MAF's, O2 sensors, brakes with braided lines from Zeckhausen, VANOS solenoids, a new clutch at 105k, a new driveshaft, and various sensors (including ABS to the tune of $2200. Ouch.)
The car was not perfect, but it was the perfect find for me. I was looking for a low-dollar car that I could buy and "make my own" through various mods and wrench turning. I test drove it and decided that I wanted it. I had been looking for a facelift car, but the low price with large upside convinced me. I flew home and started the process of buying a car from a distance.
The PO (no kids, no pets) worked for Microsoft and was a terrific guy who put up with an enthusiast buying his car. I probably called or emailed him 50 times once I got home. His buddy Jason is actually on this forum and did quite a bit of work on the car while the PO owned it. I was able to talk to him on the phone and he put me at ease about the mechanical condition. I had a PPI done at a local indy and was ready to pull the trigger.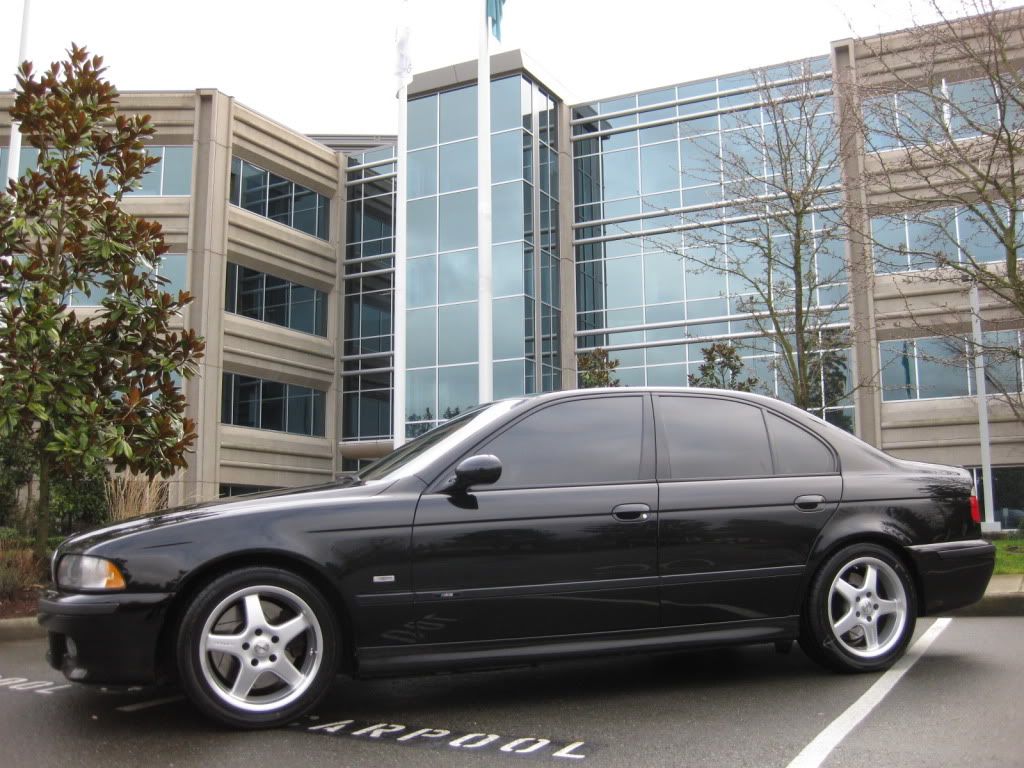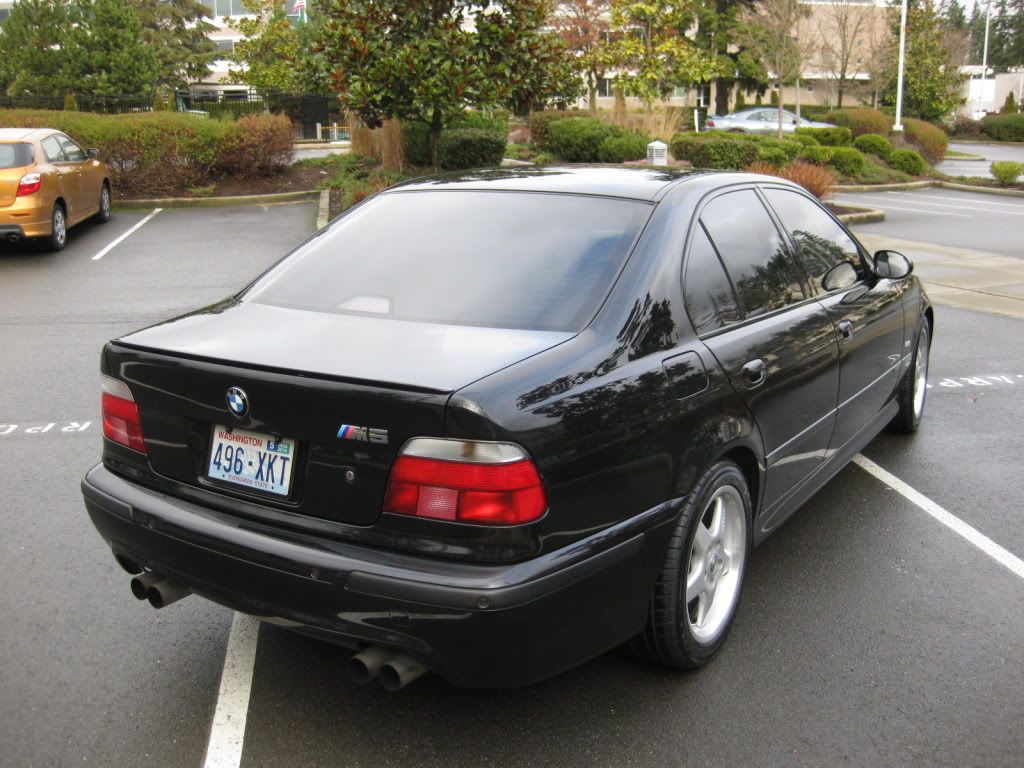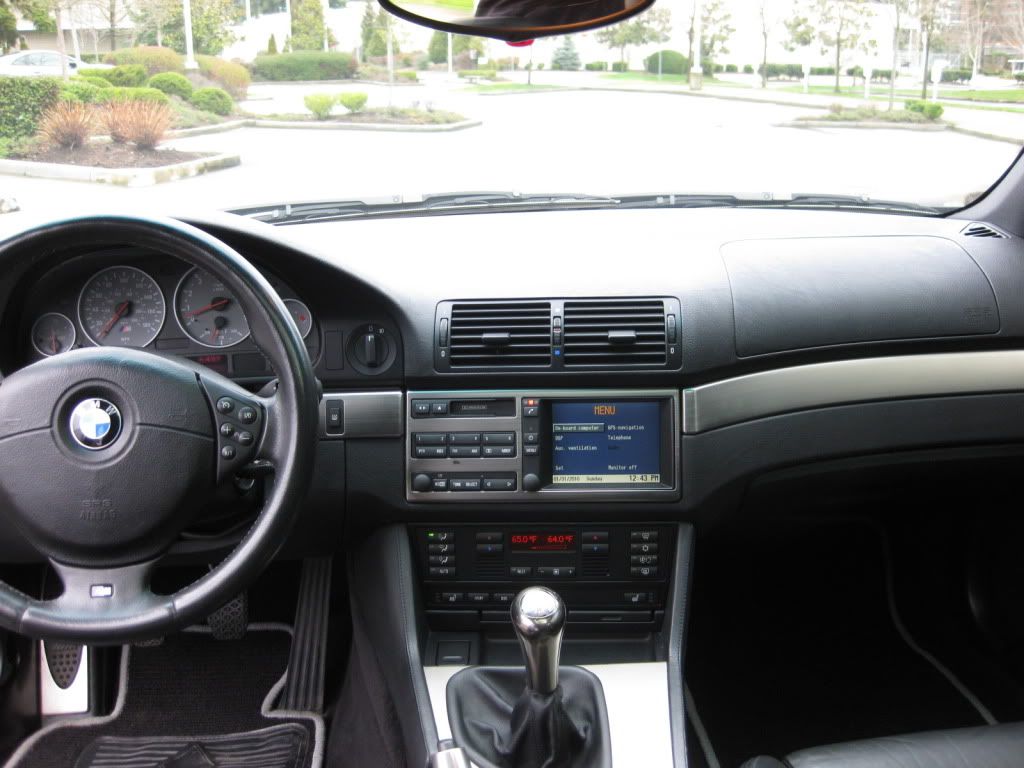 One key was I wanted the car as stock as possible, and this car was, right down to the still-functional cupholders. No missing pixels, original shift knob, and everything was functional once I installed a GPS CD and replaced the fuse for the heated seats/rear shade. It came with some craptastic Borbet Type E wheels on it with brand new tires...235/45/17. Sweet. (I ultimately picked up a set of 19" GT3's from a buddy but am really looking for an inexpensive set of stock wheels that I can get refinished by Velvet Touch. I missed a set from Adam (Clemster) by a few days thanks to family illness. Dangit.)
After poring over the FAQ and forum and spamming guys like John (M5555) and Matt (PedM5) with multiple PM's each I felt relatively prepared to tackle the issues and ownership of an early car. I ordered a bunch of parts to be shipped into a buddy's detailing shop in Gig Harbor. Then I flew into Seattle, paid for the car, and drove it to my buddy's shop for a mega-detail. I "worked" for a couple of days to justify the flight in and then drove it back home from Seattle. The trip was uneventful other than a few roll-on tests on desolate parts of the 5 freeway. :noSMG:
Part 2. Preparing to take on the Smog Nazis
The biggest issue I needed to tackle right away was the dreaded SAI (AA) code. When I had the PPI done I had them do a compression/leakdown test and everything passed with flying colors, so I assume that carbon buildup was mostly limited to the SAI chamber. I spoke to Matt (PedM5) who runs the US division of Powerchips previous to buying the car. He was quick to point out that they make no claims regarding passing smog, but I was fairly confident in the ability to pass smog after getting the Gold 91 tune as it changes the SAI circuit to read "not ready" in lieu of throwing a superfluous Check Engine Light.
I researched the CA smog rules and spoke to my smog guy. As of today here is the ruling on OBD2 "not ready" codes:
2000 and earlier are allowed 2 "not ready" codes when testing.
2001+ are allowed 1 "not ready" code when testing.
Because of this I was confident that I would pass the OBD2 part of the test as long as I drove the car long enough to set everything else to "ready" status. The only other hurdle at that point was getting past the sniffer with the rip-snortin' tune that Powerchips is putting out now. There's so much more power throughout the entire powerband that I thought for sure that there had to be a catch somewhere. I got the tune and then drove around the last couple of weeks to make sure all the OBD systems except for SAI would reset before I went to get smogged. I also did the muffler delete with Tim's tips and the combo of new-found power and uncorked exhaust is invigorating to say the least.
Here's a pic of my car while it was waiting to be smogged today. It's absolutely filthy after sitting in San Diego at the Park'n'Fly this week. You can barely see the Timmay tips poking out if you squint and turn your head 10 degrees to the right or left. A glamor shot it certainly isn't.

Part 3. The 4 letter word.
I bring all my cars to this place and he's really good to me. I was nervous as heck when he pulled the car in. The first run stalled at the 15mph test and didn't pass within the allotted 1 minute! Luckily he did something to trick the test into thinking he screwed it up so it would reset and not send anything to the DMV. I was stressing out at this point. He let the car sit the required 5 minutes at idle and then held it over 3k rpms for about a minute. I couldn't even enjoy the sound of the exhaust because I was so worried about not passing.
He restarted the test and it passed the 15mph test within 10 seconds. The 25mph test took much longer and I think I held my breath the entire time except for when I spoke to my daughter. Just when I was ready to give up hope it clicked to the next screen. Success! I watched it go through the OBC checks and I was home free! The 4 letter word of the day was PASS! I looked over the printout after I paid, and I was not surprised to see that on the 25mph test I had hit the max allowable HC. One more and I would have failed! Needless to say, I was overjoyed at finally having the car legally smogged here in CA.
<iframe src="http://player.vimeo.com/video/16810629" frameborder="0" height="300" width="400"></iframe>
http://vimeo.com/16810629
Huge thanks to Matt at Powerchips for making it happen, and to this forum for the knowledge base about these awesome cars. I feel even better about my purchase now that it's officially legal! For two years, anyway. :blink: Next up a dyno and a bunch of facelift stuff.
Thanks for reading this far, and sorry it got so long.
Tim