Discussion Starter
·
#1
·
PistonHeads Headlines
DRIVEN: ALPINA B5 BITURBO
We try to keep up with supercars in an executive saloon (albeit a very quick one indeed)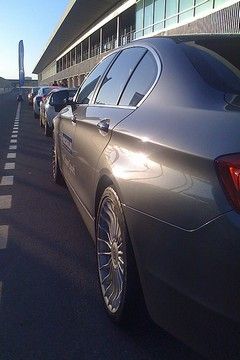 This isn't really fair on a two-tonne executive saloon. We've only done a couple of laps of the hot and dusty Dubai Autodrome and already the Alpina B5 Biturbo is beginning to get a bit upset. That's not a criticism of Alpina's latest baby, by the way; we're currently chasing a Lamborghini Gallardo LP 560-4, and there's absolutely no shame in being unable to keep up with a 200mph supercar. Especially if you're able to keep it in sight from behind the wheel of what is effectively a fast BMW 5-series.
I'm actually officially here to test Michelin's new Pilot Super Sport top-end tyre, but Bibendum's brought along an Alpina B5 as one of its test cars - so it would be rude not to grab the keys for a quick spin...
The new B5 is particularly interesting because it is the first time that BMW has allowed Alpina to use the same basic engine as the one it will drop into the nose of an M5 - the twin-turbo, 4.4-litre V8 that also serves under the bonnet of the X6M and X5M.
In Alpina form (The M5 will get a different inlet arrangement), the twin-turbo, twin-scroll motor comes out at 500bhp (you can expect the M5 to get closer to 550bhp), with 516lb ft of torque to call on. Although the 'official' fast Five will get a DCT twin-clutch set-up, the Alpina uses BMW conventional but effective 8-speed torque converter automatic.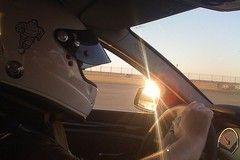 It's an effective combination. Alpina says that the B5 will get to 62mph in 4.7secs and won't let up until 191mph. And, since we saw an easy 255kph (near-on 160mph) indicated on the longest straight before the rapidly approaching hairpin sent me diving for the brake pedal, we certainly don't disbelieve those figures. The eight-speed auto doesn't have the
n
th degree of sharpness that you'll find in a decent sequential manual DSG-type 'box, but in its sportiest setting it makes a fine fist of sure, sharp changes. Crucially, it also won't change up automatically at the red line.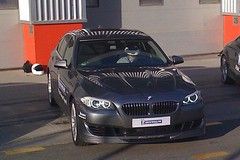 For a car that can also play relaxed cruiser (indeed probably will be required to do so for the majority of the time), the engine and gearbox combination strikes an almost ideal balance; it will satisfy you for the odd blast or track excursion, but not at the expense of refinement or comfort. For such a large car, the B5 handles enthusiastic track work rather well. For those familiar with the on-track behaviour of the new F10 5-series (though we doubt that there are that many of you), that won't actually come as much of a surprise. When we drove the 'regular' 5-series on the roads of Portugal earlier this year it left us a little cold in handling terms, but came alive when we had a chance to test it at the Estoril circuit, displaying the sort of balance and poise that you'd expect of a sporty 3-series.
The B5 manages to pull off the same trick. It turns in sharply and settles quickly into a neutral, controlled cornering attitude, while - provided you don't give the tyres too much prolonged grief - you can adjust your cornering attitude on the throttle. The brakes do a cracking job of hauling you down to sensible speeds for corners, too.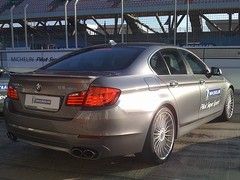 Inside, there are enough Alpina-specific touches (new leather, particularly comfy seats, a pleasantly thin-rimmed steering wheel, and distinctive plus and minus buttons rather than gearshift paddles) to mark the B5 out as a niche above a regular BMW, without falling into the trap of gaudiness that some Alpinas in the past have suffered from. All in all, the B5 Biturbo is quite clearly a fine fast saloon. After several four-lap sessions of Dubai's 2.7-mile international circuit (I wasn't the first person to take it out), the brakes were crying foul, and the tyres eventually overheated, throwing the handling balance into understeer. But when you're trying to keep up with a Gallardo LP 560-4, that's more than understandable...
Let's put it this way: the new BMW M5 is going to have to be
really
good.
<table border="0" cellpadding="1" cellspacing="2" width="100%"><tbody><tr align="left" valign="top"> <td>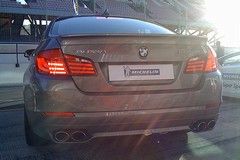 </td> <td>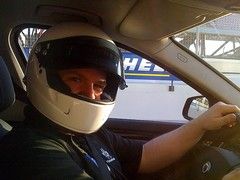 </td> </tr> <tr align="left" valign="top"> <td>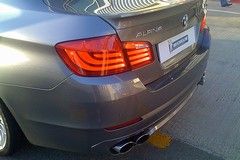 </td> <td>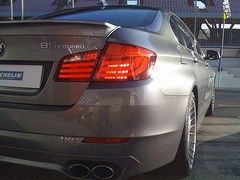 </td> </tr> <tr align="left" valign="top"> <td>
</td> <td>
</td></tr></tbody></table>