I thought I would just start a thread to answer any and all questions about the straight pipes/muffler delete mod.
Muffler delete
- to remove the 4 OEM mufflers and replace them with a section of pipe, then use exhaust tips to finish it off. Some people choose to remove the stock resonator and some choose to leave it intact.
REMOVING THE STOCK RESONATOR WILL CREATE A DRONE. Let me say this again, if you remove the stock resonator, the car will be VERY loud and will drone at lower RPM's.
LEAVING THE RESONATOR IN THE SYSTEM WILL KEEP THE SYSTEM TAME EVEN WITH THE MUFFLERS REMOVED. If you remove the mufflers, but leave the stock resonators in place will open up the exhaust to have a very throaty, V8 power sound without being annoying at cruising speeds.
Straight Pipes
- a lot people use this term, even myself, when referring to the muffler delete mod. As Diny pointed out in another thread, a true "straight pipe" system, it would have
straight pipes
from the headers back removing the cats, resonators, and mufflers.
Here are a few pictures of some muffler deleted cars.
1.
2.
3.
4.You can see in this picture the stock resonator box is still intact sitting IN FRONT of the differential.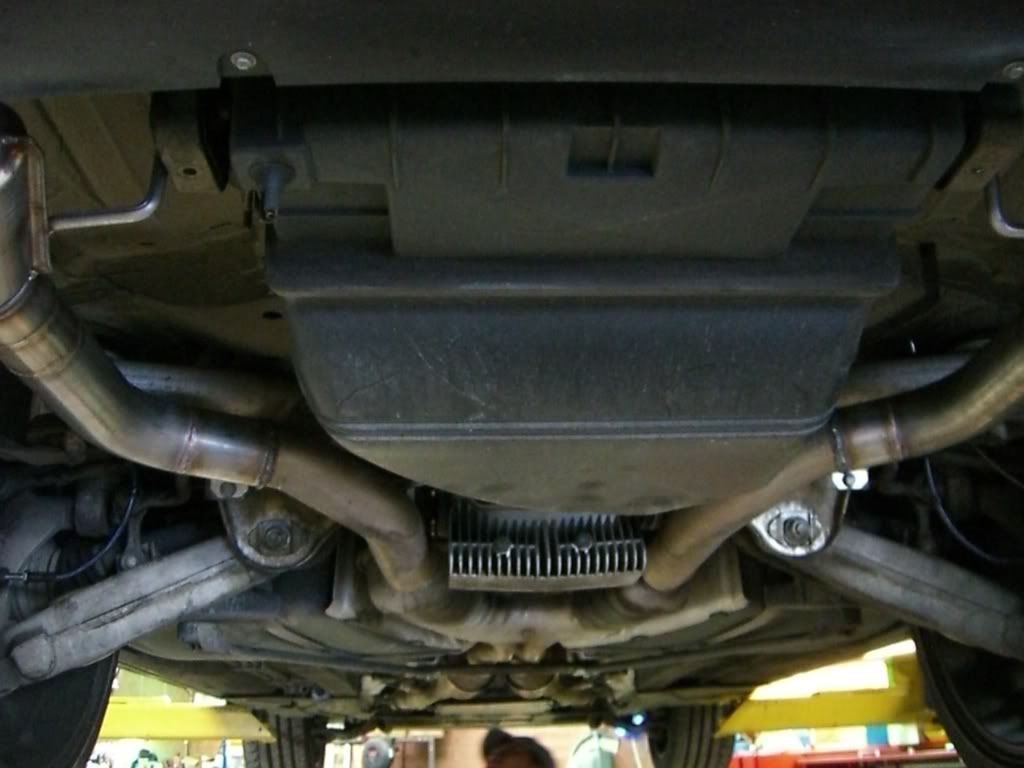 5. A very good example of before and after.
6.Here you can see the stock set up with the stock resonator.
Here are a few videos of the car WITH THE RESONATORS STILL INSTALLED. (Thank you JCM55555)
Casual driving:
Hard pull (up-hill):
3rd and 4th WOT:
<object height="385" width="640">
</object>Here are some videos with the RESONATORS REMOVED...... (Thank you M55555)
First Rev = 2.5K RPM
Second Rev = 4.0K RPM
Third Rev = blip to 3.0K RPM
[watch in HD for best quality]
Normal driving from 0 to 60mph, shifting around 3.5k rpm, then cruising at 60mph. Windows down.
[watch in HD for best quality]
2nd gear pull, windows down, DSC on ouich
[watch in HD for best quality]
First half of video is normal driving with windows UP.
Second half (when you hear the blinkers) is WOT with windows DOWN.
[watch in HD for best quality]
Cruising at 60 MPH, windows down
[watch in HD for best quality]
Warm engine idle
[you know how to watch it
]
50-60 MPH cruise with windows UP, 6th gear
Straight pipes from resonator.
Here are some videos I made with my resonators STILL ON and my mufflers removed.....
<object height="385" width="640"> <embed src="http://www.youtube.com/v/pePH92ZkGvI?fs=1&hl=en_US" type="application/x-shockwave-flash" allowscriptaccess="always" allowfullscreen="true" height="385" width="640"></object>