Well new to me anyway!
A bit about myself first, I'm Barry from sunny Surrey and a big BMW fan! I'm a qualified BMW senior technician and have done my time in the dealer network with Hexagon BMW being the last dealer i worked for, with me now working for Munich Legends in Sussex.
I'm no stranger to forums or the BMW club scene in general and have owned all sorts of BMW's over the years, a lot of E30's, E36's, E46's a few E39's, an E28, an E34 and an E23!
I currently own an E30 325i Sport M technic 2 show queen, an E46 330i M sport touring family bus and an E36 Alpina B3 3.0 Switchtronic coupe daily run about which just replaced my E46 M3 manual coupe which i sold to free up some cash for an impending house move.
But then i got a hot tip off about this....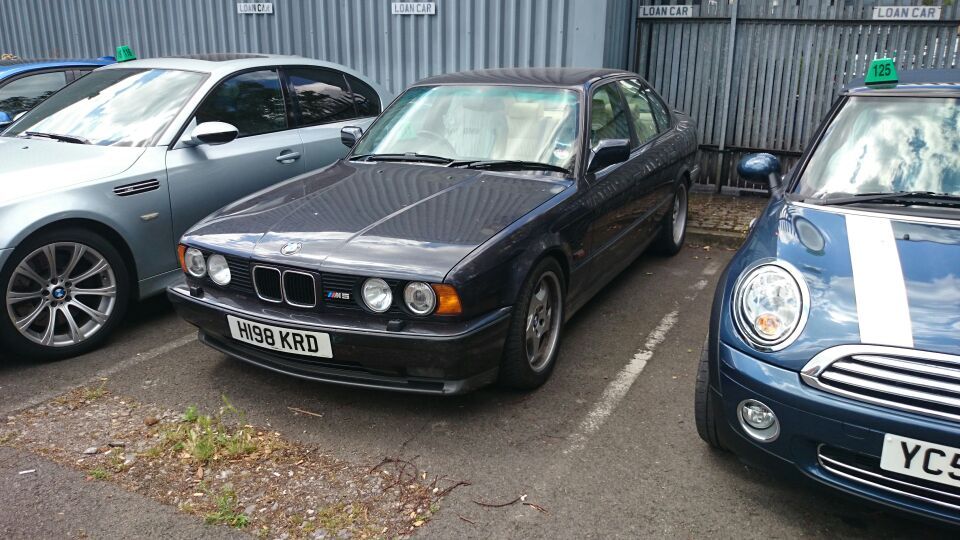 Its been in the pipe line for a few weeks now but I didn't want to say anything until the deal was done and money exchanged hands today soooo......
About a month ago I got a call from my mate at Spire BMW (was Hexagon where I used to work) of this recovered into the workshop as a non runner after overheating. They did a pressure test and coolant was leaking into the cylinders so then did a compression test which resulted in virtually no compression on the middle four cylinders.
Dealer then quotes worst case a new engine, X amount of money to diagnose further by removing the head and then I get the tip off customer would sell as is.
Anyway, after a bit of twoing and throwing, talk of other people with offers, we ended up agreeing a price and doing a deal.
A bit more about the car.
It's a 1991 3.6 M5 in Macau blue with, and this is what really got me moist for it, heated electric memory champagne extended leather with co pilot rear seats and electric rear head rests! Just needs heated rears and it would be the full seating package!
Oh and the fact it's only done 52k miles from new!
What's also mad about this one is that in 2010 Hexagon BMW sold it to the guy I bought it from, with 41k miles for wait for it..... £17000!!!! 8O
Other options it has are,
S302A Alarm system
S303A BURGLAR AL. WITH TILT ALARM SENSOR
S339A Shadow-Line Shadow-Line
S354A Green windscreen, green shade band
S401A Lift-up-and-slide-back sunroof, electric
S415A Sun-blind, rear
S430A Interior/outside mirror with auto dip
S459A Seat adjuster, electric, with memory
S494A Seat heating driver/passenger
S499A Electric rear head rests
S500A Headlight wipe/wash/Intensive cleaning
S534A Automatic air conditioning
S560A Reading light in rear compartment
S571A Reinforced power supply
S676A HiFi speaker system
S687A Radio preparation
S781A BMW LA wheel M Kontur
S786A Action pack for 17" wheels
L812A NATIONAL VERSION GREAT BRITAIN
S847A Additional battery for C-line phone
S850A Additional Export tank filling
S925A Transport protection package
So, the plan it to pull the compete engine and asses the damage and go from there.
It also needs a bit of tidying here and there, some decent rubber and a wheel refurb and may change back to turbines but will concentrate on getting up and running first.
MMMMMMMMM, champagne! :drool: