[WARNING - LONG POST]
Here is a writeup of my E30 M3 - the mods and track experiences so far
It all started in the summer of 2006 when I went to the Nurburgring and
got the Ring virus (http://www.m5board.com/vbulletin/showthread.php?t=74532)
It was pretty clear that my M5 was too heavy for serious track use and was
getting a bit too expensive for thrashing around.
So the hunt for a track weapon started. It had to be light, fast and BMW
E30's and E36's were an option but I don´t like the looks of the E36 but I
have always liked the E30 M3 and decided to get one. These cars look just
as cool as when they were produced - timeless beauty IMHO
So I basically decided to get a white E30 M3 but that also lead to a power
problem. The 4 cylinder S14 while a great engine is not that powerful and
is crazy expensive to get more power out of it. So it was clear that a
swap would be necessary to suit my taste for power.
At the beginning of the year I went with a friend of mine to Germany to
buy the car and also meet with a guy that breaks late model premium cars and
has alot of BMW parts. He had some swap candidates for us to look at.
After that we were going to meet with the guys that would most likely do
the swap - a shop called Auto Tauber - they used to race in the DTM series
in E30 M3's.
Here we are at the car dealership that had some white E30 M3's for sale, my
friend Sveinbjorn trying to decide which one he liked best:
I was originally going to buy the car on the left but it turned out to be
complete rubbish so we started looking at the one in the center. It turned
out to be in pretty good shape - more expensive though and had just been resprayed.
You can see it was originally black:
Mismatched front seats - horrible Recaro drivers seat
The car was not registered so we only could drive it on the lot to test:
Felt good and we decided it was a good candidate for a track car.
Finished the deal and since I waved some cash I got it for the same price as
the original car I was looking at :thumbup:
So we left the car at the dealer and went to meet with the engine guy.
He had several S50´s and then he also had this:
A supercharged S50B32 with only 1000 km on the engine itself and 5000 km on the
SC setup and gearbox. 450-500hp. Very tempting!!!
I told the guy that I would phone him in a few weeks and tell him what motor I
would purchase.
So after this we went to Auto-Tauber. We did not need to spend alot of time with
them before we knew they were the guys to do the swap
They were extremely
knowledgeable and seemed very nice guys. We discussed different options - both
a stock S50 and then the SC S50. We also got from them a ballpark figure for
the swap.
It was decided that I would ship the car to Iceland to have it registered and
insured in my name and then ship it back to Auto-Tauber. It could not be registered
in Germany because it had been imported into Germany with the condition that it
would either be exported again or used unregistered in motorsport.
We flew back to Iceland and had a friend of ours in Hamburg go and get the M3
from the dealer and put it on a ship heading for Iceland. I registered it and
insured it at the end of January, had some quick fun:
The car was then back on a ship on it´s way to Hamburg 13th of February.
By this time I had decided that I was going for the Supercharged S50 :evil:
At the beginning of March I flew to Germany and drove the car from Hamburg to
Auto-Tauber. They are located close to Nurnberg (not Nurburg). It was rather
wet on the way:
I always like those signs
The built in Navi in the E30 is top notch:
Finally at the destination - 100% stock and unmolested
Got to see their pride and joy.... a pristine M1:
We put the M3 on a lift and did a pretty thorough check
on the car.
The "todo" list became the following:
- install the SC S50 motor & 6spd gearbox
- Racelogic traction control
- H&R coilovers
- Movit/Porsche brakes, 322mm front, 294mm back
- Brake cooling ducts
- Recaro Profi SPG XL seats
- 5 point harnesses
- Roll cage
- OZ rims, 17" Ultraleggara, 8" wide
- Wideband O2
- new bushings
- fix rust
At the middle of March I got some progress pics - they had already ripped the
"hamster" out and had went and picked up the SC S50 motor, 6spd gearbox, headers
and cooling for the watercooled intake. Here are some pics they sent me: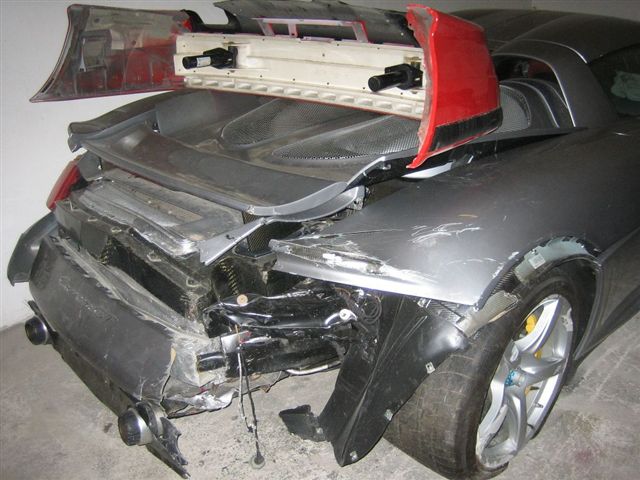 Some expensive wrecks :yikes:
At the beginning of April I got some more progress pics:
More rust than expected
All would be fixed
Engine & gearbox installed:
At the beginning of May I got this update - brakes installed,
engine placed correctly, propshaft being shortened, cooling system
being installed:
And May 15th I got this video - the little monster was fired up for the first time
http://www.onno.is/thordur/m3/gangsetning.wmv
Picture of the seats/harnesses:
Wires been tidied up:
The car was driven for the first time with the new engine on May 17th:
http://www.onno.is/thordur/m3/005/MVI_4575.avi
The guys were in a bit of a hurry because I was arriving on the 25th to
pick up the car and go to Nurburgring and Spa.
Here are some pics taken just before I arrived - at some BMW gathering:
On the 25th I arrived at Auto-Tauber with a few friends - we were
on a "Eurotrip" in a few cars. My E39 SC M5, a stock M5 and an AMG SL55.
We picked up the M3 and headed to the Ring. The M3 sounded awesome on
the Autobahn - you could hear it for miles
We had a minor problem
when we were close to the Ring - lost 2nd and 4th gears. It turned
out to be a minor issue that we could fix at the hotel at the Ring
(www.ringhaus.com).
So it was on May 26th I finally got to drive it in anger on the Ring
on Toyo R888 after months of preperation. It was unbelievable!!!!!!!!!! :bounce:
The grip was just crazy and the Racelogic traction control kept me out
of trouble. Here are a few pictures:
There were some surprised people on track when an old "200hp" E30 overtook their
much more powerful cars
On the 29th we went to Spa for a track day - great day
Excellent track and alot
of fun driving in the M3 - surprised alot of guys at this MLR trackday.
Woke up early to drive to Spa - very wet
Did not look good for a track day.... wet wet wet.
Finally at Spa - driving into the paddock area:
Our fleet:
We rented a garage in the pit area:
Our neighbours:
Cleaning the cars before going onto the track:
Imola red ready to go:
When the track started to dry I went out in the M3 - had driven the M5 in the
wet earlier:
Here I am explaining what is under the hood to a Porsche owner (in the blue shoes)
who was not too happy with our speed difference
Here we are going for gas at the end of the day - the M3 running on fumes:
This gas station got alot of our money that day!!!!
Everyone filled up and heading back to the Ring:
It´s almost as the rear wheels are gunmetal coloured - alot of brake dust:
The M3 performed flawlessly the whole day:
Finally here is a video from SPA - http://www.onno.is/thordur/almennt/eurotour2007/SPA_290507.wmv
You can hear the Racelogic traction control kicking in
After SPA I returned the cars to Auto-Tauber for some minor fixing. Returned
again 2 weeks later for another trip to the Ring - this time I brought my girlfriend
Lena. Here we are picking up the cars at Auto-Tauber:
Lena got to drive the M5 for the first time - straight onto the Autobahn
When we stopped there were some interesting comments....
"This car doing 100mph is like a normal car doing 40mph"
"It´s so stable going fast"
At the Ring the car was better than before - the guys had installed stiffer springs
up front. I was still using the Racelogic - here you can hear it in action:
http://www.onno.is/thordur/almennt/Eurotour2007_2/160607_RNGTOY_Pflanzgarten.wmv
Here you can see my girlfriend hold on for dear life!!
Some more pics: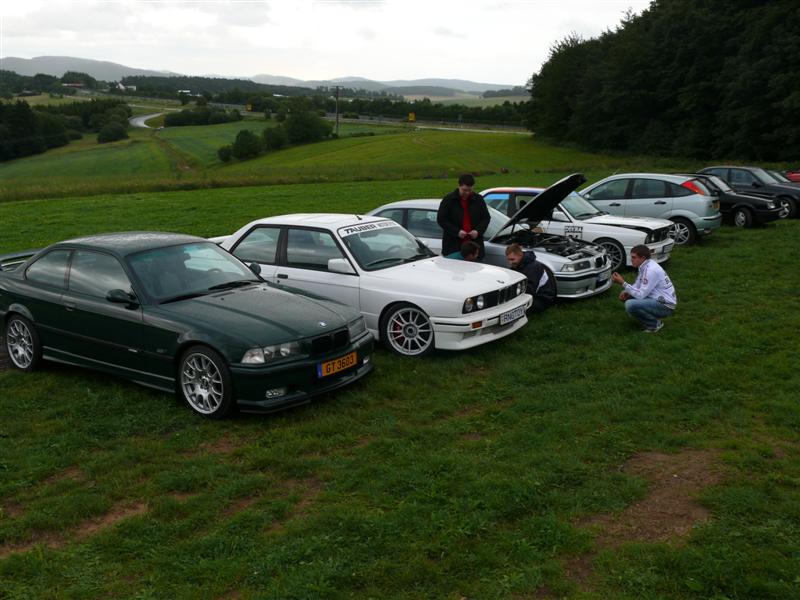 Here the guys at Auto-Tauber had arrived for an E30 M3 meet and were checking the front
brake disks that had started to crack.
I also got some lessons from Thorleif in his white M3 CSL - got to drive behind him
for a couple of laps :thumbup:
After ca. 2000 laps he knows what he's doing
Here is a lap in RNGTOY - had an Icelandic guy as a passenger so you will not understand
anything we are saying
http://www.onno.is/thordur/almennt/Eurotour2007_2/Nurburgring_170707.wmv
The next weekend I met up with a friend of mine that lives in Luxembourg. He had managed
to get us into a track day at Spa - held by the local BMW clubs. That day was very nice,
alot of old BMW machinery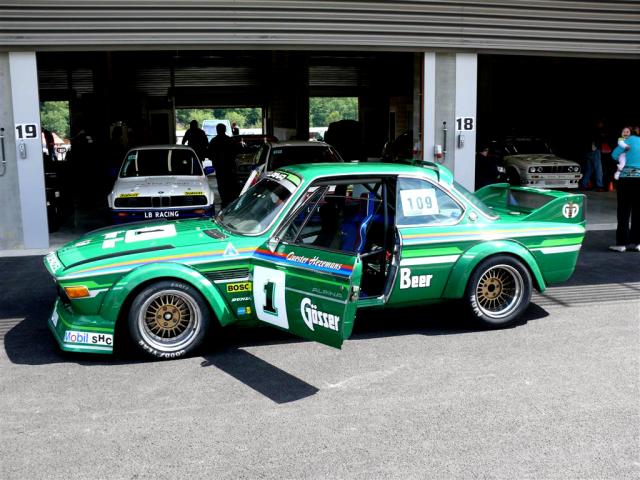 A friend of mine was driving his E36 M3 GT and here is a video from his car when I overtake
him - you can hear how loud the E30 M3 is :laugh:
http://www.onno.is/thordur/almennt/Eurotour2007_2/SPA2a.wmv
Also - here are some recordings from my car. You can see how it was pretty wet to
start with but dried as the day went along (and got more fun
)
http://www.onno.is/thordur/almennt/Eurotour2007_2/SPA_230607.wmv
I found that SPA is pretty hard on tires - more so than Nurburgring. My tires were totally
finished at the end of the day.
The next day I went back to the Ring and had alot of fun until the radiator failed.
Here is a video clip:
http://www.onno.is/thordur/almennt/Eurotour2007_2/Nurburgring_240607.wmv
As you can hear in this clip I had stopped using the Racelogic - felt I was competent
enough in the dry on the R888's.
I was lucky to have the M5 on standby when the radiator broke in the M3 so I could continue
having fun: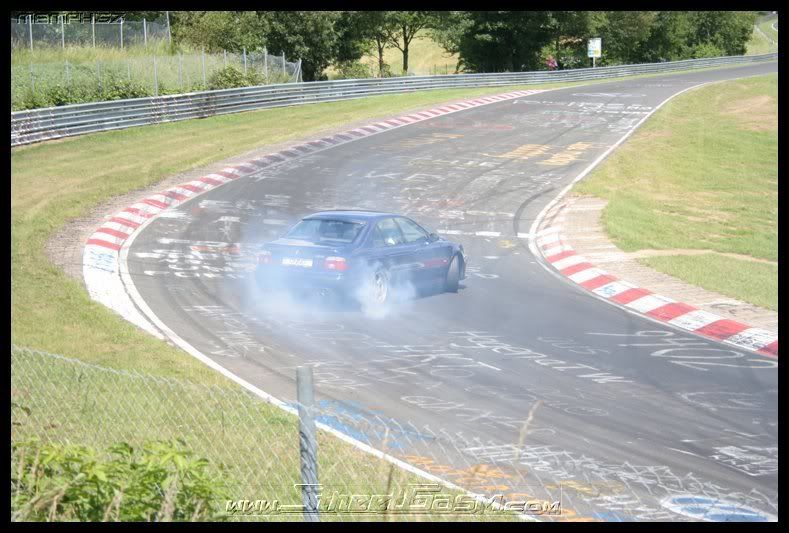 I left the M3 at Ringhaus that weekend and the guys from Auto-Tauber picked it up the
following weekend. I had by this time decided that I wanted to strip the car and make
it a dedicated track car.
I soon heard from the guys at Auto-Tauber and they had figured out why the engine had
punched a hole in the radiator. One of the engine mounts had broken so the engine could
move.
Here are the pics I got once they got started:
You can see some interesting things there, broken torsion bar mounting,
busted guibo, some rust repairs, etc.
You can also see the extra cooler for the intake. There would be 2 coolers
and the sequence is intake->pump->pipe->cooler at rear axle->pipe->current cooler->intake.
Hopefully this would be enough cooling and I would be able to monitor the chargecooler
water temperature with that gauge.
They would also install a strut brace as well as strut tower braces (a la cabrio) and adjustable camber plates.
The next installment of photos would also reveal why the car felt so loose in the back.
We originally thought it was because of worn bushings but it was far worse :yikes:
As you can see the rear subframe was broken!!!
It was rusted and the Ring & Spa had killed it. New one installed.
There were also some news regarding the brake disks that had cracked.
The guys sent pictures of the disks to Movit. The Movit guys said at
first that his was just normal and were not going to do anything.
The guys at Auto-Tauber then asked them for this in writing and when
they asked why they said they didn´t want me to drive with these disks
and they needed a name to sue if anything went wrong.
A few days later there was an answer from Movit - new disks being sent
free of charge
It was finally August 5th when I picked up the car and headed for the
BMW drivers training at the Ring. Here you can see the car in it´s current
state: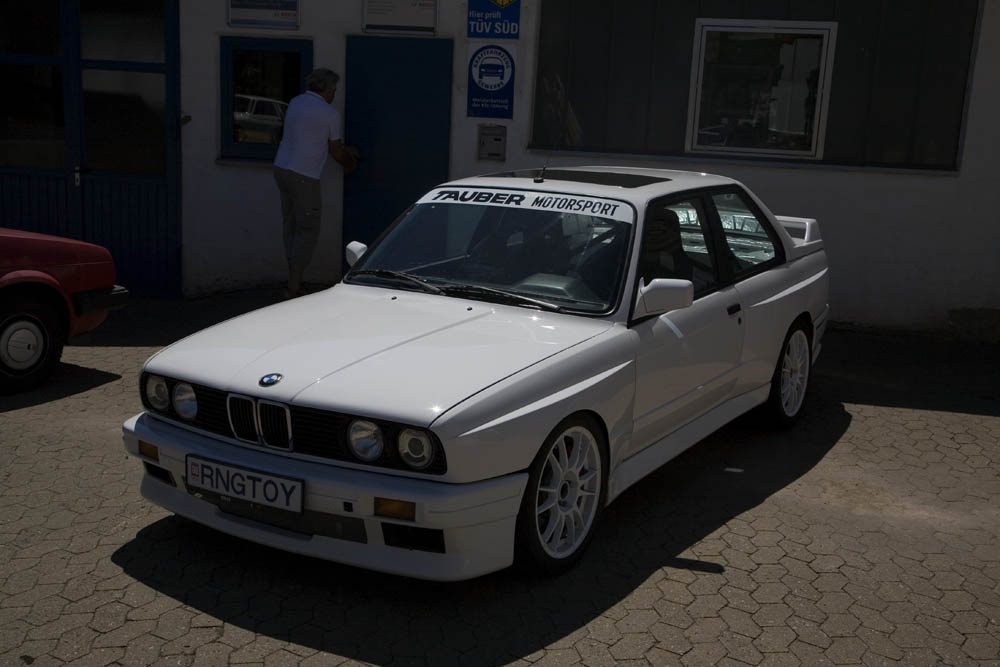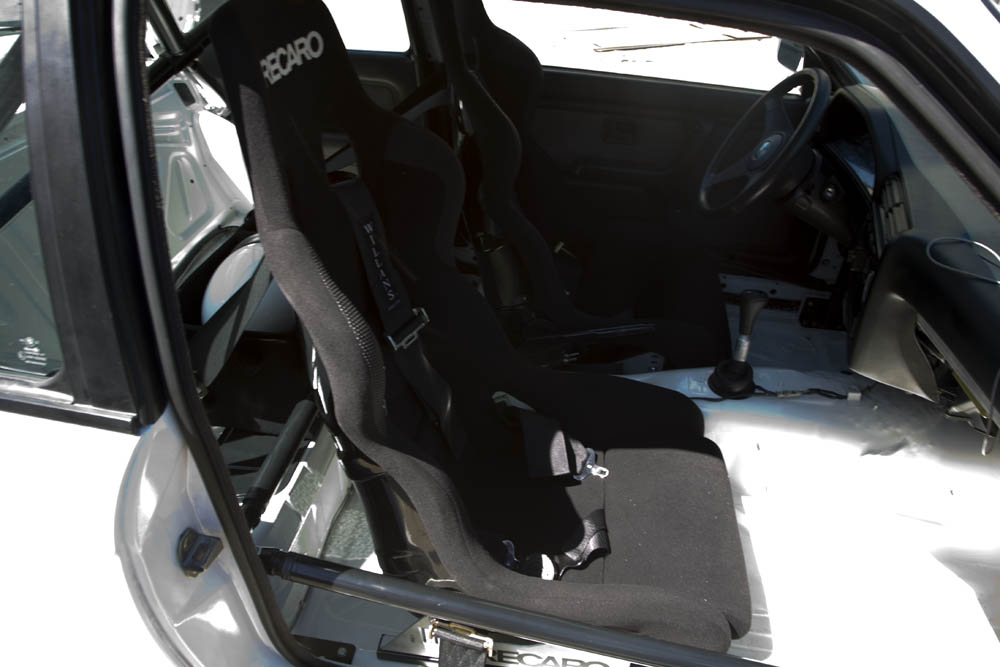 The car is pretty awesome. You can hear so much more now all the carpets and
sound proofing is gone
Here is a link to my trip report from the drivers training - alot of pictures and videos:
http://www.m5board.com/vbulletin/showthread.php?t=105908&
Here are just a few from that thread:
One scary moment at Wippermann
http://www.onno.is/thordur/almennt/BMW_Fahrerlehrgang/oh_s_h_i_t.wmv
Also - my fastest lap so far
http://www.onno.is/thordur/almennt/BMW_Fahrerlehrgang/2007-08-12__Lap-09_oi_0818.wmv
Anyways - it´s been one hell of a season with the M3.
The car has performed very well so far - going to do some minor mods and have
the suspension set up for the Ring by a local guru. Shipping the car to them in
January to have it ready for Easter.
Can´t wait
PS. Hope I haven´t put anyone to sleep with this long post!!