Well guys as some of you know I am the first gintani powered stage 2 m6 in the states. The car has ran like a bat out of hell and I have tested against superior cars from UGR lambos to zo6 corvettes to twin turbo 350zs to supercharged 5.0 stangs etc. I have been basically decimating all. Well than the issues kepted coming
I've hit a wall though and here goes
Symptoms
Upon delivery of when I received everything was perfectly fine I drove her back about a week later an CEL LIGHT came on. Went to check it out, a misfire. Once I took it to my shop they said the misfire wasn't present but that there was one. Odd right? Cleared the codes they didn't appear again until days later. I raced the UGR Lambo and bam cel light again, went to the shop same thing misfire happened but wasn't present. As I was racing and destroying an Audi R8 v10 I noticed my oil temps went up a little bit passed the middle area and the cel light came on again "odd right?"
Take it back to my shop same stuff, they said "do you have meth?" I said "yup" than they scratched their heads "did you run it without meth?
I said "not really maybe once but that was that" they said "are you tuned for meth usage?" I said "no. Per gintani to protect my motor." They recommended "just make sure you have meth than come back. Finally it happened, as I was driving normally I decide to switch P setting to P1 to test out to see if I got better gas mileage and than the car just went ham. A misfire a permanent one that wouldn't go away this time driving and this time it stayed until I turned the car off. Well when I turned it back on it went away for a little while. I KNEW I NEEDED to take her in so I did, they tested the coil plugs replaced one for testing and than pulled the spark plugs to my
Horror. Pix below
Now at first I was like "ok what the hell am I looking at? "
My tech said "I don't understand why you're fouling your
Plugs but this looks like high speed glazing."
I called gintani and they swore it was water and it was rust on the spark plug.
So after going back and forth with gintani and my
Shop they recommended I go with a cooler plug because my plugs were running too got causing detonation/misfire.
I than called gintani to see if this was right and the stuck by saying it was water. Well I finally decided look clean them off and see what happens. Mind you (all ten of them look like this) I don't get as to why it's happening. I dynoed my car on straight 93 octane with my meth hooked in and it wasn't too far from what gintani said it was putting to the ground.
.
So here's where it gets better. The car now for some odd reason after regularly driving it I parked it and turn it off an than try to turn it back on, it try's to start than does not and just dies. I don't understand why. If I wait about a min or so it'll than turn on fight but now it almost always does this now. Sometimes the car will just randomly develop an irratical idle and just die while idling but that's a little uncommon. Here are my dyno sheets from when we dyno'd it a few weeks ago (the issue was still going on)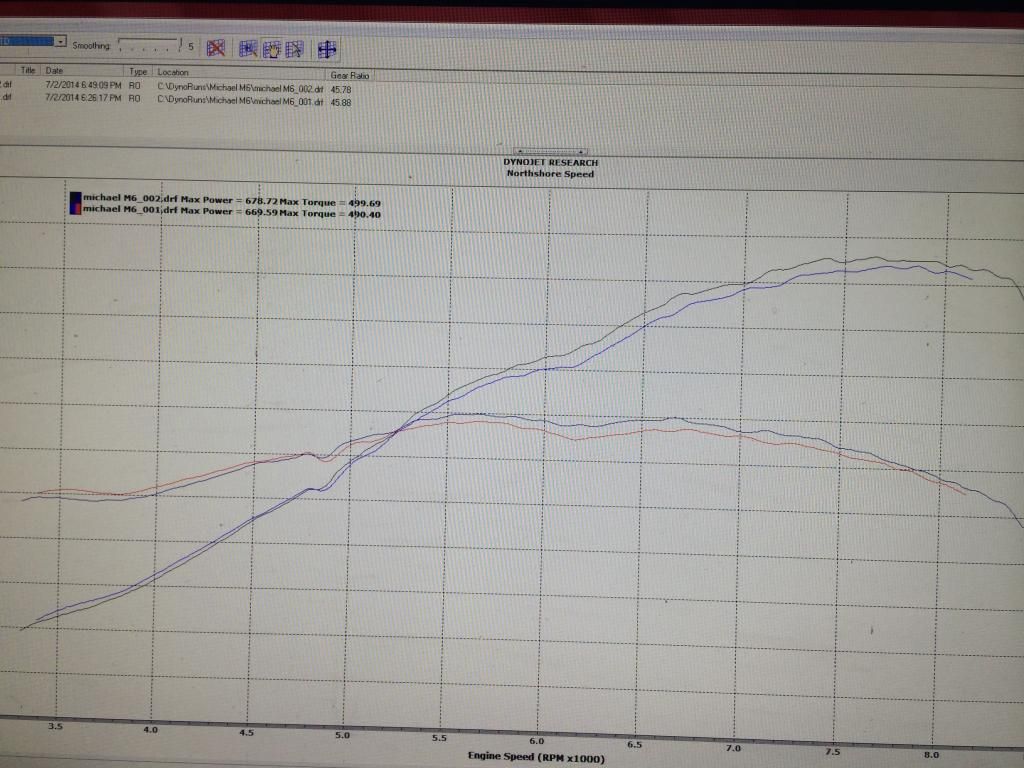 http://i221.photobucket.com/albums/...oads/643A75A0-E3CD-44B0-909A-5A44BFEFB426.jpg
Last dyno pull id say on 93 octane
I don't know what's wrong and it's killing me. I am trying to put a bigger blower on so that I can push over 700rwhp on pump gas but I can't without resolving this issue that WILL NOT GO AWAY. I called gintani multiple times to the point I feel like I am annoying them. They're very solid on what they are saying that it's rust but it's darn impossible to get water in every spark plug like that. Please help me I don't know what to do and I feel like I'm stuck. It sucks too because when I called gintani about it they literally said they have been running these spark plugs on their shops m6 for two years pushing over 100rwhp MORE than me. So now, I just really don't know what to do. At one point I felt like selling the car because I'm almost discouraged after dropping almost 20k in the car motor blower and all and it still does odd ball **** like this. :sad1: I'm scared that if I drop a cooler spark plug it'll mess something up but given gintani saying my spark plugs are perfect for the car , I'm wondering if there is a more serious issue if that is the case. Could it be the motor itself?? It's either sell the car or fly someone from gintani over here and pay for these services. I feel like after dropping so much money on my daily driver I can't go too long without a car. So now im awaiting a call form gintani to see what's up and if maybe they'll be able to fly out here and see what it'll cost me to do these said services. I really don't have anything bad to say about gintani at all they're pretty cool guys but at this point I kind of wished this blower came with a Manuel or something that explained how it worked and what was used so that my shop who deals with bmws can have a much easier understanding rather than figuring it out on their own the hard way (I don't know if this is common practice on every manufacture of blower kits. The car pulls like a champ when I get on it but I feel like I'm hurting the car now at this point since the CEL LIGHT is always on.