Discussion Starter
•
#1
•
I just wanted to say hi to all here.
I am a long time ///M fan, but until a couple of months ago only had the smaller models. I currently own an E46 M3 (6SP) that I got new back in '05 and a 1M.
A couple of months ago I decided to trade my '09 E90 M3 (6SP) (bought new) with 48K miles for this '08 M5 SMG with 29K miles that was owned by my business partner: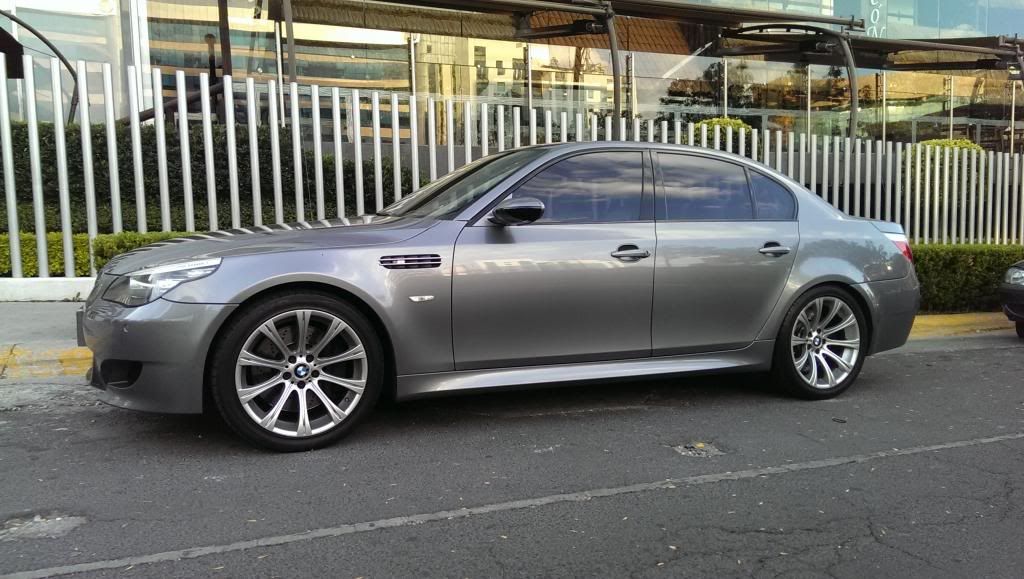 I already put about 5K additional miles on the beast. Drove it all the way up to Austin from Mexico City for a few days of vacation and went to a track day at COTA. I did a couple of sessions in the beast. All my cars see the track. However, I got the M5 because I wanted something more comfortable both for city driving and frequent long distance (300 miles or so round trip) trips to see my in-laws. I don't think it will se the track much because my smaller cars are better for that. But for everything else, OMG!
I do not miss my M3 one bit really. The M5 on the highway is simply unbeatable in it's combination of sybaritic comfort and absolute power. 4th gear passing power :applause:. OMG the way it pulls! At highway speeds it destroys my other cars. And the feeling of security and control at speed is simply fantastic.
This beast is in great shape. I immediately changed the oil when I got it and have all the parts for an Inspection II that I will have done at my Indy when it hits 50,000 KM in a month or so. I also painted both bumpers and refinished all 4 wheels to make it look new. It has been giving me a few intermittent DSC/Start Assistant faults that go away on most restarts. Already had my indy clean the steering sensor but it wasn't that. Former owner hit a curb hard just before delivering the car and after some research I think it may be the alignment (pulls slightly left). I am having it aligned right now. Will pick it up later, I hope that does the trick.
In any case, what a fantastic car. It has no warranty but the clutch was done about a year ago (10K miles or less) and it shifts smoothly and well. Budgeted for "surprises" knowing the reputation of the M5 but here's hoping it is somewhat reliable. It has only 34K miles after all. So far, I am loving it.