Discussion Starter
·
#1
·
So my headlights have been very effectively illuminating the road up to 5 feet in front of the car so a while now. So I ordered and installed new adjusters, and adjusted those adjusters, but still no auto levelling. So I ordered new vertical control sensors front and rear, as well as the connecting rods.
When i came to change the rear sensor, I saw that the sensor arm had snapped in half, and the connecting rod was missing. No bother, as i had all the parts. But what isn't immediately obvious is which way the connecting rod goes; is it (i) vertical, perpendicular to the wishbone or (ii) horizontal, (kind of) parallel to the wishbone?
I have spent some time searching, but found nothing definitive. Realoem appears to suggest that the rod (part 13 below) should be vertical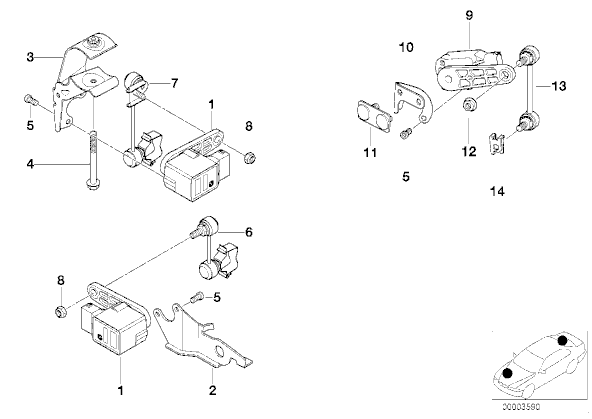 However I don't know if that picture is orientation specific. I checked a friend's M5, and his is installed horizontally, and so mine is now installed horizontally. But I have a feeling it should be vertical, as when it is horizontal it would appear likely that there would be very little travel in the sensor arm to allow for adjustment (certainly less movement than in the front sensor).
So what say y'all, horizontal or vertical?
Opinions much appreciated. :thumbsup: