Discussion Starter
•
#1
•
Hi all,
Unfortunately the time has come for me to sell my M5. I still love the car but don't have much opportunity to drive it anymore, so I hope to sell it to someone that can properly enjoy this very special classic. It kinda kills me to sell it, but I really need to.
The car is a loaded 2001, carbon black w/ black/red 2-tone sport interior and titanium trim. I'm the second owner. The first owner was located in San Francisco. He bought the car and drove it straight to Dinan in Morgan Hill, where they installed their intake, exhaust, software, stage III suspension and 3.45 rear differential. The car was a total garage queen for the first owner. When I bought it in 2008 it only had 17,000 miles! It was my daily driver for my late-schedule (fast) freeway commute from West Los Angeles to Burbank (405, 101, 134) over the next six years, putting on almost 39,000 highway miles - which isn't very many. Now my commute is a whopping mile and a half, which would hardly get the M5 warmed up, so I walk or take the bus.
I hardly ever drove it on weekends either. It's never been on a racetrack and never autocrossed. Strictly transportation. Fun, fast, comfortable transportation.
The car's maintenance is all up-to-date, with the most recent oil change (5W30) done at 55k miles. I've done many additional modifications over the years (full list below). The car is CLEAN. It's rarely had someone in the passenger seat and I could probably count on one hand the number of times it's had rear seat passengers. I actually keep a Swiffer sheet in the glove box and dust off the steering wheel center, dash, etc. sometimes when stopped at red lights. ZERO dead pixels in the instrument cluster. I'm a non-smoker, non-drinker, non-pet owner. The exterior is in great shape, too - washed regularly and machine polished and waxed when I have the time. It's always been garaged, both at home and at work. It's also always been a California car, and has never seen snow, ice or salt. The front lower bumper has the usual little rock nicks that any 56k-mile car has. There are a couple other little nicks, but no dents or dings whatsoever. On to the details!
2001 BMW M5
- Carbon black w/ black/red 2-tone leather interior and titanuim trim
- 56,xxx miles (mostly highway)
- VIN: WBSDE93421BZ99645
- Currently located in Los Angeles, CA 90025 (West LA)
Factory Options:
- Manual rear side and electric rear window sunshades
- Fold-down rear seats
- Park distance control (PDC)
- M audio system w/ enhanced bass
- Cell phone integration (w/ "BMW" phone!!)
Engine & Drivetrain:
- Custom Jailbreak Tuning dyno-tuned software (dyno video:
2001 BMW M5 Software Tuning on Dyno - Jailbreak Tuning - YouTube
)
- Dinan cold air intake
- Dinan exhaust
- Dinan 3.45 rear differential
- UF Motorsport intake air temperature sensor relocation
Suspension & Brakes:
- Bilstein PSS9 coilovers (ride height and damping adjustable) - installed @ 48k miles
- Dinan front & rear anti-sway bars
- Dinan front strut tower bar
- Beastpower rear anti-sway bar brackets
- Factory front lower fender liners w/ brake duct cutouts
- Factory brake ducts
Wheels & Tires:
- Varrstoen ES1 wheels in hyper silver w/ machined lip - added @ 55,300 miles
- Front: 19x9.5" ET20 (w/ 10mm H&R spacers for effective ET10), w/ 245/35/ZR19 Sumitomo HTR-Z III
- Rear: 19x11" ET25, w/ 275/30/ZR19 Sumitomo HTR-Z III
- Factory Style 65 18" wheels (some curb rash from previous owner) w/ fairly new Sumitomo HTR-Z III also included
Exterior & Lighting:
- Matte black front kidney grilles (factory kidney grilles also included)
- Angel iBright v3.0 LED angel eyes
- Slimmbones finned rear diffuser (factory rear diffuser also included)
- Slimmbones front lower grille w/ 4" brake cooling inlets
- Dinan badge
- Also includes an OEM BMW car cover w/ cable & keyed padlock
Interior & Electronics:
- Intravee II, Alpine KCA-420i, DICE A/D converter for head unit-controlled iPod/iPhone integration
- MkIV navigation computer (DVD-based)
- Shorty clutch stop
Noteworthy Maintenance:
- Replaced front brake pads and wear sensors @ 38k miles
- Replaced front windshield (w/ factory BMW windshield) @ 39k miles
- Replaced thermostat & coolant temp sensor @ 40k miles
- Replaced FSU (A/C blower motor resistor) @ 43k miles
- Replaced battery @ 54k miles
- Four-wheel alignment, replaced interior dust/pollen filters, replaced fuel filler door actuator @ 55k miles
- Replaced Dinan air filters @ 55,400 miles
Asking
$27,500
- a bargain for this fine example of an E39 M5. Please email me at
[email protected]
if you're interested.
Thanks!
Brian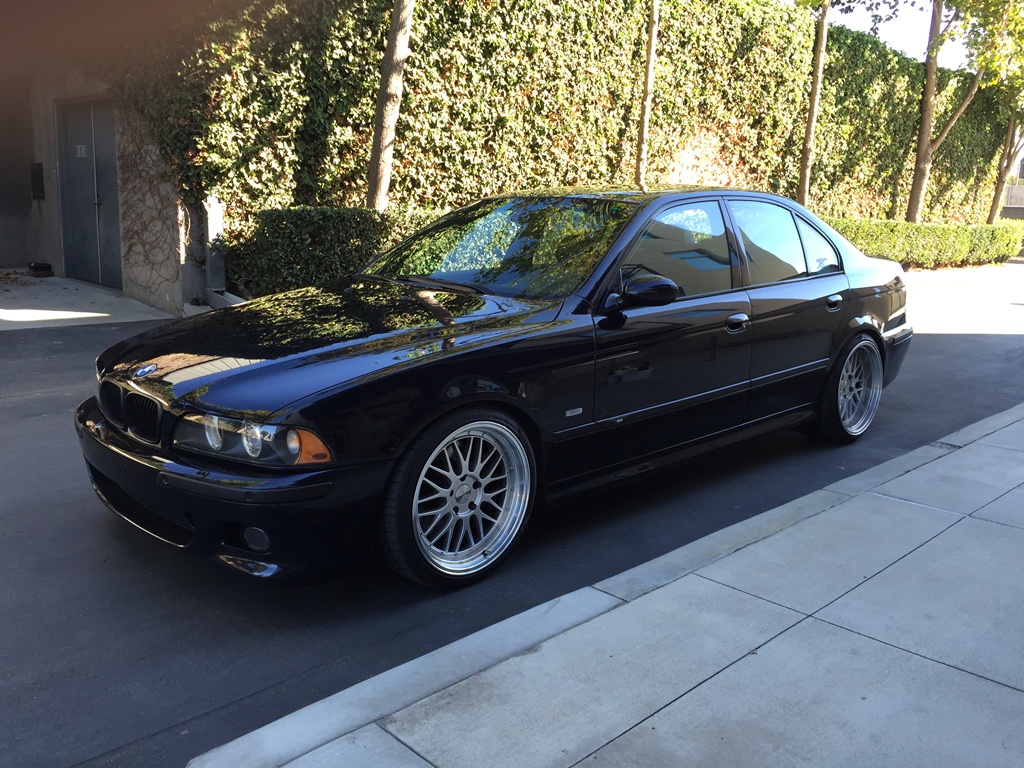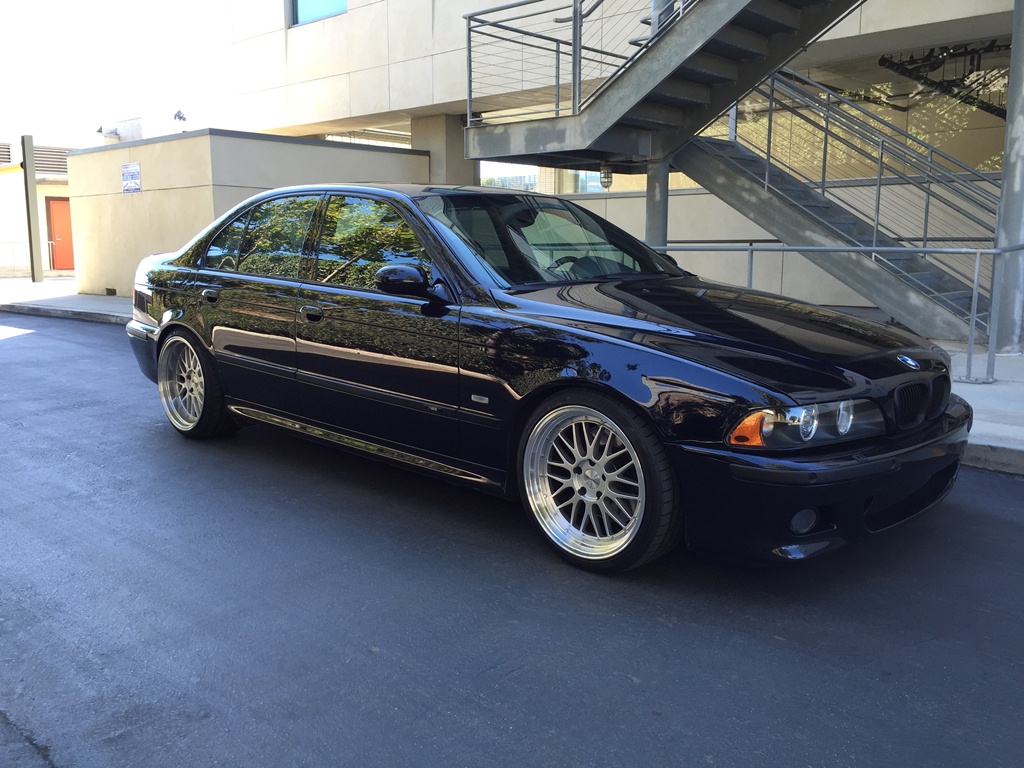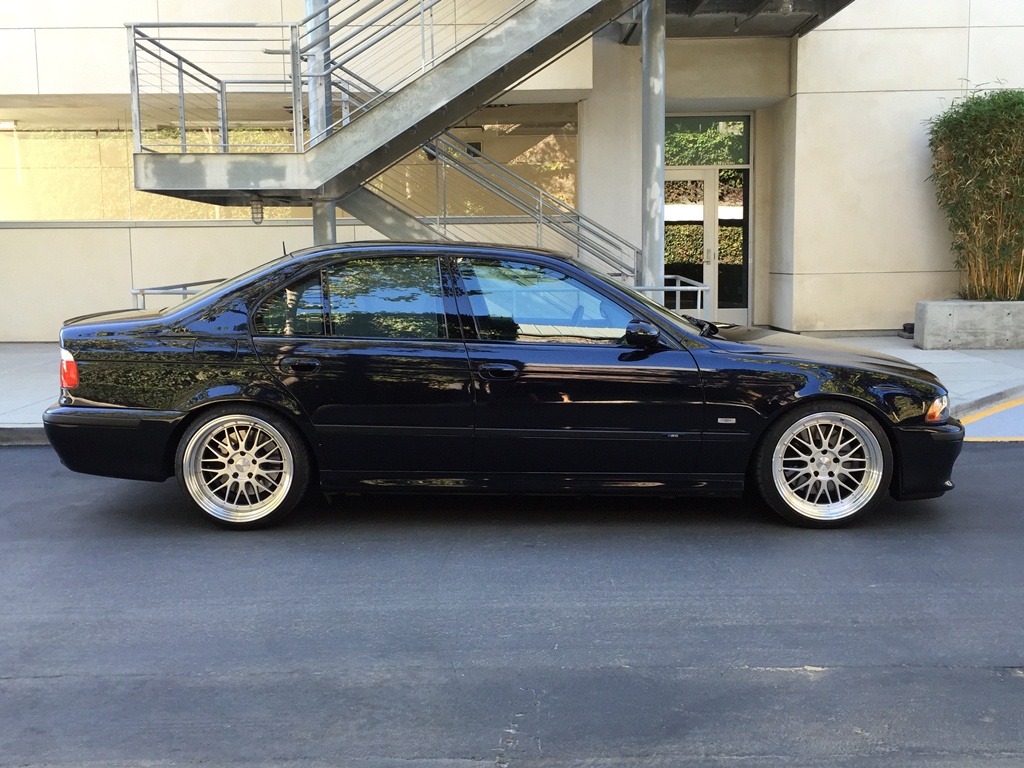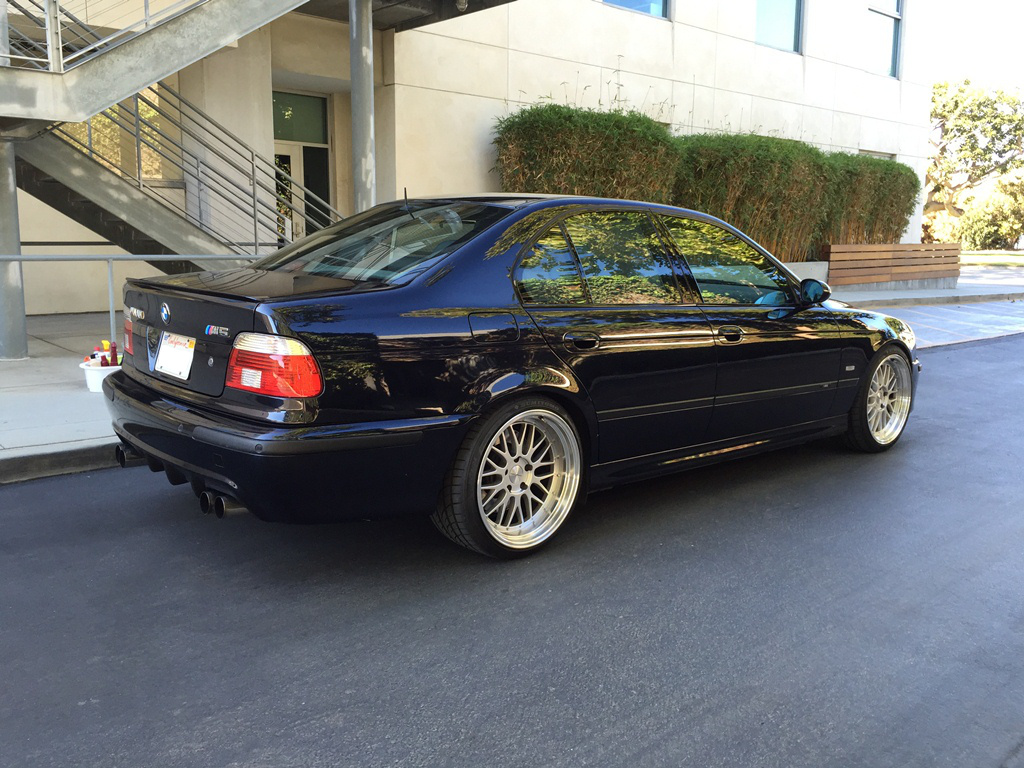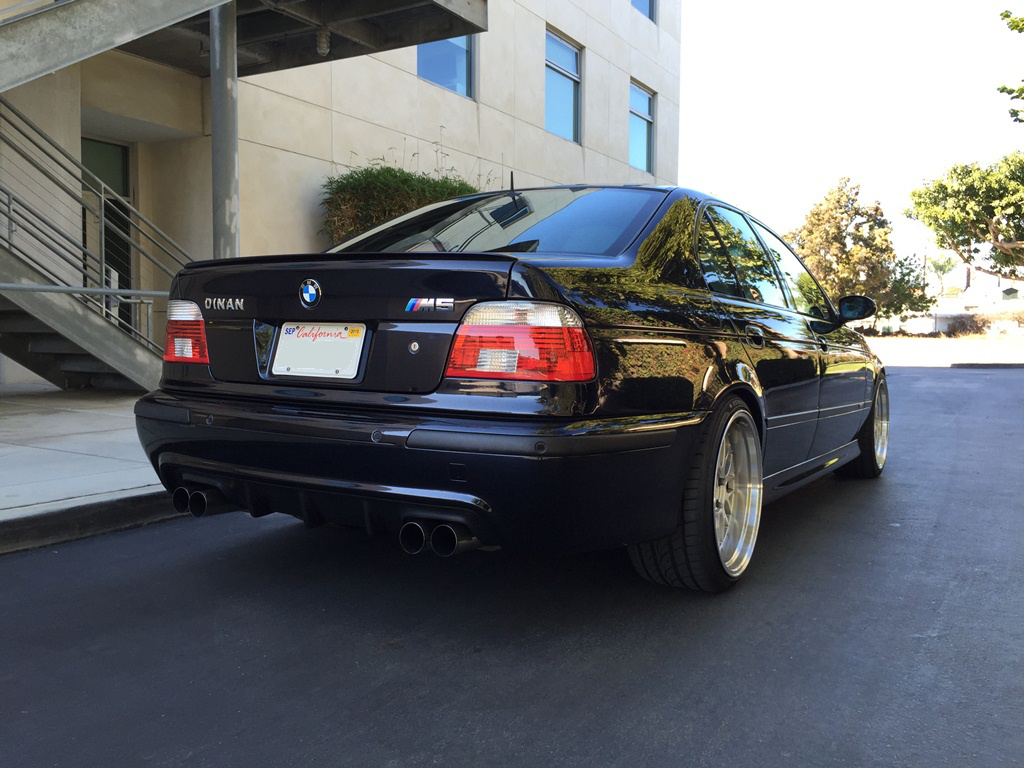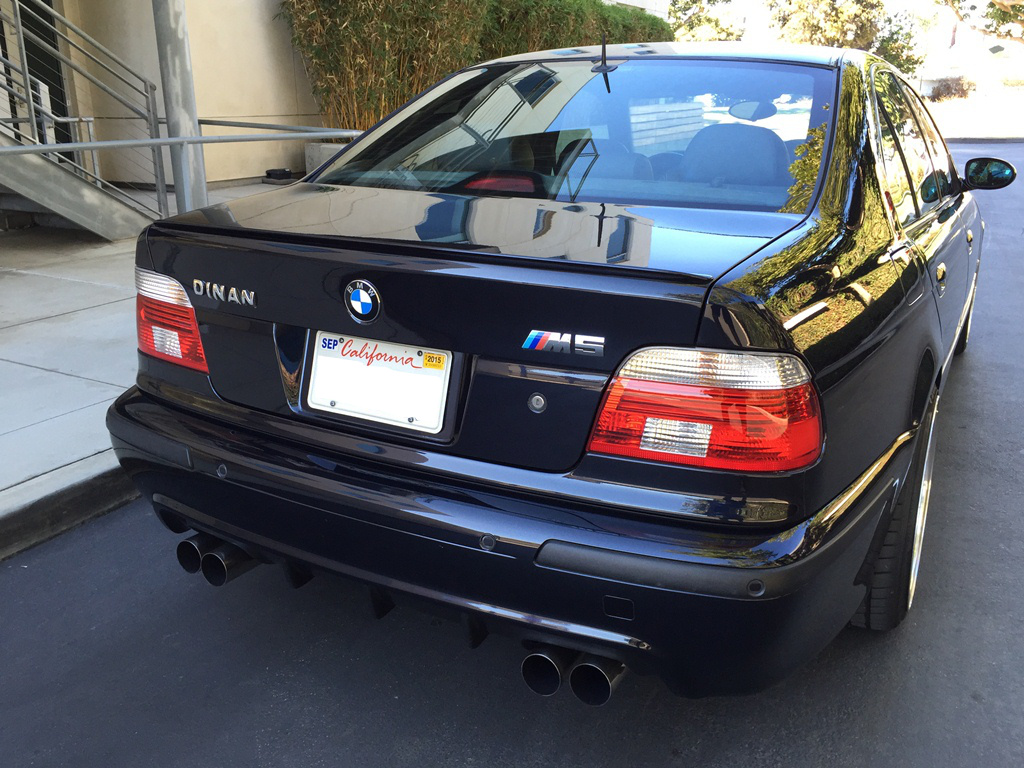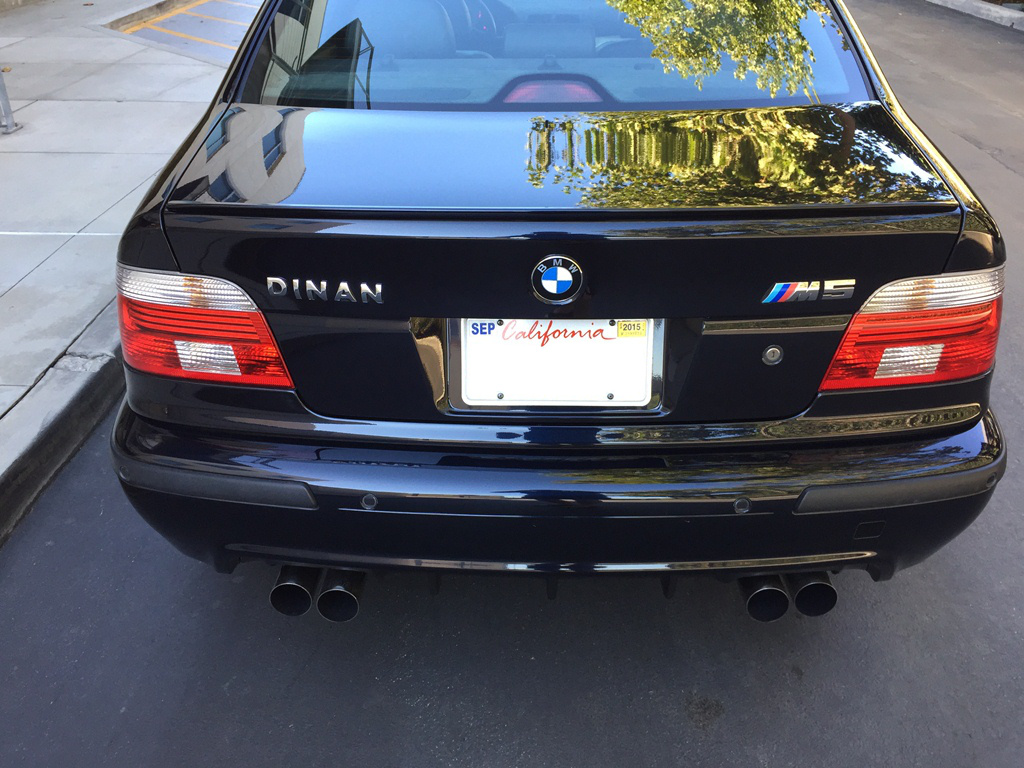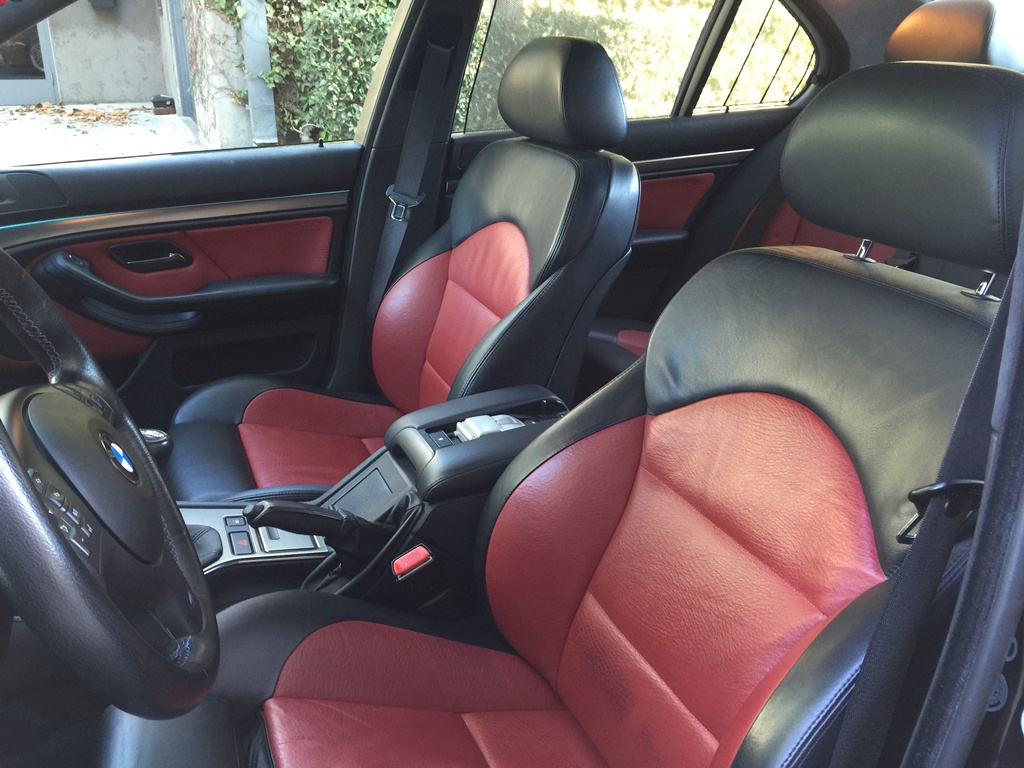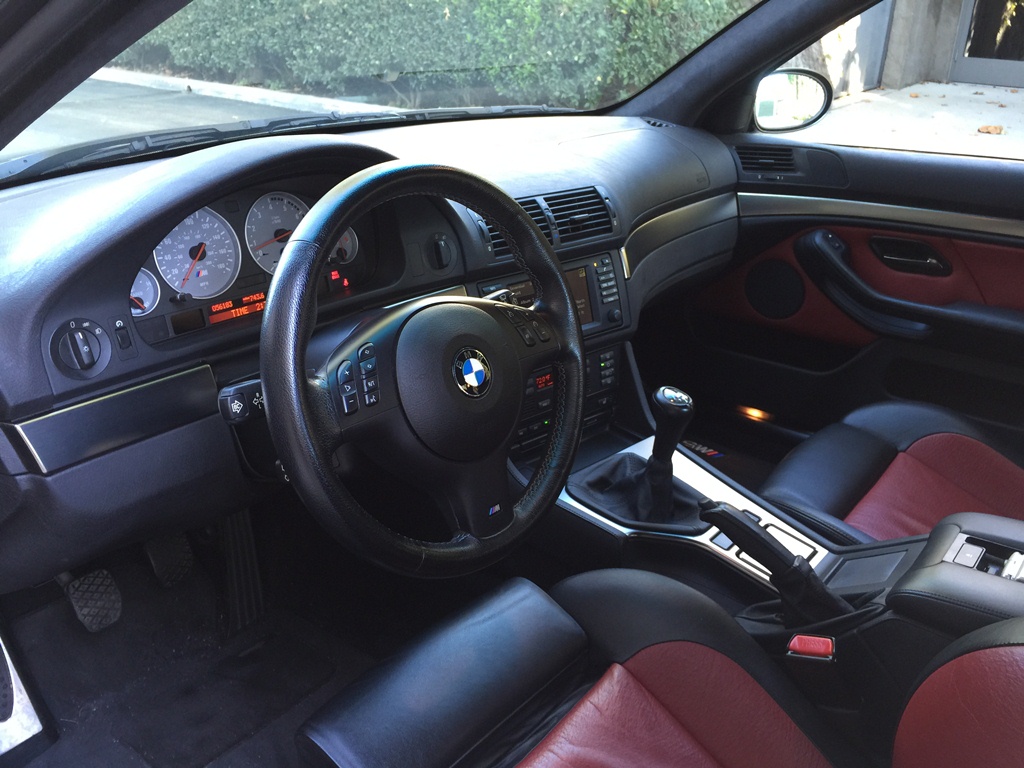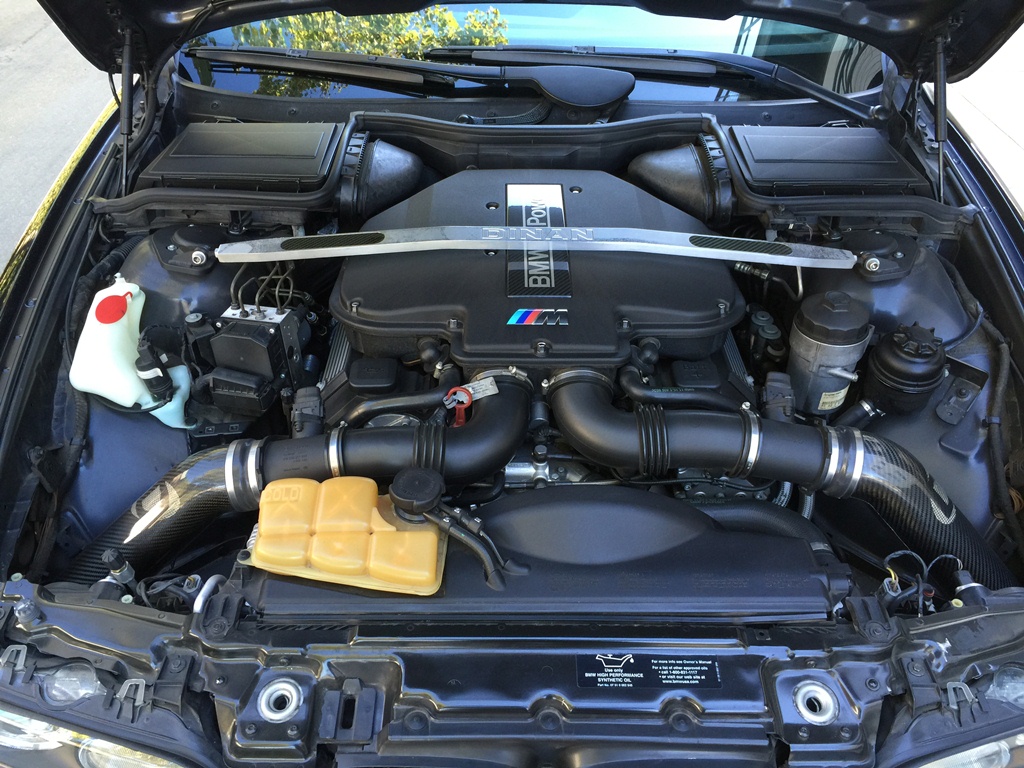 LOTS more photos here: Low-mileage 2001 BMW M5 w/ Dinan Modifications For Sale in Los Angeles