Discussion Starter
•
#1
•
I've had a front Stoptech ST40 kit in various pieces for a while now, and if i'm honest its been a bit of a journey to even get it to this stage. I've never known something that should be bolt on to keep giving so much grief. Although i'll admit the greif isn't really any fault of the kit, rather i've just been hit with delay after delay and a good slug of plain old bad luck
Initially the kit was bought as a slow burner. One caliper half had seized bolts in the abutment plate mounts at some point and the PO had tried to remove them, then drill the offending bolts out with no success. This left the holes oversized and drilled like a large oval, meaning simply retapping them wasn't an option.
No real problem, I've got contacts in engineering shops and asked if they could repair the caliper, at their leisure for more favourable rates. What i didn't bargain on was "at their leisure" ended up being about 5 months................
Anyways, after receiveing the caliper back it looked like this. Job done.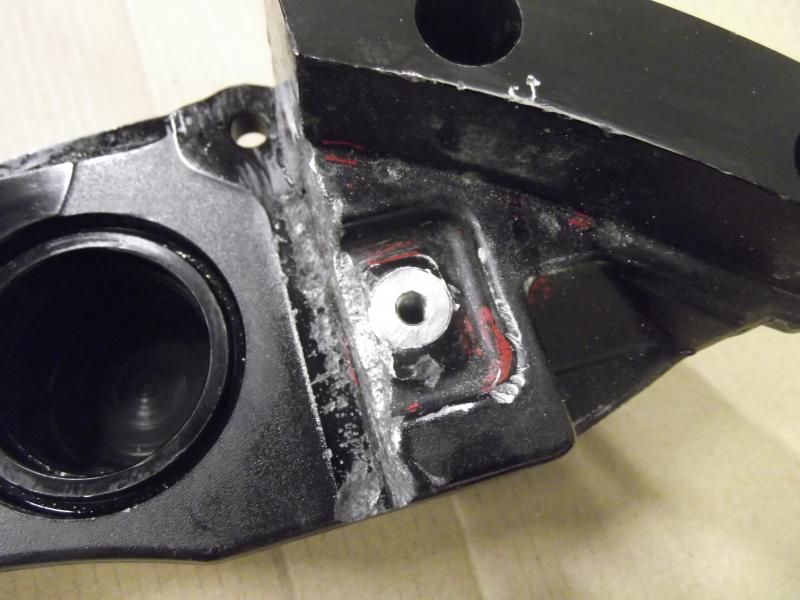 You can see where they've opened up the hole and plugged it with a larger piece, tapped and screwed into position giving a good "new" surface to redrill and tap the abutment plate mounts.
At this point i had ordered some new hardware from Zeckhausen Racing over in the USA as their prices for stoptech bits are more favourable than the robbing bastards that are CA over here, even with VAT and international shipping, go figure.
So i had to get the calipers powder coated and away i could go, or so i thought. Initially i was simply going to do the calipers red as per the original colour, and also as my rears are red too. However, in keeping with the ethos of the car which is roughly, "could it have been available as an option" and "could it pass for factory" i was tempted to do the calipers Phoenix yellow, as per the BMW performance brake kit.
Again, the same contact had initially said he could powder coat the calipers, but after some delay, it was apparent it was only going to get done in a "standard" colour when his guy was caoting other jobs in the same colour.
With no chance of Phoenix Yellow or similar being on the cards a month later i had to look around and he pointed me in the direction of a local firm that were pretty reasonable.
I visited them and saw they were doing larger items like gates, patio sets, radiators etc, but they also did alloys and motorbike frames so it seemed a good shout. I picked a RAL colour, Ochre Yellow, which seemed to best fit phoenix yellow and left them with him all masked up and apparently ready.
A few days later i got them back and in all honesty i was heartbroken.
He'd tried to blast them again and went through a lot of the areas i had masked. Also he'd managed to get some powder into the bores of the caliper cylinders.
Further to that the job wasn't ideal, and the colour wasn't very Phoenix Yellow.
Finally, where the calipers had been hung on rods, the rods had indented into the powder giving a poor finish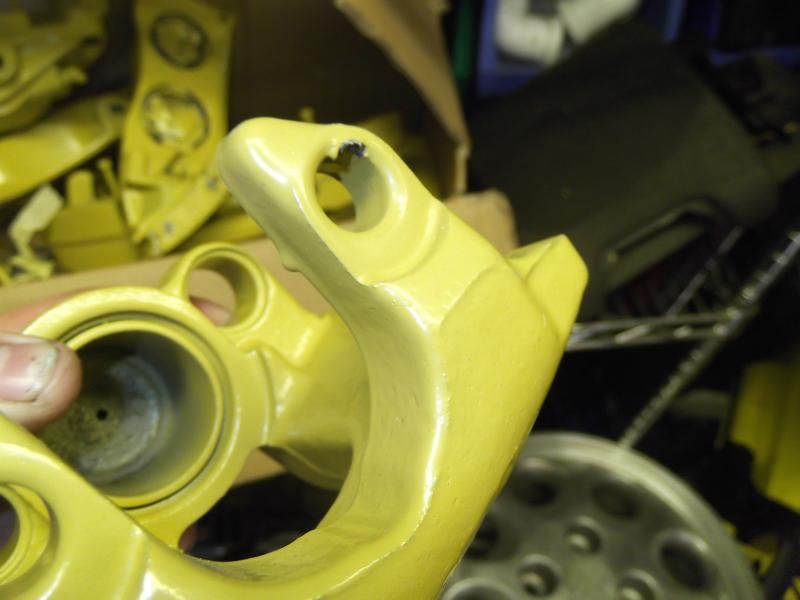 In reality, the colour was my fault. He had said it was a horrible colour but i was adamant as it looked to me close to Phoenix, but the job itself just appeared too intricate for him. Wheels, frames, patio sets etc don't really require a lot of thought, but here the coating was so thick it started to obscure the caliper detials like the indented ///M logo on the rears and the embossed stoptech on the front.
I looked about and decided that i was going to send them to the Brake caliper Specialists.
Brake Caliper Rebuild, Painting, Repair and Refurbishment Specialists
I had looked at these guys before and was well impressed, but they are quite expensive. Well, you buy cheap you buy twice. I usually follw this to the letter but here for reasons unknown i tried and failed to pursue a bargain. Well, now to give the calipers what they deserve.
The guys there are very helpful and the job they did was brilliant. They did send the bridges off the front calipers back unpainted but thats a simple oversight and they are correcting this as we speak. They also supplied me with new bore seals as the previous powder coated got coating on some of them, and they are so much cheaper than stoptech for them too, bonus. Finished in proper Phoenix Yellow, not a simple RAL clour thats near or supposed to be, i'm very happy.
Unfortunately, my camera skills aren't up to much more than simple documentation, so some of the pics make them seem gold, or yellow, but they are spot on coluor wise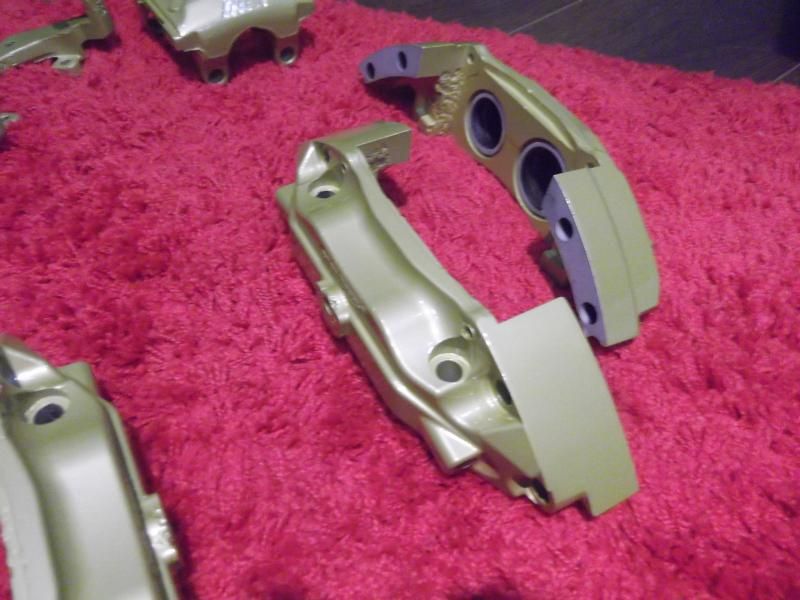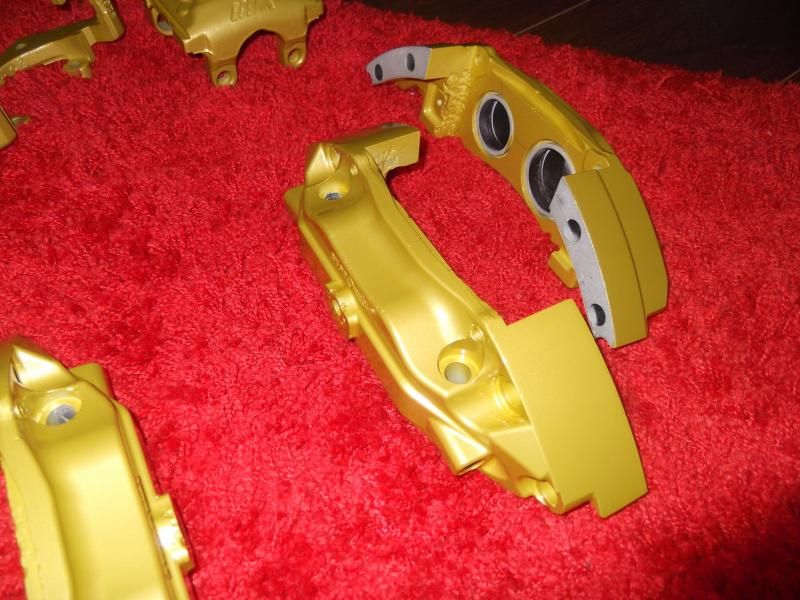 And some decals i had to source from Australia
In Silver to carry out the PBMW brake kit theme.
All built up pre install. New seals throughout and new nipples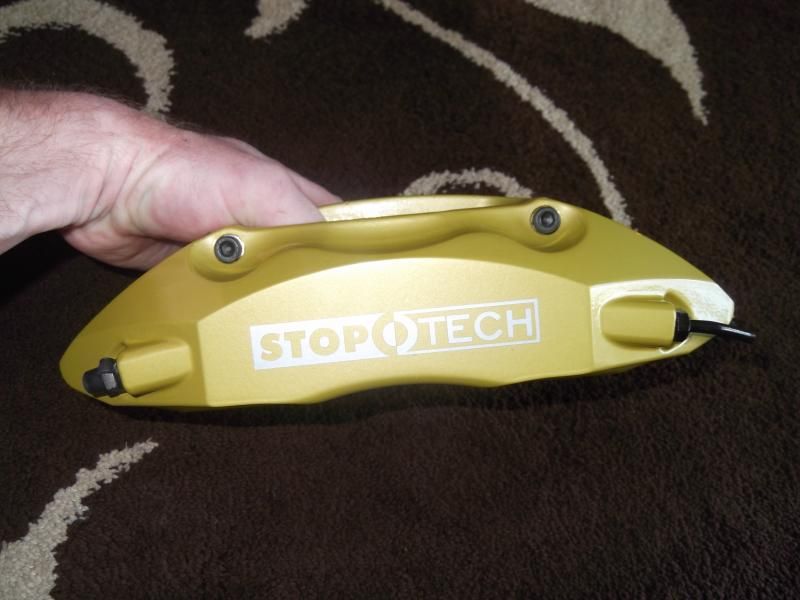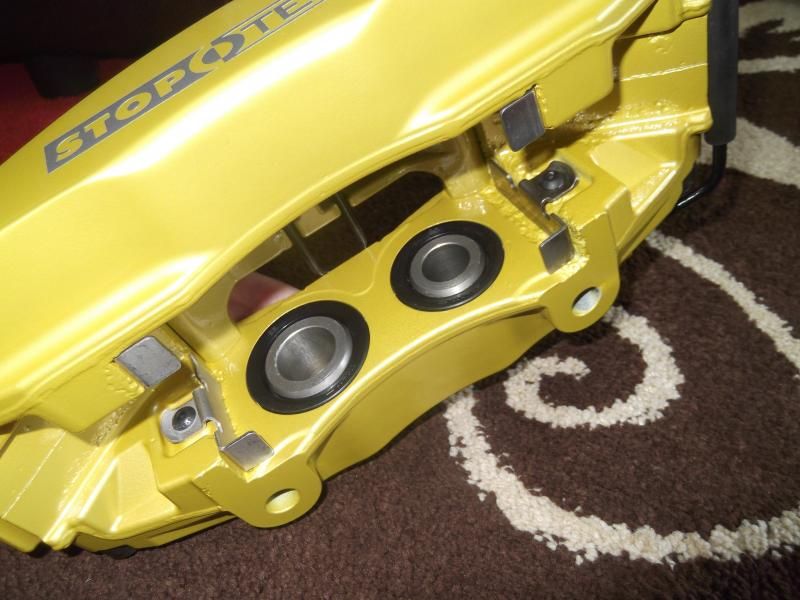 Rears were removed along with the standard lines
And new ones fitted with braided lines. Don't worry, the line isn't stretched in the pic although it looks like
I whizzed the fronts off. Note the blackened caliper from my track day!!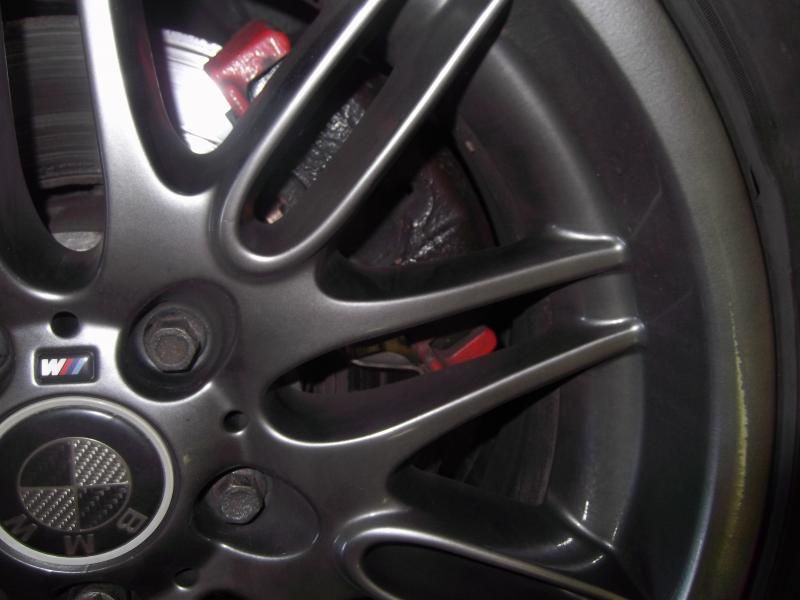 And the disc bore a little of it too
Side by side its shiny, but not as different in size as the OE one as you'd expect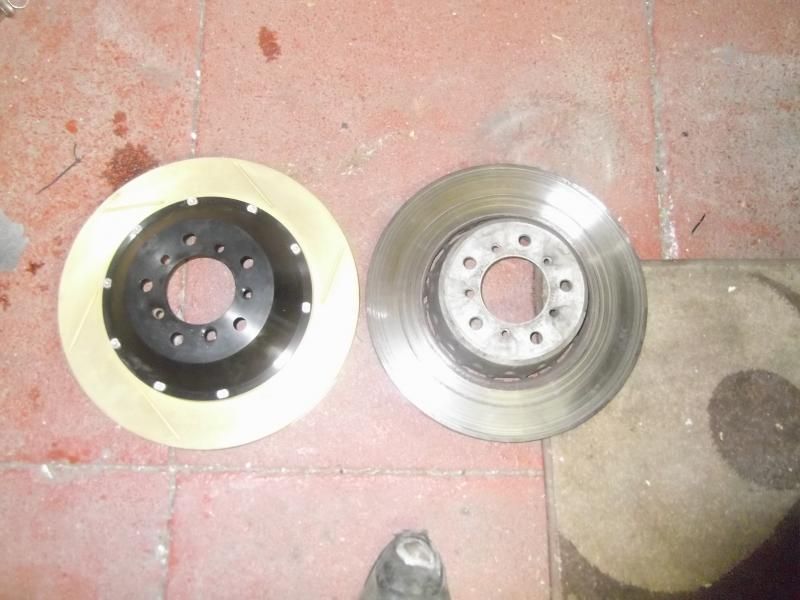 Fitted the caliper brackets and you can see where the dust shield needs a small trim
to:
Fitted and bled through with pagid super blue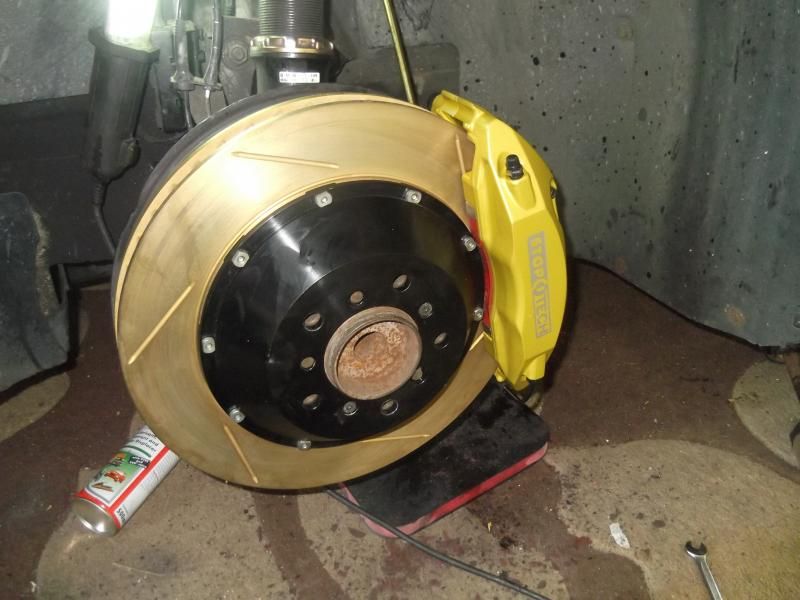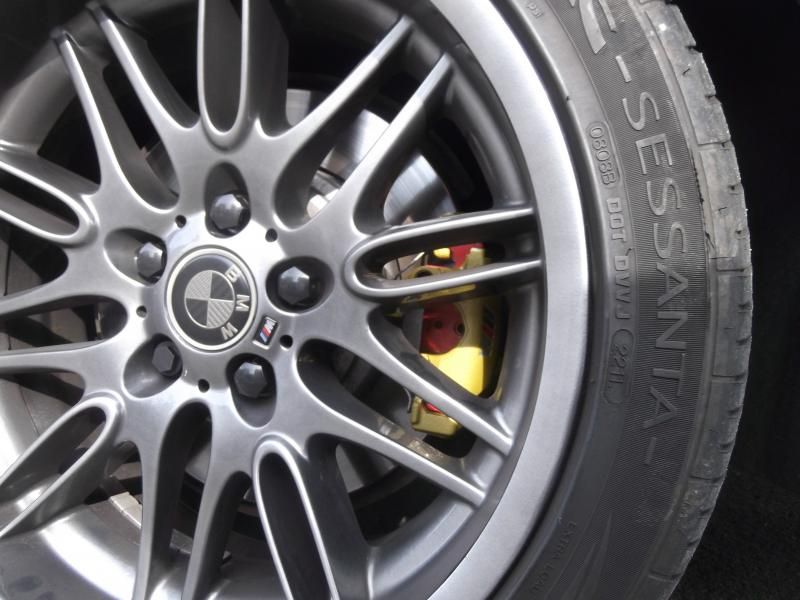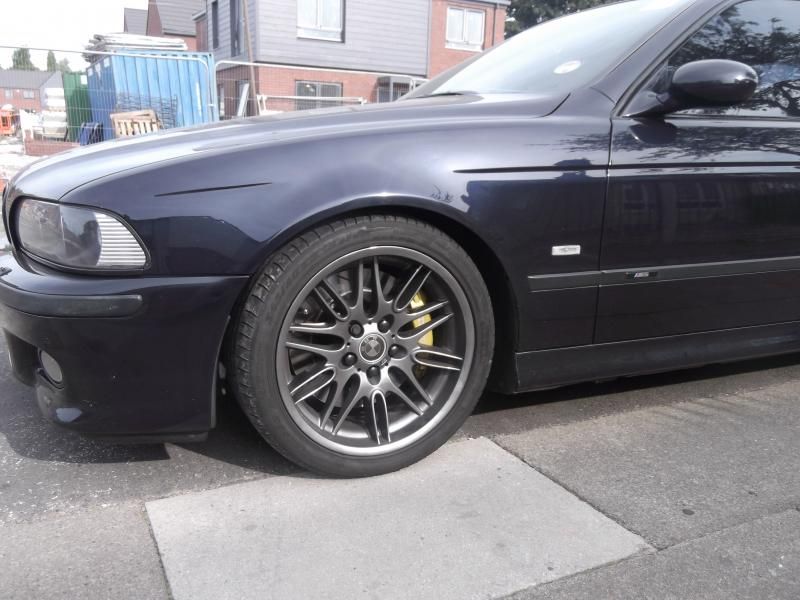 Couldn't go much bigger though!!
Car is in need of a good clean and polish, but i'm not going the full hog until i finish with all the oily bits still to come