Discussion Starter
·
#1
·

Scope of work:

This beautiful F10 BMW M5 was in for paint protection film, also known as 'clear bra'. The owner wanted maximum protection, while keeping the original appearance of the car, so he opted for our popular 'full frontal' package. This includes the complete front-end of the vehicle (complete hood, complete fenders, complete front bumper, side mirrors & headlights).


About:

For those of you who don't much about paint protection film, it is something you should seriously consider if your vehicle is new or would like to keep your vehicle in 'like new' condition for years to come. Paint protection film is an ultra clear urethane film used to protect the most vulnerable painted surfaces of your vehicle from the damage caused by stone chips, environmental elements and minor abrasions without sacrificing the vehicle's aesthetics.


There are quite a few brands of film on the market today and our goal at Unique is to use only the best film available for our clients. Since clear bra's have gotten popular, there are quite a few film manufacturers out there. Like anything else, there are quality films and there are films that are pretty horrible. It can get really confusing when trying to choose what brand of film to use, which is why we are constantly testing different films to ensure that we are using only the best.


Being a detailer, I have seen my fair share of inferior films and some pretty horrible install jobs over the years, which is why we have focused on taking things to the next level. I always tell my clients that there are many important ingredients in a quality install (proper prep, using quality film, having a skilled installer, etc…). If only one of these ingredients are missing, you are almost guaranteed unsatisfactory results.


Prep:


Since paint protection film is optically clear, a proper prep of the paint surface being covered in film is extremely important. You can use the best film on the market, but if there is contamination and defects present underneath the film, it will be seen and compromise the overall appearance.

Before any install is performed, the vehicle is hand washed and receives a claybar treatment to remove any loose dirt and bonded contaminants (bugs, tar, tree sap, etc.) from the paint surface. In addition, all areas receiving film are polished to remove light scratches and blemishes to ensure the paint is as perfect as possible. After the polishing is complete, the surface is treated with a prep-solvent to ensure a perfect foundation for the film to adhere to and bond properly.


The car had already been driven about 2,000 miles, so the exterior was a little dirty…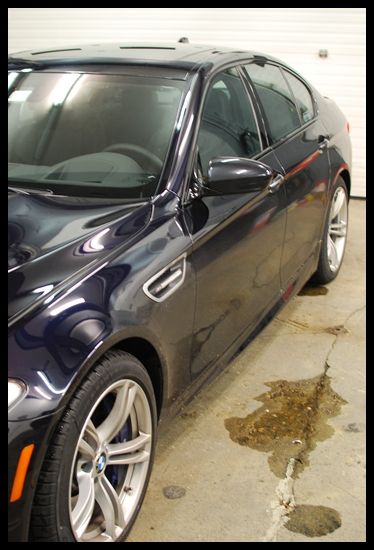 Ryan and I decided to complete all of the prep work the night before the clear bra install, since we would be starting first thing in the morning. For the exterior, we gave it a thorough wash, claybar treatment (removes bonded contaminants), cleaned the engine bay, polished the paint to remove any defects and wiped down any areas being covered in film with a prep solvent to ensure the film would adhere properly.






When applicable, we remove emblems, grills, headlights, headlight washers, license plates and any other obstacles that may get in the way for a much cleaner install. On this particular vehicle, we removed the front kidney grills, fender inserts and BMW hood roundel as seen below.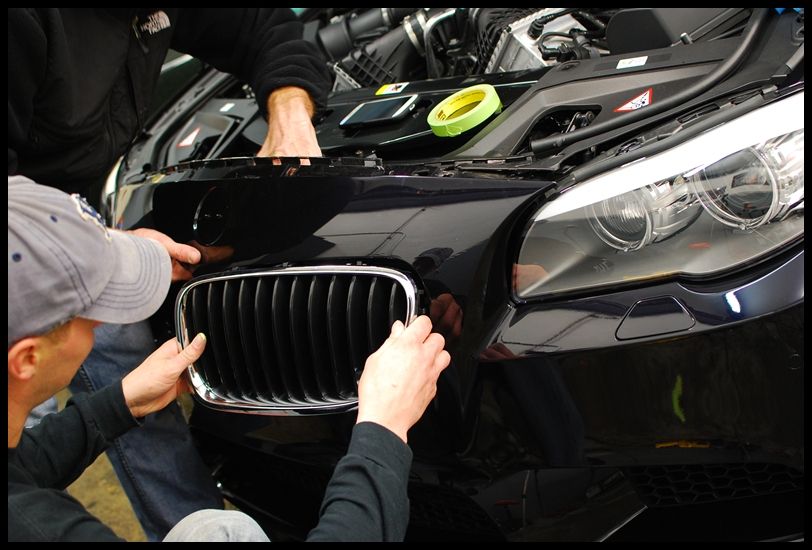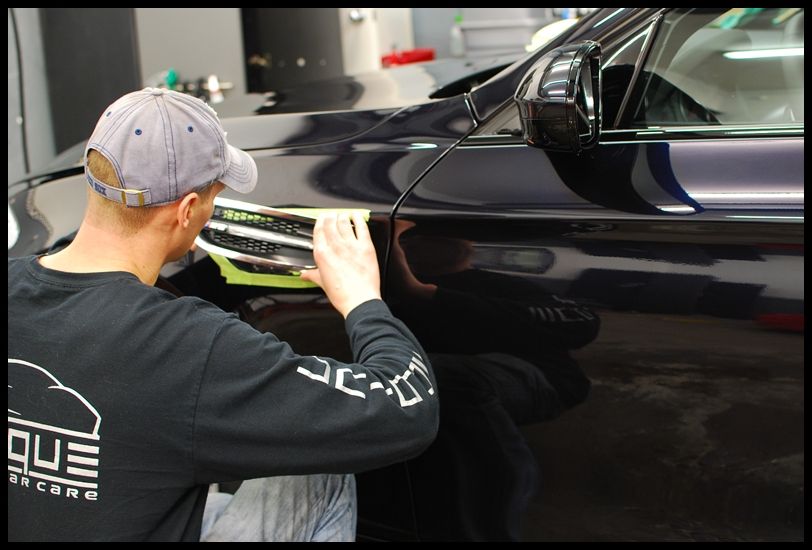 Ryan and I left for the night and left the car inside with its German friends!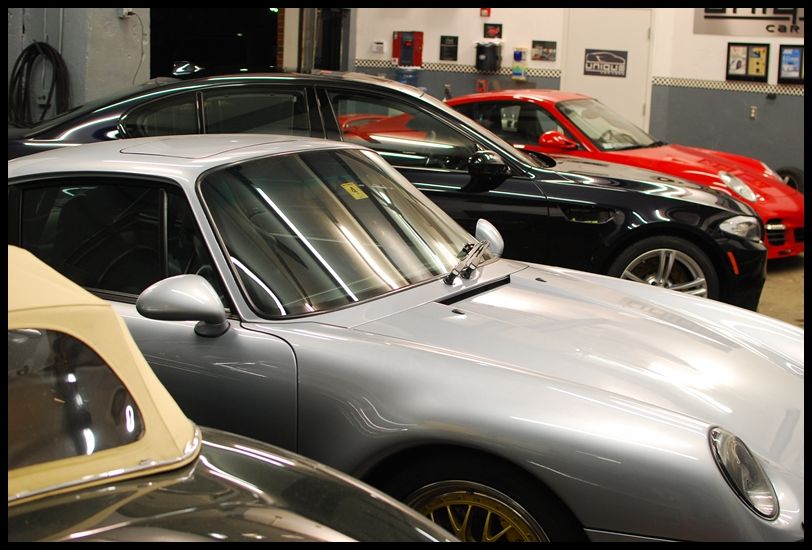 Install:

As for the install, we started with the front bumper…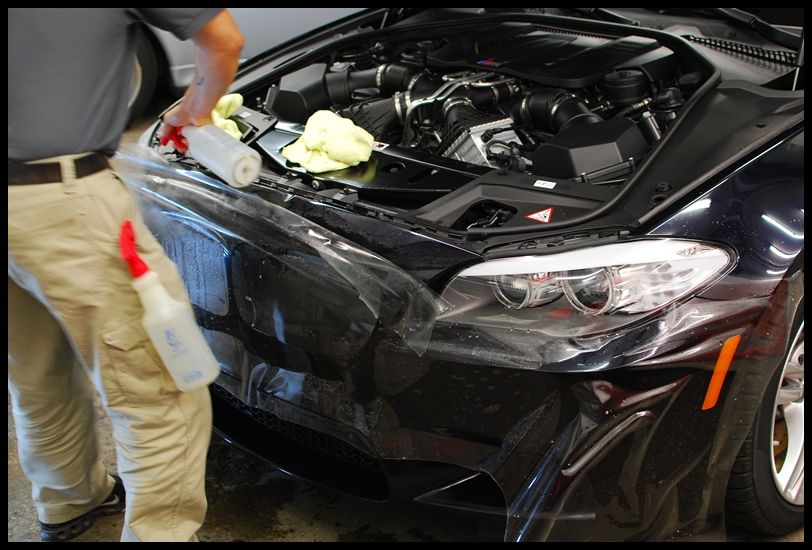 All edges were trimmed about 1/4-inch long in order to completely wrap the edges into the grill area to avoid unnecessary seams.






Although a proper prep and using a quality film is very important, one of the biggest issues I see being a detailer is poor installation quality. Most of the clear bra's you see on the road were done at the dealership when the car was new, which are most often pre- cut kits paired with cheap, generic film. I'm sure you've seen at least a car or two with an ugly clear bra on the front nose, which really detracts from the overall appearance of the car.


It is quite common to see film installs consisting of several pieces of film for one panel, resulting in unnecessary seams and a lack of coverage. Not only does this take away from the overall appearance of the vehicle, but it also leaves critical impact areas exposed to stone chips, which just doesn't make sense to us. Although precut kits save lots of time and increase profit, we choose to do all of our installs completely custom. Because paint protection film is very tricky to apply, there are all kinds of issues that can arise if the installer is in a rush or isn't properly trained. If the film is not properly installed, it can lift, bubble, have wrinkles/stretch marks, and even have discoloring aka "silvering".


If the film is installed correctly by a skilled technician, it should be virtually undetectable on the paint surface and look just like the factory paintwork. My installers have been in the film business right from the start and have 12 years experience.


By performing a fully custom install, we use bulk film and are able to have all seams very close to any openings (park distance sensors, reflectors, headlights, foglights, etc.) for a cleaner install with added coverage. In addition, all edges are completely wrapped over (hood, fenders, etc.) and is virtually undetectable once complete.


Moving along, we covered the passenger side front fender…






Next up was the drivers side fender…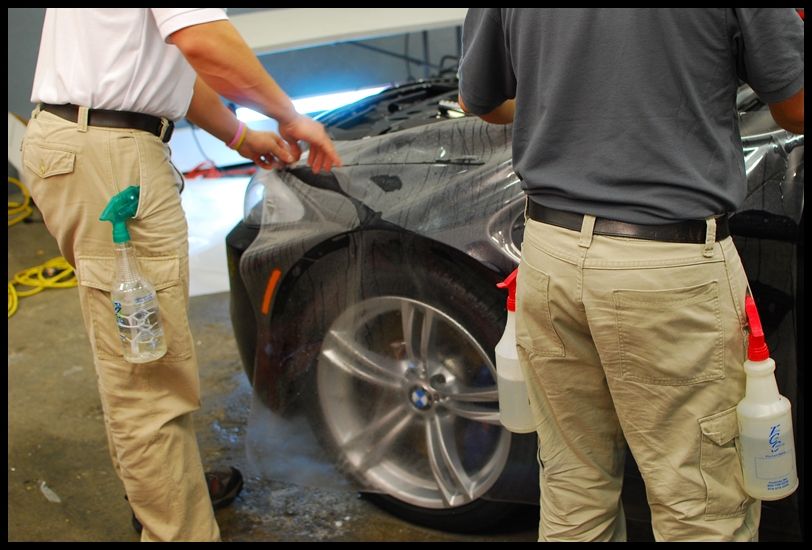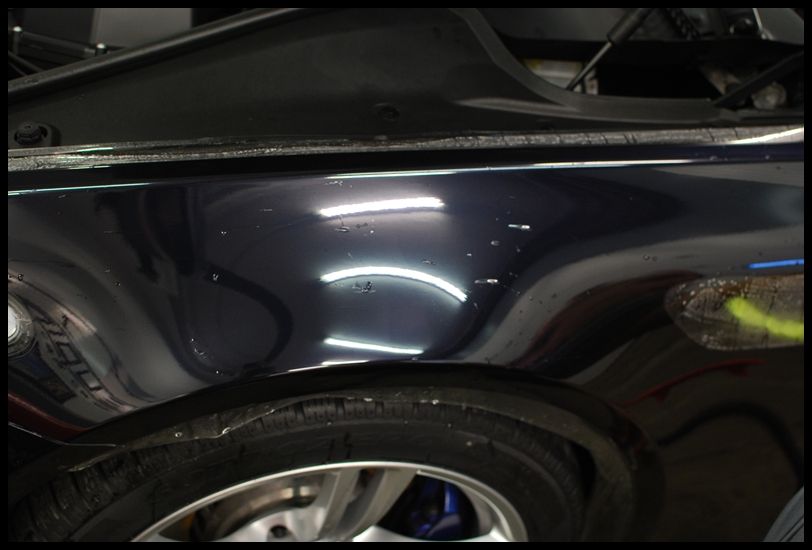 As you can see, we trimmed all edges about 1/4-inch long in order to completely wrap the edges…






Then the side mirrors and headlights …







Last but not least was complete hood coverage…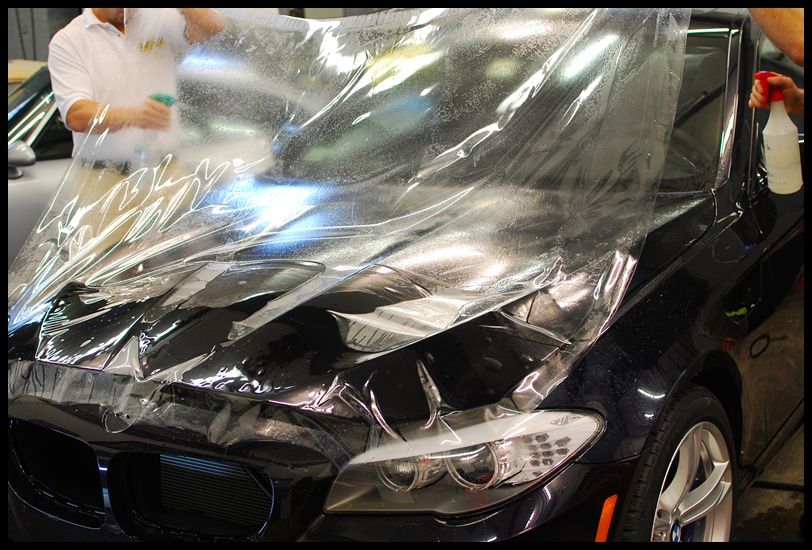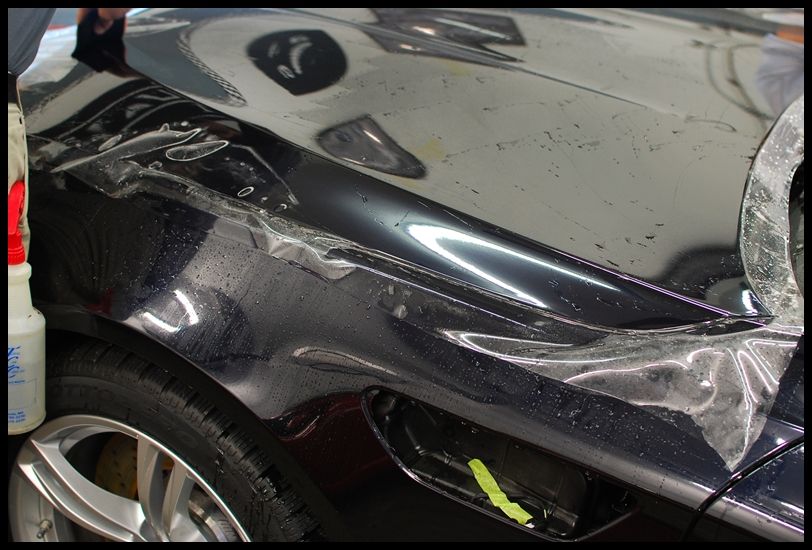 After the clear bra install was complete, we sealed the exterior paintwork and wheels with Opti-coat for maximum protection for years to come.

Opti-Coat is a hard wearing, ceramic clear coat for superior resistance to scratching (9H) and protection from chemical etching due to environmental impacts. The Opti-Coat pre-polymer cross links, and forms a continuous protective film on the painted surface it is applied to, similar to a single component isocyanate that forms a clear coat finish.

Opti-Coat has better chemical resistance, scratch & mar resistance, and release properties than any automotive paint coating in use. It provides permanent protection for all modern factory paints and can also be used to protect metal and plastic surfaces.


Film:

Since the introduction of paint protection film years ago, there has been lots of issues with excessive orange peel (film texture), cloudy film, yellowing problems, etc… As the paint protection film market evolves, it has gotten much, much better. Some of the newer films have a clearcoat topcoat, much like the clearcoat on your car. The great thing about using a clearcoated film is that is can be polished if you should happen to scratch the film while washing or maybe hit a couple cones at the track. Having a clearcoat also improves durability and the appearance of the film.


On this install, we chose to use the new Xpel Ultimate film, which has great clarity, no orange peel and has a clearcoat topcoat. The best thing about this particular film is that is has self-healing properties if you happen to scratch it at some point. Any type of heat (sunlight, engine heat, hot water, etc. will promote the self healing and the scratches will disappear. It also has great UV protection and will not discolor, fade or get cloudy like other films on the market. Most films look great when first installed, but typically degrade not even a year later. This film is backed with a 10 year warranty, so it's truly hard to beat!


The results speak for themselves…


Here is the finished product!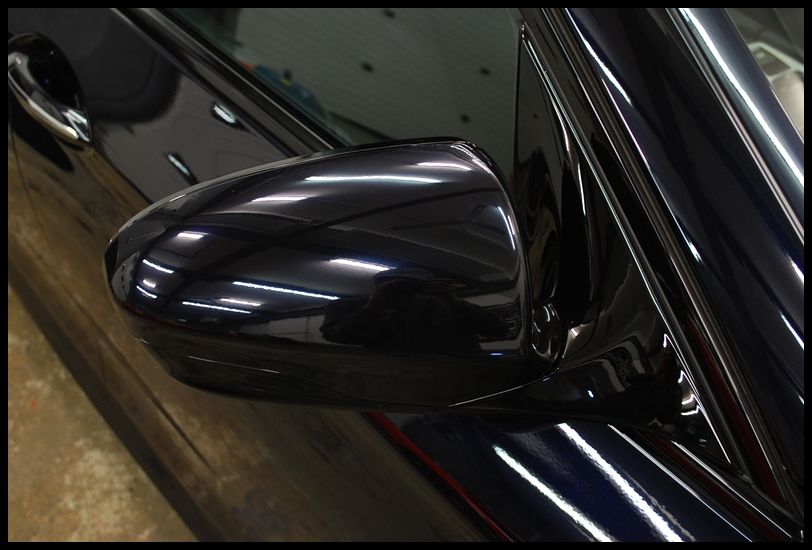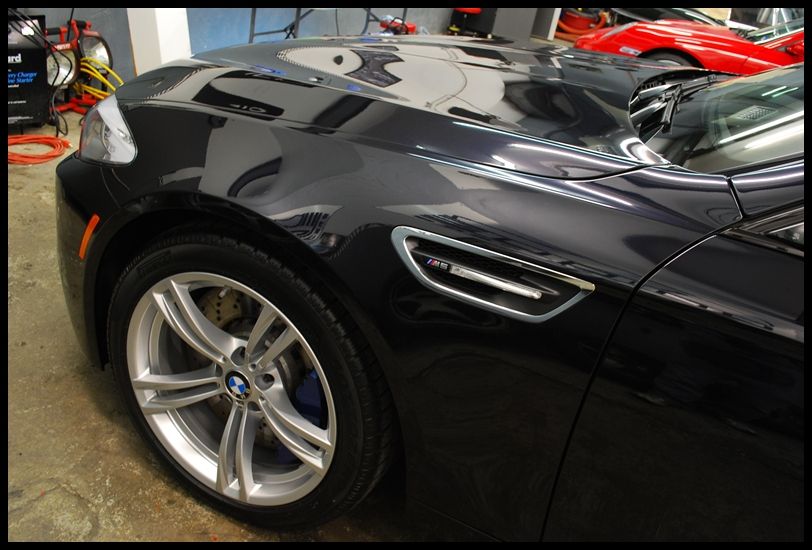 Thanks for looking!