...Sooooo
We took some time these past weeks to do a euro road trip. Normally it's easier to just fly somewhere and spend a week or two in an area, as we have done over the 19 years we have been living in euroland. But as I/we will likely move back to the USA (and sell my CB euro spec E39 M5), this may be one of the last opportunities to enjoy the 'bahn with the family. So, this is not a track trip - this text etc below is for those of you that can appreciate speed, and with the family, in the 'all-time' family sport saloon.
...to put the pleasure of owning this beast for some years in context with the family, I wanted to start with this pic of my kids with the M from over 8 years ago;
...some of my little girls first words were
'go daddy go'
- uh, and then of course I hit it in first and burned the tires when I hit second - she got a kick out of it, I loved it (and still do).:M5launch:
...amazing how time flies. The kids are older, and the M now has (after the trip) 150,000km on her, and still pulls like a train.
...here she is, all cleaned up before the trip;
...on with the trip - not quite 2-weeks but plenty of driving on mostly decent roads, the pic below shows the intended route - approximately 3,000km - the 'plan' was to hit Berlin, Dresden, then Prague, Vienna, and on the way home stop by Neuschwanstein for an overnight before returning home. YES - I packed 5 liters of 10W-60 - but only had to add two - the beast normally drinks a liter every 1000km but she wasn't as thirsty keeping her running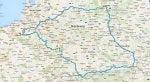 - leaving from Mons Belgium, and over to Berlin on the first day -
everyone in the car
, and
FULL of luggage
. On this leg of the trip - we started on a Sunday morning - (best time on the 'bahn - no trucks) - had a little rain but by the time deeper into 'bahn territory I was able to push her more, and with less traffic, enjoy it more.
This was heaven of course - - in the video down lower below I capture some of the 'atmosphere.'
For driving this was one of the best legs - seemed like HOURS of cruising at 220kph+ (136ishmph)
:grinyes:
The first gas stop was an Aral - - yea - - Aral Ultimate 102 - yummy.
EDIT - almost forgot - - I got 20.1 mpg - 11.7 l/100km fuel for the entire trip - at 240kph / 145mph (gps) 14.6 mpg / 16.1 l/100km - amazing
BERLIN is a fantastic city - haven't been there for many years, and it has really improved. Some pics of some of the sites - but none of the M from this part - had her hidden away in an underground garage. Sooo much to see in all of these cities - we only spent a few days at each - Some we had been to before, but the kids were smaller, so hopefully now they have some memories
Just a few pics to give some flavor -
we took over 5,000 pics
, so trying to select something that may or may not be interesting for this diverse audience is a challenge - so I didn't take time to shoot exotic cars as you see them everywhere (Lambo's, Ferrari's - GT3's etc) got a few different modes of transport besides a few of the sites and some fam pics mixed in...
and old eastern bloc classic above - and below - me dreaming at the Sony center etc
...couldn't resist - why so serious;
...then it was off to Dresden. Had the chance to 'let her breathe' a few times on the way down, good roads - the route for this and the next leg below;
Always wanted to visit this city - have met some folks from there in the past - was NOT disappointed - awesome city, VERY very nice, and we really enjoyed it and the deep culture / museums etc
...common to see street performers - - especially as some form of 'statues' etc - but this one was extraordinary;
...ahhh the city, and a beer
yep - just like when I was a young adult back in the day - age to drink is 18 - and the beer is GR8
stayed at this B&B - car parked out back
...as mentioned - the next leg was from Dresden to Prague - started great - and just when I was really enjoying the 'bahn, yes, the border, and - to characterize the roads in the Czech Republic - crap - so no joy, and construction - - ugh :grrrrr:. If you visit Prague - just fly in...
...caught this RHD '2000sa?' on the way down;
...but the city of Prague - excellent;
...yes, only in Prague - chicks on the tops of buildings
...on to Vienna - - this road was also messy - especially the first Czech part, and then when I got to Austria - cameras everywhere so no burning the road...
the city however - a classic of course - film festival going on, but also a jazz festival with bands and good food;
...taking some time to appreciate a local - Wolfgang Amadeus Mozart
...and back on Shell V100 (edit - and
only
1.72 euro a liter / about $8.70 a gallon) :sad2:;
...then back on the road for the next leg - decent - not too much traffic - got to 'heat it up' a few times, but then rain set in. Now speed and rain do not mix - so on the 'bahn - keep it below 160kph/100mph.
...on top of all the bugs - the rain and dirt now on the beast
....and the next spot everyone recognizes;
...by now the legs are REALLY tired - a blister on a toe - and I need a vacation to recuperate - but yessss - the final leg to go
...and this leg was GR8 especially on the 'bahn to Ulm - really hit sustained speed many times - but with the family, as before, never over 240kph and normally 200-220 - - then some traffic, and then later - closer to Belgium - again rain - ugh.
- here's a short clip to try to give some sense of travel with the family on the 'bahn in the M (-my wife will kill me when she sees it -her sleeping). She said she wasn't sleeping and can 'tell when I go over 220kph' - 'feels like flying'
...not sure why the imbed isn't working - here's the link;
https://www.youtube.com/watch?v=lEl5hO8kKLc
...hope you enjoyed it.