<hr style="color: rgb(255, 255, 255);" size="1">All Neez, Kreissieg, Fabulous, Flossman, and Arden products,which EisenHaus carries, are absolutely free from this discussion. Customers who have purchased and got delievered those products from EisenHaus are original brand products.

Official reply from Eisenhaus below:

"Dear members,

Please contact us directly if you should have any problems with our
products. As you can imagine, the termination of our relationship with eisenmann and the subsequent publicity have raised issues which we need to address. We would ask for your patience as we attempt to address these issues and your concerns.

Very truly yours,

EisenHaus"
Eisenmann Germany:
"We also offer every "eisenmann" customer the opportunity to verify a purchased muffler with only one e-mail send to

[email protected]

The only details we need is a picture from the badge and the muffler as well as the day of purchase. We are trying to answer all e-mails within 48 hours."
I have also mailed Eisenmann Germany:
"Dear Gustav,
was nice talking to you today. I have checked the links below and you are right. Only the muffler shown on http://img.photobucket.com/albums/v4...5/DSC00759.jpg is a genuine Eisenmann muffler, made in Germany.
Right now we are doing our new dealer set up in the US. Please excuse me, but we keep this secret until our contracts are signed. As soon as I have details, I let you know or post em in your forum.
"
I saw this on another forum.
Eisenhaus is emailed (John) and I am awaiting their reply. I have also mailed Eisenmann Germany.
Sources say that regarding the BMW M5, the exhausts that are oval tip / or / and with the stamp "made in Germany" they are manufactured by German Eisenmann. This COULD be confined only to 3-series parts, who knows. And it is not related to Kreis-Sieg or Neez.
I notice that the systems available on Eisenhaus site for the M5 are:
Meisterschaft Touring (was this "Eisenman Sport"?)
Meistershaft GT (was this "Eisenman Race"?)
Meisterschaft Ti
Kreissieg Cat-back F1 VT Exhaust
I have looked more into this now. I have talked to Johan Eisenhaus and Sales Manager Sven Johann at Eisenmann in Germany.
Eisenmann say they have only done one project together with Eisenhaus, and that was the titanium exhaust for the M3 E46. He also stated you can tell a genuine Eisenmann exhaust vs a Far East made with that the German made and Eisenmann approved have a stamp "Made in Germany". See pictures below.
Eisenhaus say this have been having a partnership and Eisenmann knows this, since they have been working together since 2001. I have urged Eisenhaus to reply here and what exhaust are made in Germany and which are not. The ones with "Le Mans" style tips and Carbon tips are made in the far east and the Oval tips are made in Germany, liek the majority of the round tips as well. Johh should provide a complete list here by email.
Above picture not Eisenmann approved.
Picture below genuine Eisenmann.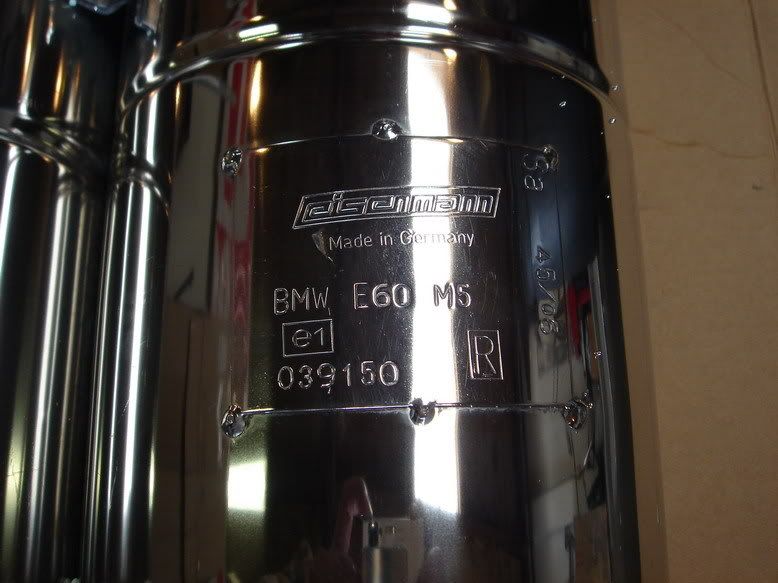 I want you to know what is known as of now, but we are awaiting more first had info on this.
Please be clear that the picture below from
http://www.ind-distribution.com/
is all I know now.