Discussion Starter
·
#1
·
Since I have very basic and limited knowledge on this topic, I wanted to start a discussion where more knowledgeable members can chime in.
We all know that E39 across the range has the same MC, from 520i to M5. I recall that my old 530i had better brake pedal feel than all 3 M5's that I've owned. A friend and member here also feels that his 528i and E53 X5 have better pedal feel than his M5. When I say better brake pedal feel, I mean firmer pedal with less travel.
At the moment, I have D2Racing 8 pot front BBK on my M5 installed by the previous owner. Ever since I first test drove the car, I couldn't shake the feeling that my previous M5, which had stock brake setup, had a better pedal feel. I thought it just needed a good flush and system bleed. I completed the setup with SS brake lines all around and bled the system multiple times using DIS and cycling the pump, while the braking power is great I feel the pedal travel is still too long and the pedal could be firmer.
I was browsing the interweb and it appears that the E65 brake MC could be a direct bolt on for E39.
E39 master cylinder - part # 34311165544
E65 master cylinder - part # 34336785926
Spec from ATE catalog.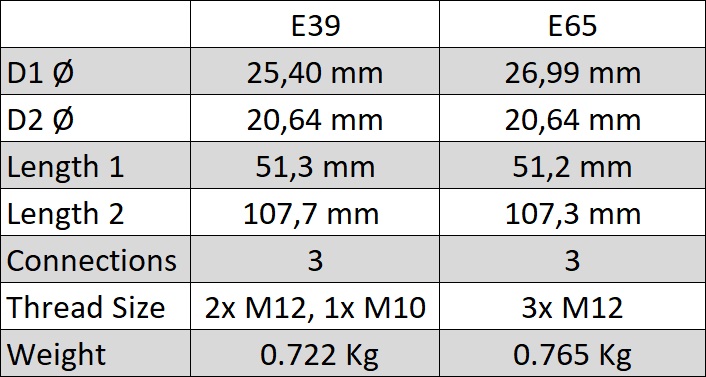 So front diameter on E65 MC is slightly bigger at 27 mm whereas E39 is 25,4 mm. The obvious difference is that one fitting on E39 MC is M10 while all 3 on E65 are M12 but this could be solved with brake line adapter M12 to M10. Otherwise, they look physically identical.
I understand the principle that larger means decreased pedal travel (firmer pedal) which needs more pressure for the same amount of braking force, but as I lack experience in this area, is this even worth exploring?
Pricewise, both MC's are around $65 from TRW, at least in Europe. Before doing anything else, I'll try new pads likely Ferodo DS2500 as now I have Street/Sport pads that are supplied by default with D2Racing BBK.