Hey guys, most recently i upgraded my beast with a Eurcharged tune. And i have to say its been amazing driving my beast with it. I got it done when Jeff came down to Toronto to do the group buy tunes. My beast is so much more responsive now and pulls way harder. You could really tell the difference right away. In P400 mode its like P460 which is nice becuase it doesn't feel slugish anymore. But P500s turns into like P530s where you could really feel the real increase in power. I am very happy with it and would recommend members with M5's that are looking for tunes to go with Jeff's Eurocharged tune. It's worth every single penny. Thanks Jeff!
Here's a recent dyno i got done:
Mods:
EuroCharged Tune+RPi Scoops,Block-Off Plates,BMC Filters+Charcoal filter delete+Eisenmann Section 3 Exhuast
Blue= 4th Gearpull
Red= 5th Gear pull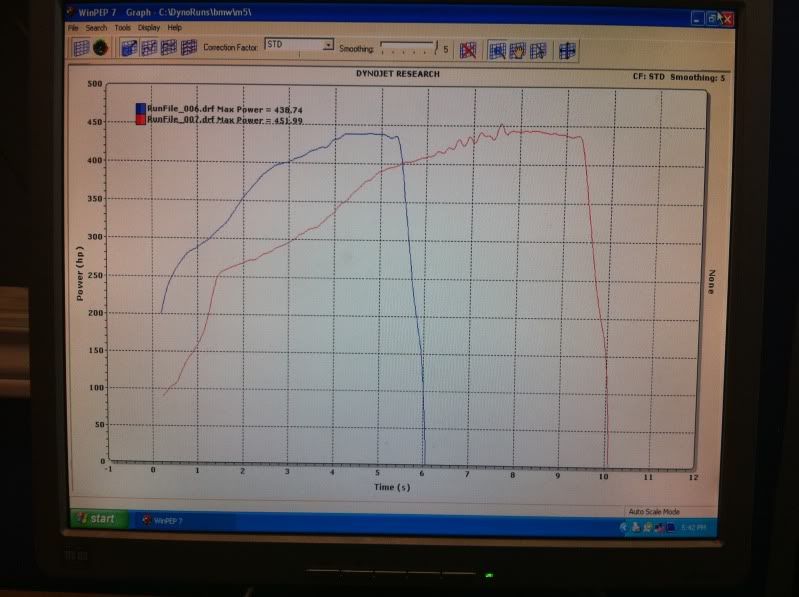 I could only get the HP numbers because the shop did not know how to hook up my beast the read the TQ numbers:dunno:
Before all of these mods except the exhaust i was at 416WHP on the same dyno(dynojet). And now with the tune and rpi goodies im at 451WHP. What would this equal out to crank HP and what do you guys think overall about these numbers?
Thanks
Mike