Discussion Starter
•
#1
•
Hello Team,
Just thought I'd create a pictorial DIY for the drive belt, idler pulley, and tensioner pulleys replacement. I searched and searched and freaking searched to find a complete guide to accomplishing this task and only came up with bits and pieces. Hopefully someone else will find this and get some benefit. Everything I wanted to replace came in under $100 shipped (Amazon Prime) and I did this because on cold-starts, it sounded like a belt was squealing and was quite embarrassing. As time passed, it got worse. So here we go.
Parts Needed:
QTY (1) Waterpump/Alternator Belt: PN 11287838226 (Continental 4060563)
QTY (1) AC/Power Steering Belt: PN 11287835483 (Continental 4060427)
QTY (1) Idler Pulley: PN 11287841228 (Gates 38069)
QTY (2) Tensioner Pulley Only: PN (Dayco 89113)
Tools Needed:
T25 Torx
T30 Torx
16mm Socket
14mm Socket
Long Breaker Bar
Socket Wrench
Pick
*NOTE: A lot of pics are crappy. I used my phone and wasn't trying too hard.
1. Remove the metal radiator cover with your T30 torx:
2. Remove the plastic radiator cover with your T25 torx:
3. Vacuum all the crap off of the radiator if possible:
*If you look down between the radiator and the AC condenser core, you may see there is a ton of leaves and debris. I had a bunch, and before I buttoned everything up, I vacuumed it all out as best as possible. I searched and found that some people take their radiator out to do this, but I was not prepared to change the coolant, so I figured a way around. All you have to do, is pull up the AC condenser core about 3 inches and fish a small vacuum nozzle down there and suck it out.
4. Time to remove the fan. On the drivers (LH) side of the fan, there is an electrical connector. Pinch the connector on its sides and pull upward to release. Swing the connector and cable out of your way.
5. The fan has two tabs that pivot forward and back and rest into slots on the radiator mount, one on each side. To remove the fan, you will need to lift up about a half inch, and flip these tabs rearward toward the engine accordingly, to be able to clear the radiator hoses. While lifting the fan out, you need to hold back the cables and hoses that normally rest under the radiator support and on top of the fan. Be careful and be patient. You will eventually maneuver it out.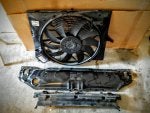 Here is a picture of what one of the pivot tabs look like (mine was missing the drivers side, so this is the passenger side):
Here is what the fan mount looks like that the pivot tab rests in:
Here are a couple pics that represent the articulation of the pivot tabs:
6. At this point, you should have plenty access to get to the pulleys and belts. To protect your radiator from dents and bruises, cut out a sheet of cardboard, if available, and stuff it behind radiator. I laid my fan on top of a box, traced the outline, and used a box cutter to cut out the shape.
7. Remove the pulley dust caps. You will not reuse these unless you bought OEM stuff, which I didn't.