Discussion Starter
•
#1
•
Some users opt to change out their thermostat to an 82C stant item or similar. Of those users some get along fine, and some say it leaks around the top seal. From there you can either take it out and discard it, or smear some RTV or similar around the top seal in order to get it watertight.
I'm not a fan of using RTV where it shouldn't be as a fix, but i am a fan of perhaps having an 82C stat instead of the marginal 79C one. To that end i had a look around and found that Kotje on here had confirmed using the 82C innard around an OE outer casing with a few mods.
They've confirmed its in and all works nicely although no pics or write ups were available i thought i'd have a go myself. A big shout out to Clayton Usher for providing me with the stats, cheers matey! Also a big thanks to 68FB and Kotje whos converstation excahnge spurred me on to do this.
Now before we start i've already said some users have swapped the stant in just fine. If you have, then well done, but i don't want this thread to turn into some sort of "you need to this, you don't need to that" lark.
If thats your thinking then maybe this thread isn't for you. I've already had confirmed the poor fit of the stant which is why i'm embarking on this little DIY. I want a proper rated 82C stat that fits like OE.
So, first off you'll have your failed or failing OE stat (left) and your stant item (right) side by side,
You can see the difference in the seal mount between OE
and Stant
So first thing is to take apart your OE item. Pop the spring retainers off
Pull out the spring, and the circular pellet seat
Now lift the pellet off its pin and set aside
If you look at the last pic you can see the pin has already been modified. I haven't a pic of the pin before but its just as it is in the pic, but about 10mm longer. I'll explain in a bit.
You can see the OE pellet here, rated at 79C
Now do the same for the Stant item. Notice how in the stant item the pin can be removed from its seat. The Behr units pin cannot be removed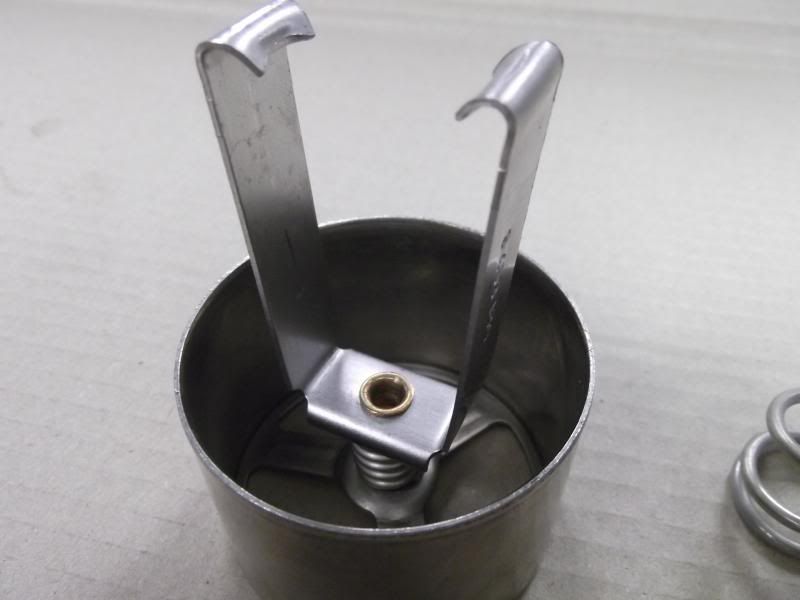 Now remember i said i modified the pin on the Behr unit? Well this is why. The pin in the Behr unit originally is about 10mm longer than the stant unit. This means if we put the stant pellet on the Behr pin it sits too high. We need to cut the Behr pin down so its the same height as the Stant item when installed.
Now you can put the higher rated 82C stant pellet on our modified Behr pin and it will sit at the right height. (I Appreciate the pellet says 180C, it should read 180F from the manufacturer!)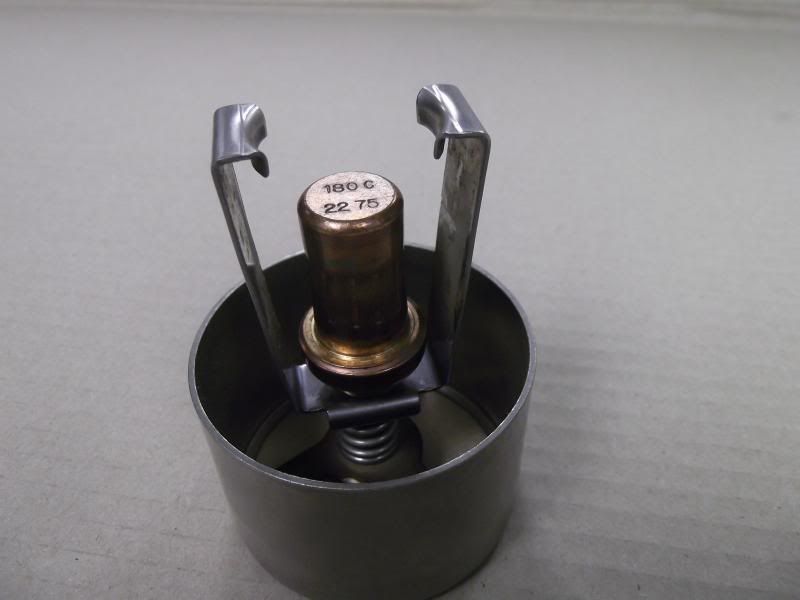 Pop the Behr pellet seat onto the stant pellet and finally refit the spring and we're good to go
All that remains is to fit your OE seal and you can install the new stat with no leaky worries