Discussion Starter
•
#1
•
All,
Unfortunately, I recently bought a new toy and it's time to sell a car that I've been dreaming of since I was 16, my 1991 M5. I acquired this car two years ago when I first moved to SF from a wealthy 72 year-old gentleman who bought the car new at the age of 55 from Peter Pan BMW in San Mateo. I've put 6k wonderful miles on the car and loved everyone of them. Most recently, I drove the car from SF down to LA/San Diego and back with absolutely no problems. The S38 runs extremely well and has never shown signs of overheating (engine oil and water temps constantly stayed below threshold).
Day I picked her up: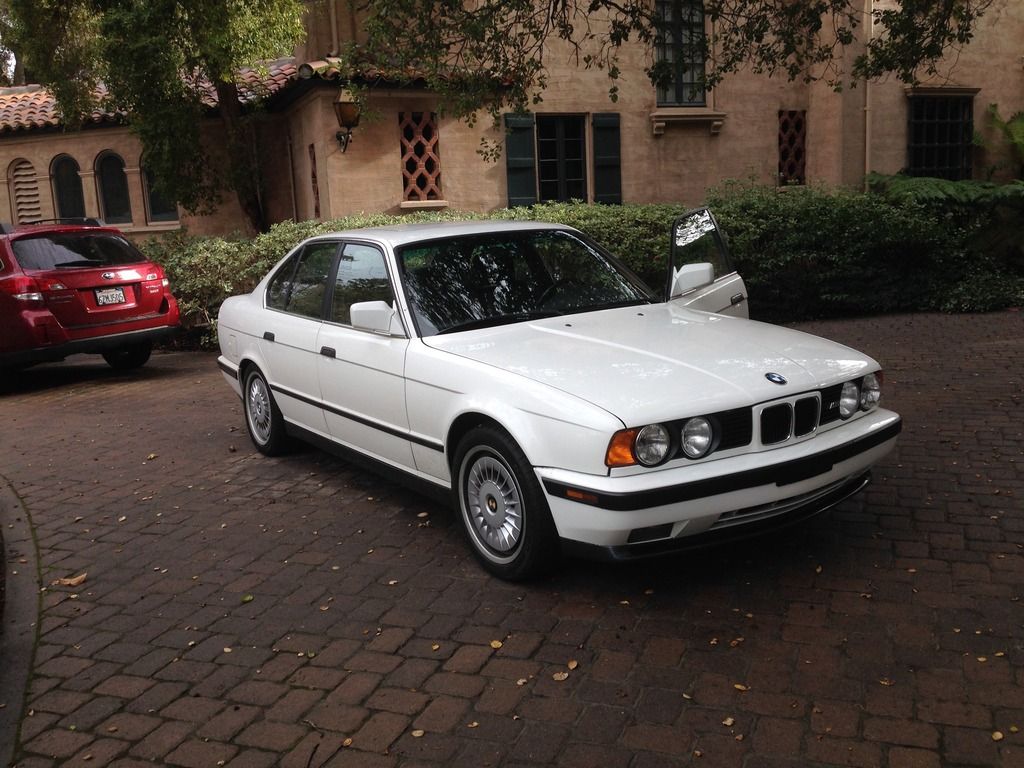 The car has been meticulously cared for. Every maintenance record has been kept since new, including the original window sticker, sales booklets, information booklets/tapes, and even magazine cutouts when the original owner was deciding which car to buy. The car is all-original with the exception of a Dinan chip (original chip included). Even the spare tire had (and still has) never been used.
Maintenance records (comes with three full keys and a valet spare):
As a garage-kept car its whole life with absolutely zero rust, the car is immaculate. The paint is brilliantly white without many rock chips and the interior leather is still stiff and rigid with very, very light wear on the driver bolster. I constantly receive compliments from BMW enthusiasts and looked over by everyone else - a true wolf in sheep's clothing.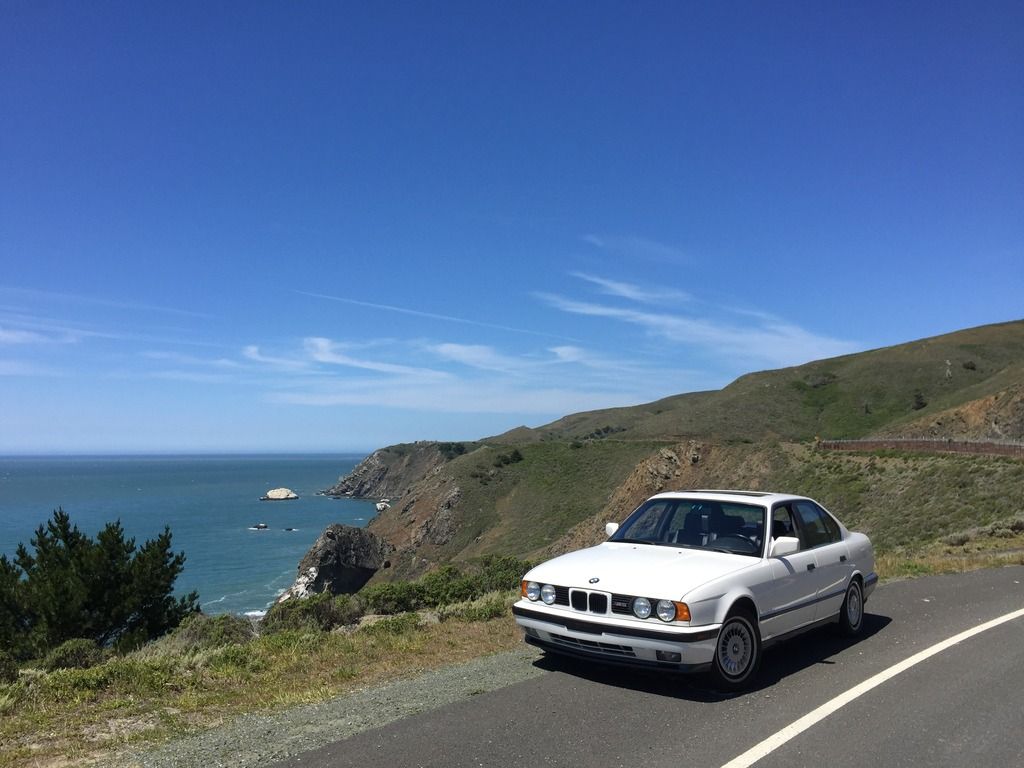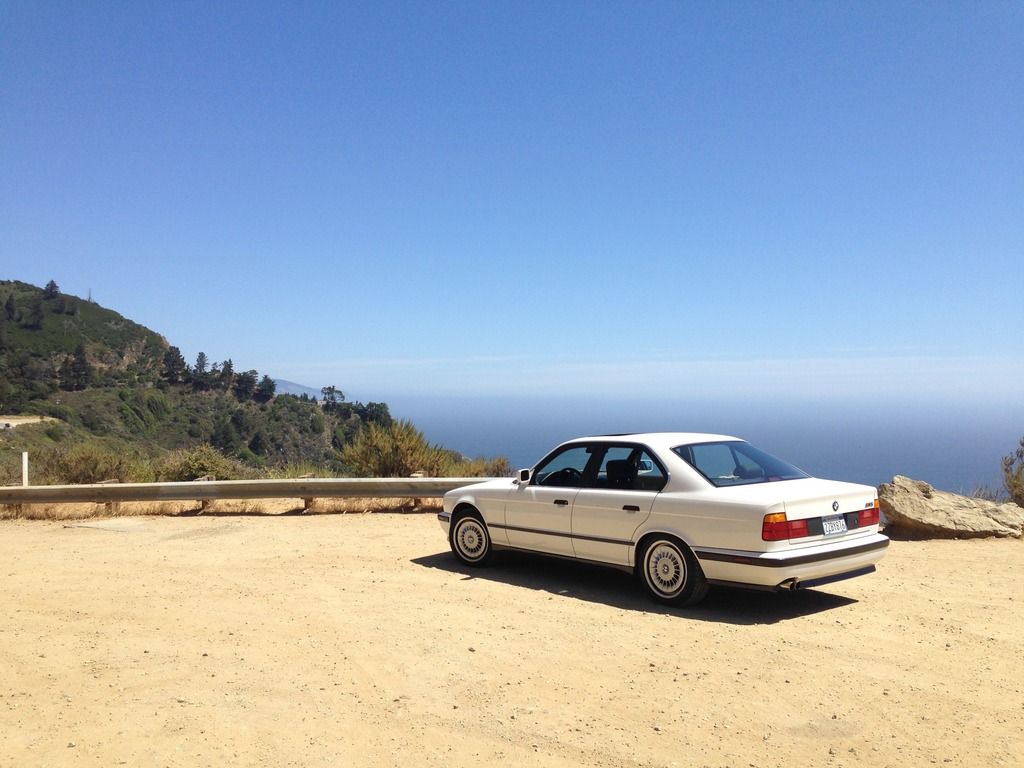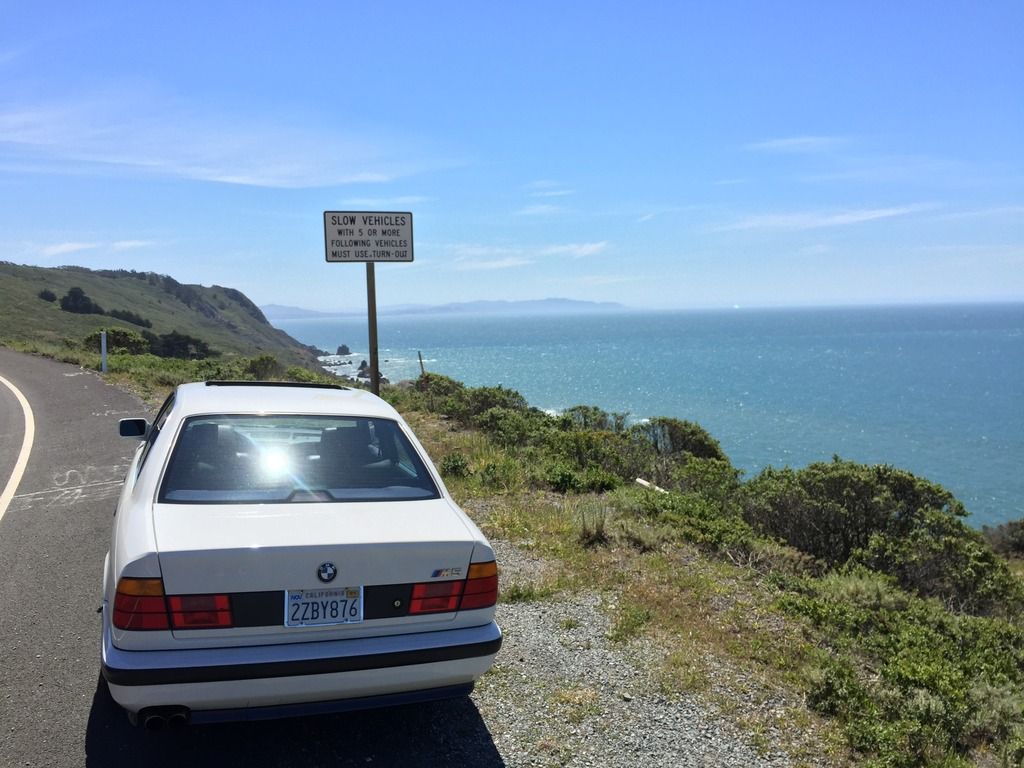 The car is not perfect, but I have to admit that it's damn near close. Having owned five BMWs, this is the cleanest car I have ever bought, hands down. I really don't want to sell it, but having two cars without the need for even one is simply impractical.
Brief Description:
- 1991 BMW M5 (11/90 production date)
- 118k miles
- Alpine white on black leather (no dents/dings on the body and no rips/tears in the leather)
- No modifications except for a Dinan Chip (original chip included)
- 2-owner car; original owner bought the car new from Peter Pan BMW for $62k in San Mateo
- CA car that has been garaged all it's life with no rust
- All documentation and records since new (including original window sticker, booklets, pamphlets, etc.)
- Three full keys and a valet spare
- The car was in one accident in 2010 when the previous owner hit a deer. The ~$11k repair was meticulously documented by State Farm (included in records)
Original parts retained that typical E34 M5 owners change:
- 17x8 Turbine M-System I wheels
- Rear SLS suspension
- Original, un-used spare tire
- Original headlights
Maintenance since I've owned the car:
- Valve adjustment ($600)
- Master/slave clutch cylinder replacement ($600)
- Steering hose replacement ($300)
- Vac hoses changed ($300)
- Engine oil changed every 3k miles and transmission oil changed
- Passed SMOG and registered until 11/2016
A couple recent issues that I haven't gotten around to fixing: cracked driver's side high beam lens and weak trunk struts (I have new ones, but haven't had time to install them). It has been raining a lot in CA lately so I haven't had time to give it a proper wash and take pictures, but I want to post it up sooner rather than later.
The last hand-built M examples are becoming difficult to find with low mileage in clean, all-original condition, while 175k mileage cars with modifications can be had at $10-13k all day. This car is bulletproof, and I wouldn't hesitate to drive it across the country tomorrow. PPIs are more than welcome.
Sale price is set at $18.5k OBO with no rush to sell.
Best,
Hootie
(617) 645-1209
hootan.rashidifard at gmail.com