Member GoneAgain was right, the pads are the SAME! BMW uses two different partnumbers, but I think that is because each uses a different friction material, Textar 4056 on the M5 & CSi vs. Textar 476 on the 750i.
Dimensions: 99.3 x 57.7 x 18mm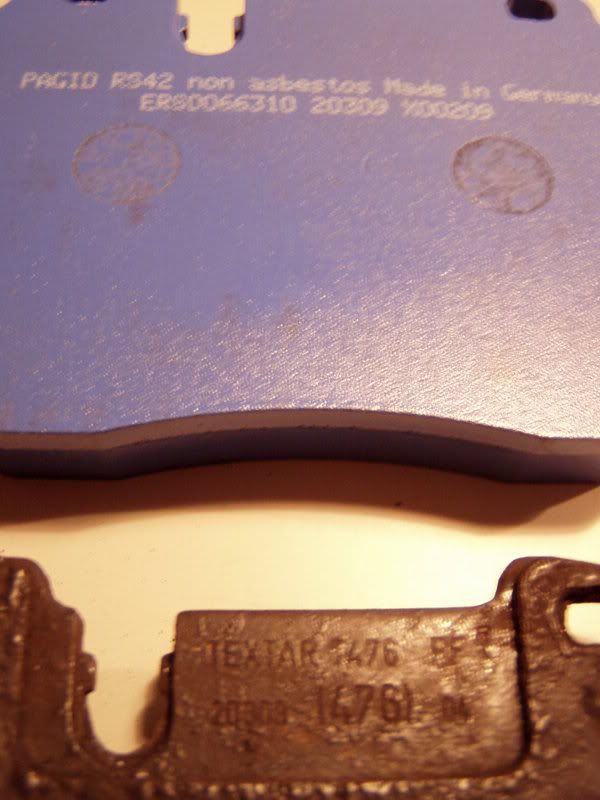 Above pics show the Pagid RS42 pad supplied by the e34 Heritage Center compared to the Ate 4-pot e32 caliper and it's OEM T476 pad.
Browsing the web this, the universal WVA 20309 number and the now known applications show some interesting availabilities:
-Ferodo lists no applications for the '95 M5, but does show DS2500 for the 850CSi of which we all know is the same.
-EBC lists RedStuff (DP3886C) pads for all above applications, but also DP31032C pads, which according to their catalog are 121x71x17mm. It seems to me those will not fit these applications, but are correct for the Brembo 4-pots used on 840i/Ci that also use the 324x30 discs. (Hawk also has 3 compounds for the Brembo calipers using their HB-181 number)
Shortlist of available performance pads so far for Ate 4-pot calipers:
Pagid RS42 (made to special order by batch, PM member Konstantin for availability)
Ferodo DS2500: frt pad is part number FCP646H(rear FDS 857)
EBC RedStuff: DP 3886C (rear DP3871C)
Anyone know of others?