Discussion Starter
•
#1
•
My M5's brakes have always been fantastic.
They bite hard, and if you depress the pedal further they continue to bite-down harder and harder.
Very linear, full of feedback.
SA got the EU-spec discs, and I honestly feel that my brakes have been amongst the best of the best.
I know you guys rate your stock brakes to be rather mediocre - but I find them to be excellent.
I fitted new pads in December - OEM spec ATEs.
I measured the discs at the time with a half-decent micrometer, and they were still within the manufacturer's 1mm wear limit.
Bedded them in, drove to the middle of nowhere for a holiday.
No issues - they felt as good as ever.
Fast-forward to today.
I don't drive the M5 hard much anymore.
Tonight I had a bit of fun and noticed a big difference in braking performance.
They bite nicely at first - just as they always have.. but if I further depress the pedal, they don't bite-down any harder, like they used to and are supposed to do.
I'd say this is only noticeable under hard, progressive braking.
In December, I had some suspension damage due to potholes.
It was the wrong car to drive to the holiday destination, as the roads are known to be terrible.
Anyway, the place down in the middle of nowhere that did the repair work on the car, BSed me at the time as to the damage etc and did a dodgy job.
Long story short, the rear subframe was replaced a month ago and I've only had the car back for about 2 or 3 weeks, after 6 weeks of waiting for parts etc.
The guys that did the work recently, here back home, had to disconnect the entire rear suspension etc.
After having removed the rear brake calipers they then bled the system and topped-up the brake master cylinder as required.
The brakes were perfect before this - but now they're not right.
Could they have not bled the car properly?
Maybe they used kak quality fluid?
Or, could there simply be air or water in the circuit somewhere?
Pedal doesn't feel spongy, but it's perhaps not as "solid" as before.
Discs look like this at the moment: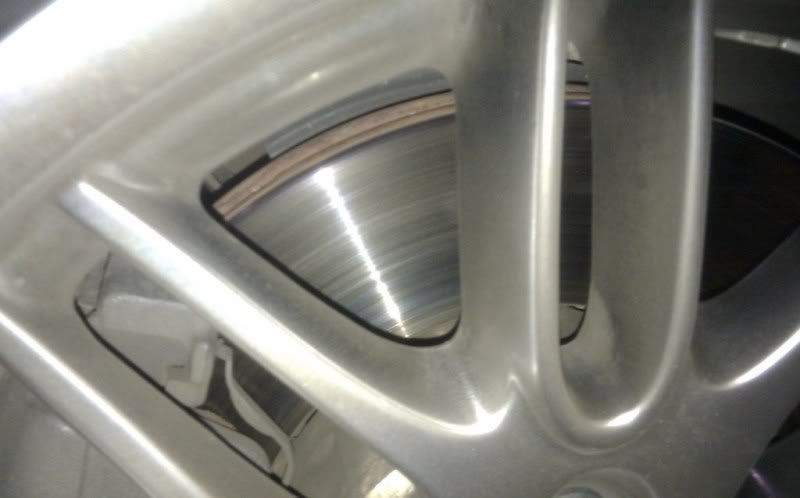 Thanks M5 experts :1: