Discussion Starter
·
#1
·
The BMW Car Club organise regular Better Driving Days whereby BMW owners are given the opportunity to get to know their cars a little better in a safe and controlled track environment .
Yesterday , I was fortunate enough to attend their open lane track day at Cadwell Park , along with fellow M5Board member Seaneee and his Black 3.6 .
The fog was just starting to lift as I arrived at the circuit at around 8am :
Perhaps as it was a Wednesday and also St George's Day , there were only 30 cars in attendance , paying £150 for a full day's ( 9am - 5pm ) open pit track time ........absolute bargain !
I hear that it costs in the region of £7,500 to hire a track such as Cadwell for a track day of this nature and so the day was heavily subsidised by the BMWCC which only charges £35 ( if paid by Direct Debit ) for annual membership and offers members numerous benefits , such as discounts with BMW dealerships and suppliers .
Anyone interested can contact the club via the website :
http://www.bmwcarclubgb.co.uk/rm/intro.asp
and if you mention that I introduced you that would be great as it results in me receiving a £5 voucher to spend at Club events ..........
The fact that there were so few cars meant that it was possible to put in a few quickish laps relatively unimpeded and most people were keen to get straight out there after the initial 5 or 6 sighting laps following either Chris Wadsley , the event organiser in his E30 M3 , or Chris Rossiter ( of AC Schnitzer fame ) to get an idea of the perfect line !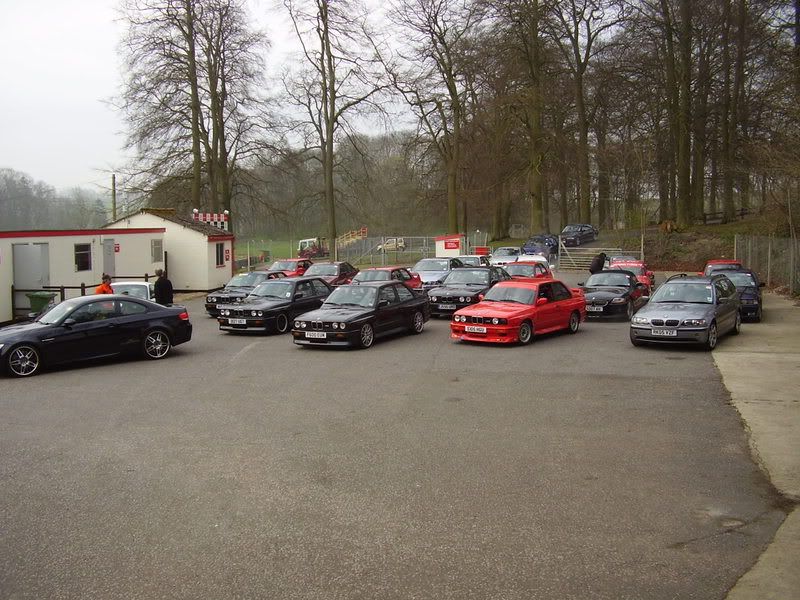 Sean and I were both fortunate to get a few decent dry laps in before the rain descended at around 11am and my PS2s were displaying distinct signs of scrubbing .
I persuaded Sean to have a picture taken , although , judging by his expression , I suspect that he may have been preadvised of my homosexual tendencies :
I brought my brother , who is not a great fan of cars , with me and was suprised when he advised me that I could brake far later and corner far quicker into Coppice .
He soon quietened down when I had the nearside rear wheel on the grass coming tearing out of Park curve later that lap and said , ' That'll do for me Dave ' !
Those two early , dry sessions , were enough for me , my bro and Sebring Sienna and we decided to call it a day by 11:30 am as I can't honestly imagine ragging my car around there from 9am until 5pm !
The long drive home , with the sun setting in my mirrors , completed the day marvellously and has always been one of the great fortes of the E34 M5 ........She will take you to the circuit , she will guide you around and she will cruise you home ......what a car !