Quick intro: I'm Brent in CO, USA and I bought 1991 M5 BK06091 from a close friend in April 2014 (car was also FS on this forum). The car had 220k on it and was a mess, but the engine had an essentially zero-miles rebuilt head w/ S50B32 tensioner, good bottom end, and perfectly functioning driveline. Since I basically bought the car for the price of a working M5 drivetrain and the E34 M5 was on my automotive bucket list, I was able to overlook the mileage and issues (primarily suspension wear and cosmetics). The car was delivered with a ton of spare parts, many of which have made their way onto the car.
Completely irrationally, to fund this car I sold a dynamite Nissan B13 SE-R w/ factory sunroof delete, manual seats and windows, and a built SR20 (near 200fwhp, 2450 lbs) that I rescued from a buddy's yard, rebuilt the front end, and had running reliably for $800 total; and a '99 Saab 9-3 "stage 5" I bought built for far less than the cost of modifications, which had a dead-reliable (seriously) 300whp in a 3,000 lb hatchback shell. Both of these cars spank the M5 in a straight line, but neither were half as cool, either. Thankfully the SE-R stayed local and one of my best friends bought the Slaab.
This M5 was delivered with a light silver-grey interior, but a few owners ago it was swapped (mostly successfully) to black with Mitsubishi Evo 8 or 9 leather Recaros. Not my taste, but they are light, offer better headroom, and will be replaced with SRDs eventually. The car also had a full SLS delete. Bummer for originality (and my car nerdiness), but the 535i-based components that replaced the SLS has saved more weight. I bought the car w/o a spare wheel and tire, and in this configuration with a quarter tank of fuel, it weighs 3600 lbs sans driver.
Somewhere along the line the car also lost the original front bumper, trunk lid, and wheels. I bought it with E38 M Parallels, which have just been sold to fund proper M Systems w/ Turbine covers come springtime. I mention this to acknowledge that this will never be a numbers-matching M5 again, but at the very least, I hope to restore it to an extent that it can soldier on for many more years to come.
This thread will document my sloooow restoration and help keep me organized. It will be slow because I'm paying off student debt, other loans, and trying to buy a house in the next year. I learned how to wrench rebuilding a high mileage E36 M3, which I owned for 5 years and sold w/ 175k and not a single issue. The car is tracked regularly by the new owner and has only needed tires and brake pads in another 10k miles!
Some as-delivered pictures:
Can you say rock chips? This was after I replaced the kidney and headlight surround grills, the chrome kidney surrounds, and half-way successfully bent the dented nose panel back into a shape that would at least keep the kidneys in place.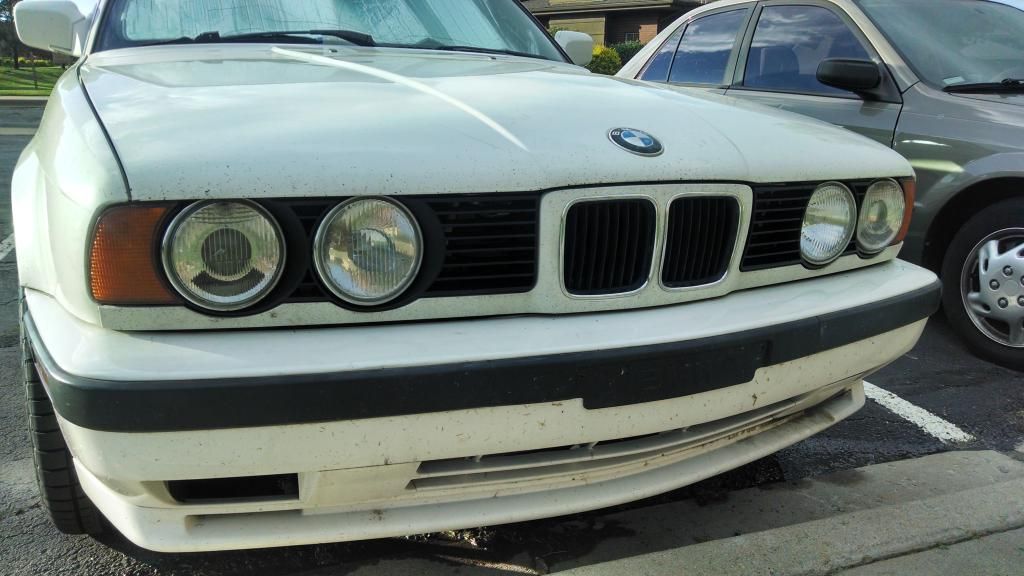 The poorly color-matched (but OEM) spoiler-equipped trunk lid has been replaced w/ a spoiler-less lid. I hate the spoiler on this chassis. M-pars now gone.
After a new Interstate battery, the first real job to make the car daily-able was new strut inserts. After some research, I went with Bilstein Touring inserts, since I wanted to rebuild the suspension to primarily stock before I added suspension mods. This job also gave me a chance to evaluate the loose-feeling, clunky, shimmying front suspension, and confirm that basically everything needs replacement. Sorry for the potato-quality pictures in a poorly lit apartment garage. All the moisture on the fender liner was from the leaking PS reservoir, which turned out to come from both hose clamps on the bottom being finger tight. Go figure.
Demonstrating how shot the 220k mile OEM struts were. I could fully compress them with minimal effort, and they barely rebounded.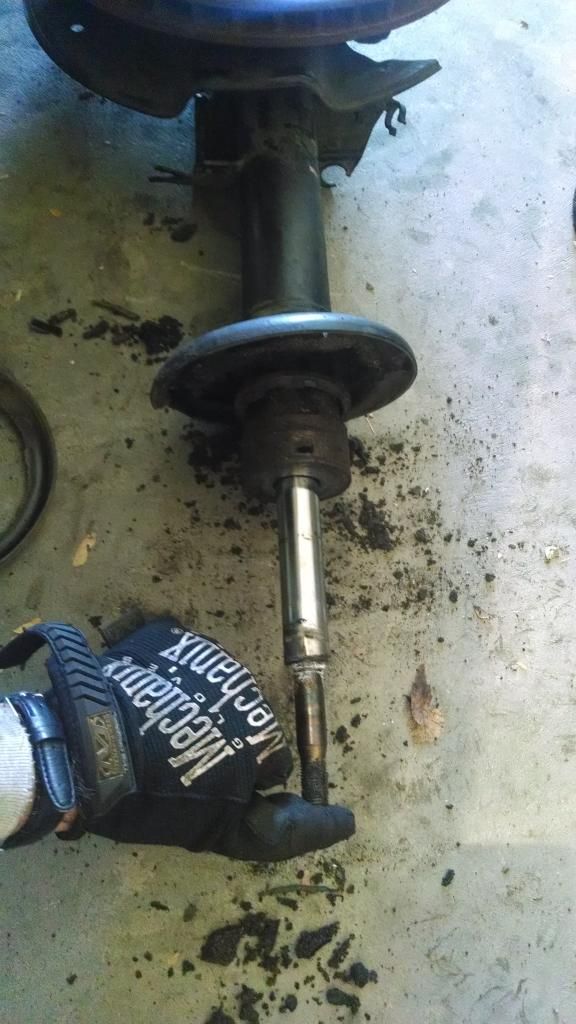 Both strut insert nuts (the big ones) did not budge from any combo of penetrating oil, pipe wrenches, torches, etc, so I took the struts to my good friend, the P.O., and he used a cutting wheel to cut a vertical (parallel w/ strut to avoid messing up threads) notch in each nut, and then hammered the nut further open. What a pain, but it worked and the new strut insert cap nuts threaded on perfectly. The Bilstein Touring struts at stock ride height are nice and compliant, and apparently valved about ~10% stiffer than stock.
After running the rebuilt engine for about a thousand miles, it was time for an oil change. Speakers and Brad Penn were for the 911.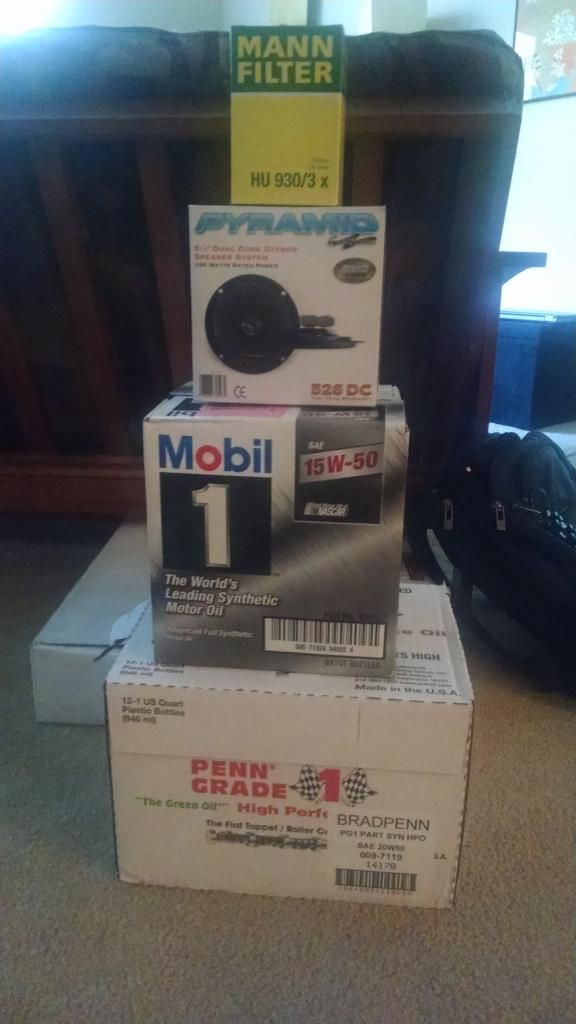 The oil looked great, and I have driven enough that I can estimate the engine uses about 1/2 qt per 3k miles. Using Mobil 1, I will stick to about 7,500 mile intervals, to time every other oil change w/ valve adjustment.
The interior also needed some love since a bunch of issues were driving my OCD crazy. I did the shrunken weather stripping fix (new M dead pedal cover was installed after this picture):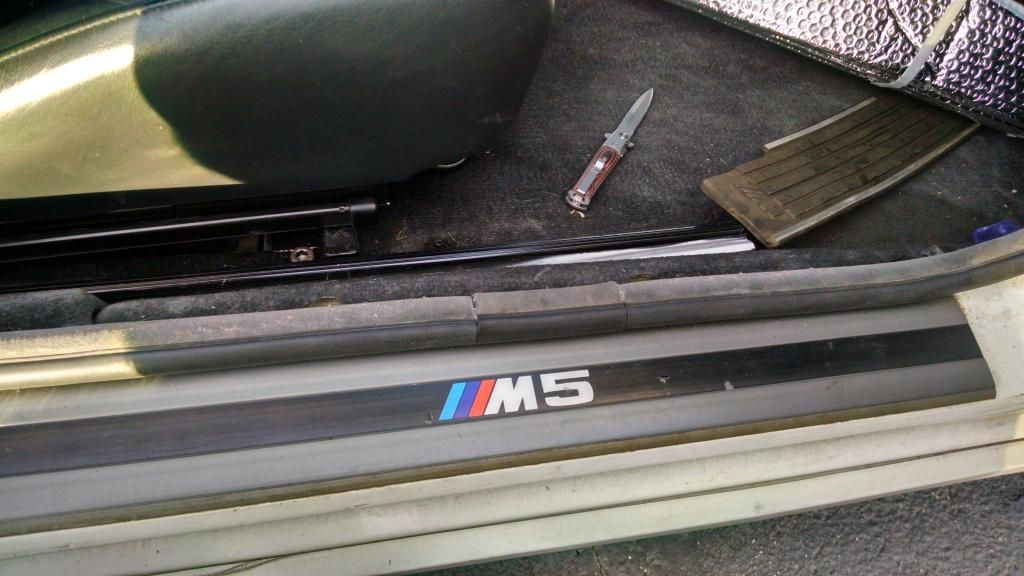 No idea what happened to the center vent, but every slat was broken. I replaced it with the dustiest but functioning center vent. The dash looks rough in this area, I think during the interior swap someone put things together slightly off and gave up. I'll fix it in due time.
On the interior subject, everything was black-swapped below the A/C pillars, except for the rear parcel shelf, which was not only silver-grey but dirty.
Some fabric spray fixed that problem (the color is uniform IRL, the photo doesn't show it):
A couple of the dozen minor trim pieces missing that I've bought new (and still have more to buy):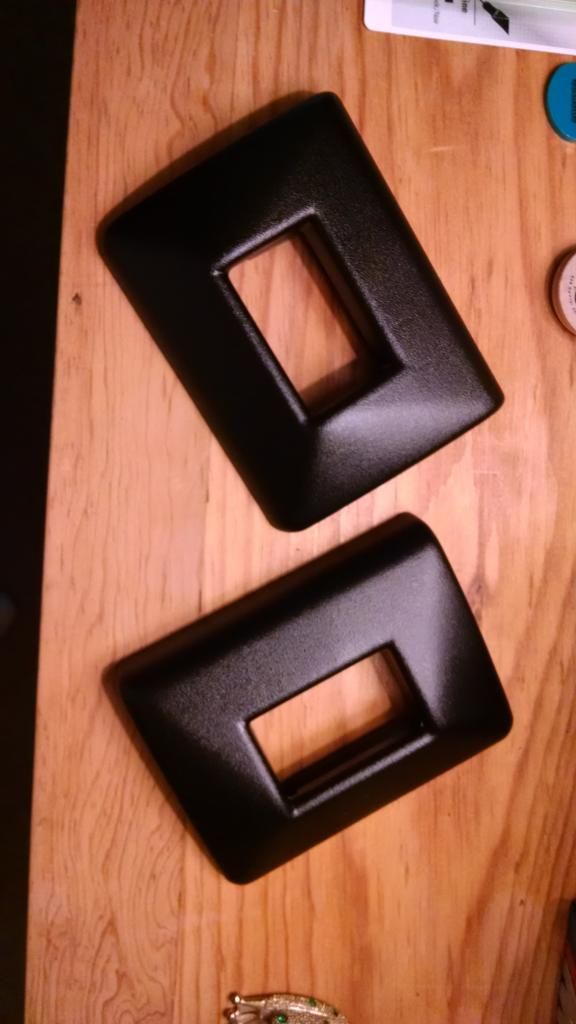 Next I started tracking down a rear end clunk mainly related to engaging and disengaging the clutch. I checked and found the subframe bushings were somewhat compromised, so these went in:
The AKG subframe bushes reduced the clunk but did not fix it entirely. Without checking the existing component, I bought a Lemforder center diff mount and installed it. Unfortunately, the mount I pulled out was pretty solid still, and I kept it in case the Lemforder goes bad. I got a good deal on Lemforder dogbones, and jumped on them. The existing dogbones had a hilarious amount of deflection, and the new units keep the rear end far better planted. The clunk is still there, and the P.O. and I now suspect the driveshaft and/or CSB is at fault. Both are likely original, and I need to check them out. In the meantime, my rear end is finally solid and the only thing left to do back there is to reseal the diff. Woohoo.
This happened (the miles, not the low washer fluid. I just had to rotate the sensor 90 degrees to upright):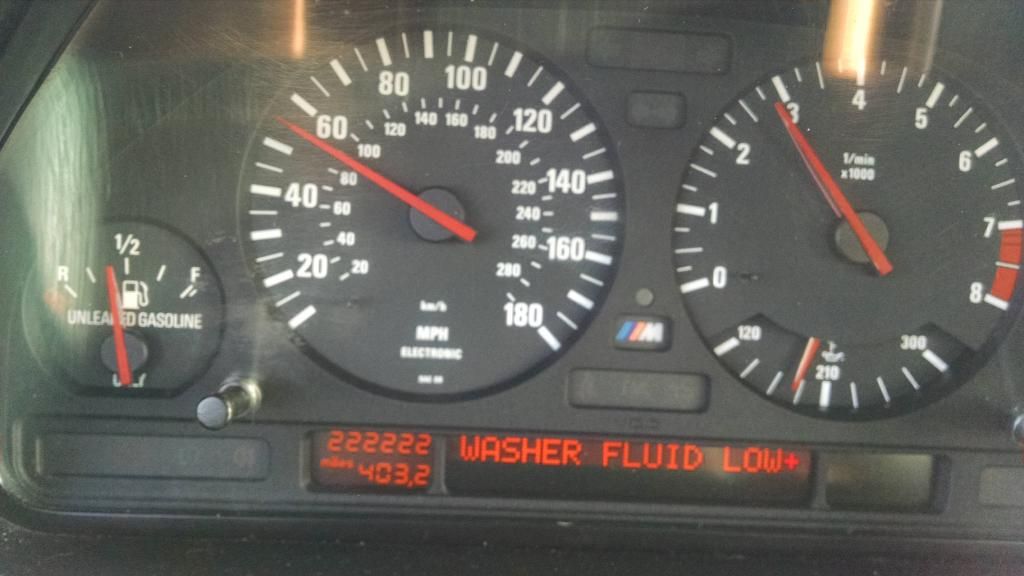 I decided I would winterize the M5 in preparation for the 2014/15 snowboarding and daily driving season, rather than buy a third car. Since the E34 M5 factory winter wheel option was 16x7 Style 5s (et20 IIRC), I picked up a beat set of much more common E38 16x8s and added Blizzak WS80s in 215 width. Annoyingly, for the same price as the beat wheels I bought on eBay, someone local to me sold a beautiful refinished set of the same wheels, but I just missed 'em.
Before I could install them, the cat acted like a cat:
I test fit them, worried about front strut clearance. It just barely fits w/o a spacer, but a wider tire would create problems. Note the tiny triangle of surface rust on the back of the fender, one of the areas I need to address come spring. And I can't get the damn chrome window trim at the bottom of the rear window to stay flush.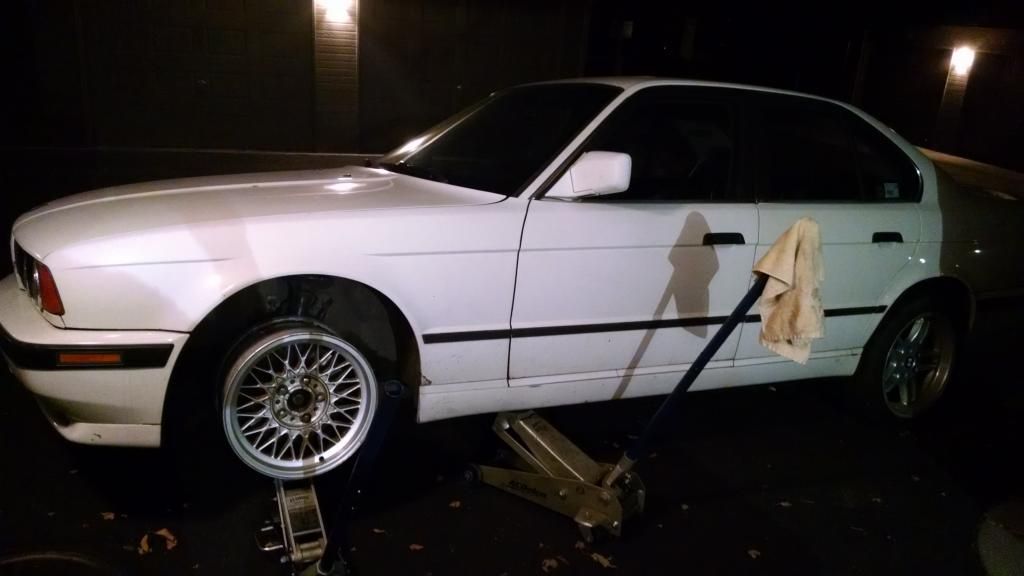 I pieced together a Yakima 1A gutter mount roof rack, and already had wide Yakima snowboard/ski racks that can fit four of each or two and two. Note the same triangle of surface rust on this side.
Then, after a few sub 30 degrees F drives, I opted to swap the M1 15w-50 out for M1 10w-40. With this oil the engine warms up in the usual time even in 10 F, whereas before it never fully warmed up under 30 F. When it gets above 50 F, I take the 911 out instead. I added BavAuto rubber floor mats, which fit great for the money and protect the carpet. I replaced many little bits including trunk shocks, the intake manifold M badge, etc etc. Added an M Tech 2 steering wheel. The car has been on several trips to Breckenridge and Keystone, including one with three passengers and a bunch of gear, and it's solid in the snow.
As I mentioned, for some reason I've always hated the rear spoiler on these cars. My non-original (WBA-vin) trunk lid also had a nice patch of rest under the driver side of the spoiler. I finally found a clean Alpine spoiler-less trunklid.
I stripped the spoilerless trunk lid, and then started stripping my current lid. Interesting components of the wiring harness including my favorite electrical part, INSULATED BUTT CONNECTORS, but it still works.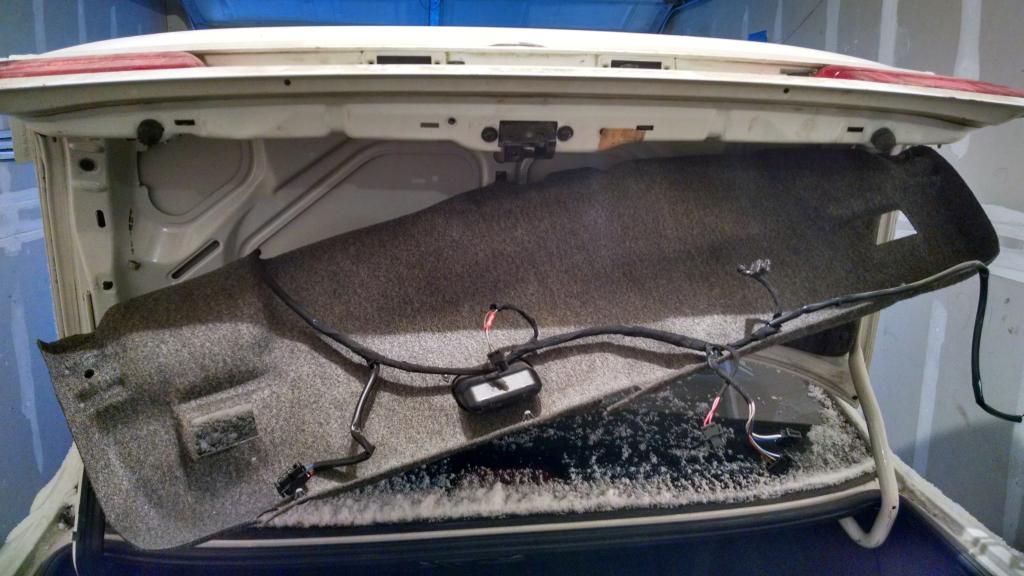 The cardboard was crucial, as the trunk is super awkward to lift off (and then reinstall) alone.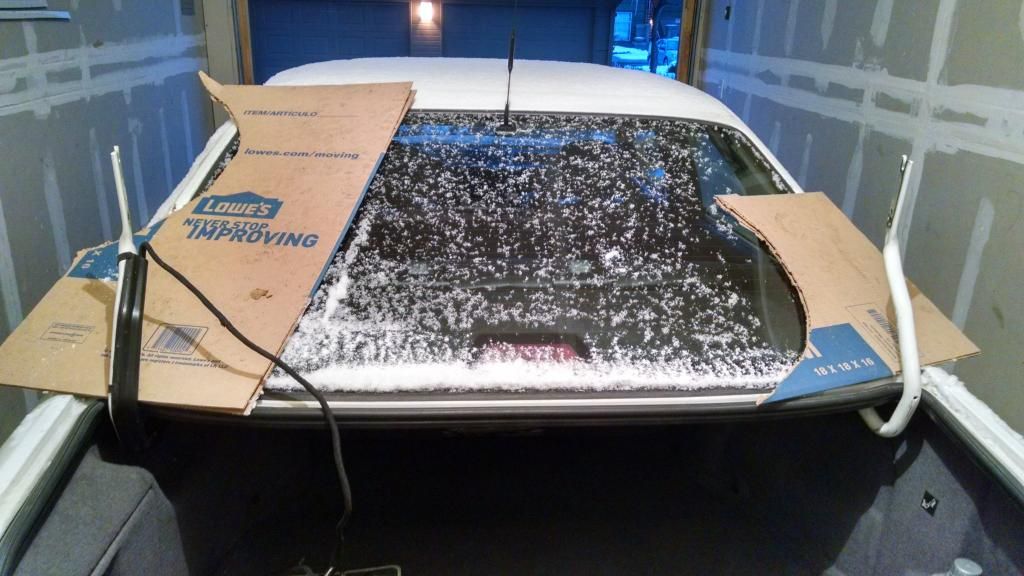 Can't find a direct butt-shot from before, but this is the rear end before (OEM spoiler now for sale):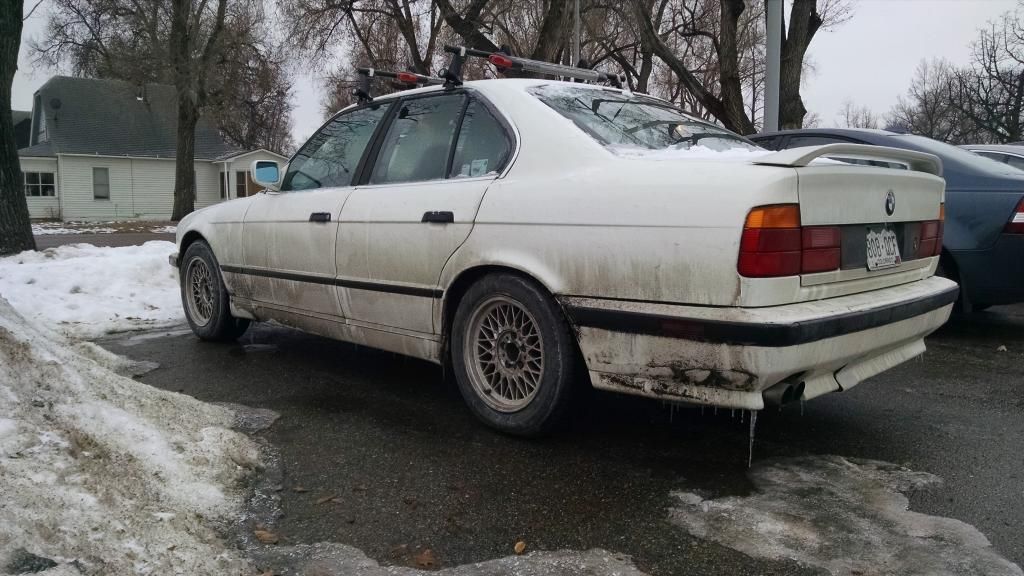 Now, 10x better in my opinion:
I also figured out (preeeetty simple) how to adjust the trunk so that it fits perfectly when closed.
That about brings us to the present, right at 225k miles and still running like a top. I'm sourcing M Systems with Turbine covers for springs/summer, and continuing the suspension work as my first priority (though a windshield might come soon). I'm going with E31 spherical LCAs, Moosehead UCABs, and Lemforder steering links (already have a new Lemf center rod waiting for install), at which point the suspension should be autocross-ready and solid. I'll look into the drive shaft and components as well. The exterior will be addressed in time, which may necessitate a full re-spray but will definitely include proper black-painted lower trim. Maybe after the house.
I will update and attempt to take better and more pictures as I go along.