I purchased my
BC Racing
Coilvers (Type BR, 8k/6k spring rates) from Tristan at
Circuit Motorsports.
Great guy to deal with. I also purchased the rear extenders for the damping controls. I installed the rears first, the harder of the 2 to do. If you remove the fender liner, it really isn't THAT bad. You just have to remove the caliper, take the upper rear trailing arm loose from the knuckle and disconnect 1 plug to slide the shock/spring assembly out. The fronts are SO EASY it isn't even funny. Once I get the ride heights at all 4 corners squared away, I will do a full review. I am starting my dmapening setting with 10 clicks from full soft in the rear and 15 clicks from full soft in the front.
PS: I am sorry my fender wells aren't as clean as your's Steve. I am sure I could eat a $50 steak off of them if I went into your garage right now......LOL
Rear install: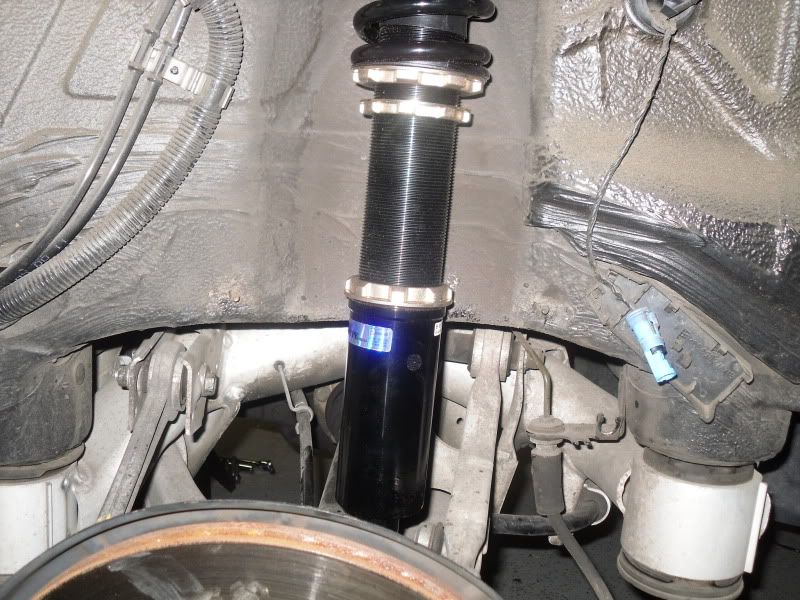 Rear extender install, you can see where I intended to put the extender knob out through the speaker grill but it bent the cable too much that you couldn't feel the "click" of the settings, so I had to move it up a little. I will just source some new speaker grills to take care of that hole.