Discussion Starter
•
#1
•
In the interest of transparency I was not asked by the guys at Angry *** to do this. I have a great relationship with them and I like what they are doing and bought the kit myself, but this is strictly an enthusiast review.
I have put over a thousand spirited miles on the F30 front brake conversion that Angry *** carries and figured I would give an honest write up on how they perform. My goal was to do this conversion as affordable as possible, I was getting to the point of needing pads so in my typical fashion I decided to swap over the front brakes entirely. My previous set up was the 95 M5 euro front and rear with EBC red pads. Currently with the AA kit I am retaining the euro 328mm rears since that was the most convenient option to stay with, for fairness of comparison I decided to use the same EBC red compound with brake fluid that is regularly changed before it needs it.
INSTALLATION: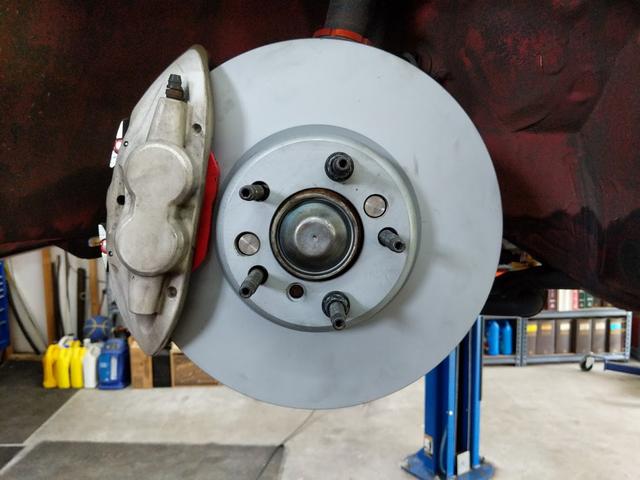 Everyone knows what fitment issues you can end up with when you go with an aftermarket set up. The spacers have the same feel of quality as you would find with a Snap-On wrench. The install is very straightforward if you ever converted to non M5 hubs. If you still run your stock hubs, you will either need to drill your new rotors for the kit or inquire with AA about having them drilled before shipping if you decided to purchase rotors from them. I went with a cheaper Zimmerman rotor in the interest of cost savings and drilled my own rotors. Other than that it could not be more simple. Anyone who has the ATE 345mm front brakes knows that a cinder block weighs less. The aluminum F30 Brembo calipers weigh almost nothing compared to them, a very nice plus. The rotors, while I did not weigh them definitely feel heavier than the floating disks that I was running. Not significantly more, but worth mentioning.
When you have your old assembly off it is just as simple as installing the spacers between the threaded portion of the knuckle for the caliper bolts and the caliper. AA provides the hardware needed as well as thread locker. The one small thing that stuck out to me as a sign of quality is the diameter of the caliper spacer. It can be somewhat difficult to juggle the caliper with the bolts and the thread locker while trying to line it up perfectly. The reason the diameter is crucial is that it matches the same circular flat spot on the knuckle, allowing you to rest the top spacer in place while lining the top up which makes installing the lower bolt trivial. Being able to use stock brake lines with this kit is another huge plus in my book (I had already replaced my lines earlier, but AA offers USA made lines if you need them).
PERFORMANCE:
I really did not know what to expect by going to a slightly smaller rotor but obviously better caliper design, the euro brakes always did a great job of stopping with the Michelin A/S 3+ tires on a square set of 8" M systems. The difference was immediate even during the bedding process. The pedal feel is very solid, but not solid like an E28 with a failed brake accumulator if anyone else has experienced that joy. The brakes are even easier to modulate and seem to be a small bit more precise. With the euro set up it always felt a slight bit soft but never had any issues with their performance. With a sticky enough tire it feels like you could reverse the earth's rotation, they work that well. I plan on shooting a few videos to show how quickly they stop. The only downside is the reaction time of the person behind you, they wont expect you to stop like you will. If you are in the Atlanta area feel free to ask for a ride, if you are nice I might even let you drive it.
COST:
Calipers: $400
I found a 335i being parted locally. Buying these new was not within my budget but had no issue with running used calipers that are essentially new.
Rotors: $219.04 (Zimmerman 34116792223Z2)
I considered using the rotors from the car being parted but did not want used pads and rotors for comparison sake. If you want to go really cheap, you could go with the used components but I generally like new things when it comes to stopping the car.
Brake Pads: $171.99 (EBC Red DP32130C)
I replaced the rear pads at the same time but have not included them in the price, I wanted to match compounds between front and rear. Pad choice is a personal preference for how you drive. Pad recommendations are like oil recommendations, I like the reds for what I do. I mainly use my M5 as a backup commuter or as a fun weekend mountain car.
Angry *** conversion hardware kit: $55.72
Brake Fluid: I had two pints on the shelf, so this was "free"
Overall I was happy to keep it under $1000 while picking up significant stopping power.
TLDR:
If you are planning on upgrading your front brakes, you will not regret using this system. If you don't want to hunt for the components, Angry *** will sell you a total kit ready to install.