BACK UP FOR SALE DUE TO FAMILY EMERGENCY
Selling a set of discontinued O.Z Mito***8217;s with Michelin***8217;s. The tires need replacement real soon but the wheels look great. I would love to keep them but can find better use for the money (like buying an e34). Anyway, if I dont sell them, oh well so low balling me will do nothing. The wheels really are a classic design that is nearly impossible to find. Good luck finding another set like this in the US for this price.
Description:
5 wheels total:
3 9.5's ET20 - offsets - 265/35/18
2 8.5's ET20 - offsets - 245/40/18
Center Bore: 74.3
The tires are Michelins and have a few months of easy use left (the drive straight and don't rumble at all but they will need replacement soon). I have 3 center caps, but the PN is on the back and tirerack can get you the fourth one.
The spare has a minor bend in the shell (lip) but it doesn't affect holding air or driving, its just cosmetic. It serves as a perfect spare because it holds and matches, but it could use a refinish if you want it perfect. The bend is entirely repairable.
The wheels themselves need a little bit of TLC which I will invest; the TLC requires no money, just polishing time. There is a little rash on two wheels but its not worth refinishing unless you are really anal about the look of them. They require hubcentric rings to run them on e39's and are the same ones you need to fit them on your e36 (74.3 to 72 mm hub I believe). I will include four with the sale. They were recently balanced and have ZERO bends in any wheels and zero shimmy. They drive beautiful!
Price:
$2400.
Pictures on my car:
Pictures of the wheels taken by the previous owner: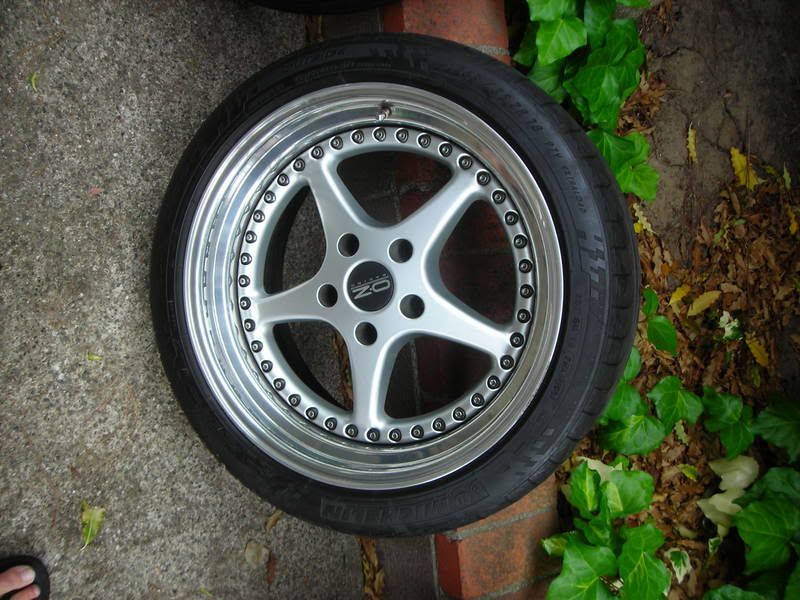 More taken by me to show the rash:
http://photos.tobinhosting.com/ericstolz/album300/OZs/
-Olek