mac214 2000 Carbon Black/Black Restoration Project
---
So, I guess this is somewhat brought on by going through Obioban and Jed's thread as I think it will help me remain motivated with the project and may help some people out in the process. So here we go.

A little background - I have always been into cars, probably into 30-40 different cars owned range, which puts me at a car every 6 months or so. I have always been passionate about cars and started off in the DSM scene with 8 different Eclipse/Talons/Evos through the years. Other notable and fun cars were an '08 C6 Z06 (probably should have kept it), '00 2.5RS, '06 Evo IX SE (probably should have held onto this one too), '00 Jeep Wrangler (off-roading in CO).

I also had the pleasure of owning some cars not here in the U.S. - Mitsubishi Delica and Twin Turbo Subaru Legacy Wagon (these come from living in Japan for a couple years).

Maybe I can post some pics/videos of track events, etc... from ownership above.

Anyways, I drove my dads 745Li for about 6 month before moving to Japan helping him to sell it and was really impressed with the build quality of the car.

Fast forward to coming back stateside after Japan, I picked up my truck out of storage, '01 F-150 King Ranch with 80k miles and immaculate condition (this is one I have owned since 2003 and will never get rid of it). My wife and I shared a '12 Acura TL since I worked from home. We drove that for about a year before moving again and decided to sell it to get her a new car and I would look for something fun again. The Acura was comfortable but for me it was extremely boring.

Now if you have read all of the background, this is where the thread will really start and actually have some relevancy to a BMW forum. I started off picking up a really well maintained '99 540i/6 in Oxford Green and have loved every minute of this car. Due to having spent a year with the 540 and still loving everything about the car, I decided the next logical purchase would be an M5. Being somewhat impatient, I purchased a 2 owner M5 off ebay that presented very well and was within my price/mileage ratio. I knew I would have some work to do to get it where I wanted but when it arrived, I was somewhat disappointed with my decision and impatience, and immediately started thinking about selling and moving on to find a better one. Live and learn, right (oh, and don't be impatient). I would never put it back up for sale where it sits and the more I thought about it, by the time I pay tax/registration and get it to where I would feel comfortable selling it to someone else, I have pretty much solved a number of things that bother me about the car. So, at least for now, I am planning on diving into this thing and taking the next couple years to sort out everything on the car and get it to something I will be happy to own forever, as that was the plan when purchasing since I am really trying to break myself of this car experiencer mentality and actually keep cars for the long-term.

She actually drives really well and looks to be sorted to some degree mechanically, although time will tell as I get into replacing wear items and getting the car up to standards. There is very little noise, if any, at start-up even in the cold so I am optimistic about VANOS. It hasn't gone through any amount of oil - I am having to DD it right now as the 540i went down for some cooling system replacement just before the M5 arrived. It appears that the PO of the 540i did all cooling items minus the expansion tank - glad they saved the $50.

Here are some pics as she was presented to me. I haven't taken a ton of pics as she was somewhat shunned in the first month of ownership as I kicked myself for the purchase. As I poured over the boards and planned my restoration, while driving her everyday, I have slowly accepted her into the fold with plans to have eventually had a thorough replacement of any and every part that needs addressed.
Member, Sport: On DSC: On (>100 posts)
Join Date: Sep 2016
Location: New England
Posts: 198
Thanks: 17
Thanked 19 Times in 19 Posts
Welcome to the board!

So what problems are we talking about here? You've left us in the dark! The car doesn't look too bad at all.
m5board.comoholic (>1000 posts)
Join Date: Sep 2013
Location: Arlington, VA
Posts: 1,746
Thanks: 113
Thanked 76 Times in 62 Posts
Quote:
Welcome to the board!

So what problems are we talking about here? You've left us in the dark! The car doesn't look too bad at all.
Welcome. Agreed, looks pretty good to me haha.
---
National Capital Chapter #465420
2000
///M5
///M Registry
Oxford Green Metallic II (430) | Caramel Nappa Leather (M3CR) | BMW Individual Birch Anthracite Trim |
DINAN Stage 1.5 Suspension
Tuning Tech Tune by Frank Smith (
http://www.tuningtechfs.com/
)
Supersprint Headers + X-Pipe
Storm Motorwerks Products
2003 X5 4.6iS
- | Black Sapphire Metallic | Black Sport Interior | Titan Trim | DINAN Transmission Tune | DINAN Stage 1 Engine Software | E39 M5 Cluster Swap + White LEDs
FOR SALE!
2011 X5 35d
| Alpine White | Beige | Wood Trim |Sports Package - OEM Style 214 | Cold Weather | Premium | Technology | 3rd row
You may notice the overspray on the wood door trim in the pic above. My impatience overlooked this and other items in the photos that would have made me make a different decision on the purchase. I can only assume this is a poor attempt at leather restoration/cover-up. Again, I take this as a lesson learned and will just use this 'opportunity' to make the car exactly what I wanted.

I knew I would be demodifying the aftermarket stereo, as that is not my style. I went through and removed everything aftermarket in the car and was treated to some more bad - lots of stereo connectors cut, electrical tape for connections, etc... and some good (they had some descent stereo equipment that I will be able to get rid of - Focal speakers etc... There was also a V1 that I removed, but may look to install at a later date the way I would want it done.

Here are some pics I snapped while taking the car apart to see what I was dealing with. I have all door cards out and have removed parts of the dash. Not all fasteners were replaced during the PO mods so I am working to remove everything, fix what I need, restore the leather, and put everything back together as it should be.
---
Last edited by mac214; 21st December 2016 at

08:52 PM

.
This is my temporary knob from the 540i but will order an OEM in black leather.
Cleaning to be done, black leather e-brake already sourced from Clemster.
Piano black trim to be installed. The piano black is glued onto the plastic frame and while the trim is good, the plastic frame was not so I removed the piano black trim and will install on a good console.
Hacked blower assembly. Still haven't decided how I will fix this. I have already received an entire blower assembly and may swap out the whole thing since I am contemplating replacing the front carpet as the PO didn't appear to use floor mats and the heel pad is chewed up and the carpet is thread bear in a number of areas. Replacing the whole unit while everything is out would allow me to lay some carpet in without having to cut it at the base of the unit. Will have to reach out to Clemster again for some good carpet.
Replacement unit damaged, will have to see about swapping with the eBay seller and have another one shipped out.
Not a great pic but have all the other Piano Black trim pieces installed.
Right now, those are all the photos I have on progress being made. When I get back from vacation, my plan is to complete the repair on the 540i so the Beast can go in the garage. I will plan on getting as much done before spring as possible depending on what I run into. I have my second child coming in March, so I can only imagine my time will be at a premium.
Quote:
Welcome to the board!

So what problems are we talking about here? You've left us in the dark! The car doesn't look too bad at all.
Quote:
Welcome. Agreed, looks pretty good to me haha.
Thanks for the welcome and I felt the same way from the pics and talking with the seller. As I go through and fix things, I will document what I do.
One of the first things on the agenda, aside from replacing all fluids, is I have sourced a main harness with audio, etc... so I will be replacing the entire audio harness as opposed to splicing back in the cut connectors.
m5board.comoholic (>1000 posts)
Join Date: Aug 2011
Location: Tennessee
Posts: 1,499
Thanks: 144
Thanked 148 Times in 138 Posts
Good on you for taking this on. Will be a great car to drive once "completed." They are never completed, but you get the idea.
On to the current stable and likely the last of the non-relevant posts. After these I will keep this thread on the M5 restoration.
Here is the 2001 F-150 King Ranch - pre-detail:
During Detail:
Finished, this early model aniline leather is a challenge to say the least but I love it none-the-less. Patina is awesome: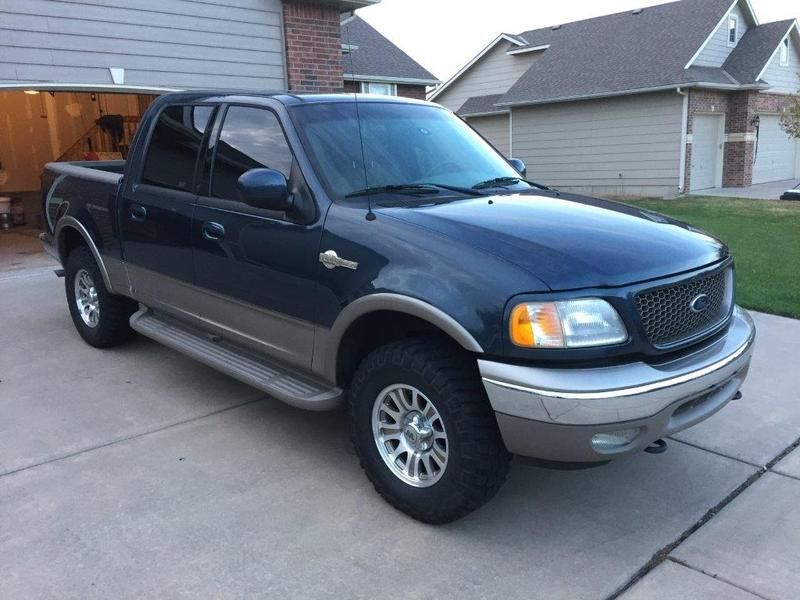 Currently Active Users Viewing This Thread: 1

(0 members and 1 guests)